Mixology Matters 2023
 MIXOLOGY MATTERS COCKTAIL CONFERENCE
OCTOBER 9-10, 2023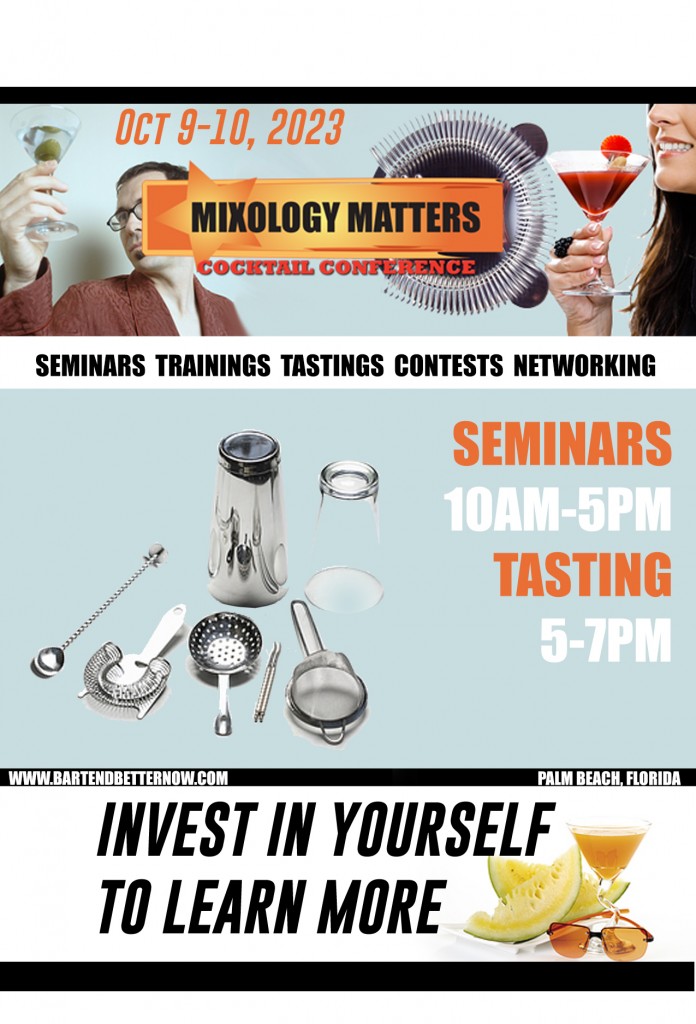 "Mixology Matters: Cocktail Conference" returns on October 9-10, 2023.
"Helping Bring the Craft of the Cocktail & the Art of  Bartending Together"
Founded in 2009 and in its sixth year, the "Mixology Matters Cocktail Conference" October 9-10, 2023 will bring together some of the world's best Flair bartenders, Mixologists, Industry Professionals, everyday bartenders, managers and enthusiasts to learn and collaborate from one another and help further push the boundaries of the cocktail by raising our voices and saying YES! Mixology Matters…
This celebrated event will take place during  the Bartender Shakedown complete with cocktail samplings, seminars, demonstrations, Mixology contests, social networking, product awareness and much more. The idea is to expose the attendees to new ideas, procedures, trends, products and knowledge to further educate and motivate them at their craft. While also exchanging lines of communication, interests, passions and awareness to our exhibitors and attendees.
This event is strictly 21 years of age and over and open to the public to attend and promises to be a fun and informative event!
Surrounding airports:
West Palm Beach, Fl (PBI) approx 5 mins away.
Fort Lauderdale, FL (FLL) approx 45 mins away.
Miami, FL (MIA) approx 1 hour away.
Host Hotel:
Palm Beach Gardens Marriott
4000 RCA Blvd
Palm Beach Gardens, FL 33410
(561) 622-8888
SEMINAR SCHEDULE
Monday October 9, 2023
10am: Breaking Down IBA Cocktail Competitions for a Winning Strategy
Paul Posillico
Pa'lante
11am: Step Up Your Garnish Game
Philip Khandehrish & Greta Buccellato
Tequila Ocho
Noon: Lunch
1pm: Molecular Mixology: Marriage of Art & Science
Chase Moore
Conniption Gin
2pm: TBA
3pm: From Solo Sips to a Symphony of Success: A Journey with David Lovett, Beverage Director of Tru Grit
David Lovett 
4pm: TBA
5pm: TBA
6pm: Costing for Profitability: Improving Revenue & Reducing Costs
Eamon Rockey
Rockey's Liqueur
Tuesday October 10, 2023
10am: How Additives Manipulate Tequila
Zak Doy
Patron Tequila

11am: #WhereistheBrandy? Demystifying Brandy de Jerez
Dianna Greene
Fundador Brandy
Noon: Lunch
1pm: Craft Flair 101: Grabbing Your Bar Tools by the Horn
Lorenzo Garcia
2pm: Crafting Your Future Using AI & Technology
Emily Taffel & Rob Husted
Yacht Life Vodka
3pm: Building a Bad Ass Bar Team
Mariano Gil

4pm: Sustainable Talks: What is sustainability and how to make your cocktails and bars more sustainable
Luis Baez, Daniele Dalla Pola & Jules Aron
Flor de Cana  
For more information about attending, exhibiting, presenting or sponsorship
Click Here!
Bartenders' Shakedown Main – Accuracy Competition Rules – Speed Competition Rules -
Cocktail Competition Rules – Flair Bartending Competition Rules – Event Partners -
Mixology Matters Cocktail Conference Main – Registration/Tickets - Live Broadcast -

 Copyright BarWars LLC