"Mixologist or Flair Bartender?" – Chris Cardone Interviewed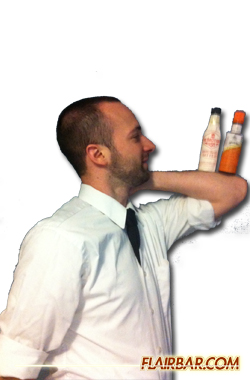 From starting out picking up a Flairco bottle after watching the movie "Cocktail" to not knowing where it may take him to competing against the same people he first learned from watching videos of them online in the Cayman Islands to being the bar trainer on Jon Taffer's "Bar Rescue"… Mr. Chris Cardone. He is a very talented bartender with many dimensions and now in the pages of Flairbar.com, we get to know a little more about Chris with "Mixologist or Flair Bartender?" as he shares with us his insights on the world of Flair bartending & Mixology… So sit back, relax and indulge in a Finest Call cocktail made in a Flairbar.com tin sold on BarProducts and enjoy…
Age? Just turned 34 a few days ago.
Where are you from? My hometown is Ronkonkoma, NY, on Long Island.
How long have you've been Bartending? I started bartending in 1999, so it will be 14 years in June.
And Flair Bartending? I picked up a few flair bartending moves around the same time as I started bartending, but I got serious about it in 2001, when I started competing Internationally.
Where do you work? I currently work at IL Buco Alimentari e Vineria in NYC.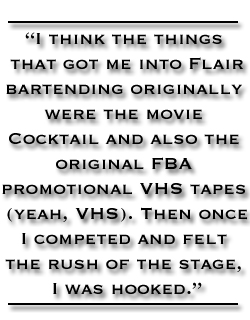 What got you into Flair Bartending? I think the things that got me into Flair bartending originally were the movie Cocktail and also the original FBA promotional VHS tapes (yeah, VHS).  Then once I competed and felt the rush of the stage, I was hooked.
How did you start out learning to Flair? I started learning some basic Flair moves by a bartender I knew who competed one year at Quest back in 2000.  He got me started and then I simply carbon copied the FBA promotional tapes and basically stole as many moves as I could actually perform.  I started coming up with my own original style and moves when I began competing at the world level (Caymans 2001).
Tell us about your nickname "Rookie"? Ah, Rookie…….well, it was basically a name that Tobin (formerly Toby) Ellis gave me for being more than a little excited to meet my Flair bartending heros at Caymans 1.  I was a 20 year old kid,  in the Cayman Islands, hanging with the Flair bartending legends that got me interested, while drinking a lot more than I could handle. I Definitely acted like a rookie, but I thought I would shake the name by now.  Jeez.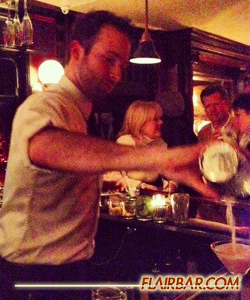 Tell us about the Flair Bartending & Mixology scene in New York? There really isn't a Flair scene in NYC.  There are a few Flair bartenders scattered through the 5 boroughs, Long Island and Westchester.  You could probably count us all on two hands.  NYC is all about mixology.  It is a religion, not a job.  I think that Flair bartending, especially Flair bars, do not really work well in fast paced cities, because the people are too rushed to want to sit back and watch that show.  They want their drink and they want it now.  That's why I think it works so well in Las Vegas and other parts of the world where the customers are in no hurry and enjoy watching a show.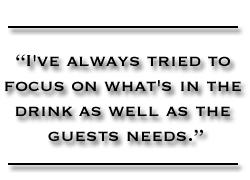 What makes you stand out from other Flair Bartenders? I'm not sure if I stand out from other Flair bartenders so to speak.  I think I've just always focused on more than Flair alone.  If anything, I would just say I'm more well rounded than many Flair bartenders that I have judged. I've always tried to focus on what's in the drink as well as the guests needs.  Many Flair bartenders haven't taken major courses on wine and beer and learned the steps of fine dining service.  I also always try to break down the wall between me and the people at my bar or watching me compete.  As a judge, I hate watching someone stone-faced just flipping bottles.  I don't care how many objects they flipped if they don't connect with me and the drink sucks.
What do you hope to get out of Flair? I've already gotten my fair share from Flair….. multiple national tv spots, multiple television show appearances, multiple print media appearances, the opportunity to meet and work with/for all kinds of
celebrity clientele, travel all over the world and make long lasting friendships with some of the best Flair bartenders, who I now would call family.  I think at this point, I'm playing with house money, whatever else I get out of Flair is simply gravy.
What is your favorite Flair Bartending competition and why? I would have to say my favorite Flair comp is a three way tie.  The Caymans comp was my first and it was a very intimate competition where every competitor and judge hung out all night.  There was no "practicing all night in a hotel room".  Quest has to be mentioned because it was a 100 bartender yearly  reunion in Orlando and it was just full of misbehaving as well as some amazing competition.  The third choice would have to be Blue Blazer for the fact that I have always felt that it was the future of Flair comps and Flair bartending.  Most pure cocktails competitions are super boring, the Blue Blazer gave you an exciting fun cocktail competition.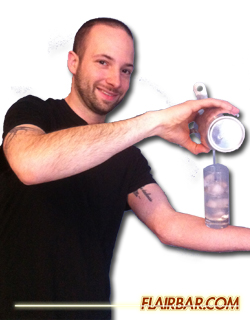 Who do you look up to in this Sport? I'm not sure at this point if I "look up to" anyone in the Flair world.  However, I am always impressed by Flair bartenders who can perform on stage with virtually no mistakes, drops or spills, can break down the wall between the stage and the audience and who owns his/her show.  I have a Flair family that I've developed over the years and I would say I look up to them, not necessarily for Flair, but just for the people, businessmen, bartenders and friends that they are.  Names like Luis Iceman Herrera, Jim Allison, Levi Donaldson, Cache Bouren, Tobin Ellis, Christian Delpech, come to mind. And I've always had a man crush on Neil Garner.  He's always caused me to have the worst hangovers of my life every time I've drank with him.
Tell us about being part of the older generation of Flair Bartenders and how you differ from the newer generation? As part of the "older" generation of Flair bartenders I think the three big differences from the newer generation is 1) a lot of Flair bartenders are terrible bartenders!  They can juggle 4 bottles but can't make a good drink, can't handle a busy bar crowd and don't understand the craft.  They just know flipping bottles.  2) competitions became way too focused on originality and difficulty and forgot that 99% of the people in the room don't know or care about either of those categories.  The comps lost the entertainment value and the fun.  3) bottle tin is gone?!  That was always my favorite sequence to use, judge, watch.  Nowadays, bottle Tin routines are obsolete and considered easy.  Really?  Check again.  I miss bottle tin.
How did you get involved with the show Bar Rescue and tell us about your experience while on the show? The Bar Rescue team found me on-line and asked me if I would be interested In being a part of the show. After understanding what they were looking to do and how they planned to showcase Flair and how I would be involved in the show, I agreed.  Being a part of Bar Rescue was a fun experience and I still maintain relationships with people that I taught on the show.  It was exhausting however and the days were extremely long.  There was no work hard and play hard, it was just work hard.
How is Jon Taffer in real life when the cameras are off? Jon Taffer from my personal experience is a knowledgeable mentor for our industry.  He has found/created a tv friendly niche.  However, he doesn't socialize much after shooting so I never really got a chance to connect with him on a personal level, but he is a total professional while working.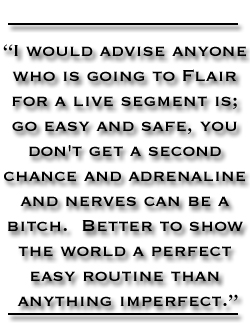 Another great opportunity you had was on the Jimmy Fallon Show… How did that come about and any advice for other bartenders working national television events? Fallon was a blast.  First, the whole concept of the segment evolved massively from the first meeting to the final shot.  We were originally going to do one clip of me spinning a beer bottle.  After about 5 minutes of me suggesting and demonstrating to the producers some moves that we could do, the segment turned into a whole big thing.  Being on set is always fun and a bit of a rush, no matter how many times you do it.  One of my biggest gripes is when people have criticized me for not doing "bigger Flair moves" on national tv.  My usual defense and the one thing I would advise anyone who is going to Flair for a live segment is; go easy and safe, you don't get a second chance and adrenaline and nerves can be a bitch.  Better to show the world a perfect easy routine than anything imperfect.  This may be the only chance we have to show that viewer that Flair can be a professional art form.
What are your thoughts on the bar business and the politics involved with it? Every job has politics involved.  Although I've watched the liquor business get extremely political over the last few years.  Due to social media and brand competitiveness, everyone is so afraid to say anything negative or even question a brand for anything.  It isn't about what you know, it's about who you know and support very often in my experience. This can be very tough for a guy who doesn't hold his tongue very often.  I like to think I call it like I see it and I've always tried to focus on growth for my industry.  I support brands I personally believe in, bartenders that I think help our industry grow and even when judging Flair, I always try to judge people fairly, with no bias.
What are your thoughts when you hear remarks about Flair bartending or craft cocktails slowing down service? Sometimes Flair bartending and craft cocktails do slow down service.  And I don't go back to that bar regardless of whether its Flair or Mixology.  I have limited time and money.  I would rather go see a Flair bartender or craft cocktail bartender who can smile and talk with me while making my drink in a timely manner….if that's not available, I would much rather belly up to a local pub and have a beer.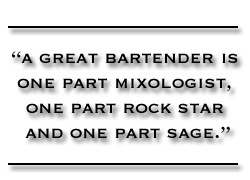 In your opinion, what makes a good bartender? A good bartender is like a balanced drink; multiple layers that blend together seamlessly.  If I can quote from someone whom I look up to in the craft cocktail world, (Dushan Zaric) "a great bartender is one part mixologist, one part rock star and one part sage."  He/she can talk intelligently about product, cocktails, wine, beer, coffee, food, sports, can give advice or simply listen, can remember names and drink preferences, can be the life of the party, but also can read a guest that wants to be left alone.  A good bartender truly does wear 100 faces in a night.
What are your thoughts on bartending competitions today… what would you change and why? Competitions have always been an outlet to learn and express myself.   I think I would change today's Flair comps to be more focused on entertainment for the average viewer and more product focused for sponsors. In my humble opinion, the "competitors choice" unlabeled bottle was one of the worst Flair decisions on a business/money standpoint.
With cocktail comps, I think the one thing I would change would be that competitors should have access to both their score sheets and the judges.  Simply finding out who won a competition really doesn't provide the other competitors I chance to grow and learn.  As a Flair judge, I have always encouraged competitors to seek me out after and discuss my scoring of their round.  As long as the inquiry is professional, it is always welcomed.  That's the only way to learn how to score better next time.
From being a competitor to now a certified FBA judge, what advice would you give competitors to score better in competitions? The best way to improve your competition scoring is to talk to the judges and then really scrutinize your round. Self reflection is very hard, plus what you see from a video camera and what a judge sees in the moment are two very different things.  Many times, the truth hurts but I've always tried to be brutally honest with myself when I was competing and think about what my judges told me about my round.
What would you change with the competition format of today's Flair and cocktail competitions? I wouldn't change too much about the cocktail competitions format, I would just change the secrecy of the judges scoring after the fact.  If the comps are legit (and I truly believe most are), then every competitor should have access to their scores.  Flair comps need to be scored with the sponsors and non-Flair viewership more in mind and less about the very Flair knowledgable audience and judges. To reiterate, I feel like the Blue Blazer was the perfect blend of both and should definitely be resurrected.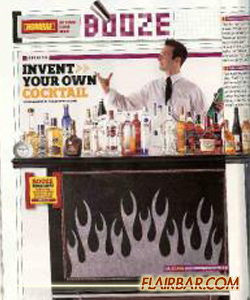 Tell us about your role as the FBA special events coordinator? I began my time as the FBA special events coordinator about 4 or 5 years ago in order to help clients find professional and highly skilled Flair bartenders for their events while making sure that those Flair bartenders are being paid fairly for their insane talents.  Way too often people are low balling prices in order to get a job. I posted something about this on Facebook a while back and although I got a ton of likes and support this still is happening all the time and it simply devalues our worth to potential clients.  And it drives me up a wall.
If a bartender is interested in this, what should they do? If someone is interested in working for the FBA special events, they have to prove to us that they are professional, highly skilled and have a serious grasp about what our special event clients are really looking for.  We have a solid group of Flair bartenders that we currently utilize from Maine to California….I'm simply adding and deleting from the database nowadays.
Do you think our sport of Flair bartending is on the rise or decline and why? Currently I would say Flair is in limbo. If anything its slightly on the rise….as more and more guests look for more entertaining bartenders and less "pretentiousness" from the craft cocktail bartenders of the world, Flair will rise.  At this point, it unfortunately seems to be cyclical.  I'm hoping at some point for a very happy median of craft cocktails and Flair bartending.
How often do you practice and how do you structure your practice? Practice?  We're talking about practice?  – Allen Iverson.  My practice sessions are very far and few between these days, however I would say although I'm not setting up scheduled practice times for Flair alone, I use every shift behind my bar to improve and practice my speed and working Flair.  Many nights my guests will say things like, "I saw that!"  Or, "what was that?" as a subtle working Flair move happens here and there throughout my shift.  I use every shift I work to become a better, more rounded bartender.  That's my practice time.
What are the advantages and disadvantages of being a Flair bartender rather then a regular bartender? I don't really see being a Flair bartender as an advantage or disadvantage for me at my current place of employment.  I think it's just another part of the overall craft that I have in my repertoire that most other NYC bartenders don't.  I use little Flair moves all night as an accentuation of my overall bartending style.  I don't think Flair bartending can be a disadvantage ever, so long as the bartender understands the real purpose of Flair and doesn't over do it and screw up.  But that's no different than any other aspect of the industry.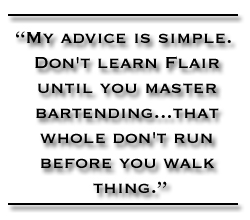 What is your advice to some of the new bartenders wanting to learn Flair Bartending? My advice is simple.  Don't learn Flair until you master bartending….that whole don't run before you walk thing. There are way too many Flair bartenders competing this days who can juggle 4 bottles but can't free pour an ounce accurately, don't know any cocktail recipes, and do not know how to handle a busy room/bar.  Flair and mixology are both done best once you have a solid grasp on the basics.  And when learning Flair, learn the basic principles and fundamentals first.  I've always been fond of that old saying, KISS, as in,  "keep it simple stupid."
How would you balance the art of bartending like a great cocktail? Bartending is very much like a cocktail.  Just instead of strong, weak, bitter and sweet, the categories are just different.  The Bartending box should probably read Rockstar, Sage, Mixologist, Artist.  Finding a balance between all of those categories is the ultimate goal that I try to find every single night I step behind the bar.
What do you hate about bartending and how do you hope to overcome it? There is nothing I hate about the bartending industry.  I am not fond of certain aspects of the business like the politics, dishonest establishments and practices and the misunderstandings about what my job actually entails….but those little things are a drop of bad in an ocean of good.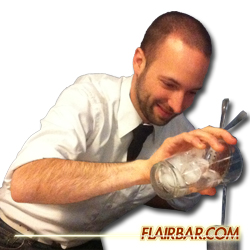 What steps could we take now to help cultivate the future for our sport of Flair bartending? Flair bartending needs to get back to being less about how big the moves are and more about the entertainment.  Why is it that almost every Flair bartender on the planet names Tim Flippy Morris as their favorite Flair bartender to watch at work?  Cause that dude owns the crowd every single shift.  He commands and demands that every guest have a good time.  Ever watch Christian Delpech compete in his hay day?  He owned the room.  Every person stopped what they were doing when he hit the stage and just watched him. Flair needs to get back to being entertaining for everyone in the room, not just about originality and difficulty for the judges.
Why should corporations and sponsors invest in Flair bartenders to help promote and educate their products and why? I'm very split on my answer on why Flair is a good investment for corporate sponsors.  So, first I'll say that for most Flair comps I've seen over the last few years…corporate sponsors really shouldn't give their money to Flair.  Yes, I just said that.  Sorry, but here's the deal….. corporate sponsors are going to give someone tons of money so their product is a sponsor, and then watch their bottle get flipped for 45 seconds at the start of a 5 min round and then watch label-less "competitor choice" (usually bottles that have nothing to do with the competition but are easy to use)  bottles be juggled around for the next 4?  And then when the round is done, they're going to see 2 usually very gross looking and very boring drinks that do absolutely no help to them to package the product to the crowd as something they should want to go out and buy?  Can't say I blame them.
Flair comps and Flair bartenders can be helpful for sponsorship if and when comps and Flair bartenders are more concerned about the product and the potential cocktails those products can make.  Competitions should highlight the products for the entire round and the finished product should look enticing.  Crowds should want to go right to the bar and drink those cocktails.  It's all about the Benjamins for these sponsors.  That's why they are throwing so much money at cocktail comps…it's essentially advertising for the product and they get hundreds of new cocktail possibilities to now market.  However, I would always suggest that serious sponsors use the FBA as their Flair platform because the FBA ensures that the competition aspect will be fair and professional.
What are your thoughts on the FBA (Flair Bartender's Association) and the WFA (World Flair Association)? Are they working towards the same goals and can we work together more in the future for the overall better of Flair bartending? I'm a big fan of the FBA, the WfA and any other organization whose purpose is to help Flair bartending grow in a professional manner.  I hope everyone involved has that same goal.
What are your thoughts on the USBG (United states Bartenders' Guild)? The USBG is great.  They provide so many great opportunities to learn and grow in some many areas. USBGNY has the best governing body (yes, I'm biased) and its seems like they have some educational event, competition or organized fun get together every week.  They rock.
Are you a current member? Yes, I've been a member of the USBG for a few years now and I try to be as involved as my impossible schedule allows me to be.  It's always a great time any time I get a chance to go to any USBG event.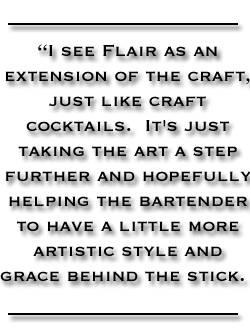 I understand you are on the Flair committee for the USBG, what are your thoughts on current USBG members embracing Flair bartending and how can we all learn from each other in these future years? I'm thrilled that the USBG is embracing Flair bartending.  I see Flair as an extension of the craft, just like craft cocktails.  It's just taking the art a step further and hopefully helping the bartender to have a little more artistic style and grace behind the stick.  It's certainly been a big change over the last 10 years as far as acceptance goes.
What was your recent nomination from Tales of the Cocktail and what would it mean to you to win? I was nominated for Best American Bartender for Tales of the Cocktail. I was truly honored that a few people sat at my bar and felt strong enough to take the time to nominate me for that title.  Personally, I don't feel I'm even close to winning something like that considering all the great bartenders all over this country, many in my home town of NYC.  I have no expectation at all of winning, I'm just hoping to have the opportunity to have a judge sit in front of me and allow me the opportunity to try and show them my best stuff.  It's all
about growth and learning for me and what better way than to have any one of those great judges sit at my bar and offer me that challenge/opportunity.
What are your thoughts on Flairbar.com and what would you like to change about it? Change Flairbar.com? If its not broken, don't fix it.  I'll let smarter people than me suggest changes to this great e-zine.  I love Flairbar.com just the way it is.
What are your thoughts on Finest Call products and Why? In the times I've used Finest Call products they have always been great.  Unfortunately we don't see much Finest Call being used in NYC.  These days every syrup, tincture, infusion, etc are all made from scratch by the bar team.  Other than a Flair comp, I don't get to see Finest Call very much.
What is your favorite Finest Call flavor? I think I'll say my favorite Finest Call flavor is Orgeat.  Making Orgeat syrup is a job.  Finest Call Orgeat is a huge time saver!
What is your favorite cocktail you created and can you share with us how to create it? My favorite cocktail I've created?  That's like trying to pick a favorite child.  I try to create new cocktails all the time and especially enjoy making bespoke cocktails at my customers request based on their preferences.  But I'll share this cocktail as it was a top seller at the Beatrice Inn last spring and the season is upon us.
Flora Collins
1 3/4 oz thyme infused Fords Gin
3/4 oz lemon juice
1/4 oz grapefruit juice
1 oz lavender simple syrup
Shake and strain into rocks glass
Top with soda
Garnish with a lemon peel and thyme sprig
What is your favorite drink? My favorite thing to drink is usually a really great bottle of Burgandy from the Côte d'Or region.  However, my favorite cocktail is a solid three way tie between the Last Word, the Hemingway Daiquiri and the Negroni.