Cocktail Art Challenge 3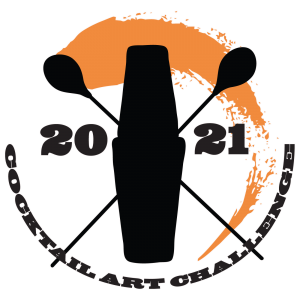 Welcome to the Cocktail Art Challenge, where we challenge you to create your best cocktail art while entertaining us on stage with the art of Flair for the crowd and the judges. What will you create?
Photo Album link below…
https://www.facebook.com/media/set/?vanity=Flairbarcom&set=a.5147290691957463
Here are the final results…

OFFICIAL CONTEST RULES ARE POSTED USING THE LINK BELOW…
Cocktail Art Challenge 3 Rules
Prizes
Pro Division
1st Place: $1,000 + Trophy
2nd Place: $500 + Trophy
3rd Place: $250 + Trophy
Amateur Division
1st Place: $250 + Trophy
2nd Place: $125 + Trophy
3rd Place: $50 + Trophy
FINEST CALL STALL: $100 + Trophy
MOST ACCURATE BARTENDER: $100 + Trophy
(Open to anybody on site that wants to compete)
BEST 30 SECOND PLANTATION RUM & FINEST CALL COMPETITOR COMMERCIAL
1st Place: $500 + Trophy
BEST COCKTAIL NETWORK LIVE AVIATION GIN & REAL SYRUPS VIEWER COCKTAIL RECIPE
1st Place: $500
FLAIR YARD DAY CONTESTS (Tuesday October 12th Open to everybody)
LONGEST 3 BOTTLE JUGGLE: $100 + Trophy
MOST CONSECUTIVE BUMPS: $100 + Trophy
FINEST CALL STALL: $100 + Trophy
Competition Date:
Monday October 11, 2021.
Competition Location:
The Improv West Palm Beach, Fl
550 S Rosemary Ave
Unit 250
West Palm Beach, Fl 33401
Yard Day Location:
Tuesday October 12, 2021.
Lake Worth Beach
10 S Ocean Blvd
Lake Worth Beach, Florida 33460
Competition Outline:
Competitors will be challenged on Working Flair, Accuracy and original Cocktail Creations with the best Flair performance on stage as judging points will be based on 50% Mixology & 50% Flair with a possible 10 point accuracy bonus.
Competitors
1. Mike Hastings (Nashville, TN)
2. Moe Harris (Bristow, VA)
3. Russell Hatfield (Las Vegas, NV)
4. J Manuel Grimm (Fort Lauderdale, FL)
5. Chad Tocco (Miami, FL)
6. Marco Montaguano (Chicago, IL)
7. Cristian Ochoa (Las Vegas, NV)
8. Kristof Vandenabeele (Lier, Belgium)
9. Carlos Cardoso (West Palm Beach, FL)
10. Elijah Chu (Las Vegas, NV)
11. Mariano Gill (Brownsville, TX)
12. Adrian Reyes (Miami, FL)
13. Colby Good (Las Vegas, NV)

Amateur Division
1. Brian Hession (West Palm Beach, Fl)
2. Semaj Lynch (Suitland, MD)
3. Joel Ruiz (Brownsville, TX)
4. Taurus Samson (Las Vegas, NV)
Emcee
Jordan Mednick
CNLive Anchorman
Dean Serneels
Videographer
Motion Minds
Photography
JR Hutter
Itinerary
Itinerary Sunday October 10th, 2021:
Itinerary Monday October 11th, 2021:
Itinerary Tuesday October 12th, 2021
2pm: Sponsored cocktails
3pm: Flair Yard Day on Lake Worth BeachLake Worth Beach
10 S Ocean Blvd
Lake Worth, FL 33460
On the grass between the pavilions.
Registration $25:
Please email events@barwars.info with either Pro or Amateur division along with first name, last name and phone number. after you make online payment.

First competitors in the Pro division and in the Amateur Division to sign up first, secure their spot before registration closes. Registration is non-refundable and on a first come, first serve basis.

Pro Division
REGISTRATION IS CLOSED
Amateur Division
REGISTRATION IS CLOSED
TICKETS
https://www.eventbrite.com/e/cocktail-art-challenge-3-tickets-169686818843

$10 VIP SEATING
$50 VIP TABLE
FREE GENERAL ADMISSION

Any questions can be emailed to events@barwars.info and the question and answer will be posted below and is the competitors job to check this page daily to stay updated…
Q: Hey brother just a few questions about the rules. So are we making a total of 8 drinks? Also for our exhibition bottles can we us unlabeled captain bottles?
A: Yes, 2 specialty cocktails four times each. 3 for judges and one for camera. If i remember correctly, Captain Morgan bottles have their logo and other elements etched in the glass… so No as "Competitor choice bottles are clear unlabeled bottles for juice & egg whites only if it's in your recipe for your specialty cocktail. No electrical tape, not tinted glass, no stickers, no distinguishing marks or elements, … "clear unlabeled bottles" only."
Q: "The only syrups allowed in the competition are Re'al Syrups"… is it ok to use Finest Call Passion Fruit Puree Mix in addition to a Re'al product as it's labeled as a puree mix, and not a syrup? 
A: Yes.
Q: I know the cocktail must have a Finest Call Single Pressed… would Passion Fruit count for that?
Or if I use Finest call single press lime, could I also use finest call passion fruit in addition in the recipe?
A: Correct, you may use Finest Call Passion Fruit but are still required to use either Finest Call Single Press Lime, Lemon or combination of both in addition.
Q: Do we have to have the actual bottle to film it? If so we have to check around town for it. Can we submit it ON the 27th as long as it's before, say midnight going into the 28th?
A: It is not required to have the actual bottles in your 30 second commercial but it could help, it all up to your creativity. Yes by midnight on the 27 is correct.
Q: I was looking over the layout and what will be provided and I did not see finest call simple syrup, will there be on site and if not can I bring my own in a clear squirt bottle??
A: No, Finest Call Simple Syrup will not be supplied, No you can not bring your own Simple Syrup in a squirt bottle… but YES you can bring and use Finest Call Simple Syrup if its in your recipe as stated in the rules.
"Non-competing spirits in your recipe will be supplied by the competitor and
must be in its original bottle and packaging and can be set to any level.
No other Gin, Rum, syrup or competitive mixer will be allowed.
Homemade ingredients ARE NOT ALLOWED."
Good luck to all of the competitors!