Contacts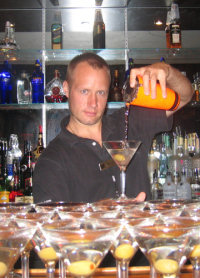 ROB HUSTED
C.E.O. Flairbar.com
I've been bartending for over 19 years and Flair bartending, competing, organizing, judging and promoting Flair for over 14 years. I was ranked as the most accurate bartender in the world for 2004. Had the honor of finishing 11th in the world and 2nd best American in the world for Flair bartending in 2005. I'm one of six bartenders that represent the United States for the Flair Bartenders Association, the CEO of Flairbar.com, the #1 resource in the world for Flair bartending and Mixology. I run  a bartending consulting company called BarWars LLC  in which we specialize in Event Staffing, Drink Development, Advanced Bartender Training and Bartending competitions. I am currently the United States Bartenders Guild Palm Beach chapter president. I've appeared on Food Network many times promoting Flair & Mixology as well is also the Flair bartender featured in the hit music video "It's Five O'clock Somewhere" with Alan Jackson and Jimmy Buffet.
My first experience of Flair was watching Rick Barcode and Rob Ford compete at Bartender's Bash, Islamorada, Florida, in '99. Ever since then I have a passion for Flair and continue to spread the gospel of our sport!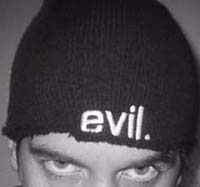 TOBY ELLIS 
Columnist Flairbar.com L.L.C.
I am not totally evil. I am however, the co-founder and former president of the FBA  as well as the man responsible for BarMagic.com, the first ever Flair Bartending website. I have been a finalist in Major Competition 9 times including Legends, Quest and Blue Blazer and a finalist in Major Mixology Competitions 6 times. I have one World Mixology Title I'm damn proud of and a plaque from Chico I'm almost as proud of. I have been bartending and Flairing for 17 years and I still can't pick an olive out the fruit caddy on the first try, let alone catch it on a sword with my mouth. Slippery little bastards.
I work solely now for my company, BarMagic, which was established in 1997, a couple years after the wheel was invented. I travel the world developing nightlife properties and concepts, providing marketing and advertising for bars & clubs, consulting for casinos & multi-units and providing a host of other eclectic services related to the nightlife and drinks industries.
This is the shortest thing on Flairbar.com you will ever read from me. No, really.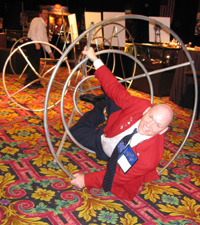 BOBBY GLEASON
Columnist Flairbar.com
I am currently employed as the Beverage Specialist at the Rio Hotel & Casino, Las Vegas. I started in the "business" in 1980 I have been fortunate enough to have won some very prestigious cocktail competitions and currently serve as the Vice-President of the United States Bartenders Guild (USBG), Nevada Chapter.
My goal is to taste the top 100 classic cocktails in the location that they were originated in (or as close as possible). Cocktails and spirit knowledge is my passion and I hope to share that with as many as I can.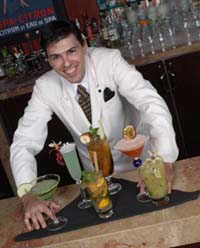 FRANCESCO LAFRANCONI
Mixologist Flairbar.com
I am the Chairman and co-founder of the United States Bartenders Guild (USBG), Nevada Chapter and an active member of the International Bartenders Association (IBA).
I have won several prestigious international cocktail competitions and made cocktails for celebrities like Steven Spielberg, Quincy Jones and former US Presidents.
I am the Director of Southern Wine and Spirits of Nevada's Academy of Spirits and Fine Service where you can find me teaching and creating cocktails for Flairbar.com.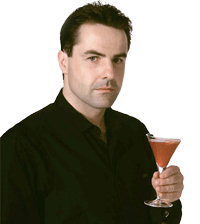 PHILIP DUFF
Writer Photographer Flairbar.com
I am a bar and beverage consultant who travels the world to advise and train major drinks companies, hotels, bars, restaurants and nightclubs about brands, bartending and cocktails.
In between writing for Flairbar.com there have been thrilling diversions such as filming training DVD's in Shanghai or being locked in the detention cells underneath Belgrade airport. But mostly it's brands, bars and cocktails.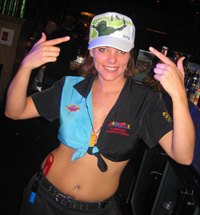 ERIN CONNELLY
Journalist Flairbar.com
I've been a Flair Bartender for five years. I've competed in over 40 competitions, winning a couple and making it to the finals in even more. I have organized a competition, trained bar staff, and set up bars. As a journalist, I have reviewed competitions, web sites, and bar related books for Flairbar.com, of which I am one of the original contributors.
My goal is to spread the word of Flair around the globe and continue to travel, compete, and to meet Flair bartenders that share the same passion I have.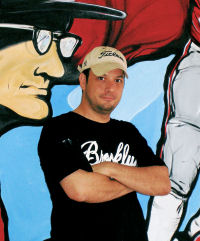 KEVIN BEDNARZ
Illustrator Flairbar.com
My name is Kevin "Double Down" Bednarz from Northern Virginia and I have been bartending for over 12 years and Flairing since 1999. I have competed in countless comps and finished 5th in the world Advanced Division at Quest in 2001. I've won numerous comps around the country and organized many events as well including the "Battle of the Bartenders 1-5″ in Sterling VA at The Bungalow.
I am pretty much retired from Flair, I now bartend 2 nights a week at The Ashburn Pub in Ashburn Va and have started my own art & design  biz…www.doubledowndesigns.net.
Besides commercial murals and artwork, I'm also continuing to work on our Flair comic srtip, as well as a whole line of Flair inspired artwork and paintings. I'm available for commisioned custom pieces for bartenders as well…
Im 35..married…and semi retired dosent mean dead to Flair..so watch out! LOL
Thanks this will be fun!!!
Kevin Bednarz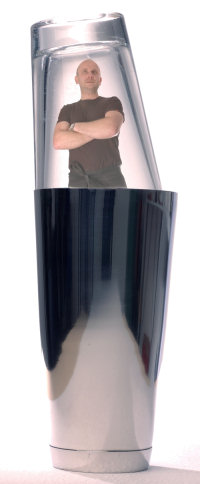 LAURENT GRECO
Mixologist Flairbar.com
I am 34 years old and I have graduated from the best culinary schools in France –
I have won several cocktails competitions in France & international.
I had the chance to bartend in the US in NYC and Miami beach for 5 years and Now I run BAR ACADEMY in Paris.
I keep on doing seminaries all around the globe, about fruit garnishing and French touch mixology.
I have also wrote several books about the subject.
I am GREY GOOSE  ambassador and mixologist here in france.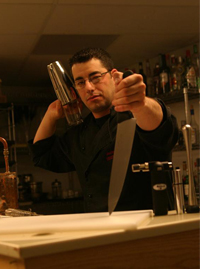 ANTHONY ALBA
Columnist Flairbar.com
Originally from New York I moved to Las Vegas in 1989, I've been in the food and beverage industry since the age of 14. Since then I have opened two restaurants of my own.  I started bartending 1999 and found a home at the Rio in 2006 as the Property Mixologist. Currently I'm now a beverage consultant with my company Liquidity Global; here I create cocktails, trains beverage staff and works with spirit brands all around the world. My style would be described as cutting edge and heavily influenced in culinary traditions. I've been organizing, competing and hosting competitions in both flair and Mixology since 2002. Currently I'm the Vice President for the Nevada Chapter of the United States Bartenders Guild. In my spare time, I like to get out to the track and race motorcycles, dabble in molecular mixology, make his own wine and beer and even distill his own spirits!
Honors;
-First Runner Up, Mixology – Las Vegas Centennial Cocktail Competition, Las Vegas Nevada 2004.
-First Place – Rio Flair Bartender Competition Level 2, Las Vegas Nevada 2005.
-First Runner Up – Quest Bartending Competition Armature division, Orlando Florida 2005.
-Second Place – Rio Division Finlandia Winter Games, Las Vegas Nevada 2005.
-Best Garnish – Starbucks Ambassador Competition, Las Vegas Nevada 2006.
-Second Place – Nevada Chapter USBG Pre-dinner cocktail competition, Las Vegas Nevada 2007.
-First Place – USA West 42 Below Cocktail World Cup, Las Vegas Nevada 2007.
-Grand Champion (as part of team USA West) – 42 Below Cocktail World Cup, Queenstown New Zealand 2007.
-First Place – Stella Draught Masters Competition, Las Vegas Nevada 2008.
-Fourth Place – Shake It Up Cocktail Competition, Las Vegas Nevada 2008.
-First Place – Nevada Chapter USBG Cocktail Competition, Las Vegas Nevada 2008
-First Place – National USBG Cocktail Competition, Long Beach California 2008.
*I will be representing the United States in two international competition in October 2008. First in the I.B.A world finals in Puerto Rico and second the Stella Artois Draught Masters world finals in Belgium.
---
Contributors:
Rick Barcode, Tom Sherk, Tim Black, Jason Simpson, Paul Riebenack, Philip Duff, Stefan Notteboom, Alan Mays, Edwin Decker, Ken Hall, Dean Serneels, Scott Young, Cheryl Charming, Eric Stevens, Jason Jelicich, Chuck Rohm, Eric Holbert, Craig & Heather Lombardo, Sergy Gribkov, Jenn Grenier, Chris Leach, Bols, Showtenders, Jeff Fleisher, Kevin Bednarz, Blavod Vodka, Bill Long, Byron Lewis, Koz, Conchita Morland, Toby Ellis, Nathan Taylor, Barstarz, Danielle Sterk, Your Favorite Bartenders, Wendy Morland, Smirnoff, Fabians Restaurant Supplies, Yos Malelak, Bar-Excellence, Judy Connelly (Da Mamma), Chris Davison, everyone at 403 (Scott, Carey & Paul), A.J. Gruening, Tony Cogburn, Mac, Mamat, Joshua Johnson, Christian Delpech, Rodrigo Delpech, Sloppy Joes, Adobe Gilas Orlando, LatinBar.net, Brently Cobb, Ed Hibbert, Chico, Mike Taing, Don Anderson, Sublime, Flairdevils, Francesco Lafraconi, Essie Numminen, High Spirits, Kahunaville, Kahunagrill, Club Safari, Travis Tober, Teddie Buckley Jordan Mednick, Mark Hastings, Levi Donaldson, Shawn Oana, Jim Allison, Mindaugas Gradeckas, Tim 'Flippy' Morris, Steve Pacheco, Adriano Marcellino, Hiroyohi Iwamoto, Francesco Leoni, Ann-Marie Goldstein, Jamie 'Big Dog' Berrier, Randy Harrington, Nicolas 'Nico' Antivero, Ati Tedesco, Robyn Closson, Terri, Leeseberg, Jennifer Meyers, Joey Lenz, John Buckley, Mary Beth Riley, Skyy Vodka, Finest Call, Extreme Flairwear, Graham Kimura, Laurent Greco, Adam Kotarski, Tia Rodriguez, Oscar Perez. Danilo Oribe, Mark Bullerwell, Steve Dingley, Behind Bars, Benham Gerami, Bobby G., Pisco, Milk & Honey, Chris Cardone, John "JB" Bandy , Bartrix, Dario Doimo, Duane Gilbert, Josh Carpenter, Robert Gerosa, CPF Italia, Jeff Clark, The Rockin' Taco, Rodrigo Cao, Barwars LLC, Graham Warner, Mike Mclean, Flairco, Andy Collinson, Chris Fetter, Tom Dyer, Livio Lauro, The Rio, Jay Du Toit, The Seminole Hard Rock Team, Josh Nemerow, Paul Trzcianko, Vasko, Jennifer Durant, Danielle Santacroce, Justin Keane, Rob Turek, Mauro Garrido, Martin Janica, JD Spradlin, Chuck McIntosh, Mana Manasas, Ellyn Berg, Danilo Oribe, Tim Plummer, Matias Supan, Dan Seitz, Vladymyr Buryanov, Randy Reyes, Behnam Gerami, Stefaney Lewis, Midori Melon Melon Liqueur, X-Rated Fusion Liqueur, TY KU Asian Citrus Liqueur, James Burke, Cesar Romero, Juan Llorent, Christian Oldan, Matt Maze, Micah Dew, James Hadhazy, Chad Tocco, Tomek Malek, James Sordahl, Chris Miller, Anthony Ramirez, Santaigo Emeric, Chandelle Yarmey and the FBA.
---
Flairbar.com L.L.C. Tel: (561) 315 7963 Views expressed in Flairbar.com are not necessarily the views and opinions of the CEO, VP or Editor. Flairbar.com is produced in good faith (by Bartender's) as a service to the community of Flair Bartender's Worldwide. All logos and trademarks of Flairbar.com, Flairmation and Flairquipment are copyright. © 1999, © 2000, © 2001, © 2002, © 2003, © 2004, © 2005, © 2006, © 2007, © 2008, © 2009, © 2010, © 2011, © 2012, © 2013, © 2014, © 2015, © 2016, © 2017, © 2018, © 2019, © 2020, © 2021 BarWars LLC.