March Melodies – by Kris Bahamondes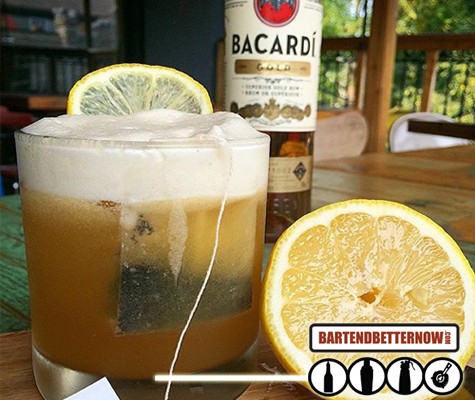 BREAKFAST BLESSINGS
2 oz. Bacardi Gold
1 oz. fresh lemon juice
.75 oz English Breakfast Tea Syrup
1 egg white
Angostura bitters
The bitter and creamy breakfast tea brings balance to this cocktail with sweet rum and a citrus backbone. Egg whites make for a beautiful foamy cap and give the cocktail more body that a classic daiquiri.
To make the English breakfast tea syrup:
Steep 1000ml of boiling water with six bags of English breakfast tea for 10 mins. Remove the tea bags and add 1000ml of white sugar. Stir until fully blended.
Procedure: In a mixing tin add the rum, breakfast tea syrup, lemon juice, egg white and angostura bitters. Fill the tin with ice and shake vigorously to chill. Crack the tin and strain out the ice. Reseal the tin and shake again in a wave like motion to set the foam. Double strain the cocktail in a rocks glass. Express a lemon zest over the top and rim of the glass before discarding.
Garnish: Skewered lemon wheel.
GRENADA SOUR
1.5 oz.'s Tanqueray 10
.5 oz.'s Campari
.75 oz. Finest Call Bar syrup
1 oz. of Freshly squeezed lime juice
12 pomegranate seeds
1 egg white
This cocktail is a visual stunner if you can get the pomegranate seeds to float on the foam. Practice getting your foam tight and gently placing the seeds on the foam if you want to succeed. Taste wise this is a sweet and sour pleaser with the Campari providing bitter balance.
Procedure: In a tin, lightly muddle 9 of the pomegranate seeds to extract the juice. Add the gin, Campari, Finest Call Bar syrup, lime juice and egg white to the tin before filling it with ice. Shake vigorously to chill before straining the ice and shaking again in a wave like motion. Double strain into a chilled coupe glass and express a lime zest over the top and rim of the cocktail before discarding.
Garnish: 3 pomegranate seeds.
.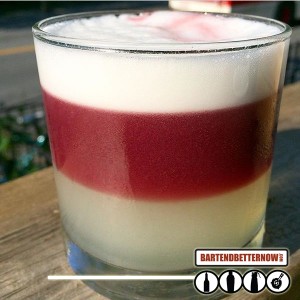 OAXACAN SOUR
1.5 oz.'s Tromba Blanco
.5 oz.'s Del Maguey Vida Mezcal
.75 oz.'s Finest Call Bar syrup
1 oz. lemon juice
1 egg white
1.5 oz.'s dry red wine to float
Based