TOBY ELLIS IS… Cut off – "FIVE DOWN"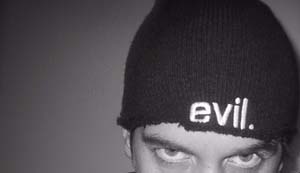 Somewhere near Dakar, Africa. Seat 54H. I'm kicking back at 35,000 feet on a 17-hour plane ride back to the United States from South Africa with Christian Delpech struggling with exactly how to start an article about my trip to Johannesburg to open the world's newest flair bar, Sequoia's when it hits me: I'm kicking back at 35,000 feet on a 17-hour plane ride back to the United States from South Africa with Christian Delpech just after opening the world's newest flair bar, Sequoia's. Wow.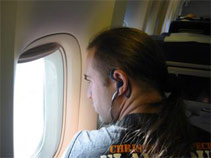 How on earth did I end up here? Wasn't just a blink of eye ago when I was washing dishes in Oswego, New York for $3.30 an hour? Time flies. And so does a flair bartender. Philip Duff has racked up more miles than the entire Botswana Air Guard. Mike McLean knows the Toronto airport parking lot better than his own backyard. With all the flying and insane flipping Tom Dyer does, do you wonder if he hops into the aisle to work on some bottle tin while the rest of the passengers are sleeping? Christian's passport has so many stamps on it, it looks like the wrist of a drunken college co-ed the morning after Spring Break. Jim Allison has racked up enough frequent flyer miles to vacation on the third moon of Jupiter. And I'm no stranger to globe-hopping either. In fact, just last month I made notch #5 on by belt for continents I have brought BarMagic to. How I'll ever get the last two, I have no clue. But I'm young(ish).
I thought the 12 hour flight from San Francisco to Hong Kong was a long one on my trip to the Kingdom Of Nepal, a 30-hour trek. But this flight to Johannesburg, South Africa (not counting the 4.5 hours from Las Vegas to Washington DC) is 17 straight hours on one plane. It actually isn't a bad flight mainly thanks to the constant feeding South African airways provides. The thought of traveling clear around the world to finish a development project with the opening of a 3-level cocktail bar, restaurant and nightclub centered around flair and mixology makes the journey a bit less troubling as well, lol.
I might just have the best job in the world.
While I'm sure there's a couple of swimsuit photographers, New York Yankees, and lead guitarists who might argue with me; getting paid to do something you absolutely love is priceless. It has taken me almost two decades to get there, but now that I develop and large-format nightclubs, casino lounges and restaurant bars for a living… I cannot imagine doing anything else. Other than flipping bottles on TV, lol. (Which is my hobby, now.) Life is good. And it's all thanks to starting out as a flair bartender. Christian tells me a story during our trip of how a bar guest once told him: "Pick a job that you love and you will never have to work again." I wonder if Mic Jagger ever looked at it like that.
Speaking of Rock Stars, that's exactly what we looked like when we arrived in Joburg. Maybe it was the white stretch limo (that our client almost arranged to pull right up to our plane on the tarmac, I kid you not!). Maybe it was the red carpet that was dropped at our feet each time the limo stopped. Maybe it was the ultra-exclusive guest house we lodged at, replete with private pool and tennis court. Any way you slice it, being a flair bartender definitely has its perks.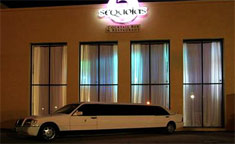 When I think back to the days when Tony "the Kid" Salerno, Eric Thurman and I drove 10 hours all at our own expense, practicing our shows with duck-taped bottles at rest stop parking lots (can I get an Amen from the old school?) along the way to perform a show for charity that was 100% unpaid… it makes this journey twice as sweet. I will never forget where I came from or how far flair has come.
We are so damn lucky, even spoiled these days. As much as I cringe at bringing it up, it was another flair bartender who reminded me of Coglin telling young Brian Flanigan about the future of bartending including "Jet Setting Bartenders." And here we are barely a decade later, living the dream.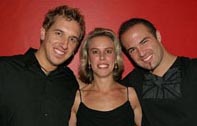 While we're on the subject of dreams; Sequoia's is the dream of a 29-year old accountant turned flair fanatic named Shelley Chadwick who lives and works in both Johannesburg, South Africa and Washington, DC. After taking a trip to Las Vegas to feed her newfound addiction for flair and touring all the flair bars and flair bartenders in Sin City, she decided BarMagic was going to be the company to help her turn her vision into a reality.
Flattered and thrilled, I began working on this development project months before our arrival and my work extended well beyond the onsite services. In fact, the Sequoia's Logo is my handy-work. But I'm even more excited about the VIP Skyy Box Level I concepted with Shelley, which she had the ingenuity and checkbook to add into the plans. As much as I love to perform, I knew that to really knock this opening out of the park, I would be wise to bring in a ringer.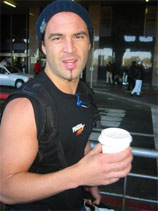 I asked Shelley what she thought of me bringing along 16-time world champion Christian Delpech. She turned into a giddy schoolgirl for a moment. Shelley loves flair. It took almost two months of planning, but four months after meeting Shelley, Christian and I are touching down in JoBurg. Our luggage wasn't so lucky; it missed the connection from LA to Washington Dulles. So we arrived in our sweats and flops with nothing more than our laptops and wallets. First order of business: clothes shopping at the mall. I picked up a brilliant pair of trainers…. blue swede Puma's. Lekker!
Christian's role for this project was napping the entire time. Just kidding. He was there to train with me but primarily his role was to perform shows on opening night. So while I primarily focused on the training and opening support, Christian prepared for his shows and tag-teamed the training program with me.We were to give the lads a day and a half of training and after a quick assessment of their abilities in bartending, flair, mixology, etc. we modified the timed training agenda I had prepared and dug in. Luckily the guys (and girl!) where mainly already quite confident and skilled with fundamentals in most areas and some were actually quite sharp in all areas.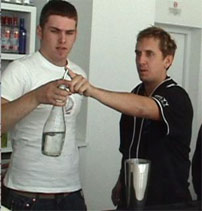 So Christian and I talked about it and decided we would focus our time and opening their eyes to the possibilities that can be achieved working at a bonified flair bar. We spent time demo'ing and training true working flair with my mantra of Pull, Pass, Pour. We spent hours on technical freepouring, which was new to most of them and of course, hammered through as much mixology technique as we could fit in. By the time we finished our trainees had mastered shadow passes, multiple flair-pours and aggressive cuts, and had a firm grasp of the concept of working flair behind a high-volume, up-market cocktail bar.
The three weeks prior to an opening always astound me; an empty shell of a building often still under construction somehow all comes together and transforms into a fully-finished room. Equally astounding is what I can only refer to as a complete absence of thought when it comes to planning and installing bar equipment. More and more I am hired to do just that for clients. Unfortunately in this case, I was hired after all such planning and purchasing was done.
Now I'm the first person to acknowledge that almost every bartender thinks they could do better themselves and generally finds fault with everything behind the bars they work behind. But once you start actually getting involved in the planning, purchasing and installation of bar equipment you begin to understand why it is so difficult, if not damn near impossible to design a bar that is ideal. Plumbing and electrical schematics are planned and built long before bar schematics. This forces you to plan around water pipes and electrical outlets. Health and building codes mandate just what equipment you can have, where it can be placed right down to details as frustrating as having to have hand sinks within certain distances of each cocktail station. So we had the usual equipment quirks to deal with, of course. But it was even more challenging than that.
The main bar included just three stations with only two POS terminals (Micros in this case) and only two soda guns which were oddly placed nowhere near the ice bins or speed-rails. This bar was to be staffed with 4-6 bartenders. You do the math. Now imagine you have 72 hours to setup and fix everything. Without any of your equipment nor most of the product needed to make the specialty cocktails. And your laptop containing your project folder is on its last battery with an AC/DC power adapter somewhere in London with the rest of your lost luggage.
Being a full-service consultant in this industry isn't half what people make it out to be. It's dodging bullets, dancing over land mines, and plugging holes in the dam most of the time. But it's a rush to see it all come together and start to pump and flow. And so I knew one way or another, I would make it work. That's the real job of a consultant: to get the result.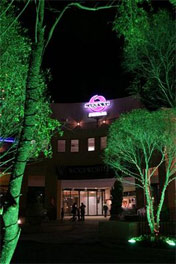 I would not be telling the whole story if I did not tell you what a freaking genius I am… for bringing Christian along for the ride. There is simply no way I could have spent as much time and effort on the actual opening if I did not have Christian jump in head first and go the extra mile to take over a second day of training that we decided to add in to the contract, gratis. You always hear people say "Great players don't necessarily make great coaches." You won't hear me say that about Sr. Delpech. He is as smooth, as polished and as powerful a trainer as he is a competitor and performer. I picked one hell of a wingman, eh?
But working with Christian was not just a very satisfying experience for his extra efforts, expertise and knowledge. His professionalism was top drawer and he has a never-ending sense of humor to match. We had differences of opinion on a couple of topics and certainly differences in training style. Far more exciting was the complete alignment of fundamental philosophy about bartending and specifically, flair bartending we discovered that we shared, and not just the usual stuff. I can't tell you how validating it was to hear Christian touching on theories, techniques, and ideas from time to time that have come out of my mouth almost verbatim, on other jobs time and time again. Our shared philosophy on flair bartending is best summarized by the timeless sentiment a group of us came up with in a hotel meeting room in Florida years ago: Service first, flair second, competition always.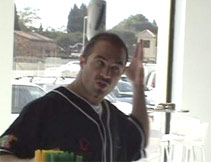 While Christian sent day two of training schooling the crew in working flair, I kocked out the punch list and then trained the staff on a couple specialty cocktails I kept in my hip pocket for opening night to help build Sequoia's reputation as a true world-class mixology cocktail bar. In a country where they keep at least two kinds of brandy in the well (it's that popular), a Sidecar (with a couple Toby Twists) was a no-brainer. But the big hit of the evening was the elusive Tatonga. More than a few out of town Betties polished off a few of those Cayman Island Cocktails. Sequoias is destined to be much more than a cocktail bar and restaurant, though. Perhaps the second "Blue Blazer" savvy venue built to date (the Rio's iBar being one of, if not the first.)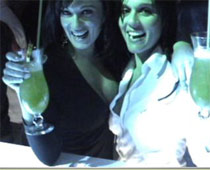 So much of my time was spent planning, advising, delegating, and rolling up my sleeves and doing what needed to be done on opening night right down to running racks of glassware up and down the stairs. I would be lying if I said I didn't wish I was instead behind the well during the opening as I had positioned Christian. Originally we were each to perform three shows but lack of equipment combined with some looming health problems and so many other opening duties taking front stage cut my shows to just one and my bartending to nil. Christian definitely got to have most of the fun and he made the most of it.
Watching him work under the conditions of an opening like this, in a strange country with "funny money" and product neither of us had ever heard of while other bartenders, barbacks and "glassies" (porters) constantly were under foot, was simply awesome. Christian's working flair was flawless and his service was sparkling. And I've punched the clock at Carnaval more than a few times to see him work. This night was beyond brilliant.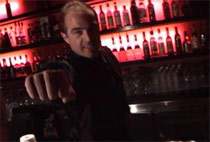 Christian is a very humble person and even he couldn't contain his own joy at performing so well behind that bar. In fact, I don't remember a single drop the entire evening and it looked as though he had been working behind that bar for years. The VIP bar he worked was by far the busiest bar in the club. I was more impressed with his working flair than his shows and that as you know, is saying quite a bit. Delpech tore it up, plain and simple.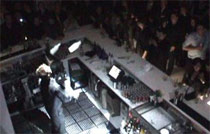 But alas my company's reputation for opening top of market venues was on the line with this (and every) opening and so I hung up my tins and tongs and instead spent my night putting out fires; coordinating with the Micros tech, sound engineer and DJs; managing the support staff, liasoning with the management team and making sure all the Belters and the rest of the guests were having a good Jol. Sequoia's was to come out of the gate, bottles blazing. So Christian and I quickly traded our trainer hats for stalls and flats. Flair time, baby. Howszit!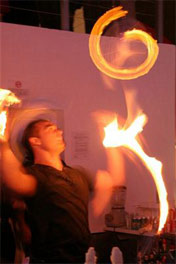 Despite not having more than about an hour in total the whole week to put together and practice a show, I opened the night's entertainment with a seven minute exhibition complete with knife, fruit, linen and tong flair and a little "bottle guitar" to boot. Not my best show, not my worst. It felt so good to get back there and let it fly after nearly a month of being behind a desk and not being able flip, per doctor's orders. It was a stunning crowd that lapped up every spin, flip and bump and stall. (Ok, and drop.) After warming them up (as is often my role, lol), Christian unleashed two shows that were nothing short of spectacular including a fire show to end the night that blew the roof off. You just don't get tired of watching Dynasty Delpech throw bottles. Mucho Show.
The story has a very happy ending (sooner or later, I swear) and Sequoia's was one of the smoothest openings I have been involved with in any capacity in my career. To be one of the key figures in ochestrating the opening, makes it 1000 times sweeter. And for anyone who knows openings, you know that there simply is not such thing as a smooth opening. It's generally a semi-organized clusterfuck. So eventhough our Micros went down, tills wouldn't open, and POS terminals were all routed to the wrong printers; management and I were on top of it all in minutes and in the end, Christian and I proved to be a winning combination that brought both the show and the biz…. to the showbiz of opening a nightclub.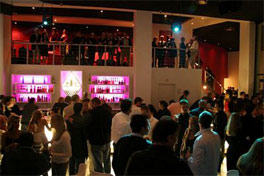 I'd love to take 100% credit for the smoothness that still transcended opening night, but much of the credit has to go to one of the sharpest opening management teams I have had the pleasure of working for in a long, long time. As I told Alan Smith, General Manager of Sequoia's, I simply could not have accomplished all that I did without his and Shelley's amazing level of support and lightning fast response time to my needs or Pierre and Mark "Bean" Betge's gracious gestures of "letting me drive," lol.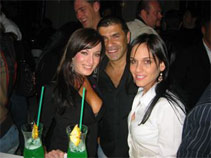 Many of South Africa's top flairers and drink executives were on-hand including the FBA's Kurt Schlechter, Travis Kuhn, Keegan Smith, and South Africa's top competitor, Vic Pires. Nicholas St. Jean and his team had done an evening of shows in Joburg the year before at a popular bar called Billy the B.U.M.S. and so the locals were more than appreciative and knowledgeable of world-class flair. It's always a treat to perform and bartend for people who truly appreciate it. Nobody appreciated or enjoyed it more than Shelley Chadwick. In the week we were together I never saw her glow as much as I did when Christian Delpech was behind her bar in her club flairing to the music. A beautiful crowd drank and danced all night long in Joburg's newest and destined to be hottest, new hotspot: Sequoia's. And for me, the real topper to the evening and the true fun came around 1am when after watching Christian have all the fun, I got to jump behind the wood and do what I do. One of our VIP guests actually brought a bag of fresh mint she grew, because she loves Mojitos. So I got to break out the tongs and be Toby. Funny how my best flair almost always comes naturally, behind the bar when the real pressure is on to make a good drink. The 20 minutes or so I was back there, flipping and pressing out Mojitos for the ladies and a Sidecar for Christian was fantastic. It was great to be able to flair and mix for a master like Christian, and do it well. So in the end, we both rocked it with our flair 'til the wheels fell off. The energy in that room was beyond words. What a night.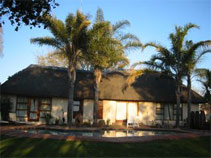 One of the questions locals asked us most often was of course "So how do you like South Africa?" Other than the exquisite B&B we stayed at and Sequoia's, we hadn't seen anywhere but the airport and a shopping mall. We stayed at the Lourie Lodge which is a stunning guesthouse owned by Karin & Neil Carr. This Exclusive Guest House has very cool rooms with vaulted ceilings and gigantic bathrooms as well as a property complete with swimming pool, tennis court, fireplace, and to-order hot breakfast of eggs, sausage and bacon each morning which we washed down with fresh Guava and Mango Cocktail. Mmmmm… Guava.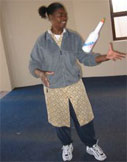 Stephie and Caroline were our cook and maid and together with Collin the security guard, they taught me a few words of Zulu and another one of the 11 official languages of South Africa whose name I can't pronounce or spell but it's got a click in there somewhere, lol. Ngiyabonga, my friends. Caroline caught the flair bug for a moment and I caught it on film.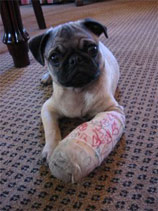 And how can we forget our tiny little four legged canine companion with the busted leg whose cast I signed? We couldn't. The pup's name is Levi. Yes, Levi. Endless amusement we got out of that and will for years to come. And I know you're reading this Levi, you 3-legged little pup, you. I've always shied away from driving in other countries, particularly in which you drive on the opposite side of the road. Maybe it was the Biltong maybe it was the altitude (Joburg has an elevation of 5577 feet, several hundred feet higher than Denver, Colorado, the "Mile High City."). Whatever it was, I hopped behind the wheel and drove to the shop and back several times. Then the morning we decided to drive to the Joburg Zoo with our new gregarious and fascinating friends Monte and Diane, I came out to find them and Mr. Delpech all smiling at me from the passenger seats. For a split second I thought to myself "Well who is going to drive?" Duh. So now here we are, four Americans with absolutely no clue as to:
1. Where we are
2. Where we're going
3. How to read street signs
When adventure beckons, you answer. Now my friends let me warn you: the stories of my driving prowess are going to be unfairly disparaged by Mr. Delpech should you ever have the opportunity to speak to him about it. Everybody runs reds lights. (Some people call traffic lights "robots" in Joburg.) Who hasn't almost run into the back of a bus at 100 kph? And what's wrong with hugging the curb a bit? Remember last month when I confessed to you that my ultimate goal in mixology is to make drinks that "don't suck?" Well my goal this day driving was to "not kill" any of us. Mission accomplished.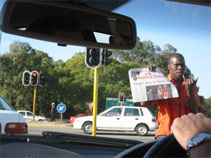 Driving on the left side of the road really wasn't as difficult to pick up and get used to as I imagined. Sure, there were a couple of times when I pulled out onto the wrong side of the road for a second, but quickly adjusted as the friendly locals honked their horns in encouragement and waved a friendly strange South African hello with their pinky finger extended to me. I'm sure it was just there way of saying "Hakuna Matata." Saribudde.

What was actually the hardest to get used to was the gear shift on my left side instead of the right. The road signs were useless, lol. An "S" with a line through it??! What is that? And apparently there is no stacking fruit in pyramids along the road either, or so the sign seems to indicate. And forget about using the rear view mirror; that just made everything doubly backwards. So I let Christian fix his hair while I sped through the bad neighborhoods, dodging minibuses and fearless pedestrians who made the streets of Joburg look like a gigantic game of Frogger.
The Johannesburg Zoo was marvelous. Unfortunately, we did not have a camera with us there (so just imagine the big five animals) but we did have a video camera which will serve as irrefutable proof that in fact:
1. Christian did get flipped off by a Chimpanzee
2. A Gorilla's response to Christian telling him "What do you think of Toby?" was to pick his nose and eat it. Nice.
3. Mandalay Tigers like to snack on things like antelope and bears.
We shelled out 100 Rand (about $16 USD) for a golf cart and driver to take us around the zoo and that was well worth it as there's no way we could have seen all the lions, tigers, elephants, snakes, gorillas, chimpanzees, polar bears, zebras, ostriches, cheetahs, orangoutangs, and seals… if we wondered around on foot on our own. After the zoo we safely drove up the road to have a drink at a hotel called the Westcliff which boasts the best view of Joburg apparently. This hidden treasure discreetly tucked away in the hills of Joburg is actually one of the world's few five-star hotels (not be confused with 5-diamond resorts) and we found our way to the Polo Club which is their restaurant and cocktail bar. It had a timeless charm and a spectacular view. We ended up having lunch which included the best spinach risotto I've ever tasted. Christian, Monte, and Diane all feasted on Lamb which was equally divine. A couple hours later and we were at my client and host's home with her entire family who had flown out for the opening having an authentic South African Braai (BBQ) replete with juicy succulent ribs, chicken, kabobs, fresh bread, salad and potatoes. And of course… a glass of red wine, something South Africa is world-renowned for. (Red wine, not glasses.) I'm no wine snob but I love a nice glass of red and what Shelley's Father-In-Law served was some of the best I've enjoyed.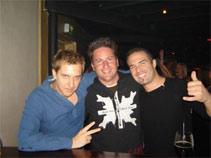 Later that night we met up with our mate Kurt Schlechter, the South African rep. for the FBA and owner of a company called The Bartenders Workshop, a consultancy much like BarMagic. The last time I saw Kurt was at Legends I and he was just starting his business up. Six years later and he's just opened his third office in South Africa and is in charge of training and consultation of more than 100 bars in Durban, Capetown, and Johannesburg. Kurt was the perfect host and not just because he offered to drive, much to Christian's relief. He took us to Billy the B.U.M.S.. a sort of chain bar whose tagline is "Elegantly Wasted" although I appeared to me that most of its patrons were far more true to the latter half of the slogan than the former. We watched the bartender pocket my tip of 50 Rand which Christian and I both noticed and had a few comments about. Whatever, lol.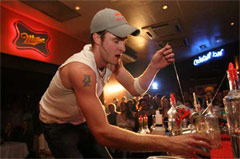 Nonetheless, Billy's is a great place to get plastered in your jeans and slops and supposedly can be swarming with Belters though not tonight. Billy's was one of South Africa's most prominent flair bars for quite a while but we were told they've slipped off considerably recently. We didn't see so much as a tin spin while we were there. A little too packed with rowdy, drunken young lads for our taste, Kurt next took us to one of the chains he oversees, The News Cafe which I would best describe as a slightly more upscale version of a TGI Friday's without all the tackiness. Kurt introduced us to that shop's manager Pat who was a Hungarian version of Cache sans Beanie Baby fetish.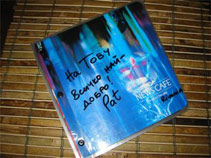 Pat was gracious enough to sign a couple of News Cafe's cocktail menus for Christian and I, which I appreciated immensely as I have a cocktail and restaurant menu collection that spans some 60 years and four continents. I ordered a Watermelon Chili Mojito and Christian sucked down a Vanilla Mojito in the blink of an eye, which signaled to me it was topnotch since Christian is not a big drinker, by any means.
One drink and we were off to one of Joburg's hottest new clubs, Manhattan which was formerly the famous Tiger Tiger. Manhattan is a collered-shirt and no trainers type of club with a decent sized Queue which Kurt slipped us right past as he had called ahead and put us all on the guest list. Manhattan was off the chain and a nice, dark, high-energy nightclub. We found a good number of Sequoia's bartenders moonlighting here including Terrance, Hayden, Michael, and Luke. These guys are top-shelf.
Joburg and all of South Africa is definitely Smirnoff Country for the time being although with my help Sequoia's is setting a new trend and showcasing Skyy Vodka, which otherwise you won't see anywhere you go. We spent our time at Manhattan's in the back in a smaller room with a very cool decor that included a wonderfully curved bar with small circles of light dotting its surface. Michael (one of our boys from Sequoia's) called us right over and to my massive satisfaction demonstrated the exact style of working flair that we had just trained the day prior which was somewhat new to the guys in South Africa: Pull, Pass, Pour.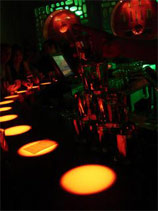 He then did an impressive glass stack of six JagerBombs with a presentation I hadn't seen before that I will be borrowing for sure. All the guys at Manhattan who also work at Sequoia's are solid bartenders with nice, tight flair and great personalities and made us feel right at home in this trendy hotspot. I hadn't brought my camera with me and really wished I had once we were out, knowing the deadline for Cut Off would require me to write this on the plane and have photos b the time we touched down at McCarren Airport back in Vegas. So as I often do, I put Michael to the test and ordered a "Camera." He looked at me puzzled and said "What's a Camera?" thinking of course, it was some American Cocktail he didn't know. I held my hands up and said "Click, Click" and he laughed. "Where am I going to get a camera?" he asked me. "You're the bartender, you figure it out." I harassed him with a wry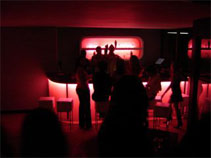 smile. I blew off the notion I would-be able to procure any such camera and rejoined Kurt and Christian when out of thin air the club's General Manager, Mitchell, appeared with a digital camera in hand and said "You needed a camera?" I laughed and then offered to buy it to make sure I could have pictures immediately after we left. Mitchell wouldn't oblige that, informing me it was the club's camera but graciously gave me full reign to walk around the club and shoot whatever I like. After firing off a couple dozen shots, I found Mitchell again and asked if I could buy the flash card at least. He said "I'll just burn them onto a CD for you." I didn't expect the General Manager of the busiest nightclub in the city, on a busy Saturday night, to burn some silly tourist a photo CD right on the spot, but within minutes, I had a disc with all these photos in my happy little hands. Hats off to Mitchell and his staff at Manhattan's. So if you're at all enjoying seeing some South African nightlife spicing up this month's column: remember to thank Kurt, Michael and Mitchell for their first-class hospitality. One spot I really wanted to make it to but we just missed was Su Da Da. Next time.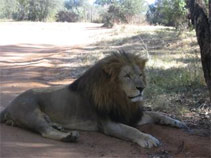 Six hours and a half-night's sleep later we were laughing climbing into the car with Shelley and her husband Brian and heading off to Joburg's coolest attraction: The Lion Park.
The Lion Park is a drive-though zoo of sorts where you can also park and go pet Lion Cubs and feed Giraffes. We did all three and it was the highlight of our adventures on the Dark Continent. To see these powerful creatures literally less than a meter from you, is humbling.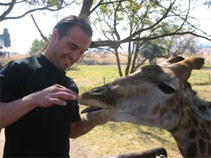 Oh, if you have cats at home you probably know how touchy they are about the way you stroke their fur. Lion Cubs are the same. And they definitely do not like to be scratched the same way my kittens Joey and Denzel and my adopted son Ernie the Cat do. Luckily, I have better than average hand-eye coordination (or is it hand speed?) and thus am leaving the country with all ten fingers and both arms.
After a couple of hours of enjoying this interactive zoo of sorts, we sat outside and had what Shelley told us is the most South African food we'd yet tried. In fact, she said nothing is more South African than Boerewors Roll and a Castle. So there I sat in the winter sun of a country I never imagined I'd be working in with the legendary Christian Delpech and snacked on a well-seasoned sausage and a cold, crisp Lager.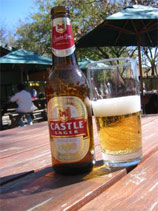 For a moment as I sat there savoring a Boerewors Rolls and a Castle, I could hear the phrase "Get a Real Job" ringing in the back of my head. I wondered what those same, small-minded people were up to these days. Probably stuck in a cubicle, sneaking onto the internet when the boss is out to lunch, fantasizing about a vacation they'll never take to a far off land like Africa.

Sequoia's is but a few days young as I am writing this and has a long way to go to be a world-class flair bar but I have not a single doubt that with Shelley and her management team's talent, drive and passion as well as BarMagic's Mojo, it will get there. Shelley Chadwick has as much passion for flair as any flair bartender I know (and is an FBA member, all on her own without any encouragement from me) and has a relentless drive. In that way, she reminds me of Ken Hall. It's not every day an accountant from Middleburg, Virginia dreams up, builds, and opens three-level cocktail flair bar and restaurant in South Africa with a comparable cost in the US of $3,000,000 and brings in some of the world's most respected trainers and showmen to christian it.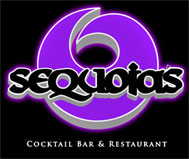 So expect to hear more about Sequoia's in your travels and don't be surprised to find yourself there sooner than you may think; for Shelley and I have big plans for Sequoia's and you might just be a part of them. I've got to wrap things up, I'm a bit nackered from the week's adventures and I've got just a couple days at home to spend with my family before hopping on another plane to open Chico's new nightclub in Ohio, Major Woody's.
I hope you enjoyed sharing our experience in South Africa and thank you for letting me share it with you. But I also realize there's always an expectation for me to share knowledge that you can use to further your career behind the pine, so how can I leave you without at least trying? What could be more appropriate than offering advice and warnings related to hopping on a plane with your bottles for a competition, show or training? From Nepal to Turin, Manchester to Miami, Joburg to Grand Cayman; I've learned over the years a few things that can help you avoid the hassles and pitfalls of being a jet-setting bartender. Without further ado, (isn't a 10,000 word introduction plenty of 'ado?') I present to you:
The Top 25 Travel Tips for the
Jet-Setting Flair Bartender
1. Buy a bottle bag. I love the FBA Pro Tour bag. If you haven't seen it yet (I'm one of three people on earth who have seen the finished, stitched bag with all competition logos on it. It's fucking tits.) Slip two oversized milk crates into it with cardboard liquor case dividers. Cover the crates with bar towels (which you'll want anyway) and if you're so inclined, wrap some of the bottles in bubble wrap or more bar towels. You can fit 18-20 bottles and they will pack so snugly you won't have to worry about breaking. I think I've had one bottle break in the past six years using this method which was passed on to me from Ken Hall. You'll also have room for all your smallwares, tins, Flairco's, Finest Call Bottles, etc.
2. Spread out your flights. Make sure any connecting flights you, your travel agent, or your host book on your behalf have at least one hour between connections. Any less and you have a good chance of missing your next flight or your baggage delayed. Remember: boarding begins 30 minutes before departure, so even a 20 minute delay can make running clear to other side of the next airport a harrying experience. Give yourself a time cushion so you don't have to be one of those people running though the airport with your sandals falling off and carryon bag flopping over off it's wheels while you knock little old ladies over. Not that I would know anything about that, mind you.
3. Pack a carry-on. Normally, I hate having a carryon to drag around the airport and the planes but especially after this last trip where we didn't get our luggage until the training was over, I'll never make that mistake again. Pack all the stuff you simply must have just in case your bags get delayed or lost. Recommendations include at least one change of clothes, shaving kit/toiletry bag, a couple Skyy and Malibu's, maybe three tins, any specialty bar tools you like to work with and all the AC adapters and other electronic equipment you will want with you.
4. Dress for travel. I always wear comfortable sweat pants, t-shirt, sandals, a warm hat and a hoodie or other light but warm coat. Planes go from uncomfortably hot in the sky walk and sometimes in the cabin prior to takeoff (often they don't turn the A/C on until they begin taxing) to quite cold once up in the air. Also, since you have to remove your shoes at every security check, sandals make that a painless process.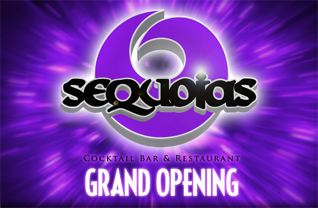 5. Fly smart, not cheap. Spend the extra $70 and get the more expensive airline ticket. The cheapest fares always sell out which means you are guaranteed to be on a packed flight. That means no open seats next to you and probably instead someone snoring, coughing, or otherwise peppering your journey with their special charms. It also means less room in the overhead storage bins which might mean you have to put your carryon at your feet, cramping those midget-molded seats even more. The fuller the flight, the better chance of a late takeoff; it takes longer to board and settle more people. Overbooked flights do have one perk: if you're not in a hurry you can take the bump and usually get a voucher for free air travel in the future and sometimes a first-class upgrade.
6. In the U.S., try AirTran. (No, the flight attendants don't dress is drag.) They offer business-class round-trip upgrades for as little as $100. The extra legroom and wider seats are well worth it. Sometimes oversold flights will offer $150 upgrades to business class on other airlines. So keep the iPod off at the gate and listen for announcements like this.
7. Get there early. Plan to arrive at the airport at least two hours prior to departure. Sometimes even curbside check-in can take 45 minutes or longer and most airlines require you to have your bags checked at least 45 minutes, sometimes one hour prior to departure or they will not make the flight. Security lines can be just a long and don't forget that the time on your ticket is when the plane takes off. Boarding time is 30 minutes earlier and most airlines require you to be at the gate a minimum of 15 minutes prior to departure or you can get bumped, even if you have a boarding pass. If you didn't follow all that math… then just trust me: arrive at the airport two hours before your departure.
8. Check your bags curbside with a SkyCap. Have at least $20 ready for a tip (I usually tip $40-$50) and hand it to him right as you are called up. I will say something like "this one bag might be a touch heavy" right as I hand him the tip. SkyCaps are no dummies. Almost every time they will let my overweight back slip past the 50lb. limit, saving me anywhere from $25 to as much as $100. I'd rather have that money go to tipped worker than "the man" anyway. Plus, curbside is almost always a much shorter line than at the ticket counter and you can get your boarding passes from the SkyCap and get ride of your checked luggage all in one go.
9. Get your papers in order. Double check Visa, passport and other documentation requirements prior to your trip. Most international trips require at least one of these items. If you don't have a passport, get one now. If you wait to the last minute (as bartenders notoriously do) the only way you'll be able to get one in time is to a rush passport service which will run you hundreds of dollars.
10. Beat Jet Lag. Once on board the plane, set your watch to the local time of your final destination. While "jet lag" is a very real phenomenon, especially on long overseas flights, the need to "get adjusted" to a new time zone, in my opinion, is a bunch of poppycock. Now if you don't sleep at all on the plane and you arrive and try to stay up late in a time zone that is much earlier than your time at home, obviously you will be tired. But if you just set your watch on the plane, take a nap, you'll be well adjusted to whatever time your watch reads when you wake up.
11. Do your homework. Do some internet research prior to your trip to a new country or continent. Check for any travel, security, or health advisements. See if any inoculations or immunizations are recommended. You can find out quite a bit of accurate, timely information that will prove very helpful with just an hour or so of poking around the net. A great site for this is lonelyplanet.com. You can also get help from your embassy here or abroad.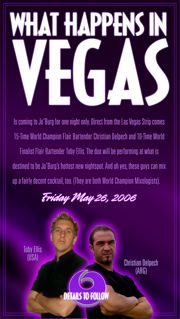 12. Learn basic words in the native language. To travel and assume everyone speaks English is not just arrogant (even if it's somewhat accurate), it's just plain rude. While I speak marginal French, I can say the "basic six" words in Russian, Spanish, Japanese, Italian and Zulu. The basic six words/phrases you should know are: (1) hello (2) how are you (3) please (4) thank you (5) sorry and (6) how much? I've heard a lot people suggest learning how to say full sentences like "where is the toilet?" or "where is a restaurant?" Generally you can "pantomime" basic necessities like that and in most touristy areas there are clear, international symbolic signs to guide you. And just being realistic, most people aren't going to have much success memorizing a series of full sentences in a strange language with instant recall in a day or two. But anybody can learn six words or short phrases in a day.
If there was one phrase I would recommend learning, aside from "How much for the both of you?" or "I have no idea how that got in my bag, officer, ask the Argentinean with me" it would have to be "How do you say?" Once you can ask a local "How do you say…", you can add any pantomime or point to an object and quickly learn new words. If you just point at a sandwich people may have no idea what you actually want. They might hand you the sandwich or bring you mayo when all you really want is to know how to say the word sandwich.What I find most valuable about learning these words isn't so much the need to use them, but the walls it breaks down between you and the locals. It's a huge sign of respect for their culture and goes a long, long way to making friends and allies in business and pleasure. Just uttering "Privieat" to a Russian or a "Sawubona" to a South African Native will open so many doors for you or least trigger a few welcoming smiles.
13. Call your bank. Prior to leaving (even for domestic trips) ask to be transferred to fraud protection or whatever your bank calls it. Tell them the dates of your trip and your destination and ask them to lift any blocks in those places during those dates. Otherwise you will very likely have your debit, atm, or credit card declined along the way. I call twice: the first time to get it done the second time a few days later to check to see that it was actually done. Half the time it takes the second call to get the lifts blocked.
14. Bring plenty of cash and a credit card. To me, nothing is scary than being halfway around the world by yourself in a country you do not speak the language without money. A lot of merchants in third world countries don't take credit cards and without a good wad of cash, you'll find yourself in more than one inconvenient if not altogether stressful jam. I used to hear people tell you to carry traveler's checks and not cash and perhaps that is good advice, but I think if you use your head and keep your wits about you, there's no real difference. If a pickpocket or thief is going to target you, they're going to take your wallet either way. The upside of using a credit card is your bank will automatically do the currency conversion at reasonable exchange rates. If you exchange your currency at the airport, you generally pay quite a price with a less than favorable exchange rate.
15. Use a simple currency calculator. A lot of people have real difficulty trying to figure out currency exchange when they travel. I always take the most common bill of that country (100 Rand, 1000 Lira, 500 baht) and figure out what it's worth in my own currency. In South Africa, 100 Rand is roughly $15 dollars right now. So just to make things simple for me, mentally I trained myself to look at a 100 Rand bill as a Twenty. That made is real fast for me to pay for goods and services without a calculator or fear of being ripped off. Also understanding the buying power of US $17 (100 Rand) is important. I found that R100 (US $17) really bought about US $50, at least, in many cases.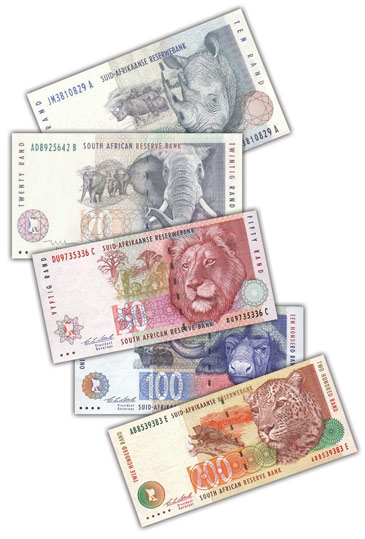 16. Be very wary of beggers and of overtipping. No, I'm not caving and agreeing with Philip Duff, lol. But you will hear very true horror stories of people who thought they were just being generous who gave a small child the equivalent of a dollar only to find themselves suddenly blitzed by a pack of children and adults. It happens. Also, if you tip and overtip people as bartenders tend to do (I'm as guilty as anybody) you'll often find an entire hotel or restaurant staff pestering you constantly. About seven years ago, I led a group of FBA reps to Mexico City to perform some training and put on some flair shows. Our first afternoon we were having lunch in the hotel and I just wanted my Fresca with a glass full of ice. "Por Favor, un Vaso de Vidrio con Arrive de Hielo." (A bad translation of "Please, a glass to the top with ice") When the waiter brought it to me, I gave him some random amount of pesos that worked out to maybe two dollars. I had the pleasure of every staff member of the hotel dropping glasses of ice in front of me for three weeks, even when I wasn't eating. They swarmed around me. Tipping maids, porters, chefs and other service staff at the end of your trip in many countries is much smarter.
17. Adapters and Transformers. You will need not only plug adapters for your trip, but at least one good voltage transformer. Most of the world uses 220v whereas the US uses 120v. While some electronic devices, particularly laptops are designed to handle both voltages, many do not and if you even plug them into the wall in a foreign country, you will blow the circuitry or fuses. Be especially careful with digital cameras, camcorders, hair dryers,mp3 players and portable DVD players. Also note that a few countries including India, Nepal, and South Africa use a very strange plug format that is not normally found in travel adapter kits. Check the internet and be 100% positive you purchase the right adapters. Many foreign plugs are very, very similar looking.
18. Batteries, batteries, batteries. Buy the extended life batteries for all your camcorders and digital cameras. Running out of juice right when a pack of lions are running past your car sucks. And a lot of voltage transformers are heavy and gigantic, which will limit the number you will want to pack and that you can plug into a wall even at the best hotels. Thus, you might find yourself constantly battling to keep all your computer and camera batteries fully charged. Bring extras. When I fly overseas, I bring 6 extra laptop batteries onboard. Like right now. I'm into my 20th hour or plane travel and still pounding away at the keyboard (while Delpech snoozes away, lucky S.O.B.).
19. Private shitter. Always ask to be booked in hotels with private bathrooms and showers. More countries than you guess actually have a lot of hotels with one bathroom or shower per floor except at the most expensive properties. But if you ask or search long enough, you can almost always find a room with a private bathroom and shower. Sometimes, the bathroom is the shower.
20. Drink bottled water. Otherwise plan to spend a few days in bed or over the toilet. Be careful in third world countries of food that has been washed in tap water like lettuce and vegetables. Make sure bottled water is unopened when delivered. It is not completely unheard of for cheap establishments to fill water bottles with tap water. Don't risk it.
21. Travel light. If you're going to tour an area like Europe where you'll be hopping from country to country, pack as light as possible. I survived three weeks in Europe with one carryon sized suitcase and a small backpack. If you think about it, you really only need one casual change of clothes and one formal change of clothes if you're only spending a day or two in each city. I find one pair of jeans, a swimsuit that doubles as shorts, two pairs of shoes (comfortable sneakers or hiking shoes and one pair of dress shoes), 3-4 t-shirts, and one dress shirt more than ample. Just don't skimp on socks and underwear unless you want to stew in your own stink for three weeks.
22. If you need it, bring it yourself. Pack absolutely everything you need to train, demonstrate, bartend, or compete. I said it back in another column about competition preparation but cannot stress this point enough. Even if your host tells you they have "everything you need" you will find that in many countries everything from mixing tins to pour spouts are cheap knockoffs that are nearly useless. Really. Many countries probably don't carry your favorite bottles to flip as well. And buying American bar supplies overseas are quite expensive usually.
23. Leave some free space in your bags. Or after you're done with your bottles, leave them all behind. You'll want the extra room for all the souvenirs and gifts you'll want to purchase along the way.
24. Hire a reputable guide or stay close to your hosts. Exploring is fun, but can turn very dangerous in a second without warning. One minute you're strolling through the zoo the next minute you're lost in the middle of Africa at night on unmarked roads and no cell phone trying to drive on the wrong side of the road. A trustworthy guide will not only keep you out of harm's way and prevent you from getting lost, but are indispensable for helping you get things you need from other locals.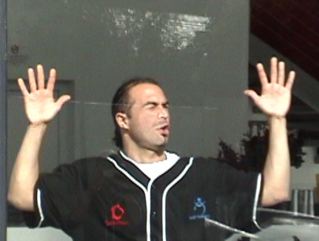 25. Take Me or Christian with you. Nothing makes your company look better than having that FotSac perform one of your shows or your truly run your training while you chat at some Dodgy Betty's while drinking Cane & Dry Lemon. In all seriousness, a great lesson I learned quite a few years back that is part of the reason BarMagic is doing so well is "Hire people who are better and/or smarter than you." Put your ego aside and deliver as much value to your clients as possible and your business will grow by leaps and bounds. Try to do everything yourself or always to "be the man" and you'll get left in the dust by your competition. In short, two heads are better than one.
BONUS Tip: Bring a copy of any of my Cut Off columns with you on the plane. That way you'll know for sure you'll fall asleep and even if you don't, if you travel halfway around the world you might just have time to finish one. And who knows, maybe one sentence in here will help you have a smoother journey, a better show, or land one new gig. Here's to hoping so!
My name is Toby Ellis and when I'm not flushing toilets in the Southern Hemisphere to see if the water really does go down "the other way" (it does) or cheerfully screaming broken Northern Sotho to locals (Ke mang lebitso la gago), I'm somewhere stateside opening nightclubs, bars, ultra-lounges and casinos. If you'd like find out more, stop by BarMagic's website at www.barmagic.com. Until next month…
Just Soon and Sala Kakuhle, My Brus.