Flair It Up! 2015 at the Nightclub & Bar Show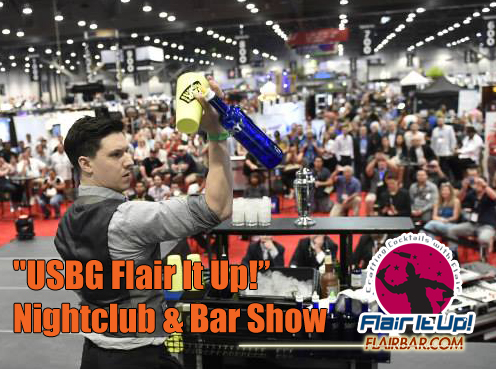 (Las Vegas, Nevada) The Nightclub & Bar Convention & Trade Show is a 3 day on-premise beverage show that is being attended by thousands of bar owners, operators and experts in the industry annually every March.
One of the highlights of the 30th Nightclub & Bar Convention & Trade Show was the Flair It Up, a Flair bartending competition organized by the USBG (United States Bartender's Guild) wherein 10 of the best Flair bartenders all across the United States competed for the championship title and bragging rights to represent the country in the World Cocktail Championship in Sophia, Bulgaria (Champion) and in the Pan-American Games in Argentina (Runner-up). Both competitions will be happening later in 2015.
To be an eligible competitor, one must be a current USBG member, submit a 500 word essay or less stating "Why should you be given the chance to compete?", an original cocktail recipe and a 4- minute Flair video clip.
Competitors were judged in two categories.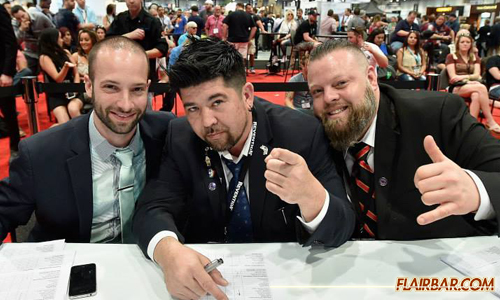 Flair – Competitors were given 5 minutes to show their routines while making 3 identical cocktails. Each bottles were calibrated to 1 oz / 30 ml (Liquor, syrups, juices). Appearance , difficulty, presentation and execution were essential to score high in this round. the Technical Judges were Chris Cardone, Rob Turek and Graham Kimura with the Referee and co-organizer as Flairbar.com's Rob Husted. The man in the back of the house and Head Barback was Josh Gates with help on stage from Victor Espinoza.
Mixology – Competitor's cocktail creations were also judged blind. A good balanced drink is essential to earn high points in this category. Cocktails were also judged based on taste, garnish, originality and name association.
The official voice of Flair was non other than our very own Flairco founder himself Mr. Dean Serneels!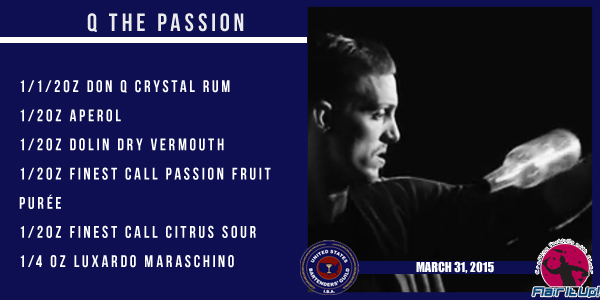 Dario Doimo of Catalyst bar successfully defended his crown and bested the other nine competitors with his Suave Flair routines. With Don Q as his sponsor, Dario concucted "Q the Passion" which is made of Don Q crystal, Aperol, Dolin dry vermouth, Luxardo Maraschino and Finest Call Passion Fruit Puree and Finest Call Premium Juice Citrus Sour. Dario started with his signature Working Flair routine (tin elbow stall to pour then double flip to stall) and finished strong with his multiple tin sequences.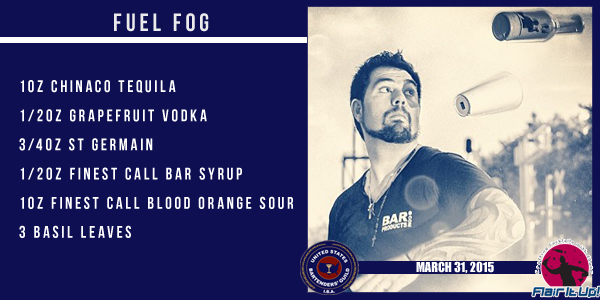 Fuel Bar's Rodrigo Delpech came in a close second. Rodrigo's routine was super smooth and made those difficult moves easy! From 3 to 4 bottle juggle to multiple tin power moves, Rodrigo is the guy to watch. "Fuel Fog" was his entry which was Chinaco Tequila based cocktail. His cocktail has grapefruit vodka, St. Germain, Finest Call Bar Syrup, Finest Call Premium Juice Blood Orange Sour and fresh Basil leaves.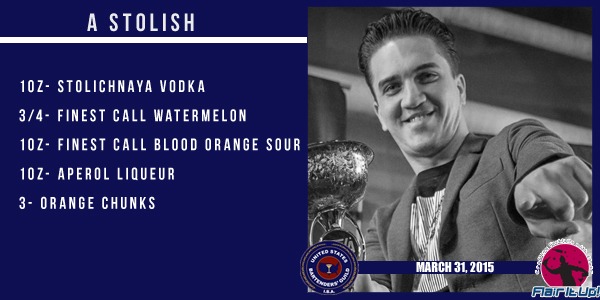 Coming in third was another one from Fuel Bar and his name is Luis Ortiz! Luis has a very good stage presence and pretty solid multiple Working Flair routines. "A Stolish" was his cocktail entry for this year's final. His cocktail was made of Stolichnaya, Finest Call Watermelon Puree, Finest Call Premium Juice Blood Orange Sour, Aperol and Orange chunks.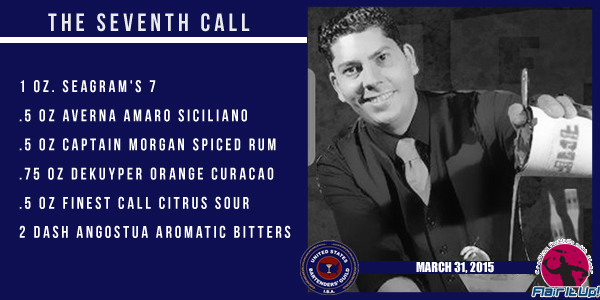 Manuel Picon from Miami's Flip n Flow was our Fourth placer. Sponsored by Seagrams 7, Manuel wowed the crowed with his 2 bottles and 2 tins routine! "7th Call" was his original concoction which has Seagrams 7, Averna Amaro, Captain Morgan, Orange curacao, Finest Call Premium Juice Citrus Sour and Angostura bitters.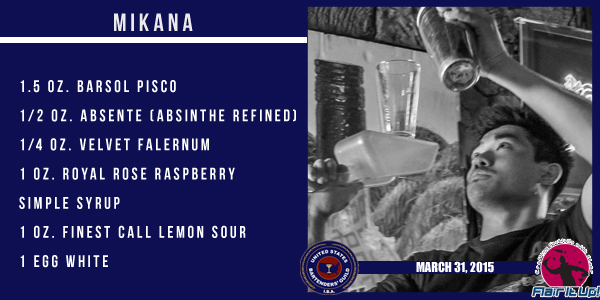 Ram Ong from Jersey Shore's Bar Anticipation came in fifth place. Ram showed his signature Working Flair shovel moves and finished with his favorite 2 bottles and 2 tins flash move. With Barsol Pisco as his this year's drafted sponsor, he made a delicious cocktail called "Mikana" which is made of Barsol Pisco, Absinthe, Real Raspberry Puree Infused Syrup, Finest Call Premium Juice Lemon Sour, egg white and Velvet Falernum.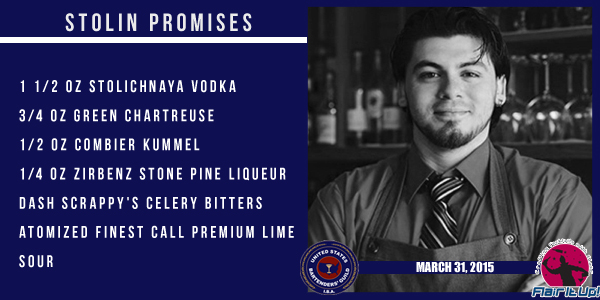 Returning from last year Will Isaza came in 6th place. Will from Fairstarted Kitchen in Boston made a good tasting cocktail called "Stolin Promises". Sponsored by Stolichnaya, Will showed an impressive bottle – tin sequence  that had alot of different combinations of rolls, taps and bumps. Another impressive sequence was the 2 bottles and tin multiplex to a pour.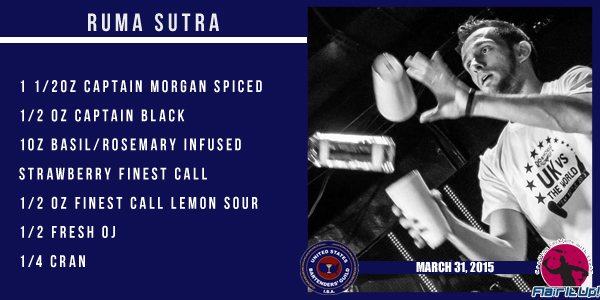 Colby Ashton who is another veteran Flair bartender from Las Vegas finished 7th place. Captain Morgan was his sponsor draft for this year. Colby is one of the most improved Flair bartenders as he showed the spectators some exciting moves. One of his highlights was the three tins and bottle sequence to a pour. "Ruma Sutra" was his cocktail entry which has a good amount of Captain Morgan Rum, Basil – Rosemary infused Finest Call Strawberry Puree, Finest Call Premium Juice Lemon Sour, Orange juice and Cranberry juice.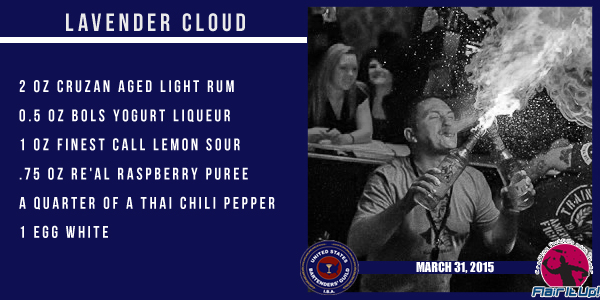 Vin Neil's Ryan Clark finished as 8th place. Sponsored by Cruzan Rum, Ryan Clark showed a great time on stage. He is one of the crowd favorites because of his good stage presence and good Flair with music interaction. "Lavender Cloud" was his cocktail entry and it has Cruzan Aged light rum, Bols Yogurt Liqueur, Finest Call Premium Juice Lemon Sour, Real Raspberry Puree Infused Syrup, Peychaud's bitters and egg white.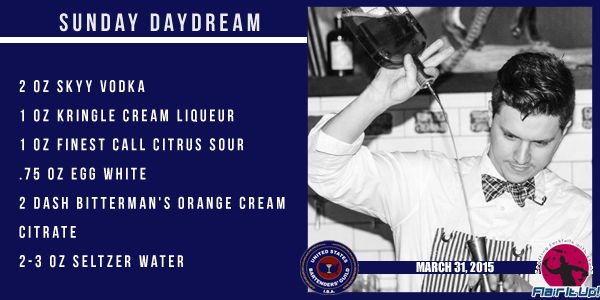 Butcher & Rye's Mike Mills all the way from Pittsburgh finished as 9th place. Mike was the first competitor to perform. He has big personality, good showmanship and presentation. Sponsored by Skyy Vodka, he made his signature cocktail called "Sunday Daydream" which he described as a good Sunday brunch drink.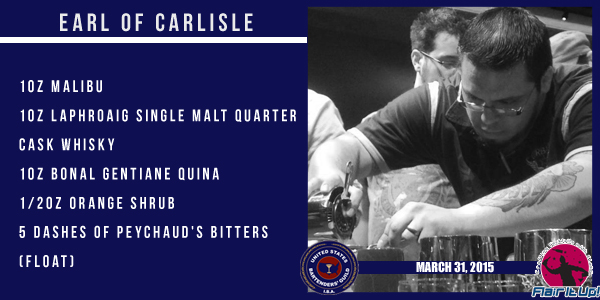 Another competitor flipping out of Boston was Moe Isaza who finished as 10th place. Moe is one of the most imaginative bartenders in the event. Sponsored by Malibu Coconut Rum, Moe made a cocktail called "Earl of Carlisle" which is made up of Malibu Rum, Laphroaig Single Malt Cask Whiskey, Bonal Gentaine Quina, Orange shrubs, Peychauds bitters and Finest Call Premium Juice Grapefruit Sour.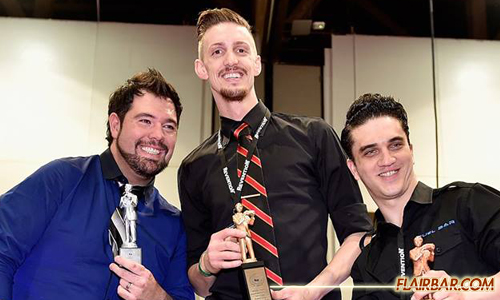 Big congratulations to all the competitors especially to Dario Doimo and Rodrigo Delpech. To watch the Flairbar.com Live! rebroadcast of the event… Click Play on the video below.
We would like to thank the United States Bartenders' Guild, Sheila Rosario, David Nepove, Tiffany Soles, Aaron Gregory, Flairbar.com's Rob Husted, Finest Call's Bill Hinkebein, Josh Gates, Chris Cardone, Rob Turek, Graham Kimura and Dean Serneels for making this event possible. We all look forward for another World Championship Qualifier next year!
Keep Flippin'
Ram Ong