A New Trend in Competitions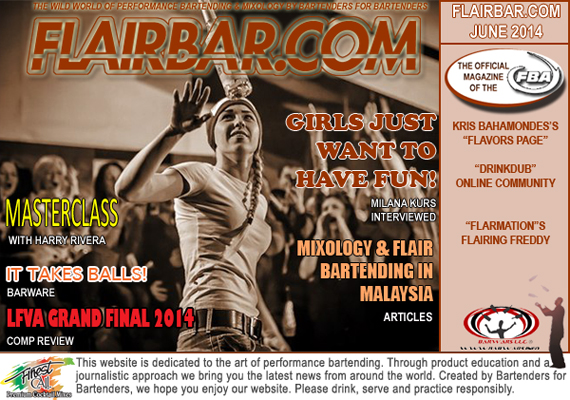 A new trend in competitions… I'm starting to see a new direction some Flair bartending competitions are starting to take in 2014. With the resurgence of Flair it seems to be evolving, incorporating more mixology and emphasis on showmanship which seems to be helping us  gain new fans and friends.
In years past, it seems most of the major Flair bartending competitions focused on difficulty and originality pushing the competitors to push the limits of multiple objects and bigger being better mentality. With competitors trying to top each with throwing and landing more and more objects in the air. 3 bottles, 4 bottles, five bottles, six bottles… could he… maybe… yes… seven bottles! This was great at first but what we gained in pushing the boundaries of difficulty, we lost in losing the interest of the crowd filled with spectators that couldn't tell you the difference between a "juggler's grip" to a "Bartender's grip". While this was great for most of the competitors and judges in the crowd, it would prove to hurt us long term.
Flash forward to today where we are seeing more Flair bartending competitions focusing on the cocktails being made on stage like the Summer Flair Bartending Competition and the USBG World Cocktail Championship. Showing that professional Flair bartenders can make quality cocktails and entertain you at the same timely manner. Not only that, but Flair bartending competitions like the Las Vegas Flair Academy's "The Big Kahuna" and "LVFA Grand Final 2014″ and also Woody Wiggins' "Spring Fling Flair Challenge" focusing less on difficulty and more on showmanship and smoothness is starting to change the game… literally.
With the "Spring Fling Flair Challenge", Difficulty was only 20% of your overall score while Smoothness of routine was 40%. With the Las Vegas Flair Academy's comps this year the scoring systems was 30% Showmanship, 20% Smoothness, 10% Music Interaction, 10% Originality, 10% Variation and 10% difficulty. The a new rule that made this competition unique, Since the competition was looking for the cleanest routine possible, a competitor got a reward of a 10 point bonus for a drop less show while a 50 point deduction on the score for a show with 5 or more drops. whether you agree or disagree with the direction some of our Flair bartending competitions are going in… you have to agree its going to get interesting.
So I ask you, our loyal Flairbar.com readers… in 2014, get off your ass and practice and then support these new competitions and compete to help grow our sport for all of us.
Speaking of getting off your ass and competing, I'm not only saying it… I'm doing it as well! You can read the full article from Moe Harris from the Pour Boys on our  'And Finally' page where Moe shares with us what went down May 25th in Orlando, Florida  at the "Spring Fling Flair Challenge". All on our 'And Finally' page.
Then we head over to Las Vegas, Nevada where Ram Ong competed and covered the Las Vegas Flair Academy's "The Big Kahuna" and "LVFA Grand Final 2014″. Check out the full article on our 'Comp Reviews' page. See what went down in the entertainment capital of the world when you combine some talented Flair bartenders, passionate organizers, great sponsors and lots of booze!
Then from Las Vegas to the other side of the globe, we have Milana Kurs, an award winning female Flair bartender whom you might have seen her video in last months issue of Flairbar.com with  Naty Peralta's "Female Flair Today" article. Now get to know more about Milana and see she is more then just a pretty smile with great Flair and more all on our 'Interviews' page entitled "Girls Just want to Have Fun!".
Next we head on over to Malaysia… with "Mixology & Flair Bartending in Singapore" with Kenny Hong all on our 'Articles' page. Kenny shares with us his insights on the Flair and Mixology bartending scene in Malaysia. What are your thoughts on the subject? Do you have an article you would like to share…? Message us on our  Flairbar.com Facebook page and lets discuss.
From one talented Flair bartender to another, head on over to our 'Masterclass' page where Harry Alexis Rivera Pomales teaches us a fresh bottle and tin Working Flair sequence that that you can use in your next routine or behind the bar. All on our 'Masterclass' page.
If your ready to be cooled off and  craving a cocktail… Check out "Luscious Libations" from Kris Bahamondes to help you satisfy your creative delights, all on our 'Flavors' page. Kris just moved to Canada so if you have any recommendations for him, please let us know?
Next check up on one of our most animated characters here at Flairbar.com "Flairing Freddy" on our 'Flairmation' page. In this issue Freddy is at the Bols Around the World 2014 Grand Finals and experiences some wonderful surprises.
All of that plus our regular features, more 'Barware', more pages, and more Flair than you can shake a bottle of Finest Call Ginger Reál  at. 
So take some time out and enjoy a Finest Call cocktail as you flip a Flairco bottle into a BarProducts tin and enjoy this months issue of Flairbar.com and say "Thank You" to the sponsors who keep our sport alive.
To Flair & Friends.

Rob Husted