"Girls Just Want to Have Fun!" – Milana Kurs Interviewed
From starting out being offered to train to having the courage to start competing to suffering from a severe neck injury that could of ended her Flair career to having that same courage to start training again and performing her art on stage… Ms. Milana Kurs. She is a very determined bartender with a great smile and talent and now in the pages of Flairbar.com, we get to know a little more about Milana with "Girls Just Want to Have Fun!" as she shares with us her insights on the world of Flair bartending & Mixology… So sit back, relax and indulge in a Finest Call cocktail made in a Flairbar.com tin sold on BarProducts and enjoy…
Age? 24 years old.
Where are you from? I am from Minsk, Republic of Belarus.
How long have you been Bartending? I have worked as a bartender for about five years, and started practicing Flair about three years ago.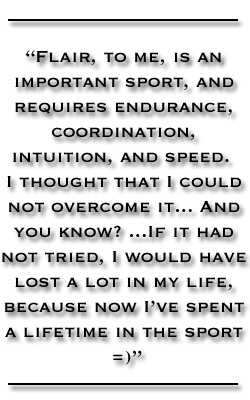 And Flair Bartending? Three years. I was in luck, because few people taught this art… I was offered to do it; I could not bring myself to imagine doing this, saying, "…it's hard; I can not, you know that!" Why I had such a reaction: looking back, I gave the sport almost my entire youth, and also graduated from the Belarusian State University Department of Physical Culture & Dynamics. Flair, to me, is an important sport, and requires endurance, coordination, intuition, and speed.  I thought that I could not overcome it… And you know? …If it had not tried, I would have lost a lot in my life, because now I've spent a lifetime in the sport =)
Where do you work? I work in a nightclub, it is called "Max Show."
Tell us about where you work? I have worked at Max Show for more than three years, my first Flair teacher led me to this place. We have worked together a long time in this club, which welcomes "barman show" (or Flair;) it's kind of pushed me to perform on stage – and it is a great experience! This institution and its leaders have given me a lot; it's easy for me to work there and combine training with work. I am allowed to attend competitions at any time. I started my career in Flair at the same time I began working at "Max Show." This institution has trained me, and I want to tell them – thank you so much!
What got you into Flair Bartending? I get a lot of emotion from Flair. This journey – different countries, people, cultures; it's so amazing! It is great to come to another city and feel at home with the other participants in the competition. There is a very good atmosphere at each event; all helping each other, no matter whether you know them or not. Flair has also steeled me. It is a sport that requires character… Because we all want that, "…everybody gets this fast, I want to do this!" And in Flair, it will not just happen, sometimes you cannot do one move maybe half of the year, as some moves did with me; just to pull it eight months later. It's hard. I think girls also have to train even harder, because it gives Flair "flair!" =) It just requires a lot of time.
How did you start out learning to Flair? I had a teacher, as I said, and we worked together (at the time,) and the bulk of the training was not learned at work; and when we were allowed by the leaders of the club, we came to the club and trained at one of the bars. The time had been limited, and in fact, for most of my first workouts, I remember how I was sad when the time was finished.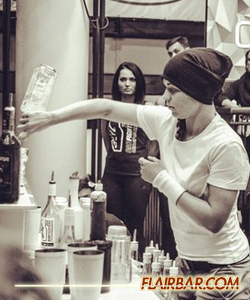 Tell us about the Flair Bartending scene in Belarus? Belarus is a small country, we are not as developed as others in Europe. Flair has engaged in a lot of people, and previously, if there was a once-a-year competition – it was cool. And now, unfortunately, this is even more rare. Grodno, (a city in Northern Belarus,) I think every year will conduct a competition and that is very pleasing. Even in our country, Flair causes a lot of excitement in people, and we try to attract more and more new, young people.
Tell us about the Mixology Bartending scene in Belarus? Now, mixology competitions, we have more… More recently cities have begun to open bars and restaurants aimed at mixology, and we have a lot of cool bartenders who like taking their craft in this direction – they also represent Belarus abroad, though not so often – yet.
What makes you stand out from other Flair Bartenders? I think as the "girl," it is easier to stand out among the other bartenders, because of that alone, primarily. We have so few female Flair Bartenders in the world… While a few years ago, there were even less Flair girls, I am insanely happy now that we have more! There are many talented girls, and while in my opinion, we all differ from each other… But to most we do not differ so much as boys of Flair.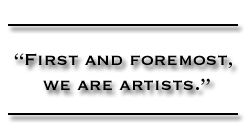 What do you hope to get out of Flair? Flair occupies a large part of my day… At first, I feel a bunch of emotions from Flair: I want to learn a great move, and have confidence. First and foremost, we are artists – Flair gives me a way to change myself; even when I'm evil, I can be good =) Speaking to the audience is hard sometimes, so when I want to open myself and show more emotions in front of them (ex. more positive emotions,) I can because what we're doing is a great way to show it. =)
What is your favorite Flair Bartending competition, and why? I have several, but the one that most motivates me is "Chicks and Flicks," which we all know is an event that is organized by the judge (and just a wonderful person) Oliver Pluck. It is held twice a year, in London =) It is gaining momentum, every time we meet again there are more new females among us – because we are all equal, and all girls! Every competition brings different emotions when there is a great variety of healthy competition like this year – with nominations to enter for Flair girls; because before this, the girls competed with mostly boys.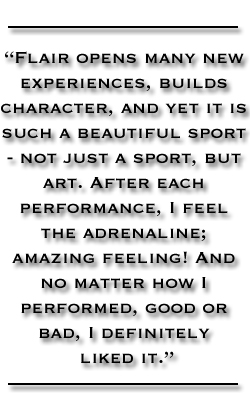 Who do you look up to in this Sport? I respect Flair and the community as a whole because it opens up tremendous opportunities for people. I'm sure that even if a person is not talented at present, he/she can open this talent in himself/herself – because it all depends on you, and on your desire, and the ability to work to win for yourself and not others. In Flair we get to know so many people in the world, and some even become friends! I personally became more restrained, as Flair opens many new experiences, builds character, and yet it is such a beautiful sport – not just a sport, but art. After each performance, I feel the adrenaline; amazing feeling! And no matter how I performed, good or bad, I definitely liked it (performing.)
Why do you compete in Flair bartending competitions? I compare this sport with Flair: For twelve years, I went to training in sailing; and the last years six, I forced myself to do it; it was already a matter of habit. In all Flair, I'll want to go to the gym to practice and it does not matter what my mood is, good or bad, and most importantly, that there is a desire! Of course there are times when we all get tired, but I love it. We are people, and people always need a change =) I'm really glad to do this (Flair,) what else there to say! =) I take part in competitions because of this – the training, this trip, the competition itself – is all the result of your workout. If it were not for the competition, I feel that we would not be able to rapidly develop our skills more by participating; the more you compete, the more experience you get. Competitions let us know our momentum, our growth.
Tell us about being a competition female Flair Bartender? I think women are very interesting competition – many girls by nature throw bottles smoothly, and it looks so beautiful. Someone this brings to mind is Julianna Buda. We are very different from the boys; different music, different performances, and styles…
Are there other female Flair bartenders you compete with? Elizaveta Soboleva, I like her work with a lot of items, in a beautiful style. Roberta Giuliano, is another; someone who like to do something smaller, but more difficult. We're all very different – all talented, and shows by women – they're cool =) Every competition has different girls, and I've also often competed with Agnieszka Bochniak, Giulia Mantovelli on several occasions.
When you are in a Flair competition and there are other female Flair competitors, do you view them as your competition? Or is there an instant bond and a friendship there, where you help each other out because you are in a male dominated sport? The important thing to keep in mind is that we are all competitors, and we can not underestimate any of us! =) Every competition, we all help each other, I have a best friend, Elizaveta Soboleva; we went together to London, and she always helps. Despite the fact that we live in different countries, I talk to her more often than friends from Minsk!
In your opinion, how can we get more female Flair Bartenders competing? I think that the key is to have more competitions to focus on the girls – that will cause more of them to appear.
What is something every bartender should know for their first shift behind the bar? Working at the bar, you should know the rules for handling of drinks bar accessories and tools. Few know the recipe of "classic cocktails;" you need to have an idea about all their options! This is especially important if the customer makes an unusual order. Also, "map" the bar by knowing where everything is. In addition, you need a good physical preparation: bartenders are constantly working standing; sometimes this lasts for 12 hours! And, of course, do not forget that it (this job) is working with people, often very drunk. The bartender should be slightly a psychologist – the job of a bartender goes hand in hand with the constant noise of a large number of guests – you must have stress tolerance, tolerance in general for drunk behavior, interpersonal skills, and be able to take criticism constructively.
In your opinion, what makes a good bartender? A good bartender should be a balanced person, he/she must really love people and should always evolve. Constantly develop. Be able to speak to patrons on various topics. He or she must also, of course, be talented and have a good taste! =)
What are your thoughts when you hear remarks about Flair Bartending or craft cocktails slowing down service? I'm happy with my situation because I have not heard this! =) But I think that a professional Flair Bartender will not be throwing bottles for a long time when there is a large flow of people. There are many movements, that occupy just as much time as if we had just poured from the speed rail; it is important to properly use Flair for someone who wants the show. And someone wants to quickly have a drink – a bartender can make a cocktail with minimal Flair just as quickly as it take a bartender who does without Flair.
What are your thoughts on Bartending competitions today… What would you change and why? Today, the rules have changed recently, and it's difficult to assess what needs to change. Competitions are all different, each differently organized. What is most pleasing to the participants makes for a lot of business (for the competition organizers.) …Maybe quick release of participants? Posting times as well, all the time I find that we do not have it already long-established.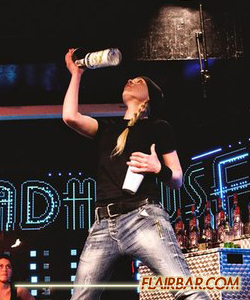 What are your thoughts on the Roadhouse Flair competition? Great competition! Wonderful people; I was there once a year and the same vivid emotions are always present. I think everyone wants to win Road House! Last year when I was there, our competition was a wonderful show! Adore them. This competition can come each year, I'd appreciate it! =)
What would it mean for you to win this event? As I've already said, it would be one of my accomplishments, and is one of my major objectives. Probably, I would be happy, but you know… Not reaching the final last year, I'm glad for, because it gave me a huge "wake up" to work harder on myself!
Why should someone compete in the Roadhouse Flair competition? Because this is an opportunity; there is a lot of competition in the final turnout at Road House, in this is great, beautiful city, for a great organization. You get to compete with the strongest guys (and girls!) of the world!
Any predictions for this years overall winner at Roadhouse? Hard to say, I'm worried for everyone, but whoever he or she is, they deserve it!
How often do you practice, and how do you structure your practice? I train differently all the time, but I do mostly train every day; at most doing one or two days off a week. Everything depends on the state of my health, but I have a program I follow, including incorporating something new that I train for the end of training, always. In my opinion it is better to train three hours intensely, rather than six long intervals. It is very important to keep myself toned – what we do takes a lot of effort! It is so worth it after a workout to end with a massage and the like, because if you do not take care of sore muscles very quickly , you can get hurt. Also, I personally can not train in the morning; I train only in the evening.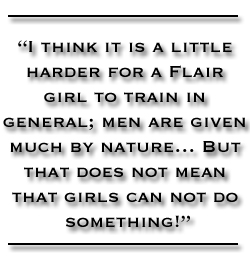 What are the advantages and disadvantages of being a female Flair Bartender, rather then a regular female bartender? It is easy to stand out from the masses. But I think it is a little harder for a Flair girl to train in general; men are given much by nature… But that does not mean that girls can not do something! Usually, a lot of Flair girls I know all have strong personalities!
What is your advice to some of the new bartenders wanting to learn Flair Bartending? Patience… It's hard work, and regular exercise. Learn from international stars. Entertain yourself. Look at competitions. Win every day for yourself.
What are your thoughts on the International Bartenders' Guild? I know it is opening up new opportunities, and there is a lot we can learn from them. I associate them with purity performances, quality, and a good image.
Are you a current member? Unfortunately there is no branch in Belarus.
Do you plan on joining the IBA to compete in the World Cocktail Championship in South Africa later this year? The fact of the matter is that our country does not have the IBA, so I do not have the right to represent my country on their competition. In Belarus, a lot of people tried to join them, but unfortunately they have nothing here.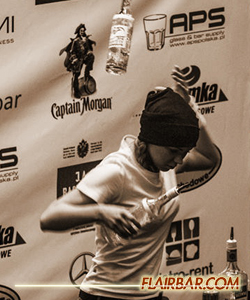 We have seen you do some amazing Flair shows… What are some secrets to a great Flair show? For any bartender, and for me, the important role is played by my chips. I was coached a long time, and each performance of each movement becomes heavier, and you know when to do this chip… I was rushing with energy. The energy of pleasure and positive emotions, most importantly allow me to enjoy performances, even if something goes not as I planned.
Have you ever gotten hurt doing Flair, and what happened? I had dismissed most injuries as only small scars and cuts, but a year ago I had a serious injury, and for almost a year was not able to be trained. I was treated for neck trauma, spine injuries… Doctors generally forbade me to do it (Flair,) but I eventually found other doctors that said what I wanted to hear. It is important to warm up before exercise, incorporate short rest breaks so that the muscles do not have time to cool down, and it will be fine!
What are your thoughts on a new way sponsors can partner with an individual bartender, to help promote their brand; and how would the sponsors better benefit? I have been sponsored once, but unfortunately our town is also not very well developed, so the return on the competition is not strong.
What are your thoughts on the WFA (World Flair Association)? Cool system. =) You can develop yourself, gain levels (the color of your achievements), and for those who do not know when and where competitions are, they have a website. I think if it were not for the competition organization that has arose from the WFA, there would not be so many people given opportunities… Great, to describe it in one word.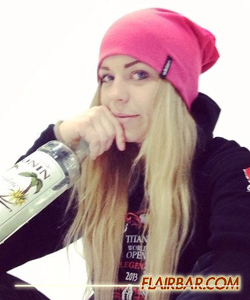 Do you find it difficult being a bartender to maintain a serious relationship? I think it all depends on the people, I do not have a relationship so I'm not sure. =)
Any tips on dating a bartender? It will take work. I think that your partner should respect what you do. Flair takes a long time to learn, and although this is a plus, we will miss you. Be patient. Maybe help your bartender and ride the competition with him (or her); it's a new experience!
Why do you Flair? Because it is my way of expression, where else can you pour your emotions into music & movement?! Yes, doing Flair, it feeds my life. I generally believe that all those engaged with Flair are strong people, and very creative.
What are your thoughts on Flairbar.com and what would you like to change about it? I'm glad I met you, and I wish you prosperity! Do not change anything! I like it here!!!
What are your thoughts on Finest Call products and Why? I have often worked with them, I find Finest Call myself to be very high quality. They have a diverse range of tastes, although I have not tried all of them, all that I have tried, I liked everything. They balance good in a cocktail!
What is your favorite Finest Call flavor? Finest Call Sour Apple.
What is your favorite cocktail you created and can you share with us how to create it?
Condensed Milk – 2/3 cup
Garden Fresh Strawberries, washed and chopped – 1 cup
Whipped Cream – 2 tbsp
Rum – 2 cups
Ice Cubes
[*Obviously this makes enough for a party!]
Preparation:
Mix all ingredients in a blender. Serve in glasses that are rimmed with powdered sugar.
What is your favorite drink? Whiskey Sour.