"The Big Kahuna" and "LVFA Grand Final" 2014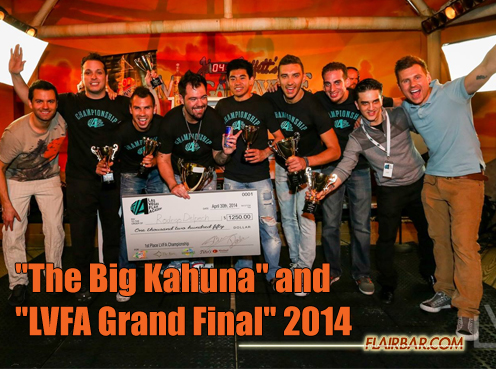 LAS VEGAS – The Las Vegas Flair Academy previously hosted two Flair events " The Big Kahuna" and "LVFA Grand Final" both elevated our sport onto the next level. World champions Danilo Oribe and Vladymir Buryanov together with Terry Buryanova came up with a new concept of competition which is designed to entertain not only the Flair connoisseurs but the non- Flair crowd as well.  Both competitions were looking for clean Flair routines with big energy and a high level of crowd entertainment.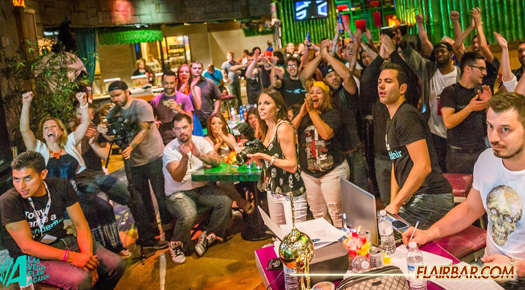 DAY 1 – On April 29, 2014, The Big Kahuna kicked off at the Kahunaville bar inside the Treasure Island Hotel. The first night was consisted of two categories: Advanced and Professional. Both divisions have the same scoring systems, 30% Showmanship, 20% Smoothness, 10% Music Interaction, 10% Originality, 10% Variation and 10% difficulty. The "Sneaky" Flair rule is what made this competition unique. Since this competition is looking for the cleanest routine possible, a competitor gets a reward of 10 point bonus for a dropless show while a 50 point deduction on the score for a show with 5 or more drops.
The Advanced division was a 3 minute round wherein each flairbartender made one cocktail using Working Flair (Quarter full bottle) and Exhibition Flair (1/2 oz bottle). This category was also a 3 object round which means every competitor was limited to Flair no more than 3 objects.
Why this rule? Well according to the Flair experts, flairbartenders nowadays focus too much on flipping multiple objects when most of them do not have a solid 2 or 3 object sequence and this needs to be changed. According to LVFA (Las Vegas Flair Academy), anybody can be a world-class flairbartender even without trying to attempt 6 shakers and a bottle sequences.
12 talented flairbartenders rocked and put one bad-ass Flair show on stage. They were Michael Parker, Rick Olivares, Scotty Leigh, Jj Elsbury, Alex Stanton, Franny Gore, Pete Miceli, Phil Piasecki, Victor Flores, Aaron Pierce and Richard Vasquez.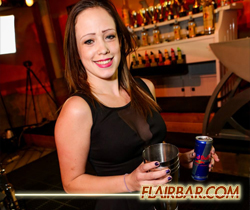 After all was said and done, a well deserved first spot to Ms. Shay Court from Canada. Michael Parker took the second spot and next to him was Mr. Rick Olivares who put up an outstanding show on stage that night.
Pro- division.
The Pro- division was a 4 minute round wherein each flairbartender made a cocktail using their best Working and Exhibition sequences but not to exceed 4 objects.
Twenty six of some of the finest flair bartenders around the globe "bottled" it out to determine who will be qualifyng for the Grand finals. They were Mark Cadawas, Alexander Nikitenko, Andres Herrera, Brent Moore, Zach Dimitrov, Mike Guzman, Mariano Gil, Alexey Balashov, Ram Ong, Zack Prohaska, James Rotstein, Sebastian Cao, Kushal Poudel, Eric Parker, Colby Ashton, Orlin Todorov, Ezequel Abergo, Ryan Clark, Scott Christian, Shawn Oana, Alees Pellejero, Drago Dichev, Rodrigo Delpech, Harry Rivera, Denny Bakiev and Luis Ortiz.
The crowd were entertained and went wild as these flairbartenders showcased some of the finest moves. And after almost 2 hours of action packed show, the Eight grand finalists were determined. Luis Ortiz, Harry Rivera, Alexey Balashov, Ram Ong, Sebastian Cao, Denny Bakiev and the Mr. Rodrigo Delpech who pulled out a solid 4 minute dropless routine.
DAY 2 – On April 30, 2014, Margaritaville bar at the Flamingo hotel was packed with spectators from new audiences, LVFA students and to some of the well known Flair legends Big Mig, Ken Hall, Captain Boogie, James Hadhazy and 18 time World Champion himself Christian Delpech.
A good flair competition does not only have good line up of competitors but certified judges as well. The LVFA team has selected some of the world's reputable flair judges to ensure fairness, professionalism and accuracy of the scoring.  Alexey Mochnov, Kevin Mayo, Christian Oldan, Todd Connell, Jason Tremper and a special entertainment judge Ms. Helen Mei. Also not to forget, our very cool emcees Andy Vieluf and Walt "Mickey" Turner who both boosted the competition.
The finals night won't be complete without the special guest performance by the Tridem show of Alexey Balashov, Vladymir Buryanov and Danilo Oribe.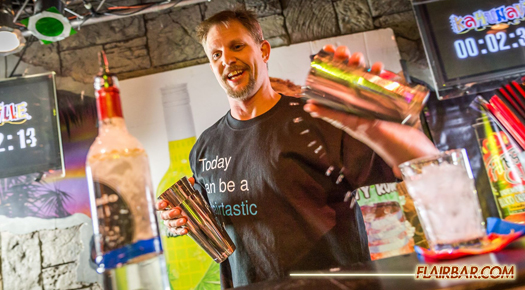 The first competitor to perform was Shawn Oana. Shawn was a crowd favorite due to his natural showmanship behind the bar. He was literally "ON-DUTY" that night while he competed. Believe it or not, he was taking good care of his guests behind the bar while waiting for his round. Shawn, if you are reading this…I salute you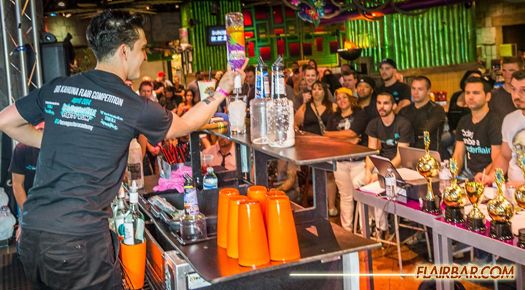 Luis Ortiz was one of the most entertaining guy that night. Luis pulled out some kick-ass moves that were choreographed to his lively music. The first guy to put a dropless show which proved his spot for the finals.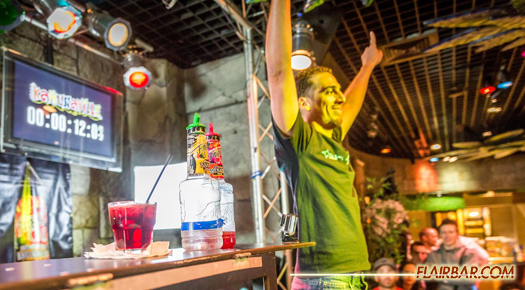 Harry Rivera never wasted a single second in showing what he can do on stage. Harry is one of the most awaited competitor of the night due to his technicality such as bottle – tin and 2 bottles and 2 tins combo.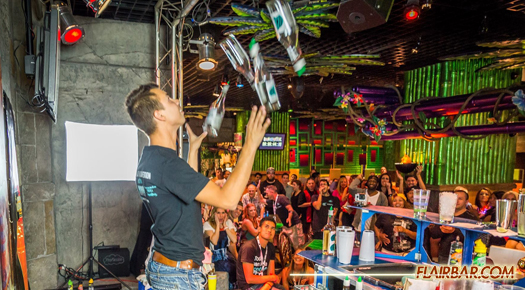 Alexey Balashov was a very technical flairbartender. From his Working Flair to exhibition both packed with difficulty. He had the most remarkable stall that night which was his Finest Call stall of the side of his head.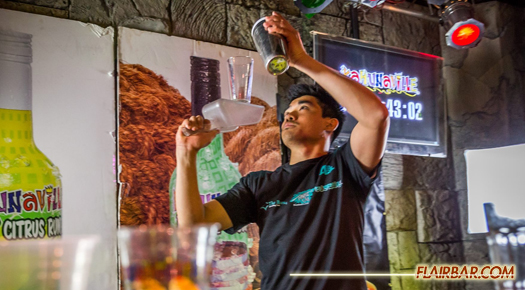 Ram Ong (who happens to be me!) started a simple yet unique Working Flair. Ice- shovel- glass combo followed by my favorite 2 tins 1 bottle sequence to the tune of "Are you gonna be my girl?" Got a good crowd feedback but forgot to pour the sponsored products.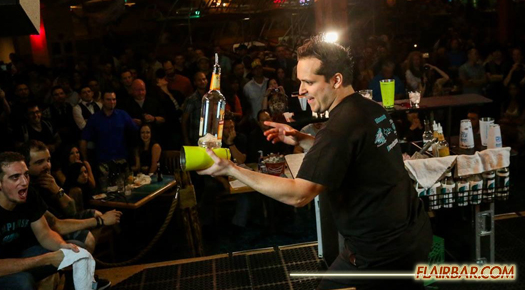 Sebastian Cao had an awesome stage presence. Has his own smooth South American Flair style and was a natural showman with a technical 3 bottle sequence.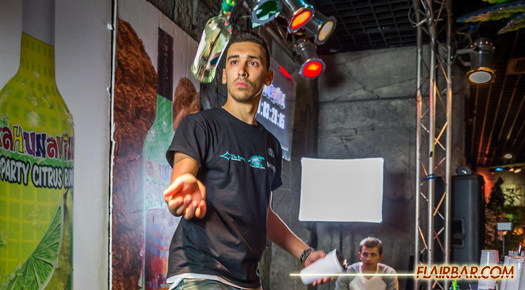 Denny Bakiev was an automatic superstar as soon as he hit the stage. Out of this world technicality, difficulty, incredible variations while dancing to the tune of his music.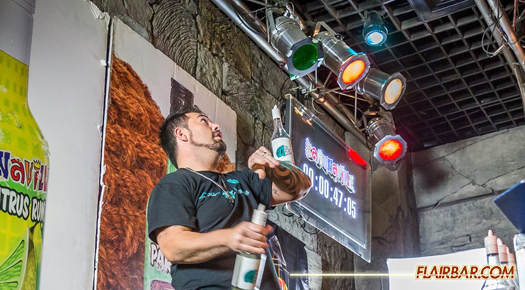 Rodrigo Delpech's performace was a solid dropless routine. Showed his Flair prowess with no sweat. Every stall landed perfectly. Bumps and taps were to the beat and who would forget his juggling skills? Rodrigo Delpech also wowed the crowed with his powerful 5 bottle move which earned him the "Red Bull No Limits" tilt.
Results of the finals:
1st Place-Rodrigo Delpech
2nd Place- Denny Bakiev
3rd Place- Luis Ortiz
4th Place- Ram Ong
5th Place- Sebastian Cao
6th place- Shawn Oana
7th Place- Alexey Balashov
8th place- Harry Rivera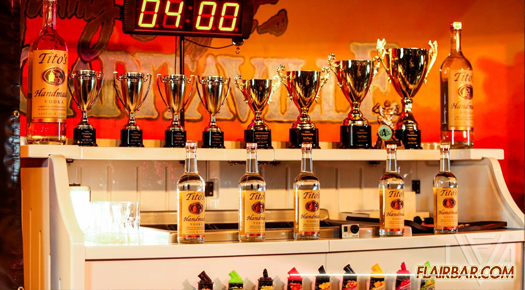 On behalf of the Flair competitors, we would like to thank all the people who made this wonderful event possible especially the industry leaders who sponsored. Tatuados Vodka, Kahunaville Rum, Finest Call, Tito's Vodka, thebars.it, Redbull, Margaritaville and lastly, The LVFA team!
May the Flair be with you!
Ram Ong