We Have Evolved…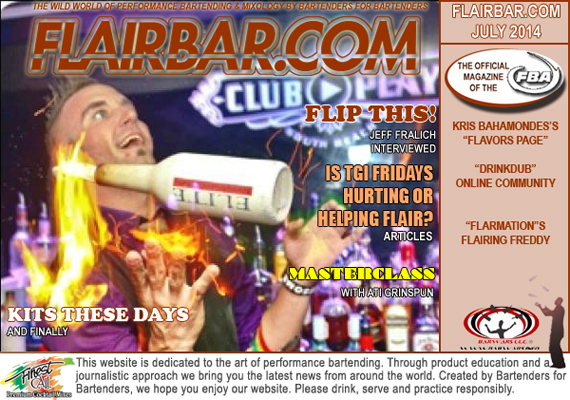 We have evolved… Flair bartending has gone through many changes since the first bar tools were used to entertain to where we are today. Flair bartenders are rock stars and they will always be, but its great to see Flair bartending and Mixology merged into the Professional bartenders  for the new rock stars of tomorrow to sing new songs today. How's that for an analogy? Lol
The United States Bartenders' Guild World Cocktail Championship USA 2014 showcases just this… this national qualifier will be judged on 50% Flair and 50% Mixology with the overall winner getting flown to South Africa to represent America in the IBA World Cocktail Championship and hopefully bringing home the gold! Our USA qualifier takes place Tuesday July 27, 2014 in South Florida and the Flair Judges being Chris Cardone, Rob Turek and Graham Kimura. The blind Mixology judges being the USBG's very own Brittany Chardin and Frank Martucci and the referee being Rob Husted (myself). All broadcsted LIVE right here on Flairbar.com!
This event promises to be a ground breaking event with some fun surprises and the start of the USBG Flair Committee creating new opportunities for all style of bartenders. One opportunity is the "FREE FLAIR 101 WORKSHOP" right before the finals starting at 5pm on Tuesday July 27, 2014. Bartenders of all backgrounds are invited to come watch, learn and play before we kick off the nights main event. For more info on the USBG WCC you can CLICK HERE.
So I ask you, our loyal Flairbar.com readers… in 2014, get off your ass and practice and then support these new competitions and compete to help grow our sport for all of us and I promise you… YOU WILL SEE FLAIR BARTENDING BACK ON NATIONAL TELEVISION!… but that's another article for another time.
To help give you some motivation, head on over to our 'Masterclass' page where Ati Grinspun teaches us a quick bottle and three tin Exhibition Flair sequence that that you can use in your next routine or behind the bar. All on our 'Masterclass' page.
Next we head on over to… with "Is TGI Fridays hurting or Helping Flair?" all on our 'Articles' page. TGI Fridays has done so much positive things for Flair bartending throughout the years… but is their new direction going the wrong way? What are your thoughts on the subject? Do you have an article you would like to share…? Message us on our  Flairbar.com Facebook page and lets discuss.
Then we have Jeff "Flip" Fralich, an award winning Flair bartender with enough personality to power a small town and now in this month's issue of Flairbar.com with "Flip this!" you can get to know more about Jeff and see he is more then just good hair with great Flair and more all on our 'Interviews' page.
Speaking of great hair… check out "Kits these Days – A Funny Flair Web Series"  on our  'And Finally' page where you will laugh, you will cry… and you will want more. Kind of inspires me to grab a camera and have some fun. Lol
If your ready to get creative and craving a cocktail… Check out "Egg White Cocktails" from Kris Bahamondes to help you build upon your already ever growing cocktail list, all on our 'Flavors' page. Kris just moved to Canada so if you have any recommendations for him, please let us know?
Next check up on one of our most animated characters here at Flairbar.com "Flairing Freddy" on our 'Flairmation' page. In this issue Freddy is missing the USBG World Cocktail Championship USA 2014 because of work and finds a solution not to miss all of the action!
All of that plus our regular features, more 'Barware', more pages, and more Flair than you can shake a Flash Mob at Tales of the Cocktail  at. 
So take some time out and enjoy a Finest Call cocktail as you flip a Flairco bottle into a BarProducts tin and enjoy this months issue of Flairbar.com and say "Thank You" to the sponsors who keep our sport alive.
To Flair & Friends.

Rob Husted