Is TGI Fridays Hurting or Helping Flair?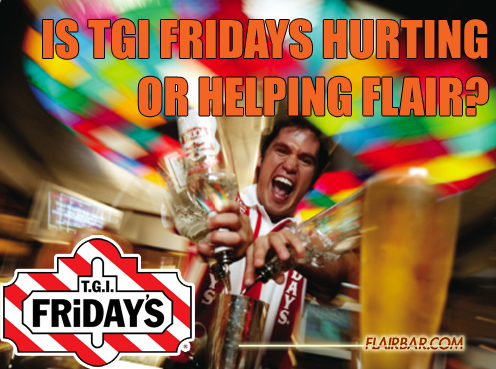 I pose the question… is the global chain TGI Fridays hurting or helping Flair? The earliest know competition for Flair bartending was held by TGI Fridays in Marina del Rey, California around 1985 and its has only grown bigger and better over the years. From a small handful to literally thousands of bartenders across the globe have been involved in these store competitions.
The first is said to be John Mescall and his talent for "juggling bottles while pouring drinks" caught the attention of management and the decision came about to hold an in-store competition, which they later took national. It is said that Mescall was a bit hesitant, because other Fridays bartenders saw his art more of a nuisance when they were forced by management to Flair as well. Eventually, John Mescall made a couple of "how-to" videos for TGI Fridays and later with the help of John J.B. Bandy produced the first ever Flairtending video… "Olympic Bartending". Then in 1987, TGI Fridays held there world championships were John J.B. Bandy won.
Press "Play" above to watch the clips of the Flair training video "Olympic Bartending".
Then in 1991, TGI Fridays started its global competition called "World Bartender Championship" which still exists today. Below is the list of winners from then to now…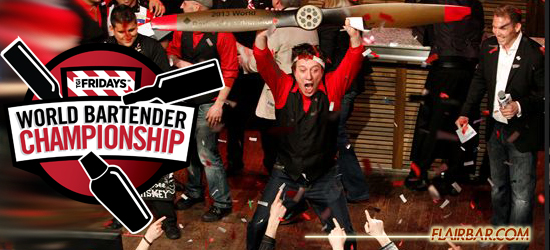 TGI Fridays World Bartender Championship Past Winners:
| | |
| --- | --- |
| Andy Hool | 2013 |
| Hiroyuki "Mark" Yamada | 2012 |
| David Kringlund | 2011 |
| Attila Farmasi | 2010 |
| Brian Zachau | 2009 |
| Keisuke Goto | 2008 |
| Tony Adams | 2007 |
| Eric Martinez | 2006 |
| Peter Marshall | 2005 |
| Yuki Aisa | 2004 |
| Kwang Ho Kim | 2003 |
| Alan Wang | 2002 |
| Adam MacDonald | 2001 |
| Tercio Ferreira | 2000 |
| Guy Minshall | 1999 |
| Joe Pereira | 1998 |
| Rob Eberle | 1997 |
| Leigh Miller | 1996 |
| Ray Weeks | 1995 |
| Matt Durbin | 1994 |
| Geoff Meston | 1993 |
| Corey Campbell | 1992 |
| Randy Erickson & Mark Elphicke | 1991 |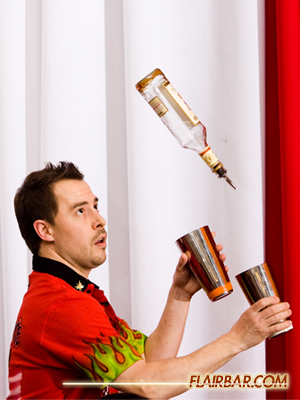 There are some great names in the list above and it shows you a glimpse of some very talented individuals that came through TGI Fridays's hallowed halls. Most of them would agree that TGI Fridays was a great source of learning compared to most major restaurant chains. Many of today's professionals and brand ambassadors have had the honor of wearing their stripes, suspenders and (15) pins of Flair in the past.
There is no argument that TGI Fridays has done a lot of good in the past. I mean, just the sheer volume of Flair bartenders it has pumped out and bartenders with better skills then when they walked in is amazing. Their old emphasis on Flair and their Flair bartending competitions was unmatched by any other major restaurant chain… every time they had an in-store Flair competition you would be lucky enough to grab a seat if they weren't already sold out for a local charity. The place was packed and the energy was incredible. I can still hear the chants of "Roooooobbbbbb Foooooorrrrrddddd!!!!!" from the cheering fans in anticipation of their favorite bartender competing.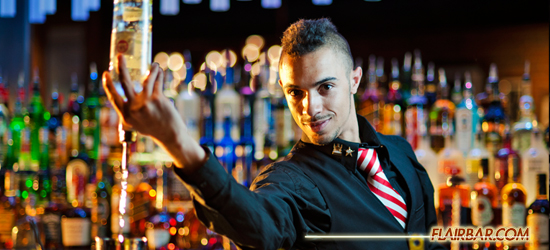 So I ask… what happened? I whole heartily support Flair and have helped out with some of the South Florida TGI Fridays Flair competitions for many years now. I noticed not to long ago, a big change in their overall scoring for their Flair part of their competitions. At first, most of the competitors were put off by this and upset they didn't have enough time to adjust to the new set of rules and scoring before their store deadline to hold the competition. After reading the rules myself, I was at first pleasantly surprised. It appeared TGI Fridays was gearing the Flair part of their competitions and forcing the competitors to do more Working Flair. This was achieved by a required checklist of moves they had to each perform during their routines as well as most of the bottles used in their routines had to be set at Working Flair levels… meaning bottles full of booze that would inhibit exhibition Flair. Although I think the thought was in the right place to move forward with Flair in the company… I feel it was executed and communicated very poorly at the time.
Fast forward to today. Last month I had the pleasure of judging another South Florida TGI Fridays Restaurant Level Flair competition and…. The place was empty. There were plenty of open tables and seats at the bar. The energy and passion for it was missing. A few short years ago, this was unheard of! Don't get me wrong, the Bartenders competing did a great job as well as the emcee and DJ working with the crowd that they had. But I couldn't help feeling that when they implemented the new rules and scoring that each year the events would get smaller and smaller and less fun. Maybe because (and I'm assuming at this point) that TGI Fridays never followed up with proper training for their Bartenders in Working Flair? So the shows during the competitions would be less exciting and the crowd would be less then thrilled with the performances and the Bartenders would lose their motivation to compete and perform better. Again, no fault to the Bartenders or stores running the comps… it wasn't their fault they were "Hand Cuffed" with these new rules, scoring and lack of support. They wee just doing what they were told… and in today's economy, who would rock the boat in fear of losing their job?
To have a better understanding of these new rules and scoring I keep mentioning… here is some insight to last month's TGI Fridays Restaurant Level scoring for Flair… there were three judges for their Flair rounds. With each judge able to give maximum points of…
Judge 1 = 100 points total
Judge 2 = 180 points total
Judge 3 = 180 points total
Now from those points, each Judge awarded the competing Bartenders a total of 10 POINTS FOR FLAIR! On the score sheets it was worded as…
"Rate how the Bartender incorporated working flair throughout their routine" 1-10 points.
In comparison to the rest of the scoring, you get the same amount of points if you max out your Flair score as you would if
1. You serve one of the required cocktails neat on a Bev Nap = (+10 points)
2. You serve the correct required cocktail to the correct judge during your round. = (+10 points)
The Flair part of the Restaurant Level TGI Fridays competition is more about handing out menus and "suggestive selling appetizers", making the cocktails correctly and serving them to the correct judge in 6 minutes without going over the time then any kind of Flair. If it is a Flair competition then JUDGE ON FLAIR! At least have the Flair points be weighted more heavily.  I would love to have the opportunity to discuss these new rules and scoring with whomever is responsible to putting them to paper and ask them… WHY?
You can download the scoring sheets by Clicking Here to see for yourself.
With that being said, I have to say I am impressed with the strides in updating their cocktail list over the last couple of years. From their "Ultimate Mudslides" and "One Hour in the Candy Store" of the past to todays…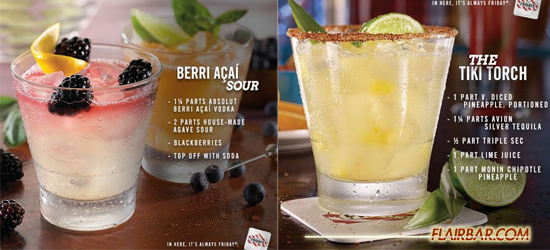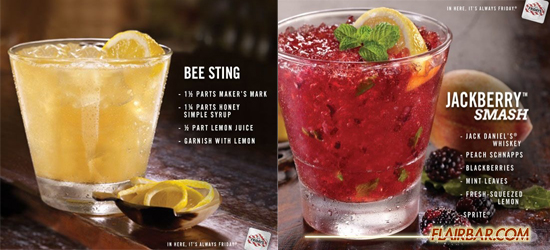 Well done. I love seeing this much passion put back into the bar program… now if we can only show that same passion with Flair. Just my two cents.
Cheers!
Rob Husted
Flairbar.com