Syrups, Foams & Flips- by Kris Bahamondes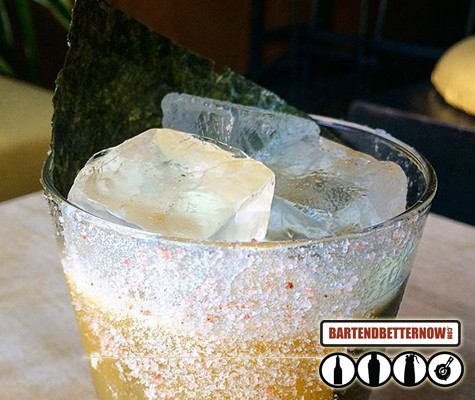 MIYAKO SUNRISE
1.5 oz.'s Bombay Sapphire
.5 oz.'s Junmai Sake (dry)
.75 oz.'s nori syrup
.5 oz.'s lime juice
.5 oz.'s kalamansi puree
Himalayan pink salt rim
Strip of nori to garnish
Seaweed is a delicious and interesting ingredient found in several different styles of Asian cuisine and even parts of South America. The Nori in this cocktail can be found at any Asian market or grocer and is commonly used to wrap sushi rolls.
Nori Syrup:
In pot add 500ml of water and 2 full sheets of nori ripped into small pieces. Bring the pot to a boil and simmer for 10 mins. Remove from heat and add 500ml white sugar. Stir until fully blended, seal and refrigerate. Allow the nori to steep for 2-3 days before straining it out. Once you have strained the nori out it's ready for use.
Procedure: Using a lime wedge rim a glass with Himalayan pink salt. In a mixing tin add the Bombay Sapphire, dry sake, nori syrup, lime juice and kalamansi puree. Fill the tin with ice and shake vigorously to dilute and chill. Fill the rimmed glass with fresh ice and double strain the cocktail into the glass. Finish by garnishing with a strip of nori between the ice and glass.
Garnish: Nori strip.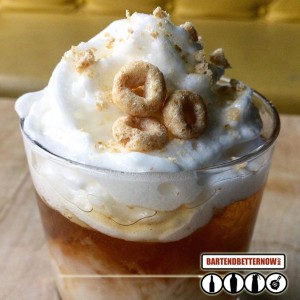 THE DUDE AKA "HIS DUDENESS" OR "EL DUDERINO:
1.5 oz.'s Toasted coconut-infused Grey Goose Vodka
.5 oz.'s Kahlua
1.5 oz.'s Honey Nut Cheerios infused almond milk
Top with Banana molecular foam
Garnish with crushed and whole Cheerios
This cocktail started with an idea to modify the standard White Russian recipe. From there is got a little bit crazy, but the result was a cocktail that made people turn heads across the bar every.single.time. There's notes of breakfast and childhood all over this recipe.
Toasted coconut infused Grey Goose Vodka:
In a litre container add 500ml of Grey Goose vodka and 2 cups of sliced, toasted coconut. Allow the coconut to steep for 48 hours and agitate at least every 12 hours. After 48 hours fine strain the vodka through a coffee filter to remove any particles. Bottle, label and enjoy!
Honey Nut Cheerios Almond Milk:
In a litre container add 500ml almond milk and 2 cups of honey nut Cheerios. Allow the cereal to steep for at least two hours while refrigerated. Strain out the cereal using a sieve or fine strainer. Label, seal and keep refrigerated.
Molecular Banana Foam:
In an isi gun, add 3 egg whites, 3 ozs of simple syrup, 1 bar spoon of banana extract and 1 bar spoon of xanthan gum. Seal the contents and shake very well before double charging with whipped cream capsules. Refrigerate and chill before using.
Procedure: In a small rocks glass add the coconut infused Grey Goose vodka, kahlua and cereal infused almond milk. Stir gently before adding ice. Stir gently again and too with banana foam. Garnish with Cheerios and serve with a paper straw.
Garnish: Banana foam and crushed/whole honey nut Cheerios.
.75 oz.'s Bacardi 8
.5 oz.'s Angostura bitters
.75 oz.'s pineapple juice
1.5 oz.'s sweet red bean paste
4 dashes Bittermens Xocolatl mole bitters
1 whole egg
Sugar for brûlée finish
If you've ever had the pleasure of walking through Korea town in mid town Toronto you will have likely smelled the delicious and intoxicating smell of fried pastries filling the streets. These tasty treats are often filled with a sweet red bean paste that is all too common in different parts of Asia. The Korea Town flip is a dessert cocktail based around this delicious and unique sweet bean paste. Finished with a brûlée of sugar this cocktail is an eye catcher and extremely delicious.
Procedure: Add the Bacardi 8, Angostura bitters, pineapple juice, whole egg and Xocolatl mole bitters to a mixing tin. Dry shake the cocktail once before adding ice and shaking again. Strain the ice from the tins and shake the cocktail a third and final time in a wave-like motion. Double strain the cocktail into a Nick and Nora glass or a relatively deep coupe.  Dust the top of the drink with white sugar and using a culinary torch, gently brûlée the top of the drink, taking care to not overheat the glass.
Garnish: No garnish.
Kris Bahamondes
Mixologist|Consultant
C: 647.467.5979
E: KrisBahamondes@yahoo.com
#wizardsofthewest
@imbibe_and_enjoy
Toronto, Ontario