"Italian Stallion" – Bruno Vanzan Interviewed
Updated: December 1, 2014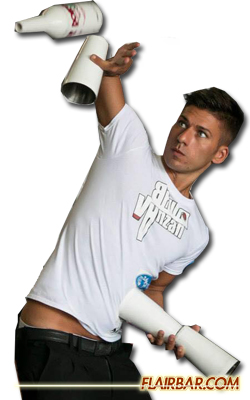 From starting out learning about the competition Flair circuit to being one of the leaders in it … Bruno Vanzan. He is a well dressed passionate bartender with many different skills in our industry, now in the pages of Flairbar.com, we get to know a little more about Bruno with "Itallian Stallion" as he shares with us his insights on the world of Flair bartending & Mixology… So sit back, relax and indulge in a Finest Call cocktail made in a Flairbar.com tin sold on BarProducts and enjoy…
Age? 28 years old.
Where are you from? Rome, Italy.
How long have you've been Bartending? 9 years.
And Flair Bartending? 8 years.
Where do you work? I teach at Planet One Bartending School the most prestigious operation in Italy. I am the brand ambassador for Volare Liquor and Antica Sambuca and also work close with other brands like Spill Stop, Flairshop, Italproject and Finest Call.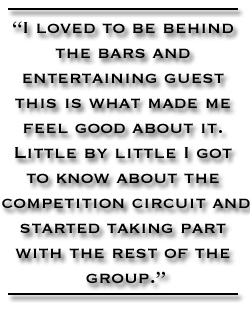 What got you into Flair Bartending? I started years ago working in bars in Rome where I grow up. Afterwords I got more and more into Flair bartending, mixology, training and events. I loved to be behind the bars and entertaining guest this is what made me feel good about it. Little by little I got to know about the competition circuit and started taking part with the rest of the group…During my career I always followed the bartending and mixology training and events aspects.
How did you start out learning to Flair? I did a bartending training at FBS bartending school with Armando Del Fiore my very first trainer… Then I spent many hours in the Flair room practicing.
Tell us about the Flair Bartending scene in Italy? Well, in Italy we have plenty of bartending schools as well as Flair bartenders probably one of the country with the most..it is certainly positive for the industry.
Tell us about the Craft Bartending scene in Italy? Yes there are a few high end bars and they do well. Nice concepts and great cocktails.  A known place is the Nu Lounge in Bologna which is a fantastic Tiki cocktail bar – they were able to combine a fun atmosphere and great service. We also have a few speakeasy style bars, the most well known is The Jerry Thomas in Rome which I highly recommend.

What do you hope to get out of Flair? Flair gave me a lot! I had the opportunity to travel a lot and I will continue doing so. I won many competitions and also lost many
thanks to Flair I was able to work on Italian TV for more then 2 years. As a desire I would love to win the Roadhouse final.
You were the world champion at the Bacardi Martini… what year was that and tell us about your experience there? I was very lucky, it was 2008 I was still pretty new on the scene.. I worked hard for it and I end up winning it – great! From that point on I never looked back.
What are some of your secrets ? My biggest secret is the passion and love that I put into it. I always smaile as I like what I do. I believe in my dreams.
What is your favorite Flair Bartending competition and why? For me was Warsaw Flair Challenge 2010. Great organization, 100+ competitors, huge stage and perfect light system. The crowd was amazing and when you hear them shouting your name it is an amazing felling.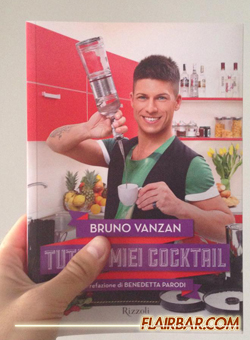 Tell us about the book you wrote "Tutti I miei cocktail"? "Sometime the dreams come true" Yes about a year ago I wrote my first book, the project started after the TV show with Benedetta Parodi (Italian TV celebrity).
The book is written to help regular consumer to make a cocktail at the house. It is targeting to the retail segment. In Italy is uncommon to drink a cocktail at home.. Is not like in the USA..
Tell us about your role as a brand ambassador for Antica Sambuca and Volare Liquor ? Yeah, about 3 months ago I took on the role. It is exciting time moving forward. I am thrilled about this new experience. I take care of different cocktail programs for the international markets, the training aspect of our distributor and sales force .. Which is great! The job makes me travel in several markets that always help to keep up with trends and industry news.
How has being a award winning Flair bartender helped you become a brand ambassador? Certainly having experience in the industry and being a good Flair bartender it did help
– I guess companies look out for professional people that can help build their brand and relationship for the long terms.
What advice would you give to other bartenders wanting to become brand ambassadors? Work hard and support the brands that support our great bartending community.
What is something every bartender should know for their first shift behind the bar? Smile – that's the key. Make your guests feel comfortable.
In your opinion, what makes a good bartender? The ability to make great drinks and serve the guest in a good manner.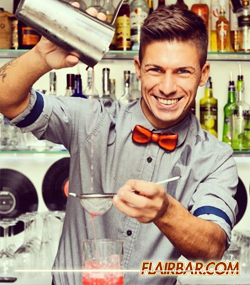 What are your thoughts when you hear remarks about Flair bartending or craft cocktails slowing down service? You can do booth things in a nice quick way and still entratein your guests nicly.
What are your thoughts on bartending competitions today… what would you change and why? I don't think there anything to change. WFA in 2014 already implemented some news by adding points for the cocktail. Perhaps make sure that we have good lighting on stage and a decent enough Flair room.
What are your thoughts on the WFA? Is the biggest Flair association out there. They improved a lot over the years and lately introduced the grading system for upcoming bartenders.
Why should someone compete in WFA competitions? Good judges and nice professional rules.
You are a WFA black tin holder… what does that mean? Yes there are few different colors and I was lucky to get the black one.. I think there are only few people that hold the black one.. Great! There are a total of 7 level / colors each single one represent a certain level of skills and technique. In order to hold a black color tin you need to finished in the top 3 of a WFA Grand Slam competition.
What are your thoughts on Flair & Mixology? Not a big deal. At the end of the day is all about making a good quality drink and keep your guest happy. That's the bottom line.
How often do you practice and how do you structure your practice? At the begging I was doing about 8/9 hours…now is a different type of training since I have a strong base of the simple moves. I practice my routine for about 40 times per day before the competition.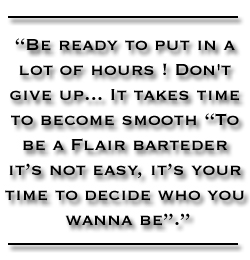 What is your advice to some of the new bartenders wanting to learn Flair Bartending? Be ready to put in a lot of hours ! Don't give up… It takes time to become smooth "To be a Flair barteder it's not easy, it's your time to decide who you wanna be".
Tell us about Planetone? Planetone was founded in 1991 one of the oldest school in EU. Marco Ranocchia is the managing director and we have 8 sub-offices in thought out Italy. We do training, events, catering and work close with some of the biggest international brands.
Tell us about your work with Spill-Stop, Flairshop and italproget? Spill Stop is a leading company that produce products for bartenders – I work close to Gianluca Pomati the Italian importer by helping building the brand. Flairshop is an online bar equipment company managed by Federico Cassini that sell in the Italian market. Ital proget manufacture furniture for bars and it is present in 50 markets worldwide.
Tell us your thoughts on the bartending scene overseas compared to the United States… Can they learn something from one another? In America in bartender sono abituati a lavorare dietro al banco bar, hanno un interazione fantastica con le persone. Noi dovremmo imparare da loro.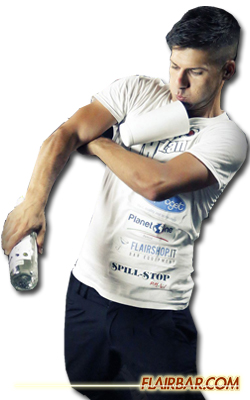 What are your thoughts on a new way sponsors can partner with an individual bartender to help promote their brand and how would the sponsors better benefit? I believe that any brand could benefit on having known bartenders using their products as long as they work in a professional way.
What are your thoughts on the FBA (Flair Bartender's Association) and the WFA (World Flair Association)? Are they working towards the same goals and can we work together more in the future for the overall better of Flair bartending? I think that FBA did a fantastic job in the past and I feel sorry for them that they don't have as many events as they use to have. WFA is more active and they do a good job on running many events.
What are your thoughts on the I.B.A. International Bartenders Association? Is the only association out there, it is a worldwide operation and it helps spreading the cocktail culture worldwide and the products that are supporting it.
Do you find it difficult being a bartender to maintain a serious relationship? I think is impossible.. Only joking! I guess is difficult as it is a lot of late nights.. I never found the right person.
Why do you Flair? I love to Flair is part of my life and makes me happy.
What are your thoughts on Flairbar.com and what would you like to change about it? Flairbar.com is very well made, I believe is a great tool to learn about our industry in general. Nothing to change – keep doing what you are doing!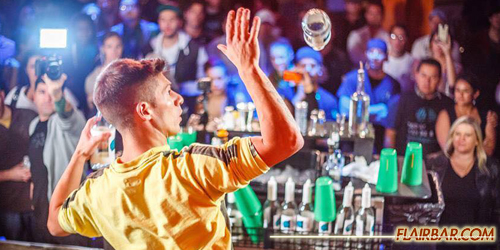 What are your thoughts on Finest Call products and Why? Finest Call is a great brand, they strongly support our industry and they manufacture fantastic products… Finest Call is the most popular mix worldwide, I love it!
What is your favorite Finest Call flavor? Strawberry Purée and Ginger Re'al Part of the new line recently launched.
What is your favorite cocktail you created and can you share with us how to create it?
Smoking Martini
Ingredienti:
1 1/2 Gin
3 fresh raspberry
1 oz Finest Call Sweet & Sour mix
1/2 oz Volare red cinnamon
Spray of Whisky and vanilla
shake and double strain
What is your favorite drink? Gin tonic please!!