THE MAD RUSSIAN! – Paul Trzcianko Interviewed
Updated: February 1, 2006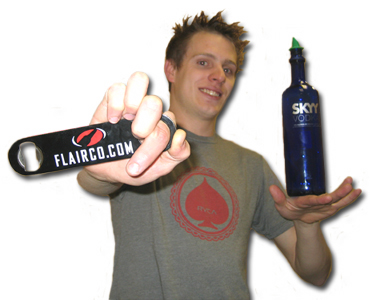 The man that has more potential then a banker at a brothel… Mr. Paul Trzcianko. He has been making a name for himself in the Flair world since 2003. This eager young upstart seems to keep making finals where ever he goes. His originality combined with a smooth style makes for a winning combination. Not only that but he can hang and drink with the best of them (Besides maybe Chuck Mcintosh)…
Age? 24.
Where are you from? Minneapolis, MN.
How long have you've been Bartending? 4 1/2 years.
And Flair Bartending? 3 years.
Where do you work? Infinity Nightclub.
What got you into Flair Bartending? Brian Zachau and then the Carnaval Court guys. Brian showed me a few moves and then I saw everybody cheering for him and throwing money at him and I thought to myself… Looks like fun and a good way to make some money. I was blown away the first time I went to Carnaval Court, I couldn't believe certain things they did were even possible, I thought to myself, I would do anything to work there and started practicing. The energy and exciting atmosphere is what really sold me on Flair bartending.
How did you start out learning to Flair? Brian Zachau was training me in at a TGIF and starting showing me a few moves. Then I started going to competitions and learning far more.
Why do you Flair now? Flair is my career and is involved in every aspect of my life. I love it and love Flairing all the time..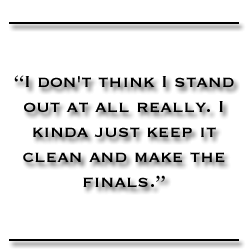 Describe to us your style of Flair? I like to keep it smooth with as many original moves as I can come up with.
What makes you stand out from other Flair Bartenders? I don't think I stand out at all really. I kinda just keep it clean and make the finals.
Tell us about the Flair scene in Minnesota and how it has changed in the last two years?  The scene is continually growing and people seem to be getting very excited about it. When I started there were really only Jeff Rogers, Eric Cameron, and Brian Zachau who competed outside of Fridays. Now there are allot more including: Jeff Fralich, Davey Jones, Bobby Ice Cream, Doyle, who is my trainee, Chad Larson and many more, They are still very local but I look for some of these guys to break out and do some good things. There really haven't been many competitions in Minnesota. Rock and Pour was put together a couple years ago by Jeff and Brian, and Bobby threw a couple of local competitions. I threw one last year (HIP competition) and look again this summer for year number 2. I would expect to have some more big names make it out this year after the success of last year.
What do you hope to get out of Flair? I've already gotten more than I could imagine but competing all the time and not having to do anything else is the main goal.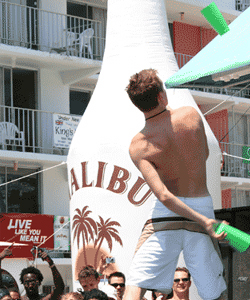 What is your favorite Flair Bartending competition and why? Quest, because I always seem to make the finals and the atmosphere is very upbeat and exciting.
Who do you look up to in this Sport? A hundred people but to name a few, The Minnesota boys who started me off, Levi Donaldson for always helping me out, Rob Husted and The Delpechs'.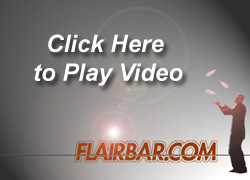 Tell us your thoughts about the FBA Pro Tour and the results last year? I think its the best thing to ever happen. I think the results are exactly what they should be, can't argue with numbers.
What would you like to see different about the FBA Pro Tour this year? More events in more places. Even though it's hard to put together, the more exposure in more cities is key.
What are your plans now? Same as they always are, compete and try to beat an Argentinean.
What are your thoughts on owning a particular move and someone stealing your move, Is it a compliment or a bad thing? Most of the time a compliment because you have already moved on when somebody else picks it up.
How often do you practice? About 8 hours a week.
What is your advice to some of the new people wanting start competing, any helpful hints? Even though it costs money to go and lose we all did it and the experience you gain outweighs the amount of money spent.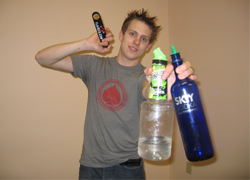 Tell us about your first Flair Competition and your experiences there, What were you feeling, Did everything go as planned? Bar Wars IV. I had so much fun! Rob Husted put on a great competition and befriended me right away, even though he made me Flair in the club in front of everybody the minute I got there. I actually sucked at the competition, qualified last but Rob took everybody to the finals. I think I ended up 8th out of 12.
Describe to us what your ultimate Flair competition would consist of? It already exists… Quest. A little speed round and allot of Flair.
What are your predictions for Legends this year? Hard to say, we don't even know everyone who is competing. I would say watch out for Rodrigo again.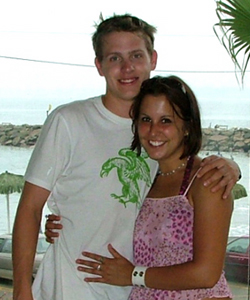 Tell us about your relationship with your girlfriend and how Flair bartending affects that? I have the most supportive girlfriend I could have. She helps me get ready for competitions and enjoys coming to support. She is even trying to come up with a better scoring system.
How did you get the nickname "The Mad Russian"? Everybody sees my last name and thinks I'm russian. So the Minnesota boys gave it to me when they were trying to teach me a hand stall.
What would you like to accomplish in Flair before you stop Flair bartending? I would really like to win a major but pushing the sport into a legitimate televised sport is more important.
If you couldn't bartend anymore, what would your line of work be? Training bartenders and if I couldn't do that I would probably be a professional drinker sitting at the bar watching some Flair.
What is your favorite drink? Skyy berry and seven with a shorty of Grandma.