Passion…
Updated: September 1, 2014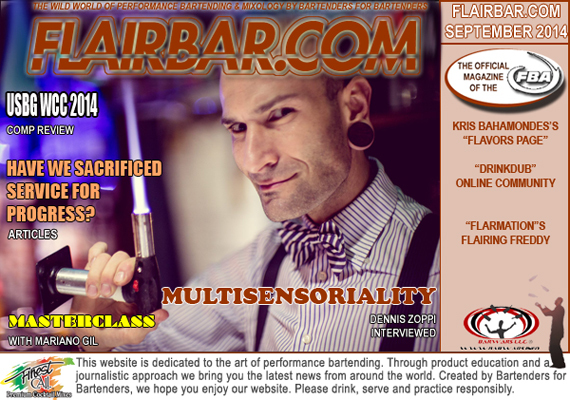 Passion… it is what drives us to become better at what we all love to do. Whether its art, sports or bartending… we dedicate ourselves to what we are passionate about. We spend countless of hours crafting what we believe to be our purpose on this planet for. To surprise ourselves in our accomplishments and to share with others.
Whether its Flair, Mixology or just making others happy. Find out what you are passionate about… and dive into it with open arms smiling. You never know what you would find on your journey.
So I ask you, our loyal Flairbar.com readers… what are you passionate about?
We start our journey this month by heading over to Turin, Italy to see the passion exuding from this talented bartender that has changed the way I look at cocktails today and now in this month's issue of Flairbar.com with "Multisensoriality" you can get to know more about Dennis Zoppi and see how he is combining art, cocktails and Flair and a lot more all on our 'Interviews' page.
Next we pose the question "Have We Sacrificed Service For Progress?" A thought provoking article showing the possible downside of progress in today's bar scene. All on our 'Articles' page. What are your thoughts on the subject? Do you have an article you would like to share…? Message us on our  Flairbar.com Facebook page and lets discuss.
Then we head over to Miami, FL for the USBG World Cocktail Championship USA Qualifier where 10 of the best USBG bartenders were tested in 50% Flair and 50% Mixology. our very own Ram Ong brings us his insights on the event. All of that and more on our 'Comp Reviews' page.
If you are feeling inspired to pick up a bottle and tin after reading that, head on over to our 'Masterclass' page where  USBG World Cocktail Championship USA Qualifier finalist Mariano Gil teaches us a quick bottle and two tin Exhibition Flair sequence that that you can use in your next routine or behind the bar. All on our 'Masterclass' page.
For more inspiration with your cocktail game… Check out "Savory Syrup Surprises" from Kris Bahamondes to help you build upon your already ever growing cocktail list, all on our 'Flavors' page. Kris just moved to Canada so if you have any recommendations for him, please let us know?
Speaking of Flair and cocktails, the Flairbar.com Show heads over to New Orleans, LA for Tales of the Cocktail 2014 and sits down with a varied panel talking about their experiences at Tales of the Cocktail this year, Flair and mixology today… all on our  'And Finally' page.
Next check up on one of our most animated characters here at Flairbar.com "Flairing Freddy" on our 'Flairmation' page. In this issue Freddy is just looking to unwind after his shift behind the bar with some shots.
All of that plus our regular features, more 'Barware', more pages, and more Flair than you can shake a ALS Ice Bucket Challenge   at. 
So take some time out and enjoy a Finest Call cocktail as you flip a Flairco bottle into a BarProducts tin and enjoy this months issue of Flairbar.com and say "Thank You" to the sponsors who keep our sport alive.
To Flair & Friends.

Rob Husted