"Multisensoriality" – Dennis Zoppi Interviewed
Updated: September 1, 2014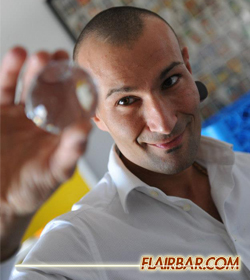 From starting out learning Flair from a bartending school in Italy to competing and placing really well in World Class … Mr. Dennis Zoppi. He has created a name and a great reputation for himself  by combining Flair and Craft into his cocktails behind the bar and in competition, now in the pages of Flairbar.com, we get to know a little more about Dennis with "Multisensorialty" as he shares with us his insights on the world of Flair bartending & Mixology… So sit back, relax and indulge in a Finest Call cocktail made in a Flairbar.com tin sold on BarProducts and enjoy…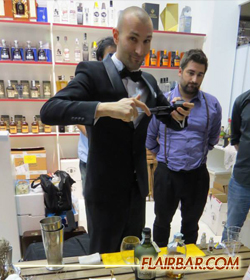 Age? .34
Where are you from? ITALY.
How long have you've been Bartending? I think around 18-19 years.
And Flair Bartending? For 11 years.
Where do you work? Smile Tree in Turin, Italy.
What got you into Flair Bartending? More than secure was Tom Cruise in the movie "Cocktail".
How did you start out learning to Flair? Started with a small school from my country, one of the owners had a great passion to found a school for Flair.
When you first started bartending, did you learn Flair or Mixology first? First Flair.
Tell us about the Flair Bartending scene in Italy? At the time, the Italian Flair is a little stopped, but 6 years ago it was in 90% of the bars in Turin, Italy. A lot of barmen knew Working Flair.
Tell us about the Craft Bartending scene in Italy? At the moment in Italy, there are many opportunities to choose between the bartender.
What do you hope to get out of Flair? I got things from Flair that are indescribable. Today is technically due to Flair. Probably the Flair give much, and I can not wait. Let you see!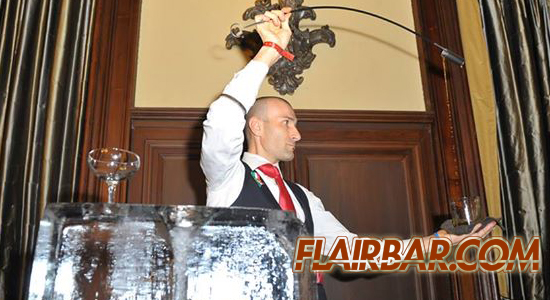 Tell us about being a Flair Bartender as well as a respected Mixologist and how you are helping merge the styles together? Well what to say, possess a mastery of what they are all working tools is important, but think of them spinning in the air, creating entertainment that is definitely a part of a mixologist is missing and vice versa. What I'm trying to create is the ability to combine movement with the knowledge of mixology high levels, in short, to create the perfect machine. A discipline compensates for the other, and both create a new trend, a new style of entertainment.
How would you convince a "Mixologist" to learn and incorporate Flair into their arsenal? I believe there is nothing to convince, just to show how our work can improve. On the upper hand in our work provides entertainment, hospitality, and perfection that running in the content and in the drink. I saw the possibility of being able to fuse everything and the barmen or mixology Flair bartender or I'm super excited.
What is something every bartender should know for their first shift behind the bar? Never forget the fundamentals, be always attentive to detail, always be humble, wanting to have fun and amuse.
In your opinion, what makes a good bartender? A good bartender is as I said, the person who knows the fundamentals, is that person who always knows how to behave, the bartender is the one person who knows how to give you unforgettable emotions.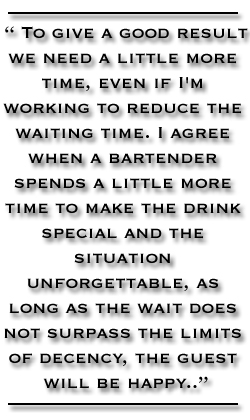 What are your thoughts when you hear remarks about Flair bartending or craft cocktails slowing down service? To give a good result we need a little more time, even if I'm working to reduce the waiting time. I agree when a bartender spends a little more time to make the drink special  and the situation unforgettable, as long as  the wait does not surpass the limits of decency, the guest will be happy.
What is your favorite Bartending competition and why? At the moment is World Class simply because it gives you the chance to express yourself with a few but very few limitations.
What are your thoughts on bartending competitions today… what would you change and why? I think there are lots of different competitions around the world is this factor is very positive, competitions give bartenders the opportunity to challenge themselves in the game by putting their skills to the test and at the same time to share and learn in an exponential manner.
What are your thoughts on the Diageo World Class competition? I love World Class. The competition is complete, ranging from technical, to the knowledge of the product to the ritual service. World Class also has never stopped increasing evidence each year and every year they develop new concepts.
What makes that competition stand out from the others? The multisensory why is it important? Because it's been too long since we drink only to thirst or hunger eat without caring of their true aspect, which is not limited only to the taste, but sets off a riot of sensations, it is time to wake up, to enjoy what we have in front of us trying to implement it in all its completeness.
Sight, taste, touch, smell, hearing are the senses we have, you will wonder why to limit ourselves to just one or a couple, it would be like driving a Ferrari in the city.
The senses create extension, change the cards on the table and make us surprise, laugh, have fun, trigger emotions, let us remember, but above all make us grow and understand what we really like. I want to share another receptor sense, the heart, I will not be poetic or nostalgic but, Ladies and Gentlemen, train it, and you will find that what they see, feel, touch and so on. have a different taste, they have different meaning.
is the constant refinement of new concepts of how to make a drink.
Click Play on the Video below to see Dennis Zoppi's Flair skills!
Click Play on the video below to watch Dennis Zoppi combing Flair and Craft!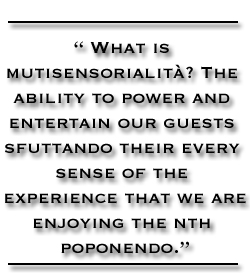 Tell us about new techniques and multi-sensory entertainment? Multisensoriality is the future of food and drink. What is mutisensorialità? The ability to power and entertain our guests sfuttando their every sense of the experience that we are enjoying the nth poponendo. Besides, to create new products using home made equipment allavanguardi, the latest generation, I am the only example in Italy to use a vacuum distiller called Rotavapor to obtain liquid unthinkable taste and expression. Example last drink invented by a well-known restaurant is The Risotto Martini.
Tell us how you learned  the techniques you utilize behind the bar while making cocktails? I learned this fantastic profession traveling the world, knowing barman and studying in various schools. Let's say that the most significant teaching experience I have learned is just being behind the bar with people who constantly followed me, giving me the opportunity to grow in ways sublime.
What advice would you give for somebody entering their first bartending competition?
Study, study, study
Practice, practice, practice
And always have a FUN!
Click the link below to watch a video of  Dennis Zoppi present Multisensorialita!
How To Make A Cocktail Queen Elizabeth II – Dennis Zoppi @Smile Tree – daniphotodesign.com
How often do you practice and how do you structure your practice? I practice every day, I never stopped. Check two three hours prior to the work and refresher mixtures and movements that I can serve to work or for the preparation of a competition. When the service starts, I continue to practice with clients who come to visit. So I do not  ever stop, like a crazy macchina.
What are the advantages and disadvantages of being a Flair bartender rather then a regular bartender? I believe there is no difference between one and the other, both disciplines need entertainment and festivities the only difference or advantages or disadvantages we do them, creating limitations.
And again
Study, study, study
Practice, practice, practice
And always have a FUN!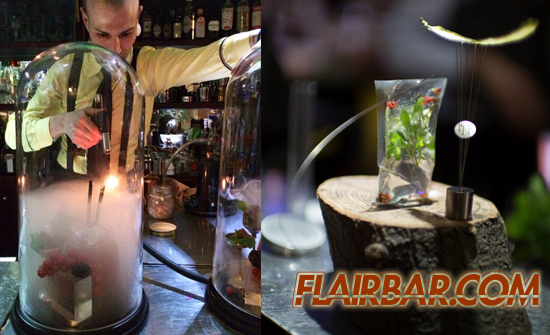 What is your advice to some of the new bartenders wanting to learn Flair Bartending? My advice is to approach a school to learn the basics. Once you have learned the fundamental to be guided by your imagination trying to better express themselves.
What are your thoughts on the International Bartenders Guild? Are you a current member? I have been until the year 2012.
What is the secret to a great cocktail? Just one… LOVE.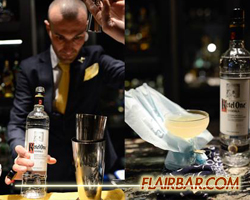 What is your process for creating a new cocktail (from start to finish, how do you do it)? You always start from the base of Vodka, Gin, Tequila, etc. We study the basic choice, I mean the story, where it comes from, how it is produced. Then you begin to add the liquor to be logically contextual to the base that you are using. Then test the mixture with different mixing techniques to make the drink more or less cold, more or less diluted, the tuutto you do trying to create a equlibrio and ascent of the tastes. In the end you choose the glass, then with or without ice, of different materials to attribute different textures and sensations. Decoration concludes the nost cocktail, it will be as if say in the gal on the cake. The decoration will be tasked to create extension of the drink or delete it entirely trying to invite a new draft.
What are your thoughts on a new way sponsors can partner with an individual bartender to help promote their brand and how would the sponsors better benefit? Today, the sponsor can be a great opportunity. The many cases the bartender do not have much money to invest in themselves to grow and do better, here's sponsors can give POSSIBILITY, can give a future to the young bartender who will approach this profession and can give the opportunity to those who already do, give them chance to create something new, innovating in this sector. Is creating just union which grows and we can move forward  in the present day.
Do you find it difficult being a bartender to maintain a serious relationship?
Guys have to be lucky to have a partner who bear everything. I am a barman lucky for now uhahahahaah!
Any tips on dating a bartender? Never talk too much about work.
Why do you Flair? At the moment I do not do much Flair, but when I did I loved it incredibly and surprised to see the faces of the people, I liked to break down the wall of the impossible, constantly trying to evolve by creating something new and amazing.
What are your thoughts on Flairbar.com and what would you like to change about it? To my humble opinion, everything is already very nice, you guys do an amazing job.
What are your thoughts on Finest Call products and Why? At the time in Italy, the availability of Finest Call is very difficult, I must say that I love the product and if I had the chance to buy it with ease I would use it.
What is your favorite Finest Call flavor? Bloody Mary and Passion fruit.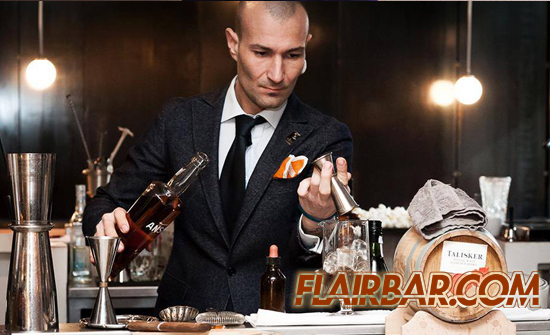 What is your favorite cocktail you created and can you share with us how to create it?
CIAO
Distillate cypress (Rotavapor)
Liquor rhubarb Briottet
The fresh bay leaves slightly flamed
Light curing the resin to wood chews and rhubarb.
The distillate cypress is produced by a machine called a vacuum distillation Rotavapor that allows keeping intact the aromas of pine giving a result aromatic incredibly explosive.
Execution procedure
They incorporate all the ingredients in a shaker
Stir the whole cooling and mixing the mixture.
It is poured into a large glass without ice.
In the end you smoked through a tool called Smoking Gun resin and wood Greek Mastica and rhubarb.
It is served at the table in a tray with crushed ice tray is located on the end of the glass in this manner will remain for a long time in the appropriate temperature.
The base of the glass is made in a manner that swings. Result seems to be a real greeting.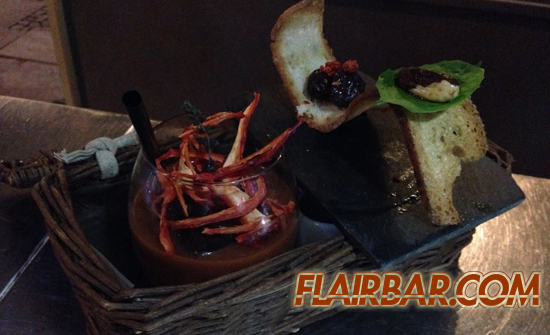 Click on the link below to watch a video below to watch Dennis Zoppi teaching Multisensoriality.
FBC Dennis Zoppi (shoulshakers)
And one more just because I absolutly admire his techniques. Click on the link below to watch a video below to watch Dennis Zoppi creating a Ron Diplomatico Aqua Vita.

FBC Ron Diplomatico Aqua Vita Dennis Zoppi
What is your favorite drink? I'm not a big drinker, but I can tell you now Whiskey and Mezcal are my favorite base.