OlyBet Flair Mania Finals 2015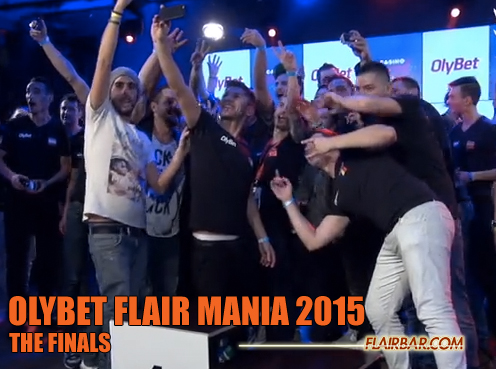 OlyBet Flair Mania is a competition of World's best bartenders held in Olympic Voodoo Casino, Riga, Latvia.
Riga becomes the Flair capital of the World each January since 2011. During four years about 90 world's best bartenders from Latvia, Lithuania, Estonia, Finland, Belarus, Turkey, Czech Republic, Russia, Germany, Austria, Ukraine, Poland, Italy, Romania, Bulgaria, France, Spain, Turkey, Armenia, Uzbekistan, Japan, Argentina, Switzerland and UK participated with fantastic performances. The event is a part of World Flair Association's Grand Slam, enabling participants to earn rating points in one of the World's most prestigious Flair bartenders ranking.
OlyBet Flair Mania competition is known in many countries because of REUTER's reportage about show, which was published in The Telegraph (UK), Euronews, Las Vegas Review- Journal (USA), Первый Канал (Russia), Courier Mail (Australia), Chicago Tribune (USA), Masrawy.com (Egypt) and others. About 7000 people from 77 countries were watching the live video on Bartending.lv.
Flair Mania has a reputation of excellently organized Flair bartenders' competition with the strict judging system and great care of all the participants.
The fifth competition was organized on January 15, 2015.
Click "Play" on the videos below to enjoy the top 10 finalists shows!
1st: Deniss Trifanovs Final OlyBet Flair Mania 2015
2nd: Tom Dyer Final OlyBet Flair Mania 2015
3rd: Alexander Shtifanov Final OlyBet Flair Mania 2015
4th: Luca Valentin Final OlyBet Flair Mania 2015
5th: Alex Searle Final OlyBet Flair Mania 2015
6th: Marek Posluszny Final OlyBet Flair Mania 2015
7th: Filip Ciszkowski Final OlyBet Flair Mania 2015
8th: Bruno Vanzan Final OlyBet Flair Mania 2015
9th: Vaclav Abraham Final OlyBet Flair Mania 2015
10th: Sergei Bulakhtin Final OlyBet Flair Mania 2015
Awarding Ceremony OlyBet Flair Mania 2015