HOLIDAY FLAVORS – Francesco Lafranconi
Updated: December 1, 2005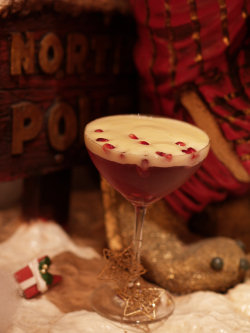 Holidays Cheers
1 1/2 oz Skyy Citrus
1/2 oz Cointreau
1/2 oz Pama Pomegranate Liqueur
3/4 oz Amoretti Pomegranate Syrup
2 Dashes Amoretti Wine Blossom Syrup
Juice of 1/2 Lime
Method: shake all ingredients with ice
Garnish: passion Fruit/Disaronno Amaretto Foam and fresh pomegranate kernels.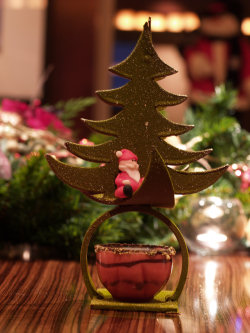 Seasons Greetings
1 oz Matusalem Clasico Rum
1/2 oz Dulseda -Dulche de Leche Liqueur
1/2 oz Amoretti Crema de Pistachio
1 oz Fresh Cream
Method: shake all ingredients with ice and strain into a cocktail glass (picture shows a sugar-made cup)
Garnish: chocolate syrup and ground pistachios.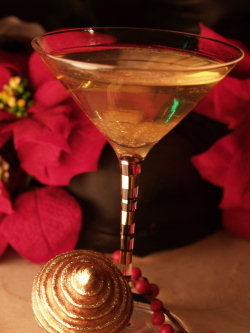 Cocktail du Vin
1 1/2 oz Skyy 90
3/4 oz Pineau de Charente (cognac-base aperitif 16% abv)
1/4 oz Mandarine Napoleon Liqueur
Juice of 1/2 Mandarine
Method: stir with ice and strain into a chilled cocktail glass
Garnish: dry mandarine wheel and Sauternes wine jelly.