GIRLS JUST WANT TO HAVE FUN! – Tiffany Lukasavage Interviewed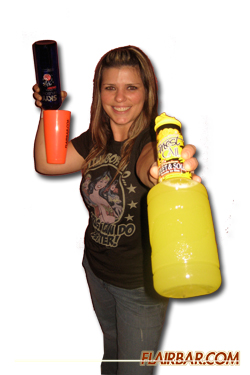 From starting out learning the basics at Kahunaville from ShowTenders to being one of the stars behind the bar…
Tiffany Lukasavage
. She rocked out with a fun attitude coupled with some seroius skills that won her first place honors in the Amaetur division at Quest 2008 and now in the pages of
Flairbar.com
, we get to know a little more about
Tiffany
with
"Girls just want to have Fun!"
as she shares with us her insights on the world of Flair bartending from a woman's perepsctive… So sit back, relax and indulge in a
Skyy
Vodka
,
Midori
,
X-Rated
,
TY KU
or
Finest Call
cocktail and enjoy…
Age? 27.
Where are you from? I am born in raised Wisconsin Dells Wisconsin. The Indoor and Outdoor Waterpark Capital of the World!!!
How long have you've been Bartending? I have been bartending for 6 years at the Kalahari Resort and Convention Center.
And Flair Bartending? I have been Flair Bartending for the last 2 1/2 years.
Where do you work? I work in Kahunaville Restaurant and Bar at the Kalahari Resort.
What got you into Flair Bartending? Before Kahunaville was even a thought, the owner decided to bring in the ShowTenders to teach us a few bar tricks and Flair techniques. Once the ShowTenders left, the managers held a contest for all the bartenders. The two bartenders that were seen doing the most tricks behind the bar while working, won a 3 night trip to Harrahs Casino in Las Vegas where the famous Flair Bartenders work.  Long story short I won the contest and was on my way.  When I got home I knew this was a skill I wanted to learn.
How did you start out learning to Flair? While I was working at the Kalahari, the owner decided to expand and build a new restaurant and bar, which is now Kahunaville.  After Kahunaville had opened I had the oppurtunity to attend a few Flair classes with 3 talented Kahunaville Flair trainers. Months after they left, I decided to join the Kahunaville team as the only female bartender.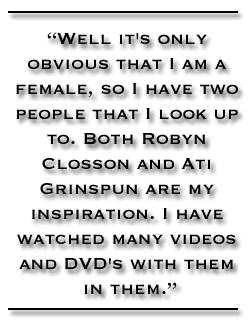 Tell us about the Flair Bartending scene in Wisconsin? The Flair scene in Wisconsin is very limited. To my knowledge the only Flair bar in WI is Kahunaville. We have a very close Flair team at Kahunaville, we all consider each other family.
The time that I have been at Kahunaville, thee have been different people from the surrounding states that have came to work there. Some very talented bartenders such as Jeff Rodgers from Minnesota, Wilson Urteaga, Alex Segura and Danny Rossi from Chicago and Martin Janica from Argentina. These 5 bartenders taught me so much and inspired me beyond what I ever could have imagined. Currently, I still work with some very talented bartenders that have competed in other competitions around the United States.. Ben Galaviz-Quest 3 times, Flips For Tips, Super Flair and was an invitee to Legends 2006. Ian Dunworth- Quest 2007 and has competed in a number of TGI Fridays events. Chris Meyers-Super Flair, Battle of the Buckeye and Baseball Bash. Joe Zinsli- Quest 2007. Jonathan Kuhls- competed for the first time at Levi Donaldson's Mybar Showcase in August 2008. Jeremy Endres- Who has been Flairing for 4 years and has yet to compete. Rickster Moyco who is in on a 12 month working Visa from the Phillipines and is a very talented bartender. Not sure about if he has competed. All of these bartenders have inspired me in a way or another and have helped me with my Flair.
Describe to us your style of Flair? In my opinion, everyone has there own unique style in Flair. Everybody Flairs differently, everybody has there own speeds, moves, techniques. I just try to make it flow together and look good without dropping.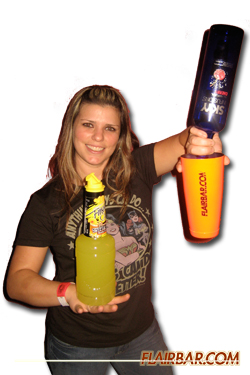 What makes you stand out from other Flair Bartenders? Duh, I have boobs.
What do you hope to get out of Flair? I want to continue to get better so in the future I can be at the top of the advanced division.
What is your favorite Flair Bartending competition and why? Quest, because I got a chance to meet different people that were just starting out with Flair, to the top pros in world that have been in my shoes at one point. I also like Quest because of the speed round. It makes the competition more balanced. I guess I feel like everyone has a chance to win.
Who do you look up to in this Sport? Well it's only obvious that I am a female, so I have two people that I look up to. Both Robyn Closson and Ati Grinspun are my inspiration. I have watched many videos and DVD's with them in them.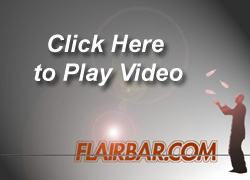 Why did you compete at Quest 2008? I competed at Quest for the experience and to try something different.. I also wanted meet all the people that I have read about, seen on T.V., and heard.about. I had so much fun and the best time ever.
Tell us about your thoughts going into Quest 2008 and all the preparation beforehand? At first I didn't want to go because I have horrible stage fright. I was so nervous and I wasn't even registered yet.  So I held my breath and registered. Then the nightmares started. For real. I realized I had alot of practice ahead of me.
I started checking the FBA website everyday for the speed round drinks, finally a couple weeks after registration they were posted.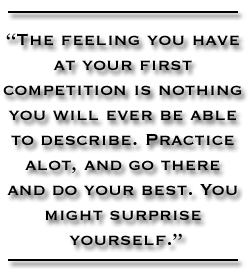 Ben Galaviz, who has competed a number of times in the past and who I work with, helped me with the speed round in his garage. What's nice is that his whole garage is set up with a Flairco bar and the right glassware, blender, bottles and everything. I practiced the speed round 103 times before the competition. It was frustrating and exhausting. I have never gotten so mad at somebody in my life. But I got it. I procrastinated on the Flair round until 2 weeks before hand, because I could'nt decide what music to use. Other than that I thought I would do okay.
Once the competition started, what were your thoughts? Oh my f@$%ing God this is it. I was alot more nervous than I thought I'd be. By the time my speed round was over I felt comfortable for my Flair round. I got a little nervous when I got on the stage for the Flair round. But once my music started I felt fine and did my thing.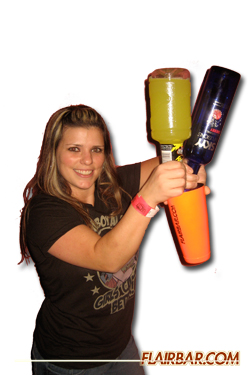 How often do you practice? I practice 3-4 days a week on my scheduled days off of work.
What are the advantages and disadvantages of being a woman in our sport? I feel that a big disadvantage is the fact that I am a female and people and guests at the bar don't think I can do the stuff  because I am a girl.  The advantage is, I surprise them all when I do a show and I end up having the loudest section of the bar while juggling 3 bottles and one on my head.
What is your advice to some of the new women wanting to compete in Flair Bartending competitions?Just do it, you will never regret it.  The feeling you have at your first competition is nothing you will ever be able to describe. Practice alot, and go there and do your best. You might surprise yourself. Everyone is so supportive.
Why do you think there are not more women Flair bartenders competing in Flair Bartending competitions? I had a hard time thinking about how to answer this question. In my opinion for anyone to compete in a competition, it takes alot dedication. By dedication, I mean time consuming, practicing, effort, alot of bruises and stitches. Putting everything else aside. In my years of bartending I have worked with alot of other girls that have attempted to Flair at Kahunaville. When it came down to it, they would rather depend on there looks to make money. Most of them said I don't have to Flair, I make more money looking good.
Another reason, I feel that females don't want to get involved is because of the physical aspect of Flair. Ex. Breaking nails, bruises up and down the arms, I had stitches in my hand a year ago from juggle bottles when one broke. When I talk about competing, the first thing that comes to my mind is work. Alot of bartenders both male and female get done with there shift and that's it until the next day. With competing, it means alot more work after work. Alot of girls just want to be done, bottom line, I think they don't want to get banged up. One last thing, I think there is a huge intimidation factor when it comes to girls competing with guys. I was so scared knowing I was the only female in my division, long story short I finished first. Now I have the experience to try to influence other females that it isn't so bad after all.
In your opinion, what makes a good Flair Bartender? First off, you need to know how to bartend first!! Other than that, having fun with guest, utilizing Working Flair while mixing drinks, knowing how to entertain people to keep them at the bar and happy. Also interacting with the guest and having them feel like there part of the show.
Tell us about your experiences working in a Flair bar and then starting to compete in Flair Bartending competitions? My experience at work has been great, to give the guests something they don't get to see everyday and to keep them coming back for the show is really rewarding. Competing is completely different.  It's a totally different mind set.  It's way more difficult and intimidating for me. There really wasn't a spark, I just decided I wanted to do it. Once I made up my mind, the transition was very scary, and the best fear I ever had.
If you could help influence Flair to change our sport somehow, what would it be and why?  I like it the way it is. I like that there are different divisions just for the fact that everyone gets a chance to feel like the best.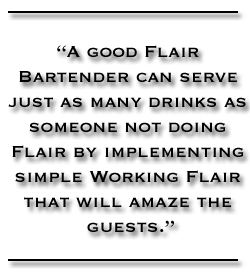 How do you help connect with the crowd while you are on stage and how is it different when you are at work behind the bar? For me this is hard because I only competed once. At work I can connect with anybody because I am so comfortable. I can do anything. When I was on that stage though, it was a whole new world. I guess because all eyes were on me and that's it. There were no other bartenders by my side.  When I compete again I will definitely have to make it part of my routine to have crowd interaction.
Do you think being a good Flair Bartender behind the bar has to slow down your service as well? No, I don't think it slows service down at all, unless you go into a full bottle tin routine.  A good Flair Bartender can serve just as many drinks as someone not doing Flair by implementing simple Working Flair that will amaze the guests. An example is by doing some quick glassware tricks, a cherry toss, a couple of tosses behind the back, etc.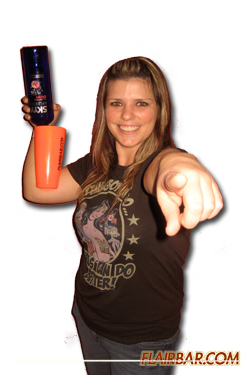 Has your life changed at all since winning the Amateur division at Quest 2008? At work, we do a Flair show twice nightly behind the bar, before our shows we have introductions and the DJ tells the guests about us. Since winning, he announces that I got first place in the 2008 Quest bartending competition. The crowd goes crazy. I feel alot more confident at my work now.
What are your plans now? My plans now are to keep workin at Kahunaville and improve my difficulty level in Flair. I want to compete again, at Quest 2009.
What obstacles do you see our sport of Flair Bartending encountering in the near future and in your opinion, how can we overcome them? Economy! The reason I say this, is because at least for us we are not making the same money, which in turn makes us think twice about flying to competitions. Trying to host smaller more local comps is one idea that would help the sport.
Are there different avenues for sponsorship that we should pursue? I don't know.
Do you think corporations and sponsors investing in Flair bartenders is an effective way to promote and educate and why? Yes I do, For example we have Kettle One Vodka on our shirts at work. Alot of people see that and say, "Hey, I'll have that with whatever".
What is your favorite drink? X-Rated and Sprite and maybe a Corona.