FOR THE LOVE OF THE SPORT! What have you done?
Updated: February 1, 2008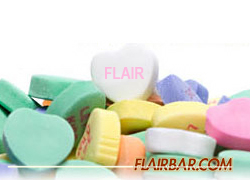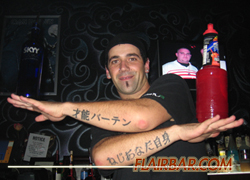 February in America has a couple important holidays… Ash Wednesday, Presidents Day, Martin Luther King Day and also Valentines Day.
Valentines Day is about love and being loved. This was the first year for myself that I actually did not have a girlfriend on Valentines day in over a decade. So it got me thinking… How should I celebrate? Should I celebrate? What should I celebrate?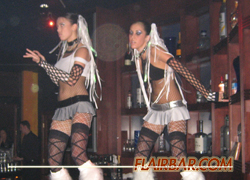 I decided to show my love for something that is equally important in my life… Flair bartending
So myself and a buddy of mine got dressed up and hit the bars. At every bar we went to, we enjoyed drinks with SKYY Vodka, Finest Call, Midori and X-Rated Fusion Liqueur. We were showing love to our long time Flair sponsors SKYY Vodka and Finest Call, while welcoming in the new additions of Midori and X-Rated Fusion Liqueur as well.
With all of the love these fine sponsors have shown Flair bartending, we thought it was only fair to show the same respect back. The next day at work we decided to come up with some specialty drinks with each of these sponsors. What we came up with was amazing… but that we will talk about that in a future article.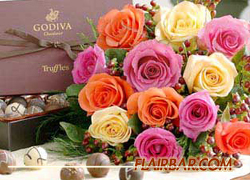 So we ask you during this month about love and being loved, "How have you shown love to the sponsors that support your passion?"…
Speaking of passion, Check out "The New Blood of Flair!" featuring James Burke all on our 'Interviews' page. Get to know more about James and the next generation of Flair bartenders and the progression of our sport as he talks with us and shares his thoughts. Wow… when I was legal to drink they were still in grade school!
Then we head over to Hollywood, Florida where we meet up with Cesar Romero where he teaches us a cool bottle, tin and ice scoop Working Flair sequence. All on our 'Masterclass' page. Good stuff that already sparked other ideas.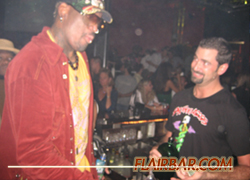 Next we head over the pond to London with the Roadhouse World Finals. Jay du Toit has the inside scoop and more. You can check it all out on our 'Comp Reviews' page. One of the biggest competitions of the year all wrapped up in a nice red bow with flowers all ready for you. @-'–,—-
Speaking of big, We have some big news from SKYY Vodka and the new additions to the family. Be the first to learn all about them and start making new drink combinations at your bar right away. All on our 'And Finally' page. It looks like they even may have made the new bottle better for Flair. That's love…
Then we head over to Paris, France with Laurent Greco from Bar Academy Paris as he shares with us some "Caraibos Creations" on our 'Flavors' page. Can't wait to some drinks together my friend.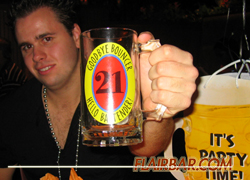 Then from Mixology to promotion, next we have our Flairbar.com article with "Myspace or Yours". A continuation from our August 2006 "Barware" page. Check it out on our 'Articles' page. The benefits are amazing!
Kevin Bednarz is back again with one of our newest additions, "Flairmation" which we revisit "Last Call Larry" dealing with certain women not knowing how to order drinks. All on our "Flairmation" page. How many times has that happened to you?
We are pleased to announce that the "Glossary" is back! It took some work but we blew off the dust and changed the batteries and it is up and running at full power. Be sure to keep an eye on it as we will continue to keep adding to this on going database of Flair bartending knowledge.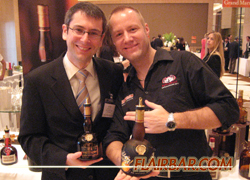 Next we have a new 'Reader Contest' where your creative caption can win, all for our loyal Flairbar.com readers. Plus our regular features, more 'Barware', more pages, and more Flair than you can shake a heart shaped box full of chocolates at.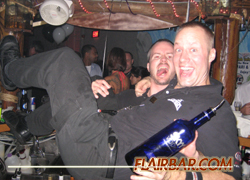 Rob Husted