Do something…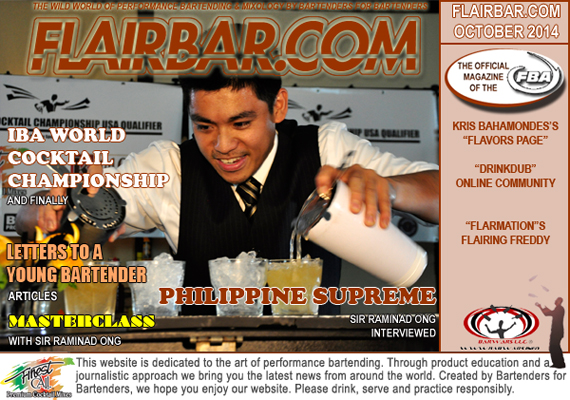 Do something… do something that makes you smile. Do something that makes someone else smile. Do something behind the bar that inspires another. Teach, train, praise, amuse… Do something. Remember that feeling when you first started, not knowing where anything was, unsure of your skills,  lost… help build someone else's confidence and guide them through that.
It's amazing how rewarding it can be when you genuinely show compassion for another and take the time to coach someone and see their progress unfold. It is an extension of you. It is an extension of them. It is an extension of hope for good things to come in our industry. What do you have to lose… a little bit of time and patience? I guarantee it will be worth it. #sharewhatyoulove
So I ask you, our loyal Flairbar.com readers… what are you going to do this month?
We start off with "Letters to a Young Bartender" by Jackson Cannon. A thought provoking article sharing some knowledge I wish I knew when I first started out bartending. All on our 'Articles' page. What are your thoughts on the subject? Do you have an article you would like to share…? Message us on our  Flairbar.com Facebook page and lets discuss.
Then we head over to New York to see the efforts of a talented bartender by way of the Philippines and now in this month's issue of Flairbar.com with "Philippine Supreme" you can get to know more about Sir Raminad Ong and see how he is combining Mixology and Flair and a lot more all on our 'Interviews' page.
If you are feeling inspired to pick up a bottle and some tins after reading that, head on over to our 'Masterclass' page where  Sir Raminad Ong teaches us a quick bottle and two tin Exhibition Flair sequence that that you can use in your next routine or behind the bar. All on our 'Masterclass' page.
Then we head over to Cape Town, South Africa for the IBAWorld Cocktail Championship Finals where the best bartenders around the globe were tested against one another to see who would come out on top. See the rebroadcast from this amazing event all on our 'And Finally' page.
For more inspiration with your cocktail game… Check out "Fall Equinox Elixirs" from Kris Bahamondes to help you build upon your already ever growing cocktail list, all on our 'Flavors' page.
Next check up on one of our most animated characters here at Flairbar.com "Flairing Freddy" on our 'Flairmation' page. In this issue Freddy we catch up with Freddy for his first visit to Portland Cocktail Week.
All of that plus our regular features, more 'Barware', more pages, and more Flair than you can shake an Alexander Shtifanov facebook video  at. 
So take some time out and enjoy a Finest Call cocktail as you flip a Flairco bottle into a BarProducts tin and enjoy this months issue of Flairbar.com and say "Thank You" to the sponsors who keep our sport alive.
To Flair & Friends.

Rob Husted