"Philippine Supreme" – Sir Raminad Ong Interviewed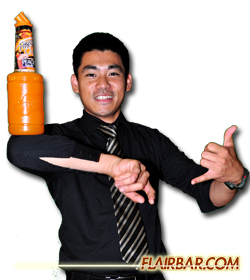 From starting out learning Flair by writing moves on a napking and practicing with a glass bottle wrapped in black electrical tape to making the finals in the USBG World Cocktail Championship USA Qualifier … Sir Raminad Ong. He has a passion of old school showmanship and new school techniques, now in the pages of Flairbar.com, we get to know a little more about Ram with "Philippine Supreme" as he shares with us his insights on the world of Flair bartending & Mixology… So sit back, relax and indulge in a Finest Call cocktail made in a Flairbar.com tin sold on BarProducts and enjoy…
Full Name: Sir Raminad Ong
Age: 29
Where are you from? I was born and raised in Manila, Philippines.
How long have you've been Bartending? I have been working behind the bar for the past 7 years.
And Flair Bartending? I have been flipping bottles for the past 9 years.
Where do you work? I work at the best Jersey shore bar called Bar Anticipation.
What got you into Flairbartending? A school project got me into Flairbartending. When I was in college, one of our culinary subjects required us to do a presentation about restaurants. I chose T.G.I Friday's because it's 60′s design caught my attention. One day, before I conducted an interview with their bar manager, I saw their bartender spinned the bottle on top of a tin can. Then right that moment, I wanted to learn it.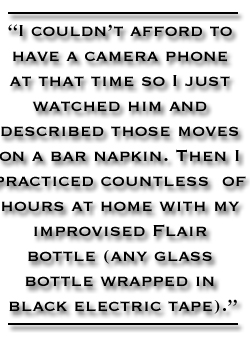 How did you start learning Flair? I frequented that Friday's bar where I saw Flair. Every week, I made sure I learn a new move or two from the bartender named Larry "Flairdevil" Guevarra. I couldn't afford to have a camera phone at that time so I just watched him and described those moves on a bar napkin. Then I practiced countless of hours at home with my improvised Flair bottle (any glass bottle wrapped in black electric tape).
Tell us about the Flair Bartending scene in New York? Honestly, I haven't seen any flairbar in the city. But I know some awesome flairbartenders who live in New York.
Tell us about the Craft Bartending scene in New York? New York's Craft Bartending scene is simply the best. Craft cocktail bars in the city are scattered. My personal favorites are the Employees Only ( West Village) and Macao Trading & Company (Tribeca).
What makes you stand out from other Flair Bartenders? I don't think I stand out from the other Flair Bartenders but I am always willing to learn and my superiors say that I have a good work etiquette.
What do you hope to get out of Flair? For doing Flair, I wish to travel more countries doing competitions such as Japan and United Kingdom. Also would like to volunteer as a barback at Tales of the cocktails in New Orleans if given the opportunity. And experience working as a Flair bartender in Las Vegas before I hang the gloves in competing. Lastly, to meet more great people in this industry.
What is your favorite Flair bartending competition? and why? I would say the Shore Wars in the Jersey Shore and the LVFA Championship because both were designed to entertain both the Flair and "non" Flair crowd. Bartenders Flair because we want to entertain our guests right? Also both mentioned competitions have nice venues, good crowd and 4 minute time limits.
Another good competition is the USBG World Cocktail Competition – USA qualifiers. In this competition, bartenders are being judged in two categories Flair and mixology. I learned a lot in this competition because my mixology skills were put to the test. I was impressed by the warm hospitality of the organizers as well as the generosity of the sponsors. So with those being said, I am definitely planning to join again next season.
Who do you look up in this sport? Tom Dyer because of his smooth manipulation of objects. I carbon copied his routines during my first years. When I met him back in 2012, I literally looked up because he is tall
My Japanese good friend Sensei Goto who mentored me during one of my visits in Tokyo. Nicolas Saint Jean because of his bad ass uniqueness.
Adam Macdonald and Tony Adams who are both Friday's past world champions because of their big personalities behind the bar.
In the world of mixology, I look up to these gentlemen Igor, Steve Schneider, Danilo Bozovich and Gabriel Lehnar.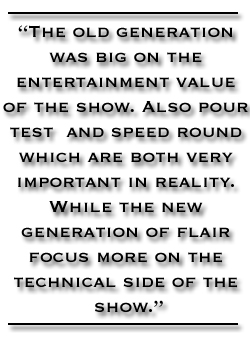 Tell us about being part of the older side of the newer generation of Flair Bartenders and how you differ from the newer generation? The old generation was big on the entertainment value of the show. Also pour test  and speed round which are both very important in reality. While the new generation of flair focus more on the technical side of the show. The trend these days are multiple object routines like 3 tins, 4 tins up to 7 tins. Working Flair has extremely evolved as well. I find myself somewhere in between these generations and  I am very fortunate about it because it helped me become a more competitive bartender.
In 2009, you finished 2nd at the TGI Fridays World Bartending Competition finals in Dallas, Texas… How did that make you feel and how was preparing for that competition different the others? The TGI Friday's World Bartender Championship is a good competition. Aside from Flair, bartenders are tested with pour test, speed round, garnish and mixes preparation, drink and bar knowledge test,
When I was still working in the Philippines, I always practiced a year in advance. I memorized almost all the recipes, mixes and garnishes in the bar manual. For the pour test category, I poured gallons of water repeatedly to improve my snap-count in free pouring. I took this competition whole heartedly because my main goal is to set my foot in the United States.
My first international bartending competition was held in Taiwan and I landed second spot. It was a turning point in my Flair career because I realized the mistakes I did for the past years. As soon as I got back from the trip, I went straight to the park instead of home and just practiced.
I also read books about sports psychology and mental toughness.
Then the following season came and I finally made it to the World Finals. It was great because I never expected to finish a very close second spot.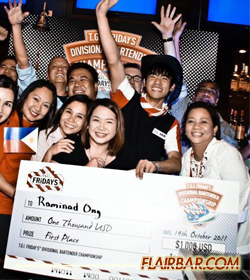 How has working for TGi Fridays helped you as a bartender? It helped me a lot. Well first and foremost, the bar program is excellent from free pouring to bar service. This is also the brand that first gave me the opportunity to see the world and showcase what I can do.
What would you like to see changed about the TGI Fridays competitions now a days? I would like to see a combination of Working Flair and Exhibition Flair in the freestyle round. And good bartenders who can nail an "exacto pour" or can pour by the solid line shall be rewarded more.
What is something every bartender should know for their first shift behind the bar? Every bartender should know the basic recipes, smile and please do not forget the hospitality.
In your opinion, what makes a good bartender? In my humble opinion, a bartender must be a good entertainer, knows the products and a good ambassador of the establishment.
As an entertainer…
A good bartender can establish a good rapport between the people around him especially the guests. Someone who can start a conversation with any guest. It would be great to be aware of sports and current events.
Know the products…
This does not mean that you have to memorize the entire cocktail book! Just know enough information so you can talk about it.
As an ambassador…
Whether a bartender is in a competition or simply just visiting other bars, bartenders must give the people a positive impression. Always remember, you are representing your bar wherever you go and the bar industry is a small world.
What are your thoughts when you hear remarks about Flair bartending or craft cocktails slowing down service? I have to admit that sometimes Flair/ mixology can be an obstacle to the speed of service. But it is up to the bartender how to lessen this.
What are your thoughts on bartending competitions today… what would you change and why? Bartending competitions nowadays are very exciting to witness especially if the spectator is a huge fan of big moves. However, it will be more exciting if organizers can come up with a competition like Legends of Bartending (Speed round, pour test, working Flair).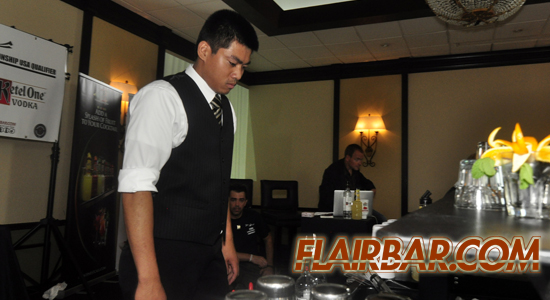 What are your thoughts on the USBG World Cocktail Championship USA Qualifier you just competed in? I had a blast that night. The USBG World Cocktail Championship was well organized and sponsors were really generous. I was a bit surprised on how to get in this competition. 500 word essay and three drink submissions. I maybe a veteran when it comes to Flair competitions but I find the mixology part very challenging since I am new to this.
Why should someone compete in the USBG World Cocktail Championship USA Qualifier next year? The USA qualifier was fun and educational. As I have mentioned on the previous question, mixology part is very challenging.
Any predictions for this year's finals in South Africa? It is going to be a very tight competition because of the strong line up. But I think it's going to be between Dario Doimo and Marek Posluszny.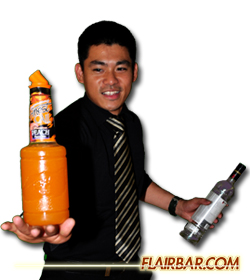 What are your thoughts on Flair & Mixology? Flair is a powerful skill behind the bar and can open different employment opportunities if used properly. However, it can also be an obstacle to the speed of service if overused. Mixology on the other side of the court is a different story. This side of bartending requires a lot of studying about the products behind the bar. This deals with precise measurements and fresh ingredients.
How often do you practice and how do you structure your practice? These days, I practice more of my Working Flair skills because I find it more useful at work. Before going to work, I usually go to the backyard for like 10-15 minutes and innovate my older routines. My practice is always divided in 3 stages – mastering single moves, then incorporating these new moves to my routines and lastly transforming it into a show.
What are the advantages and disadvantages of being a Flair bartender rather then a regular bartender? Being a Flair bartender is an exciting job. You get paid while you have fun at work. There are lots of events like competitions wherein a Flair bartender can shine and get to travel through sponsorships while a regular bartender usually do not receive this kind of perks not unless being awarded by the company for being the employee of the year.
Behind the scene..
To be decent in Flair bartending, one must be able to handle the bruises and scars during practice. And also it requires a lot of time. But we all know this "No pain no gain".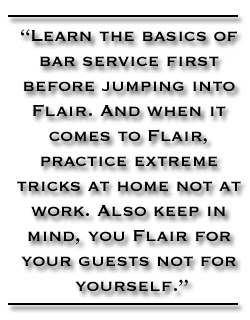 What is your advice to some of the new bartenders wanting to learn Flair Bartending? Learn the basics of bar service first before jumping into Flair. And when it comes to Flair, practice extreme tricks at home not at work. Also keep in mind, you Flair for your guests not for yourself.
What are your thoughts on the United States Bartenders Guild? The United States Bartender's Guild is an organization of dedicated bartenders all across the United States. They provide trainings, seminars, access to site portal which has tons of educational videos about our craft.
Are you a current member? Yes, I am.
Tell us about the Flair Spartans League? Flair Spartan's League is an organization of Flair bartenders based in the Philippines. My mentor Mr. Derick De Borja founded FSL on November 2008. FSL focuses on bar seminars and Flair trainings. I was appointed as the Global Flair Ambassador and my job is to educate them regarding the bar scene here in America.
Tell us your thoughts on the bartending scene in the Philippines compared to New York… Can they learn something from one another? In the Philippines the "No ID No Alcohol" policy is almost non- existent. Bingo! Minors have easy access to alcohol from the local stores, supermarkets and groceries. While here in New York and the other states, the policy is really taken very seriously.

Before I left Philippines to work here in the U.S back in 2012, I noticed that the new generation of bartenders are into Craft Cocktails. Some Craft Cocktail bars in Manila are getting popular these days and slowly growing. Filipino bartenders are being sent overseas to participate in competitions – Flair and Mixology.
New York is obviously  the Mecca of the Mixology world. So we are starting to follow the "train tracks" of New York when it comes to the bar business.
Of course, everybody can learn from each other. We have fresh tropical fruits available all year round that will be good for cocktails. Also our hospitality is top notch.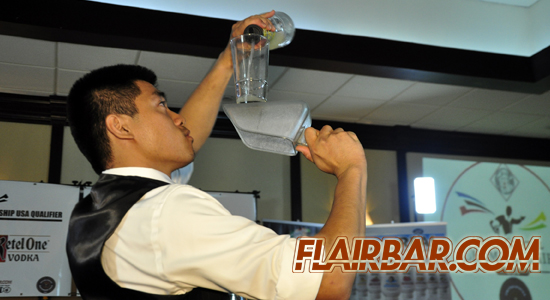 What are your thoughts on a new way sponsors can partner with an individual bartender to help promote their brand and how would the sponsors better benefit? It is going to be like..Michael Jordan endorsing Nike apparel. Sponsors would absolutely benefit from this. Followers of that particular Flair bartender will definitely buy the merchandise.
What are your thoughts on the FBA (Flair Bartender's Association) and the WFA (World Flair Association)? Are they working towards the same goals and can we work together more in the future for the overall better of Flair bartending? FBA is one of the original associations about Flair bartending showcasing the older generation of Flair bartenders while WFA is the new school of Flair.
I believe that FBA competitions are happening in the USA & Canada. While WFA is all over Europe and some parts of Asia.
Both association's main goal is to promote Flair. So yes, both can work together in the future and make some more big competitions happen.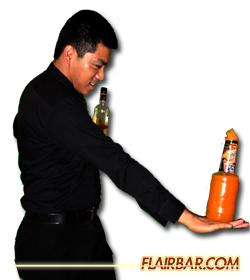 Do you find it difficult being a bartender to maintain a serious relationship? No.
Any tips on dating a bartender? Be understanding. I mean be very understanding
Why do you Flair? I Flair because I love to entertain people and it serves as my ticket to different parts of the globe.
What are your thoughts on Flairbar.com and what would you like to change about it?
I am a huge fan of Flairbar.com. It is the best online magazine for bartenders. Why? Because it helps us become aware of what is happening in the world of bartending. It would be great and helpful if the site can provide demonstration videos on how to make classic as well as trendy cocktails.
What are your thoughts on Finest Call products and Why? Finest Call is a true leader in the beverage industry. It is affordable, consistent and available all year round.
What is your favorite Finest Call flavor? My favorite Finest Call flavor is the Finest Call Bloody Mary Mix.
What is your favorite cocktail you created and can you share with us how to create it? Absolutely! My favorite cocktail that I created is called Maginoo ( Filipino word for gentleman). For this cocktail, I would like to give credit to my good friend Dacho and Gabriel for the help
60 ml Rittenhouse Whiskey
30 ml Finest Call Peach Puree
15 ml Finest Call Agave syrup
30 ml Fresh lemon juice
2 dashes of Angostura bitters
Method: Swizzle
Glass: Highball
Garnish: 2 dashes of Angostura bitters
What is your favorite drink?
It depends on my mood. But I usually order an Apple Cider, Old Fashioned or Negroni.