BALANCING LIFE WITH FLAIR – Mindaugas Gradeckas
Updated: February 1, 2005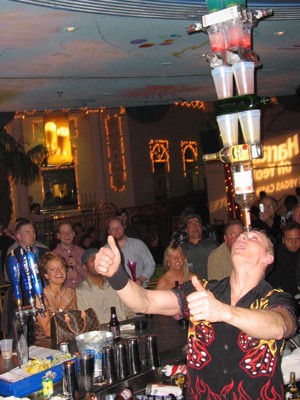 From being an unknown, to competing in Legends, to working at one of the greatest Flair bars in the world, we give you Mr. Mindaugas Gradeckas. We stacked up the questions and Mig fired back with the answers.
Age? 29.
Where are you from? Lithuania, Vilnius City.

How long have you've been Bartending? Eight years.
And Flair Bartending? The same.
Where do you Work? Carnaval Court Bar, at Harrah's Hotel & Casino. [I was] one of the original Carnaval opening crew. The rest team was John Arishita, Adam Kotarski, Rene Garcia and big help from Alan Mays.
What got you into Flair Bartending? In Lithuania where I am from, bartending is more like a part time job for young people. So I wasn't happy being just a bartender, but at that time it was my job. So I decided to get as good as possible.
How did you start out learning to Flair? One of the servers (at the night club where I worked) showed me tin spin on the hand, so that was my first move. Bad thing, at that time nobody really Flaired in Lithuania. So it was not possible to get any more information. I'd heard somebody was catching a bottle behind the back, that sound unreal, so I practiced that move at home. It took me 3 months
The bar where I worked had no mats so every single time I break a bottle, I had to pay. So I came up with the idea to Flair ice (cheaper). Right after I start to Flair I liked it a lot, was no question about my future anymore – BARTENDER!!!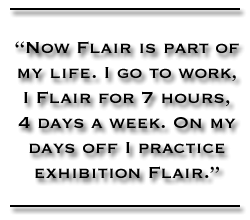 Tell us about the Lithuanian Flair scene and how the competitions are run there? Lithuanian Flair start growing right now. It is still long way to go. Comps in Lithuania are small and most nationals, but crowd reaction and good looking girls I guarantee you.

Why do you Flair now? Now Flair is part of my life. I go to work, I Flair for 7 hours, 4 days a week. On my days off I practice exhibition Flair. Just being behind Carnaval Court and performing for thousands people gives me a lot of satisfaction. It is amazing how powerful Flair is. How it changes customers. At first you're just a bartender who brings a beer and get $1, but you add Flair and…results you can see on their faces. Before a customer came to my bar didn't know he will tip me $5 or $10 instead $1 and that's the power of good working Flair (and American culture of tipping!)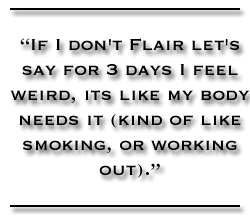 If I don't Flair let's say for 3 days I feel weird, it's like my body needs it (kind of like smoking, or working out.)
Describe to us your style of Flair? Good customer service, working Flair, guest interactions, energy, speed, originality, ice, having fun, balance, crowd control, smile and six pack.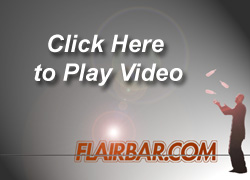 What do you hope to get out of Flair ? I think I've done more than I could dream. Working visa, beautiful Asian, house with pool in Las Vegas, Jaguar 2003 and a lot of fun in Carnaval court.
What is your favorite Flair Bartending competition? Road House.
Who do you look up to in this Sport? Behnam Gerami (originality), Rene Garcia (best making tips), master-master Christian Delpech- the BEST. 
Tell us about FlairDevils and what they do? All the info is on Flairdevils.com.
You recently placed third in Italy behind Nicolas and Christian, what was the name of the competition and tell us about your experience there?  FIT04- Flair International Tournament, it is a new big comp. Invitation only, the biggest money prize ever, organized by Vince Chapman and "Shouting dogs."

It was a pleasure to compete against top competitors. In my opinion Christian should win by far. For next year, I wish to have easier location and more than 3 judges. Thanks for Italian hospitality. See you all next year!!!!!!! 
How often do you practice? I become American, now life is too good. So I don't practice as much.
One of the first times I saw you live was at Quest 2000. After your stellar round you grabbed the microphone and said, "You Americans are so lazy, get out there and practice!" That was the motivation I needed to take it to the next level. What advice now would you give to some of the new people out there who are thinking of competing? Competition is a good way to improve your goals and get a name in the Flair world. One competition can change your life. I came to compete to Legends 2000 and got really lucky! There is a lot of potential in a future for a goooooood Flair bartender.
What are your plans now? To buy bigger house.
Tell us what it is like working at Carnaval Court and any advice you have at working at a high volume Flair bar and still having time to make drinks with Flair? I love Carnaval Court, I have the best coworkers and managers. I have a lot of fun daily and we make OK money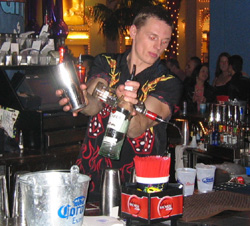 Working in high volume Flair bar takes a lot of energy. So you have to be smart. I have my bar set always the same way, so I know which bottle is where. Another thing is order, I usually take 2 at a time. Let's say I have 5 beers and 6 mix drinks, I would Flair 1 or 2 and make everything else as fast as possible. The speed of Flair is getting faster, because it is busy and you want to save time doing routine. Whole Flair bar works like one machine, barbacks, bartenders we all work together. If bartender on my left is making money and getting crowded, I will pour as fast as possible, next time my turn and he will pour.
Usually my job is to make bar busy by Flairing in front of the Strip. After that's done I cut my routines to a minimum, but every 10 minutes I will go crazy just to keep the crowd. It took a year of experience to handle the pressure, but at the end it's "easy money ."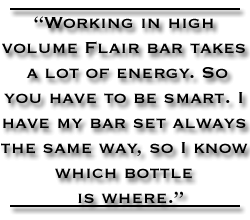 Tell us about your first Flair Competition and your experiences there, what were you feeling, did everything go as planned? My first comp. I won (Bacardi -Martini qualifier '98.) I was really happy and I thought I am good. My second- last place (Bacardi Martini finals '98, Italy). I wasn't happy at all and change my mind about being good, but after that I practiced.
What are your predictions for Legends this Year? This year it is open. Rodrigo and Francesco favorites (experience).
What is the most number of objects you have had stacked on your head at one time? I think 29.
What is your favorite drink? To drink Mojito. To make "Sex with MIG" (for females) it is really good.