WELCOME BACK… Did you miss us?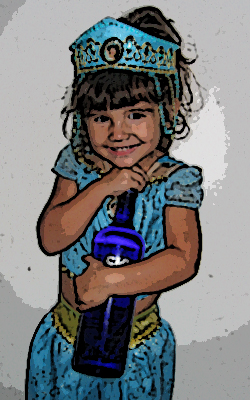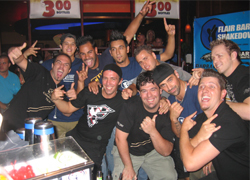 Hope you enjoyed your time off and made some memories while relaxing yourself and getting some piece of mind.
Now it is back to work and catching up with the rest of the world. Don't you just love that… you take time off to relax and forget about work and when you come back you have to work on catching up where you left off? Funny concept eh?
Speaking of of working… we catch up with the finals of the first Flair bartending competition based on working Flair, the "Flair Bartenders Shakedown". With over six months of qualifying and a blind working Flair round, you know it had to be fun! All on our 'Comp Reviews' page. What can you do with a half full bottle of liquor?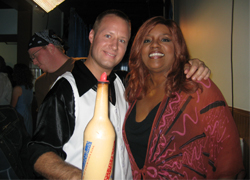 One of the big surprises that night was a third place finish from a "Wild Card" entry. After nearly missing the competition due to missing a flight Corey Jansen from Las Vegas can to play. You can read all about "The Story of Corey" on our 'Interviews' page. What is it with Flair bartenders and missing their flights…?
Two of the finalists from the "Flair Bartenders Shakedown" Mauro Garrido and Martin Janica show us a show stopping move they perform at work "Barmaniacs" style. All on our 'Masterclass' page. That night was a great party… I was finding ping pong balls for days from the Beer Pong tournament.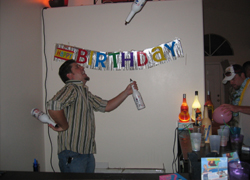 Speaking of finding, where does Rick Barcode find the time to own and operate the first 24 hour Flair bar and produce a web reality show all about it? We may never know but we can keep up to date with their web reality show… "Sin City Saloon". You can check it out on our 'And Finally' page. Mike's on vacation and they left Rick in charge… Oh No…!
Then we wake up with a slap of reality from Philip Duff and look at some of the differences between the US and the rest of the world's bars. This months Flairbar.com article "Opening the little bar that could". A must read for all Flair bartenders thinking of opening their own bar one day. Check it out on our 'Articles' page. Who would of thought that it was inspired by "Dilbert".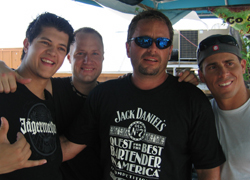 You can't have a bar without drinks… Laurent Greco from Bar Academy Paris brings us some "Summer Soothers" on our 'Flavors' page that will be sure to quench your thirst in the summer heat.
For all of you other mixologists out there… Don't forget to look back over the last year of our content collector called 'Cocktails'. This is where you can share your own SKYY Vodka and Finest Call cocktail recipes with the rest of the world and get credit for it. Have a great drink you invented? Want to share it with the rest of the world? Think it is worthy? Prove it!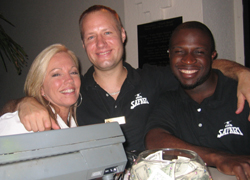 Kevin Bednarz is back again with our newest addition, "Flairmation" which we revisit "Last Call Larry" dealing with people at your bar trying way to hard to be trendy. All on our "Flairmation" page. I love those Dirty Purple Mango Smurf Bombs!
We are pleased to announce that the "Glossary" is back! It took some work but we blew off the dust and changed the batteries and it is up and running at full power. Be sure to keep an eye on it as we will continue to keep adding to this on going database of Flair bartending knowledge.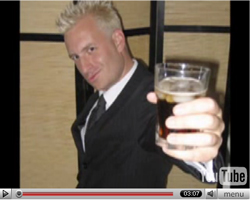 We have the results of our picture puzzling 'Reader Contest' for all of our loyal Flairbar.com readers plus our regular features, more 'Barware', more pages, and more Flair than you can shake a half full bottle of liquor at.
Rob Husted