We Live in Some Amazing Times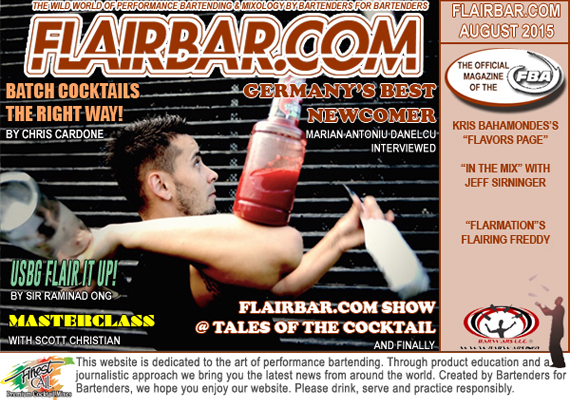 We live in some amazing times…  I mean think about it for a few minutes. The hospitality scene is full of passionate people, all for the most part are doing different things to better our industry. Whether its through cocktail recipes, training, education, service, Mixology, Flair, execution, sharing, camaraderie or so much more… we are all pushing and motivating each other to become better.
There are soo many more outlets for information on our craft then ever before. The knowledge is out there and yours for the taking. Will you take advantage of these opportunities to become better and share that knowledge with your peers and guests… or will you let it slip you buy and stay stagnant and never desire to achieve more out of your career and life?
For many of us the answer is simple. I love seeing more and more bartenders from all walks of life attending major industry events like Tales of the Cocktail, Portland Cocktail Week, San Antonio Cocktail Conference, Cleveland Cocktail Week, Mixology Matters, etc… to network, learn, share and become better.
Its great seeing the United States Bartenders' Guild evolving from the stigma of the stuffy and pretentious cocktail connoisseurs to an incredible outlet for service,  integrity,  sharing knowledge, tradition and camaraderie. Those are their core values right there!
If you haven't joined your local United States Bartenders' Guild chapter… do yourself a favor… invest into yourself and your career. At least start there, it's $100 a year and well worth it after the first month. After that, adventure out to some of the major industry events listed above. You will only have yourself to thank afterwards and hopefully one day I'll be reading about you sharing your advice with our industry.
So I ask you, our loyal Flairbar.com readers… What are you waiting for?
Another great event we had at this year's Nightclub & Bar Show in Las Vegas, Nevada was the USBG "Flair it Up!" where we brought together 10 of the nations best bartenders that excelled in Mixology and Flair. Raminad Ong shares with us with his coverage of the USBG "Flair it Up!" from a competitor's point of view all on our 'Comp Reviews' page.
We start with our an individual who had a humble start to becoming one of Germany's best… Mr. Marian Antoniu Danelcu..with "From Germany's Best Newcomer". Marian shares with us his early beginings in bartending to creating a bartending based company to becoming one of Germany's best Get to know all of that and more all on our 'Interviews' page.
Then we continue the education with "Batch Cocktails the Right Way!" by Chris Cardone. Chris continues to share his learned knowledge of serving quality cocktails in a high volume atmosphere with our loyal Flairbar.com readers in between leading a great bar team, competing in bartending competitions,  traveling to major industry events and just being one hell of a nice guy. Learn more now all on our 'Articles' page. What are your thoughts on the subject? Do you have an article you would like to share…? Message us on our  Flairbar.com Facebook page and lets discuss.
Moving on, we have  Scott Christian all the way from Las Vegas, Nevada teaching us a great easy to learn beginner bottle and tin Working Flair sequence on our 'Masterclass' page for you to use behind the bar or at your next competition. Don't be afraid to put yourself out there and learn something new… just practice at home and execute at work.
Then we have "Summer Sippers" from Kris Bahamondes up in Canada to help inspire your ever growing cocktail list, all on our 'Flavors' page. The cocktails Kris creates never disappoint!
Next we bring back a familiar page with a new contributor… Jeff Sirninger and our 'In the Mix' page brings you  "How dry I am, nobody knows how dry I am", sugar as a post-distillation additive in Rum". Jeff is a wealth of knowledge and in between this article and his 'Trivia' page… you will see why he his a delight to enjoy some cocktails with.
Moving on to our 'Barware' page this month which showcases "Barrel Aging in a Bottle!". We show you an alternative to what you may be utilizing now. Check it out all on our  'Barware' page.
Finally we have our newest segment to  "The Flairbar.com Show". Join our guests straight from Tales of the Cocktail 2015 in between all of the seminars, tasting rooms, networking and down right great times that is Tales.  See what you have been missing all on our 'And Finally' page.
All of that plus our regular features, more pages, and more Flair than you can shake a USBG Master Accreditation Program Manuel at. 
So take some time out and enjoy a Finest Call cocktail as you flip a Flairco bottle into a BarProducts tin and enjoy this months issue of Flairbar.com and say "Thank You" to the sponsors who keep our sport alive.
To Flair & Friends.

Rob Husted