US Flair Open & Mixology Challenge: May 2015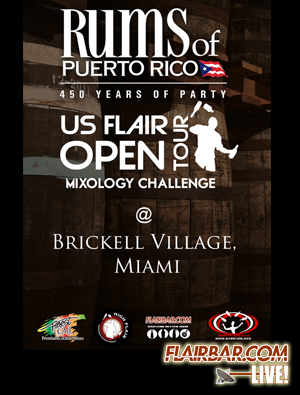 US Flair Open & Mixology Challenge May 2015

Enjoy the US Flair Open & Mixology Challenge 2015 Flairbar.com Live re-broadcast at Doraku in Miami, Florida. Sponsored by Rums of Puerto Rico, Finest Call Premium Mixes & Flairbar.com.
This event was co-organized by High Flair Corp and BarWars LLC.
The final results were…
1st Place: Dario Doimo
2nd Place: Manny Picon
3rd Place: Adam Branczyk
4th Place: Narayana Pena
5th Place: Walter Amoros
6th Place: Richard Albano
7th Place: Jomar Rios
8th Place: Jean Pierre Belonni
9th Place: Adrian Reyes
10th Place: Danny Seigel
11th Place: Carlos Cardoso
For more info on this event you can check out "www.barwars.info".
For more info on Flair Bartending you can check out "www.flairbar.com".