Trivia Question: What is the source of amylase for the conversion of yucca starch into sugar necessary the fermentation of the Amazonian libation known as Masato?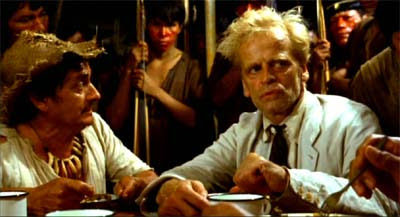 Werner Herzog's Fitzcarraldo was filmed deep within Amazonian jungle under harsh and challenging conditions.
It starred Herzog's long time friend and adversary Klaus Kinski, a man known for his raw talent and frequently raw temperament. Production designer Ulrich Bergfelder described that no one wanted to be around Kinski in and out of shooting and that he never felt at ease around him.
Of particular concern were his unpredictable interactions with the native Indian population. Bergfelder stated, "They were not used to the yelling, they don't shout, it's not their way of solving problems".
In one scene Klaus Kinski is meant to drink a locally made fermented spirit called Masato, a drink that is offered to outsiders as a sign of acceptance. Kinski adamantly refused expressing concern over infection and substituted canned condensed milk.
Masato is made from yucca and uses what source of amylase for the conversion of starch into sugar necessary for its fermentation?