TOP TO BOTTOM, PART DUE – An After-Quest Perspective
Updated: November 1, 2005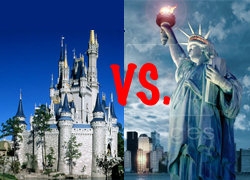 Okay, Jenn and Danielle, loved your article, but come on now. Claiming that Florida bars are better than New York's is like saying that renting a movie is better than seeing one in the theater. Definitely cheaper to rent and much easier to hook up with someone while renting, but you are missing some major aspects when you don't go to the movie theater. Alright, maybe a bad analogy, so let's take each point a little further.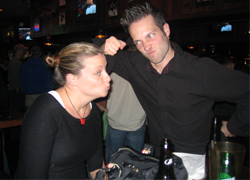 After recently going to my fifth Quest, let's talk about Florida.    First, drink quality.   Now, we only went to a handful of bars and had a few tasty cocktails, the drinks didn't come near NYC's.   As you said in your article, NYC is all about Mixology and we have Milk and Honey, New York bar's wet dream when it comes to tasting an amazing drink and viewing some of the best mixologist in the world.   I agree, Point NYC.
Next, Beer.   Where did you girls go, Joe Shmoe's bar on the corner of nowhere street.   We have McSorley's Ale house, a definite stop on the tour of next year's Big Apple Showdown, where you get a mean old Irish man who screams out, "Light or Dark" at you and you must have a mug in each hand at all times!   The Bull's Head Tavern, a bar that we have gone to the last two years for the Big Apple Showdown has over 20 beers on tap (including Miller Lite), and many others on bottle as well.   Miller Lite is everywhere in New York and there's no way you will ever see a bar run out of Bud Light in this town.   I disagree, Point NYC.
Service, no argument here, Florida's bartenders are much nicer and more attentive than NYC's any day.   Although some of the bartenders in Friday's in Orlando definitely need a trip to Victoria's Secret stat to fix that granny panty problem.   2 to 1, NYC.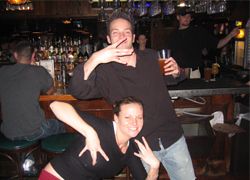 Cost is a no-brainer.   Florida is definitely cheaper than New York City, hands down.   Unless you go to the Ale House with Luis "Iceman" Herrera and buy more Jagerbombs than I could count, your tab will be very reasonable.   It's all tied up at 2.
When it comes to Atmosphere, I agree that New York definitely gives you more options but we don't have beachfront.   And although we have skyscrapers, we don't have girls in bikinis.   Tie.
Bar Patrons is a tie also because although NYC does give you an unbelievable amount of different people and some celebrities, we don't have female professional wrestlers willing to arm wrestle with intoxicated New Yorkers who are half their size…if that.
Hooking Up; Florida wins is a very questionable call for me.   Unless you are behind the bar in New York, you're just another small fish in a monstrous city.   However, in Florida, you get hit by mean Hooters girls for touching their butts, or you work for about three hours at Friday's and the Ale house getting two registered nurses drunk only for them to leave you to go hang out with their two boyfriends leaving you with a large check.   It seems like the only way you hook up in Orlando is by having the entire bar out you.   (See the Ryan Smyth dating book). I call it a tie again.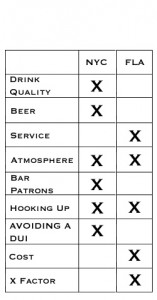 Chance of a DUI, I agree, hands down it is nearly impossible to get a DUI in New York City, because no body drives if they are going to drink since you have so many means of public transportation.   And yes, although you may have to deal with a character on the subway here and there, it's worth it.   Point NYC, 3-2.
Now, let's also talk about the X-factors.   The last hurricane that came sweeping through NYC and did any significant damage was in 1985, hurricane Gloria.   Florida seems to have a hurricane every week.   The thing I don't get is why every year; they keep buying more boards to cover their houses and windows with?   Don't you people have garages to store it every year?   Sorry, hurricanes unless they are being served to me in a glass with ice, are not fun.   Point NYC again.   The other, Denny's.   Although we have late night diners in NYC we don't have Denny's.   Especially one that gets taken over by 50-100 bartenders every year in October.   We wouldn't let a Canadian wash dishes, a Mexican cook, a marine take drink orders and a New Yorker take food orders, and at least not when any of them are not actually part of the staff.    Point, Florida.
Quick side note; although New York State has more Flair bartenders than Florida, New York City doesn't have many.   Most of us are work on Long Island or in Westchester.   And by the way, next time, give me a call when you come to New York.   Bad girls, just bad.
In conclusion, NYC is definitely the place to be unless you want sun.   We have the Statue of Liberty, Milk and Honey, the Empire State Building and its sick view, Mc Sorley's ale house, Times Square and some of the biggest best nightclubs in the world, more people, less cops per person, White Castle (ask Jim Allison or Capt. Boogie about crave cases) and hookers if you really need to hook up with someone other than your ex.   Florida although has sunny weather and beachfront bars, more polite bartenders, professional wrestlers who will arm wrestle you and Denny's hostile takeover it just isn't the Big Apple.
NYC 6, Florida (Orlando) 5.
A Counter Point by Chris Cardone.