TOBY ELLIS IS… Cut Off – "Walking the Talk"
Updated: February 1, 2005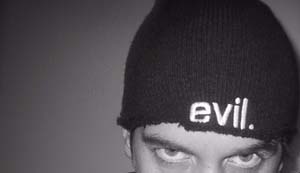 I have to confess…this is a little funny to me. Me writing for Rick's website. It was only a few years ago when we were inches away from it being the other way around.
I still remember the first time I met Rick, up at the once sacred VooDoo Lounge, where I believe I inhaled a "What the Witch Doctor Ordered" with him and a few others (pictured below). Prior to that, we had emailed and Rick had told me all these fantastic ideas he had.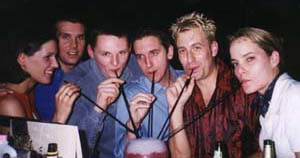 I get that a lot, and used to get it way too much, when I was president of the FBA. Emails, and phone calls at all hours from people I've never met (still don't know how they got my number), and my favorite… being pinned into the corner by some slobbering drunk Flair bartender after a comp who wanted to tell me all the great ideas they have/had and why I should stand there and listen to them all…nine or ten times in a row.

There are a handful of guys out there who know exactly what I'm talking about and for everybody else, let me just say that after a while, you start realizing that most people in this world, are full of shit. Not that they lie intentionally, just that more times than not, people say what they will only ever talk or dream about, and never really act upon. So no, I didn't take Rick Barcode all that seriously when he spoke of building his website or winning Flair competitions. Rick must have heard this article coming, because within a year of that conversation he launched Flairbar.com, won Islamorada, and made the finals of Legends…twice.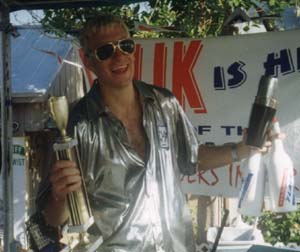 Hey, we all make mistakes, especially me. Ok, so now Rick has my attention. Rick was always a fan of the old Barmagic.com, which for those of you newer to the scene, was the original Flair "e-zine" with a lot of content, pictures, and some pretty controversial material including rankings of Flair bars and Flair bartenders. And at one point we talked about doing a column which we would run on BarMagic and also his at-the-time obscure, seldomly updated site, the predecessor to the now quite impressive, Flairbar.com
The column was to be called "Across the Pond" and would intentionally pit us against each other in sort of a US vs. UK view on Flair. I'm glad we never did it, because that fire doesn't need any fueling. But still, I quickly grew to appreciate Rick's imagination, creativity, passion and drive.
Rick confessed to me more than once that he drooled at the notion of launching and maintaining a site that would blow BarMagic away, though not in so many words (yes Rick, I can still read between the lines, lol) and low and behold…he did it. Flairbar.com is truly sensational. Just like you, I look forward to it every month, more so than any print magazine I've ever subscribed to. (Playboy does not count.) Since I have long had dreams of launching my own print magazine on bartending (and comped up about a half dozen covers for it years ago), seeing Rick's dream flesh out into a juicy reality, that very very likely could evolve into a print magazine has been an anxious thrill. Maybe like he once felt while he watched BarMagic churn out every two weeks, both admiring and cursing it. I have had those same feelings of admiration and envy for Flairbar.com. It's the site I wish I turned BarMagic into. And now, through some karmic twist of randomness, here I am contributing to Mr. Barcode's and Mr. Husted's little corner of the world rather than the other way around.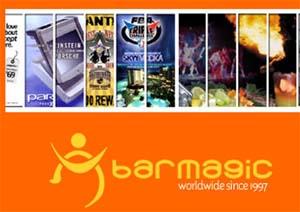 This will technically be my third regular column not including any of my writing for the FBA or BarMagic. I wrote a column on bartending in an alternative newspaper in Syracuse, NY and for two years I was a columnist for Australian Bartender Magazine. Both of those were very information-oriented columns that didn't allow for too much…Toby. I have Rick's assurance that this column, can have all the Toby I can cram into it, as long as his readers can keep it down. And I hope you can.
All I promise you is me: the real unedited, uncensored, unabashed, unusual son-of-a-bitch that was in one way or another gagged during his FBA presidency, forced to play politics and keep his opinions as much to himself as he could bare. Well look who's out of office, and back in the open. I cannot tell you how excited I am to be able to once again, tell it like I see it. I hope you get a kick out of it. Maybe something I scribble down will make you a buck or two behind the bar, too. No promises.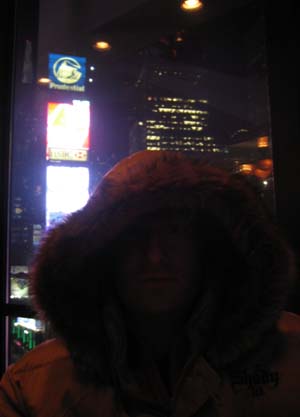 Finally, I suppose I have to publicly wipe the mud from my face, and take the shoe out of my mouth and spit it out. Rick, I'm impressed. I never would have guessed you weren't another one of those mostly lovable bumbling drunks babbling about all the comps they are going to run and all the "big contracts" they are "lining up" that we should "talk about" whilst their rum breath sprays all over my face at five in the morning. You done good, son. Keep it up because I've got a lot of stupid things to say. A lot MORE stupid things, I should say. In the mean time, I'll leave you with this advice that will serve you well as you decide who to align yourself with in business:
There are three kinds of people in this world.
The kind who you can count on and the kind who can't count.
My name is Toby. I'm a bartender who plays at being at writer. Or is it the other way around?
Anyway, cut me off before I say something really dumb. Too late, I know. Keep the bottles flying, the drinks slinging, and the faith coming.
P.S. I always have a P.S. A little trick I learned whilst I was an advertising copywriter. When you write a letter, especially a direct sales letter, people read the title or heading, the first sentence (or about half of it) and the P.S. If you don't sell them by then, you're in the trash. Look here each month in the P.S., and I'll try to write something worth reading. Deal? (We'll start next month. This one wasn't worth reading, it seems.)