THE THIRD VOICE OF FLAIR? – Ben Rose Interviewed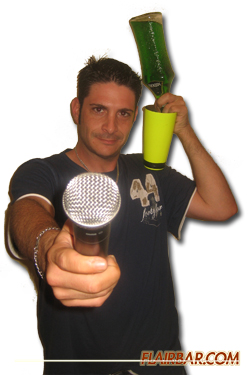 From starting out on the radio with his local high school to stepping into the unknown Flair scene at the time to now emceeing some major Flair bartending competitions in the states…
Mr. Ben Rose
. Hand him a microphone and he feels right at home in almost any situation and will keep the crowd entertained. Now in the pages of
Flairbar.com
, we get to know a little more about
Ben
with
"The Third Voice of Flair?"
as he shares with us his insights on the world of Flair bartending and emceeing Flair bartending events… So sit back, relax and indulge in a
Skyy
Vodka
,
Midori
,
X-Rated
or
Finest Call
cocktail and enjoy…
Age? 34yrs Young.
Where are you from? I was born in New Jersey; however, we moved to Florida when I was 7 months old. I guess what I am trying to say is Florida, I do not admit to the Jersey thing!!!.
How long have you've been Emceeing and a DJ? Since 1988, My High School had a radio station WKPX 88.5 FM. I had my own time slot hosting a show and ever since then I have been involved in some form of entertainment.
And an Emcee and Dj for Flair Bartending competitions? I hosted my first Flair Bartending Competition in April of 2001.
Where do you work? Work? Did you say, Work?
What got you into Emceeing Flair Bartending competitions? When I first moved to Orlando, I was introduced to Brian Loukmas. He mentioned to me that he was organizing a Flair Bartending competition. We began talking and the next thing I knew, I was hosting the event.  Which is now know as "The Original–Battle of the Bartenders". My first thoughts were how hard could it be hosting an event of men and woman juggling.  Man, was I wrong. It is so much more then that. These Flair Bartenders are true professions of their business. It also involves accuracy, speed, knowledge, character, and much more. Most importantly I witnessed true entertainers. I couldn't wait till the next Flair competition.

Have you ever had a desire to learn how to Flair bartend? It was something that has intrigued me. I think it is incredible when people have what I like to call "Hidden Talents". In fact, I had to know what these competitors went through to prepare for a competition; so, I entered one. It was a competition that took place at The Blue Boar in West Palm Beach.  I drove from Orlando with Brian Loukmas. On the way down I kept calling Jason Tremper and Rob Husted for advice. They were both very supportive and said, "Go out there and be you, have fun" That is the same thing I try to tell the competitors before each competition.
How did you start out learning to Flair? After, I began hosting these events I, was so amazed at what these bartenders were doing. I kept watching week after week after week after week, you get the picture. Then, I started asking questions and it seemed each bartender would show me a little of this and a little of that.  It really impressed me how each of these bartenders would take there time and patience to demonstrate to me what they do.  Still to this day, I can't say enough how the bartenders involved in Flair embrace individuals just starting out.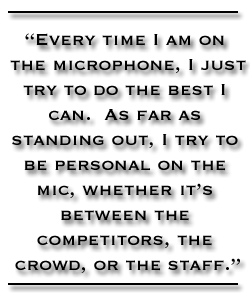 Describe to us your style of Emceeing? Wow!!! Great question!!!!  I never really thought about that and now that I am actually thinking about it…..I really do not know.  I guess it depends on the type of event I am emceeing.  I try not to treat a Flair Competition like a Bar-Mitzvah or a Swimsuit competition like a Shiva.
What makes you stand out from other Emcee's? I thought you said these questions would be easy.    Every time I am on the microphone, I just try to do the best I can.  As far as standing out, I try to be personal on the mic, whether it's between the competitors, the crowd, or the staff.  The other thing that might make me stand out is that I will be emceeing Brian Loukmas and Brenda Anderson's wedding (if that day ever happens)…I guess till then I will have to settle for Rob Husted's birthday parties.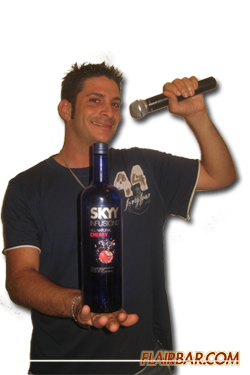 What do you hope to get out of Flair? Just the fact of being involved with this sport has been enough.  I hope I can just keep contributing in some form.
What Competitions have we seen you host? Battle of the Bartenders, BarWars, Flair Bartenders Shakedown, House of Flair and Bartenders Bash at Bahia Cabana… just to name a few.
What is your favorite Flair Bartending competition and why? "Battle of the Bartenders"… I guess you can say I'm a little bias to this event; due to the fact, it was my first and we all know how you feel about your first. Plus, it is a competition that only focuses on the Flair aspect; so, there is a little less stress among everyone involved.
What are your thoughts on gaining more exposure with Flair bartending on television and the media? Flair bartending is more popular now then in the past, but where can we grow even more? I think it is on the right track. As we continue to move forward, I hope that the competitions continue to become more interactive with the crowd.  The more we get people involved with what the bartenders go through and what it instills, I feel there will be more of an understanding and appreciation for the sport.
In the Flair Bartenders Shakedown 2008 promo clips by Rock & Record, it seemed you brought a more entertaining approach to the videos. Did you enjoy the way the clips came out and what direction do you see next years promo clips going? Rock & Record has done such an amazing job putting these videos together. After watching several of there clips it got me thinking, hey these guys can do anything. I also just enjoy there work. When you watch there final product you can see how they brought this sport to that next step by enhancing the video angle.
Tell us about your experience at the event? I look forward to this event. You (Rob Husted) have established this as a very competitive; yet, fun style competition. It's one of those events that bring out a lot of different style bartenders seeing it is a Working Flair competition. The planning of the event to the activities during the event it's like a big circus. I love it!!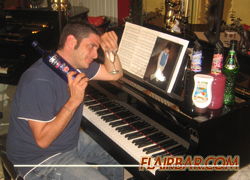 What are your overall thoughts on the Flair Bartenders Shakedown and the history behind it? The Flair Bartenders Shakedown is unique because it focuses on "Working Flair".  It's the most realistic style of bartending that these competitors face on a daily shift while at work.  Also, Flairbar.com has taken the next step in becoming very interactive with the audience. There is always something going on at this event. You, got the competitors putting on a great show, then you also have the SKYY Vodka Spill-Stop Challenge. This allows the crowd to participate with the competitors to see who can pour not only fast but accurate. It is definitely one of those so called…"Don't Miss Competitions of the Year".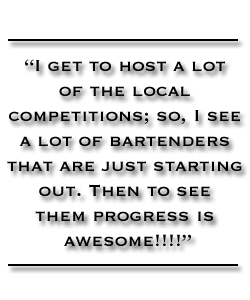 You have a unique vantage when watching Flair bartenders compete while you're emceeing competitions. What advice would you give to competitors while they are on stage competing? Too have fun!!!  I know it's easier said then done but have fun. When a bartender is up there and the crowd sees that they are having fun and enjoying what they are doing it becomes contagious.
Who do you look up to in this sport? Anyone over 5 foot 11inches….. On a serious tip, those that just keep at it. I get to host a lot of the local competitions; so, I see a lot of bartenders that are just starting out. Then to see them progress is awesome!!!!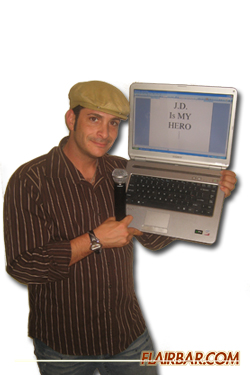 There seem to be certain catch phrases during Flair bartending competitions. How do you feel when you hear other Emcee's using the same catch phrases, Is it a compliment or do you look down on it? Definitely a compliment. I know that I have used some of J.D.'s catch phrases along with Chico's but as an entertainer you try to add your own little twist and sometimes you just have to show them the respect and say it word for word.
What is your inspiration for your catch phrases? I guess it's just the moment. You do not realize it's a catch phrase, until someone else brings attention to it or you find yourself saying it over and over at a specific moment. Like J.D. always says, you know say it with me "FINEST CALL…IT'S IN THERE…". You see not many people know this but back in 1992 J.D. Spradlin and I must of seen each other, because, I taught him the catch phrase…."These Tins Are as Sharp As The Day They Were Forged"…..He then kinda made a "Small Adjustment" and there you go the rest is history…….Not many people know this, so consider it a Falirbar.com EXCLUSIVE!!!!!….OK, OK , OK….That last bit might be a little B.S. but It was funny!!!!!!
How does it feel to emcee Flair bartending competitions and help grow our sport in so many different ways? I love the feeling being able to host this style of competition. There are many different types of competition but it all goes back to the people that are involved in this sport. The fact everyone in this sport supports each other in every aspect. It really is like one big family. It just makes it that much easier. I also would like to see a couple competitions as part of State or Local Festivals. I think these might also help the sport to reach another demographics. So, if any one is planning one or wants too, let me know.
Tell us about the relationship between competitors and Emcees. Is it always good and is it the same for every competitor? That's a tough one. You hope that is a good one. I'm sure certain competitors like certain emcees more than others. I guess it's what you get use too. The way I look at it is I am there for them in any capacity they need; however, I am also there for the sponsors, and bar owners.
Tell us about your experiences emceeing Flair bartending competitions? Nothing but amazing!!!  Ok, I'm sure there was one or two times "Grandma" was not good to me. On a serious tip though…. Just like when your bartending, you never know who you will meet and what opportunity awaits you.  I have made a lot of friends through these competitions, along the way I have been presented with opportunities to host other types of competitions and events. I also have meet some of the top Flair bartenders in the world and witness the best of the best in this business.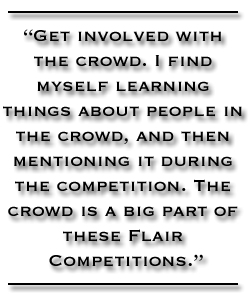 Tell us about your first time emceeing a Flair Bartending Competition and your experiences there, what were you feeling, did everything go as planned? I remember it like it was yesterday. It was April of 2001 and it was the first week of qualify for Battle of the Bartenders. In fact I still remember the competitors. Its was Jason Tremper (Winner,) Rob "The Tin Man" Ford (second), Paul Leahy (third), Sean Oana,
Rick Barcode, Erin Morland, Scott Becker, Attila Nagy, Kerry (McDonnell) Leahy. That was the first week. Throughout the other weeks some of the competitors were Rob Husted, Billy Hitchcock, Bill Long, Ryan Connelly, Big Mike Graves, Billy "Suds" Sudsiri, Tim "Storm" Norman, "Alcohol" Paul Riebenack. The winner of the overall Battle of the Bartenders I was Billy "The Break-dancer" Hitchcock. In Battle of the Bartenders II Jason Tremper took home first place.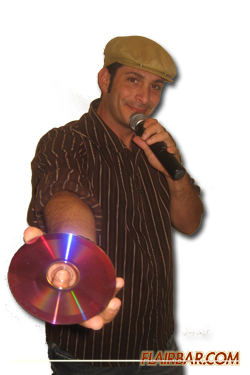 If you could help influence Flair to change our sport somehow, what would it be and why? I want to continue to represent this sport the ways the great ones before me have built it. Along the way I just hope to give it the integrity it deserves. Over the past few years I have seen some the these competitions give back. In this I see how the bartenders untied for a good cause. Last year, I was able to be in Cleveland for part of Dakota's Challenge. To see how these bartenders use their talent to raise money not only for a fellow Flair bartender and his family,but for something that can happen to anyone of our children was something special to witness first hand. These Flair Bartenders are a class act.
How do you help connect with the crowd while you are on stage and how is it different when you are emceeing other events? Get involved with the crowd. I find myself learning things about people in the crowd, and then mentioning it during the competition. The crowd is a big part of these Flair Competitions. In fact, any event you host you need to be as knowledgeable about the event as can be.
What are some of your most memorable experiences hosting Flair Competitions? Looking back at some of the competitions, I have hosted it is great to see how many Flair bartenders I had the chance to host their first competition or one of their first.  I remember emceeing James Hadhazy's first competition and to see how amazing he is now is incredible.   In addition, one of Levi Donaldson's first competitions. One of Vache Manuekian's first and the great night with Tim "Flippy" Morris. I've got to witness a lot of first timers and a lot of friendly rivalries.  Oh and of course working with Rob Husted and Flairbar.com.
What are your plans now? Funny you should ask that.  Currently I am working with Brian Loukmas on Battle of the Bartenders X…"The Reunion Tour" …..We are putting together the final Battle and are trying to have all the past winners and competitors there. Hopefully the likes of Jason Tremper, Billy Hitchcock, Rob "The Tin Man" Ford, Rob Husted, James Hadhazy, Danny Rossi, Christian Delpech, Levi Donaldson, Paul & Kerrie Leahy and Scott Becker… just to name a few.  Stay tuned for more details. On September 21-23, 2008 I'll be hosting South Florida's largest Flair bartending competition at Club Safari… Summer Flair 3! Don't forget to check out www.barwars.info for Vip seating and tables. Hope to see everyone soon.
What is your advice to some of the new people wanting to become an emcee/ Dj, any secrets? Enjoy what you do; it is the first thing people notice. Watch as many other emcee host similar events. When I started hosting Flair competitions I was lucky enough to watch J.D. Spradlin. I still ask him for advice about hosting these events.  I feel that it helps when you can play thoughts and ideas off another emcee. Also learn as much as you can from watching these other emcees then create your own style.
Is there a way to practice your craft or do you just go out there and wing it? Have you ever seen me emcee? What do you think? I feel for the most part I wing it; but, then again there is a little planning. You see, I want to know about the style of the competition or who is in it, what have they done recently, where are they working, funny story about past competitions they have been in. Things like this only helps make the overall show better for the audience, who then feel that they are that much closer to the bartender on stage.  However, anything beyond that…I'M WINGING IT!!!
What is the hardest thing about your job? Working for Brian Loukmas, he is very demanding or maybe it is trying to stay under my comp tab.
If you couldn't emcee or Dj anymore, what would your line of work be? Let me think…….. A porn star… No, that would never work… A pilot…. No, I can't drink there…… A construction worker…. No, that would mean manual labor….. I guess my dream job would be able to have an editorial each month on Flairbar.com… (Hint, Hint).
What is your major concern these days? Hands down my son Nikolas. He has taught me so much in such a short time.  It so awesome how a 3 year old can put life into perspective and show you what's really important in life. "I love you, Champ"!
What is your favorite drink?  "Grandma".