THE NEW BARTENDERS FROM URUGUAY TODAY! – Ezequiel Abergo Interviewed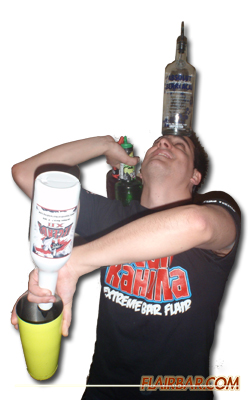 From starting out being amazed watching a bartender Flair behind a bar to becoming the Legends XII Advanced Division Champion an amazing the world…
Mr. Ezequiel Abergo
. He is a part of the next generation of Flair bartenders and now in the pages of
Flairbar.com
, we get to know a little more about
Ezequiel
with
"The New Bartenders From Uruguay Today!"
as he shares with us his insights on the world of Flair bartending and Mixology… So sit back, relax and indulge in a
Absolut Vodka
,
Midori
,
Bud Light Lime
or
Finest Call
cocktail and enjoy…
Age? 28.
Where are you from? Punta del Este, Uruguay.
How long have you've been Bartending? 12 years.
And Flair Bartending? I have been Flair bartending for 8 years.
Where do you work? I'm about to start in Kahunaville as soon as my visa is fixed.
What got you into Flair Bartending? I was working behind bars for some time, I think in 2001 I saw someone Flair and since then I started to be involved with it.
How did you start out learning to Flair? Kind of freelance, I bought my first Flairco in London and I tried to do something but, it was in 2004 when i met Danilo Oribe that I really found the right way.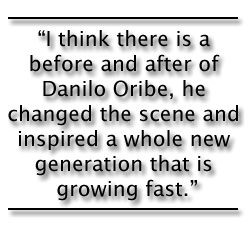 Tell us about the Flair Bartending scene in Uruguay? Well Uruguay had a hard start in Flair after Raul Suarez moved out but I think there is a before and after of Danilo Oribe, he changed the scene and inspired a whole new generation that is growing fast. Some names are Juan Pablo Santiago (2nd place I.B.A. world champ berlin), Alejandro Pellejero or Sebastian Bisignano between many.
Tell us about the new Rock & Ritas? Rock & Ritas is an ambitious project from the creator of Kahunaville in TS, Mark Green. Rock & Ritas is going to be the most talented Flair bar in the world where 20 of the best Flair bartenders worldwide are going to work and perform. Not only is the roster amazing but the ideas behind the project are going to change the face of Flair from now on. No one has never grouped so many elite Flair bartenders in one place to work, of course we have seen them in competitions around the world but giving people the chance to see the best of Flair in one place 24/7 is gonna give Flair a push and the quality of Flair is also gonna change the concept people have about Flair bartending.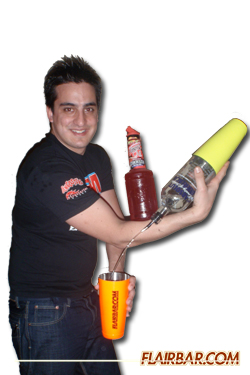 Are you going to be working there and how do you think they will do? Well I am going to be part of the Kahunaville team but hopefully in the future I may have a chance. The place is very promising, I think it's going to be the place to see quality Flair 24/7 and that is going to be every Flair bartender's dream job.
What makes you stand out from other Flair Bartenders? I don't compare to anyone, I prefer to compare to myself and try to evolve in all aspects of the sport but I think that aiming for clean routines and creativity is the goal.
What do you hope to get out of Flair? Well Flair has already gave me a lot so far, and I am very happy with what I am doing and having the chance of working doing what I love is priceless. For the future, I just hope to keep training and competing till my arms can't hold a bottle no more.
What is your favorite Flair Bartending competition and why? Well without a doubt I would say Legends, its not only a Flair comp and the level of organization is awesome. I would recommend every Flair bartender to do it at least once to experience it by themselves.
Who do you look up to in this Sport? Well Danilo Oribe was the person who helped me a lot when I was starting out and keeps supporting me nowadays, I think he is one of the cleanest and most original Flair bartenders in the world.
Why did you compete at Legends XII?  I did several competitions in Europe like Paris Flair Open, FBS Rome, Flair Crash Rumania between others but I always wanted to do a Quest or a Legends. I remember when I was in Uruguay seeing the Legends DVD and it looked so hard and challenging.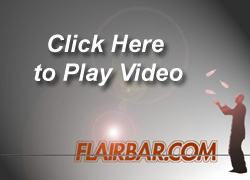 Tell us about your thoughts going into Legends XII and all the preparation beforehand? Legends was an amazing experience, I enjoyed the training so much because it was everything new… the speed, pour test etc. I trained at Danilo's house for about 35 days and I think that was the key to my 1st place in the Advanced division. A good setup is a must but having someone to guide you at that level is amazing, thanks Danilo again.
Once the competition started, what were your thoughts on being able to beat the other Advanced competitors? I was pretty shocked actually, 6 rounds in 2 days and so much new stuff against bartenders with experience in speed or pour test. But doing 1 round at a time and a good preparation is the key, once again I don't compare to the others I just was trying to do as I trained.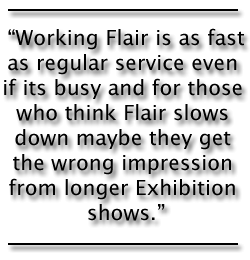 When they announced you as the Legends XII Advanced Division winner, how did you feel and how has it changed your life? Well, it has been the most important moment in my career, I felt so happy and thankful for all the people that supported me during these last 8 years. It also opened so many opportunities, so I think it's going to be hard to forget no matter what happens in the future.
In your opinion, what makes a good Flair bartender? First of all being a good bartender is crucial, then with so much Flair around being creative and clean is what makes the difference in my opinion.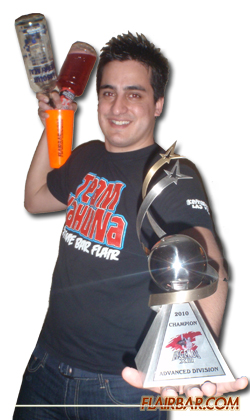 Do you think our sport of Flair bartending is on the rise or decline and why? Obviously is on the rise, I remember when I was starting there were no materials or sources of training. The amount of Flair bartenders was pretty low, nowadays there are more people involved, more competitions and a lot of quality web flairsites like Flairbar.com or Flairlivetv.
How often do you practice? I try to do it everyday and if I skip a day I train more the day after. It depends also if I have competitions, I can train 12 hours a day then.
What are the advantages and disadvantages of being a Flair bartender rather the a regular bartender? I see no disadvantage as I think a Flair bartender is a regular bartender with the skills of Flair or that should be always the way. As an advantage I think a Flair bartender brings so much more to the place where he works like showmanship, style and a brand new way of entertainment in the hospitality industry.
Do you think being a good Flair Bartender behind the bar has to slow down your service as well? Not at all, Working Flair is as fast as regular service even if its busy and for those who think Flair slows down maybe they get the wrong impression from longer Exhibition shows.
What is your advice to some of the new bartenders wanting to learn Flair Bartending? My advice… try to find your own style as soon as possible and keep the motivation up. Be continuous and don't get down when you are starting to compete.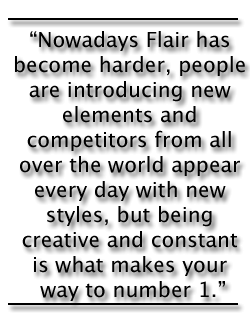 In your opinion, what is Mixology? I would say is the art of mixing in a brand new way, using new techniques and knowledge. Taking cocktails to the next level.
Do you think Flair bartenders embrace Mixology? Of course, as I said before Flair bartenders are regular bartenders with skills on Flair, but like in my case I started with Mixology and I loved it since I started bartending.
If you could help influence Flair to change our sport somehow, what would it be and why? I would love to see more Flair in the media, tv etc… but I think the key to that step is taking Flair to a new level in which performances are almost dropless and then I think people would open more up to Flair.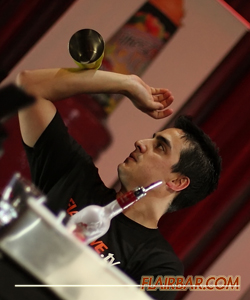 Tell us about your experiences visiting Las Vegas and your thoughts on the Flairbars there ? Well my first time in USA and in Las Vegas off course, liked it very much as the "Sin City" but the bar culture and quality of the Flair bars and competition really shocked me. I visited many Flair bars like Shadow Bar, Carnival Court, Kahunaville and I had the pleasure to perform in Kahunaville a few times and it was awesome! Now after Legends I have the opportunity to join the Kahunaville Flair team, this really moved my feet and going to be a huge boost in my career.
How is it working for Mark Green and David Tuttleman and why do you think they support Flair so much? Well I had the chance to personally know Mark and I think he is going to take Flair to a new level similar to projects like "Cirque de Solei". He formed an elite Flair rooster that is going to make history in our sport.
What is the secret to being one of the top Flair bartenders in the world? If you know it send it by mail asap but, I guess the passion and love to the sport is what really makes a good Flair bartender become an outstanding Flair bartender. Everyone can train but when you love it, you put Flair in number one and that makes the difference.
In your opinion, what are the deciding factors that make  a "World Champion" Flair Bartender? Nowadays Flair has become harder, people are introducing new elements and competitors from all over the world appear every day with new styles, but being creative and constant is what makes your way to number 1… but that's not enough, you should also constantly prove you are on top by winning the most important competitions worldwide, in my opinion what determines a world champion would be 3 world top competitions: Legends, Roadhouse and IBA in that particular order.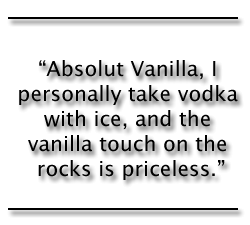 What obstacles do you see our sport of Flair Bartending encountering in the near future and in your opinion, how can we overcome them? Well we can say the economy affects directly our sport as these last 2 years. Many competitions have moved out of the circuit because of it, but in a general I think things are going well, we have more people Flairing, better people and better competitions. I just think we need a little more media to take it to a new level.
Are there different avenues for sponsorship that we should pursue? Well first of all we have to be thankful to the ones that have been supporting the sport since its beginnings, thanks to them Flair has survived economy crisis. I would love to see new names that bet on us, maybe in the future we see more non alcohol products in Flair.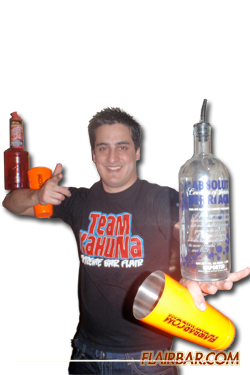 Do you think corporations and sponsors investing in Flair bartenders is an effective way to promote and educate their products and why? Off course, Flair is a show and attracts people to products in a new way. I have personally saw how brands like Finest Call are know more for Flair than for their own marketing.
What are your thoughts on Finest Call products and Why? I think they are one the greatest Flair supporters and that the introduction of their bottle to competitions have added variety to Flair… for example the Finest Call stalls are amazing!