The Manhattan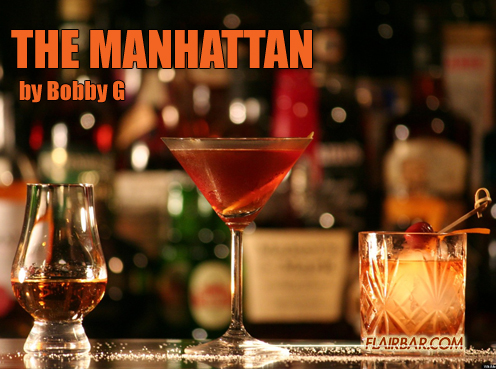 Hi Everybody!  Bobby G here, it has been a really long time since I have had the pleasure of writing a piece for Flairbar.com. I promised Rob that I would write something for him, if nothing else just to introduce myself to all you new readers and to get re-acquainted with the loyal readers. My piece used to be called "IN THE MIX", and I am very happy that some great bartenders decided to take up that column and keep it alive.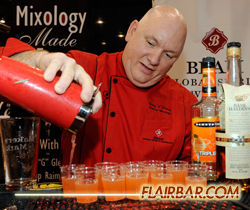 For those of you who do not know me, I am the Master Mixologist for Jim Beam Brands. In my role it is my privilege to travel around the world and do trainings on spirits, proper barmanship, cocktail development and as an ambassador of our brands. I work with all staff members and present to media of all kinds, anyone seen me on TV? Hasn't helped with the ladies much, but I will keep plugging away.
So onto business, The Manhattan. One of the great cocktails of our time.
What is its history? How do I make it? What whiskey makes the best Manhattan?
Let's talk first about the history. While there are other stories of cocktails called Manhattan, the popular story is that the cocktail was created in the Manhattan Club in Manhattan. It was served at a party in honor of Samuel Tilden, then Governor of New York by his friend and political supporter and American Socialite Jenne Jerome. The cocktail was widely accepted as the cocktail to be seen with in high society. The simple recipe of whiskey, sweet vermouth and bitters closely follows the definition of a cocktail (spirit, bitters, sugar, and water). But there is much controversy surrounding the Manhattan. First was Jenne Jerome there? Many say that the story cannot be true as at the time Jenne Jerome was pregnant and there was no way that she could have been back in England to give birth to none other than Winston Churchill! Well I have two things to say about that, 1- The story goes that she "hosted" the party which generally means that she paid for the party. 2 – I wasn't there so I can't say for sure.
Now let's talk about the whiskey, was it Bourbon or Rye? Many today say it was most certainly rye as rye whiskies were popular at the time. Well, bourbons were out there as well. Could it have been Canadian whisky? Think about this, at the time 1874 most Canadian whiskies were being sold in barrels. There was one man who would label his barrels, Hiram Walker. The whisky known as Club Whisky and was sold mostly to the Gentlemen's Club of the time. Now the clubs were much different of the Gentlemen's Clubs of today. They were where the businessmen went to conduct their business. It was high society and if you were somebody of note, you were a member. It was until 1879 that the US government required that all whiskies must have the origin of nation of the label. While most importers put Canada in small letters on the back, Hiram proudly labeled his whisky as Canadian Club Whisky and the brand was born.
So, if you were going to have a big party and needed large quantities, wouldn't a barrel make sense? It could be that Canadian Club Whisky was the whisky used for that party. Again, I wasn't there so I don't know for sure. I am however trying to find records of sales in the books at the CC Heritage center in Windsor Canada. If I do, well it will just deepen the mystery and it will give my friend Dan Tulio (the Godfather of Canadian Whisky) a big smile!
How do you make a Manhattan? The recipe is very simple. Here is the formula I like best:
3 parts Whisky
1 part Sweet Vermouth
2 dashes Angostura Bitters
This translates to a 1.5 oz, .50 oz and 2 dashes.
The great thing about a Manhattan, it really showcases the nuances of the whiskey. If you choose a young bourbon, accents of citrus and the caramel sweetness comes through. Jim Beam Black tends to a chocolaty note. Choose Maker's Mark and you will have notes of cherry with that front of the tongue signature of Maker's Mark. Knob Creek at 9 years old and 100 proof will have those wonderful spice notes of cinnamon, nutmeg and things like candied orange peel. Rye whiskies will have beautiful spice notes and Canadian Whisky will be a softer style.

Key to a great Manhattan is fresh sweet vermouth. Remember, vermouth is a fortified & aromatized wine based product, treat it like wine! At the very least put the cap back on it, never use a pour spout. The best way to store your vermouth is in the refrigerator. There is a short self life on vermouth, 2 -3 weeks at most. There are a lot of brands out there. Martini & Rossi, Cinzano, Dolin, Noilly Prat and Carpano Antica just to name a few. Many of you may have Gallo or Tribuno. Here is what I say to accounts all over the country, first buy your vermouth in 375ml bottles. If you can consistently go through that in 2 weeks go to a 750ml bottle. If you can go through that in 2 weeks go to a liter bottle, never go to a 1.75 it just isn't worth it. Yes the cost per ounce will go up by a little with the smaller bottles, but you will also get a better cocktail which means more repeat orders and higher sales, and more tips for you. A win for everybody!  For my tastes, Martini & Rossi Rosso is the vermouth I prefer. I like the fruit notes it brings. Cinzano is another fine choice and Dolin Rouge works especially well with Maker's Mark. While the mixology geeks ( and I say that lovingly) think that only Carpano Antica is the vermouth to use. I do think it is a fabulous vermouth but I think it should be served on the rocks with a splash of soda and an orange slice. For me, it tends to overtake the whiskey and a Manhattan should be about the whiskey. There is a delicious vermouth made in California Vya which is fantastic on the rocks as well, but for some too high priced for a Manhattan. Should you use these in a Manhattan experiment with the ratios as you will need much less vermouth.
When making a Manhattan for yourself or your guests, technique is the key. Remember this, any cocktail that is all spirit, stir it. STIR A MANHATTAN!!! Now that said if you like a Manhattan shaken, ask for it that way but the default of a Manhattan is stirred and should someone want it shaken, you can simply shake a stirred Manhattan but if you send it out shaken and the person wants it stirred, you have to through it out and start over. If you do not have a bar spoon for Christ's sake go get one! I hate seeing bartenders pour everything in a tin and swirling it around or using a straw to stir it. If you are working behind a bar be sure to have your own tools, do not rely on the house to provide your tools, be professional and have your own tools. Also, when stirring a cocktail, use a mixing glass, not a tin. Cocktails are meant to be seen as they develop. What so you say I am a Flair bartender and people come to see me "Flair"? Elegant Flair, proper handling of the tools and presentation are the keys here. A proper stir will capture the eyes of your guest and spark their interest in the cocktail, this my friends is what Flair is all about. Try this the next time you make a Manhattan, stir it and strain it up in a chilled cocktail glass. Have your guest notice the color, clear and brilliant in the glass, no foam on top as you would have with a shaken one. Now have them taste it. Silky & smooth, you know you are having a whiskey drink as it is prominent on the nose and the palate. The vermouth has added some fruitiness and the bitters add depth and aromatics. Now here is the eye opener, take a lemon peel (you do have a vegetable peeler is your tool kit right? if not go get one! it less than $5) and flame it over that cocktail. Watch their eyes light up with amazement in what that does to the cocktail.
BLISS!!!
I have to go make one, now! Do yourself a favor and make your next Manhattan stirred with pride and skill.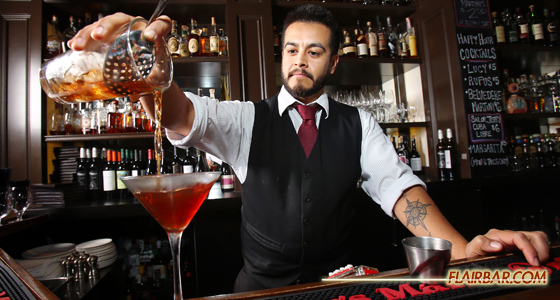 Until next time,
 CHEERS ALL!