TANDEMONIUM! – Juan Llorente & Christian Oldan Interviewed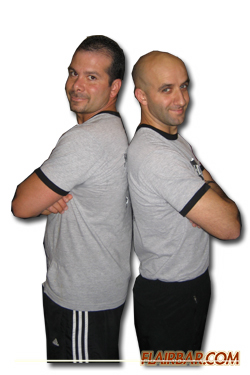 From starting out learning Flair individually to being one of the dominant forces in Tandem Flair bartending today…
Juan Llorente
&
Christian Oldan
. They have crushed the competition in almost every Tandem Flair bartending event they have competed at and now in the pages of
Flairbar.com
, we get to know a little more about this dynamic duo with
"TANDEMONIUM!"
as they share with us their insights on the world of Tandem Flair bartending… So sit back, relax and indulge in a
Skyy
Vodka
,
Midori
,
X-Rated
or
Finest Call
cocktail and enjoy…
Age? J: 31. C: 30.
Where are you from? J: Argentina. C: Argentina.
How long have you've been Bartending? J: 12 years. C: I have been bartending since 1995 you do the math (long time)    hahaha.
And Flair Bartending? J: The same 12 years. C: My first Flair comp was in 1996 on the beach in Argentina "Stir it up on the beach" I took 3rd place. But I was flipping bottles a little before that.
Where do you work? We booth work at Shadow Bar at Caesars Palace in Las Vegas NV we have been there since 2001… Come see us HERE!
What got you into Flair Bartending? J: Doing a mixology course back in 1996, I saw a video of John Bandy (the guy who trained Tom Cruise in the movie "Cocktail") working for Johnny Walker, after making a cocktail he threw an olive and caught it on a tooth pick. I thought that was cool! And I started practicing. C: My father actually used to be a bartender a long time ago at the Royal Caribbean Cruise Line and also at the Sheraton Hotel in Argentina. One day he asked me, "Why don't you try to do a bartending course?", "Maybe you will like it" he said… I did it… It was only mixology no Flair at all… But I really liked it… So I started getting into it more and more and found out a place, which was called   www.universidaddelcocktail.com   were they teach Flair. So I started going there and made lots of good friends and that was it. I started practicing and training hard, it was a lot of fun back then. Universidad del cocktail is still open and most of the Argentinean Flair bartenders come from that school.
How did you start out learning to Flair? J: Pretty much by myself with some champagne bottles in my back yard! Ha ha ha, no access to videos back then. C: Yes back then we didn't have too many comps or access to videos to watch so pretty much I had to teach myself, with regular wine bottles. No Flairco bottles back then either. It was a lot of fun I remember staying up from 10pm to like 4 or 5am having pizza and flipping bottles with friends.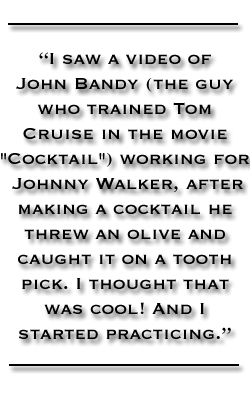 Tell us about the Flair Bartending scene at "Shadow Bar" inside Cesar's Palace? J: Working at Shadow has been great all these years! It is really laid back; we get along, easy going! We do 2 or 3 Flair shows every night and Working Flair all the time, more focus on clean cuts, and short Working Flair moves! C: Shadow bar I love that place, if I didn't work there I would be hanging out there. I love that bar. Working there is really relaxing, we get along really well. We have a great team Zack, Dorian Oldan, Juan and myself is great. We do Flair shows daily and constant Working Flair. I feel like I am in high school I don't want to miss a Friday or Saturday, because I will laugh so much that I will not want it to miss out. And if I do I will call the next day Dorian or Zack to see what happened and just laugh through the phone. As you can see I LOVE MY JOB!!!!   You can check out "Shadow Bar" HERE!

Describe to us your style of Flair? J: I have been learning Flair first on my own and then traveling around the world and practicing with other Flair bartenders (you name it) and I think that's what people call (Argentinean style), probably some kind of mix of styles! Between English, American, etc… with Latin flavor (mucho show). C: Is for me hard to describe my own style. I think I have a mix and it still changes slowly with the years. If you take a look to some of my old videos it doesn't look the same compared to now. I really enjoy juggling and tricks with multiple objects.
What makes you stand out from other Tandem Flair Bartenders? J: & C: We think that we dedicate a lot of time on putting together the routine (mucho show). We try to combine Flair with gymnastics, martial arts and our own creativity. We try to be original and come out every time with something new to surprise the spectators.
What do you hope to get out of Flair? J: & C: Friends, traveling opportunities, it is a way of living and a way to express yourself! Hope to get a good sponsor for our new Tandem training video… check out our new website HERE for news.
What is your favorite Flair Bartending competition and why? J: & C: We like U.F.B.C a lot; you have no limits there. You can come out with crazy stuff and just do it, is all about the show and entertainment. Every time we compete there we don't feel like we are competing we feel like we just putting a show together and there is no pressure. Is like being at home. On top of that we have lot of support from the organizers, they let us do what we want to do (special thanks to all of them). Of course others comps like: Roadhouse and Legends.
Who do you look up to in this Sport?  J: Everyone who has something to show. From a rookie to a pro Yo! No one specific I am not a name dropper. I remember one of the seminars I taught in Peru with Christian Delpech and one of the students caught a bottle into a tin!! For him that was another move. But we looked at each other!!! HA ha ha the rest it is history, some of you probably are doing that move with out realizing were it came from!!ha ha. C: To be honest I don't look up to anyone. Some people are better than other one, they may practice more… so what… big deal. I focus on what I do and I try to do the best I can. I don't like to compare myself with other ones, you go crazy if you do that. But if you want a name I will say Alan Mays and I am not saying it only for his skills, I think besides being an excellent Flair bartender, he is a really good person, he helped out lots of Flair bartenders in this town and that has no price, you don't get that practicing in your garage.
How did you both meet? C: I knew Juan back from Argentina but we never practiced together back then. Until we met in "Quest for the best bartender in the world", in Orlando Florida 2000. Then I moved to Las Vegas and a few months later Juan moved here to.
What got you both involved with tandem bartending? J: I guess the fact that we were working together and I already was doing tandem with Christian Delpech. In Legends III, we decided to compete in tandem as well.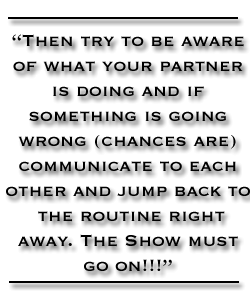 How did you both start to learn tandem bartending? J: The first time I did tandem was with Gonzalo Garcia (COCO) working in Henry J.Bean's in Buenos Aires back in 1998. C: The First time I did tandem was with Carolina Guarrera, I think it was in 1997 or 98 back in Argentina.  We did it for a competition. Since then I like it, but never got the chance to get a full time partner. Until I meet Juan.
How is it different training tandem bartending then training individual? J: & C: There are some complication with time scheduling, I am left handed Christian is right handed, so it works great for mirrors routines (side by side), but not for exchange when we face each other. All this is not an issue for singles routines. But all this is what makes a tandem different: exchanges, mirrors, creating a move that is impossible for a single competitor.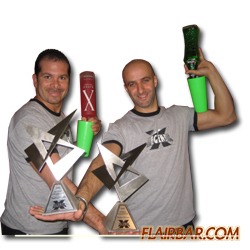 How often do you practice? J: & C: We practice about 3 or 4 months before any competition 5 days a week doing the routine between 4 to 6 times a day! Then we try to keep in shape… hahaha going to the gym etc… Our routines demand a lot of energy.
What is your advice to some of the new people wanting to start competing tandem, any helpful hints? J: & C: First have fun!!!! Then try to be aware of what your partner is doing and if something is going wrong (chances are) communicate to each other and jump back to the routine right away. The Show must go on!!!
Tell us about your first Tandem Flair Bartending Competition together and your experiences there, what were you both feeling, Did everything go as planned? J: & C: We were kind of nervous the first time competing as a team. It was legends 4, we did a lot of our Working Flair routines, it turned out really good we qualified in first place. If we remember well we think we only had 1 or 2 drops…
Tell us about your experiences competing in tandem bartending competitions? J: Bad one : hahaha! Last year our friends (the Neil's)   come to interview us at the gym where we practice and I jump from Christian's shoulders. Something went wrong and I landed with my knees on the trampoline cutting my knee up big time! Good one: After finishing the routine in King of the Ring 2005 (Mohawk-ka show) I felt relieved.
C: Bad one I sprained my ankle practicing for Legends of Bartending X. We had to stop practice for like 10 days. Good one: In the Absinthe show at U.F.B.C in 2007, I did my first back flip and actually I landed it!!!! hahahaah Come on you think its easy for an old 30 year old man, a little over weight to learn how to do a back flip and on top of that do it in a comp while you have to juggle and there are thousands of people watching you… and more than half of them are waiting for you to fall… hahaha. Well for all those I pleased them in Legends X, landing on my ass during a front flip… hahaahahah.
Tell us about your new Tandem Flair Bartending Training Video? J: & C: It is something that we have been thinking and working on for a long time! Finally we decided to do it. It is going to show you and teach you, how to perform Working Tandem routines behind the bar and also Exhibition Flair routines. This video is not going to focus only for tandem teams, beginners or intimidate also for single Flair bartenders who are wiling to learn some team work. There will be lots of tips that are useful not just for tandem.
What and when can we expect from the video? J: & C: Hopefully by summer time 2008! What to expect??? Well it's like our show there is always something's you never expected to see… We can't say any more! But it's going to be a great surprise for more than one.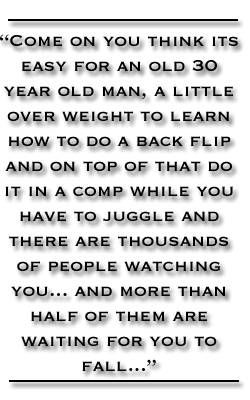 How do you come up with your original Tandem Flair moves and style? J: & C: I guess we are kind of creative hahahah! Ideas for different moves are everywhere not just in a Flair comp! Sometimes we pick up a move for a base and work on it until it comes in something else. Sometimes we have a 3 bottle move and then we try to add 1 or 2 more bottles, and then Juan says "Oh and also you can do a front flip"… HAHAHA(no pain no gain).
What are your thoughts on Tandem bartending and how it is being judged in major Flair comps? J: & C: For us the way they judge, is great we haven't lost yet… hahahaha PLEASE DON'T CHANGE THE TECHNIQUE! Really we think the concept is: focus on the show and that's the way to go!
What are your plans now? J: Grab my snowboard and get wasted down the hill on Bear Mountain apetepepte, trying to make it back in one piece and put a new routine together for U.F.B.C. . C: Going to Sedona soon just to relax and do some Yoga for a few days. Practice and going to the gym.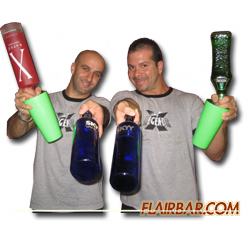 What obstacles do you see our sport of Flair Bartending encountering in the near future and in your opinion, how can we overcome them? J: & C: Obstacles can be bar owners, managers, etc… who haven't see the profit of spills in Flair bars! Flair bartenders it is about fun and service, make your customers have an unforgettable time in a bar and make them come back! When you see the smile on faces of the customers or when you hear them talking about you. That's way more valuable than a tiny little spill.
Do you think the entertainment value of tandem bartending will help with future sponsors and television? J: & C: There is alot of talent out there that has not been discovered or promoted. The entertainment value in tandem has great potential to expand. More competitions should include the tandem division and promote it as much as the rest of the comp. We think one great way to promote Flair competitions with the included tandem division is to offer it on pay-per-view or on a live internet website. They just recently had a Flair comp offered on pay-per-view (Best of the West) and that is a great concept that will hopefully be offered more in the near future.
What are some common obstacles you face as a Flair bartender opposed to a regular bartender? J: & C: People are afraid to change! Flair bartenders do know how to make a great cocktail too.
Do you think corporations and sponsors investing in Flair bartenders is an effective way to promote and educate their products and why? J: & C: Sponsors are getting more involved with Flair bartending in a cool way to promote their products on TV. Corporations…???… Let me see:   Las Vegas capital of the entertainment industry has more Flair bars than any other city in the world. Casinos have paid more working visas for former Flair bartenders than anyone!!! They can´t go wrong.
What is your favorite drink? J: Always changing! Right now: Mai Tai (original recipe) no bullshit.aapeteteetetet. C: Negroni, Americano, Fernet with coke, gin tonic, red wine those are just some of them…