T.E.A.M. Together everyone achieves more!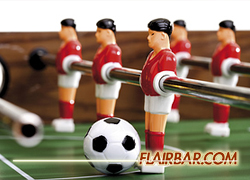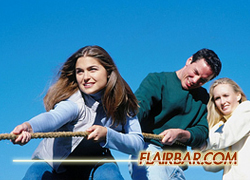 Last month was the time when we reflected on love lost and love found. We showed how another makes us better and look forward to the future…
Kind of sappy but still very true. There are strength in numbers my friends. The more Flair bartenders there are, the more power we have. The more readers Flairbar.com has, the bigger our voice. The more exposure and product we move, the more the sponsors are willing to commit to our cause. The more prize money we have at Flair bartending competitions, the more commitment we have from our athletes in our sport of Flair bartending. The more legitimate and professional competitions there are across the globe, the more mainstream we become… interesting… to paraphrase Tobin Ellis many years ago… "We all need each other to make the pie bigger". I think some of us have forgotten that.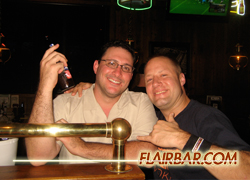 With that said we are looking forward to Las Vegas and the Legends of Bartending, the Nightclub & Bar Show as well as seeing old and new friends.
One of our friends we are excited to see is Tim "Flippy" Morris from Carnaval Court day shift. He is always a joy to watch behind the bar at work and behind the bar at competitions. You can check out this energetic all around great guy on our 'Masterclass' page where he teaches us a two tin and bottle Working Flair sequence. Nice!
Then we move on to a major competition from the FBA Pro Tour, "Quest 2008″. This is always a fun competition because almost everybody competiting is from out of town which levels the playing field just a bit and also gives everybody a chance to hang out with each other away from their homes and hussle and bussle of everyday life. You can read the full review on our 'Comp Reviews' page. We know you have been waiting for it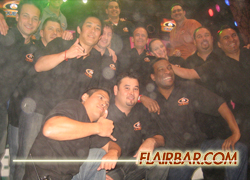 One of the biggest new names at Quest this year was Tiffany Lukasavage from Wisconsin. She had a great speed round coupled with a good Flair round confirmed her spot in the finals. You can learn more about this Flair Fem on our 'Interviews' page. Well done girl!
Moving on from speed and Flair, two aspects of Bartending. We concentrate on another aspect which has been gaining momentum over the years "Molecular Mixology" which in short is looking at the physical properties of ingredients and the reactions that occur when they are combined. To learn more about this interesting and flavorful topic check out our 'Articles' page. Big Thanks to everybody who contributed to this article.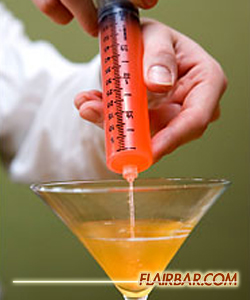 To see more examples of Molecular Mixology head on over to our 'Flavors' page with Flairbar.com's resident mixologist Laurent Greco from Bar Academy Paris. Where we gratify our senses on some "Molecular Morsels" on our 'Flavors' page that will be sure to get your imagination going.
Anthony Alba is "In the Mix" again with "Take care of your muddler and it will take care of you". A How-To on muddler maintenance. You can check it all out on our "In the Mix" page. Laxative…?
For all of you other mixologists out there… Don't forget to contribute to our content collector called 'Cocktails'. This is where you can share your own SKYY Vodka and Finest Call cocktail recipes with the rest of the world and get credit for it. Have a great drink you invented? Want to share it with the rest of the world? Think it is worthy? Prove it!
Then we move on to Kevin Bednarz with one of our newest additions, "Flairmation" which we revisit "Last Call Larry" dealing with Sports Nuts. All on our "Flairmation" page. Larry in full color and live! How do you like the new layout? let us know?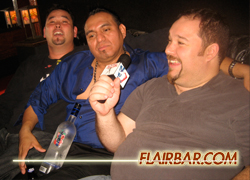 Then on our 'And Finally' page we have "and finally", the Roadhouse World Finals 2008 results straight from the man that organizes this major event in London… Mr Jay du Toit. Read the story and see the pictures from his perspective. Congrats again Tom!
Next we have our 'Reader Contest' results based all on Mixology for all of our loyal Flairbar.com readers. Plus our regular features, more 'Barware', more pages, and more Flair than you can shake the word "Molecular Gastronomy" at.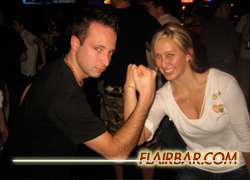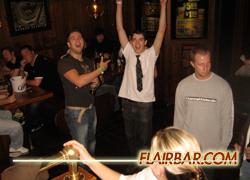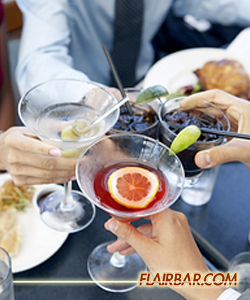 To Flair & Friends.

Rob Husted