ShowTenders 2003 Finals

ShowTenders 2003 Finals
October 26th – 28th 2003
Stormans Palace, Florida USA
By Rob Husted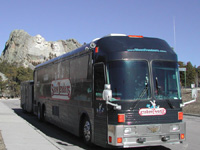 What an event this was! Showtenders 2003 Finals turned out to be the biggest paid out Flair Comp ever. The winners took home over $25,000.00 in cash, not to mention the biggest trophies I have ever seen. I don't know how most of these guys got their trophies through airport security!
Pictured right is the Showtenders Tour Bus.
Showtenders had a year long Flair Bartending Tour. Prize money could be won in three different categories: Speed, Accuracy and Showmanship. They are great comps for beginners who want to get their feet wet and see what a big comp is all about.
Showtenders used a controversial new way of scoring their competitors. Daniel Joseph determined the range of points available for the finals based on the highest scores during the tour. The final results put all headaches to rest. The scoring system in this case worked great. It made each round equal in points and we found out who the best overall Flair Bartender was, not just the best juggler.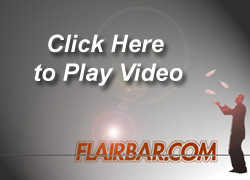 The final results are in and Ken Hall from Bikinis inside the Rio Hotel and Casino takes first place honors. A lot of you may know Ken from the "Legends of Bartending," "Best in the West," and "Nations" Flair comps he puts on in Las Vegas. Ken is considered a legend himself and Flairco just designed a new flair bottle named after him.
Ken has a unique way of juggling three bottles. Instead of the standard mutiple cascade patterns, he performs a lot of stop-and-go Flair utilizing advanced multiplex techniques. Check out the video clip to the left.
Great job Ken, and wehope the rumors of you retiring are false.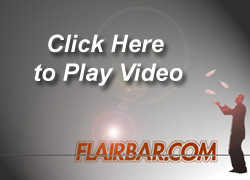 Taking home second place and a huge trophy is Danny Rossi.To quote one of the hot women in the crowd, "Not only is Danny Rossi a pretty face but he can Flair too!"
Danny, a long time friend of the Showtenders Tour, came out strong for the Finals. Pulling out an awesome three bottle routine and a five bottle flash at the end.
Congratulations on the win and your new marriage!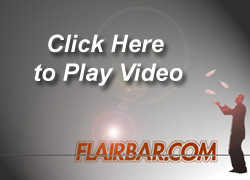 The recent star of ESPN2′s show, Cold Pizza, Levi "The Great White Hope" Donaldson grabs the third place spot.
Levi, another long time friend of the Showtenders Flair Tour, shows us that practice pays off. Levi showed great Sportsmanship by helping the other competitors when they needed it.
Excellent routine and can't wait to see what you have in store for Legends!
The Final Results are:
1st Ken Hall                              $8,500.00
2nd Danny Rossi                     $4,000.00
3rd Levi Donaldson                 $3,250.00
4th Ed Hibbert                          $2,500.00
5th Dave Yelverton                  $2,000.00
6th Randy Ruiz                        $1,700.00
7th Paul Trzcianko                  $1,300.00
8th Martin Janica                    $1,000.00
9th Dorian Oldan                    $500.00
10th Jester Smith                   $250.00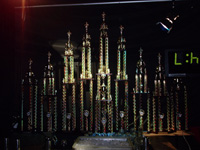 Special thanks to all the sponsors, barbacks, judges, video team, Showtenders, Magic Mike and Stormans Palace. Keep an eye out for the DVD. We had a peek at it earlier and all we can say is the video team at Showtenders has outdone themselves.