SHAKING DOWN THE COMPETITION! Flair Bartenders Shakedown Reviewed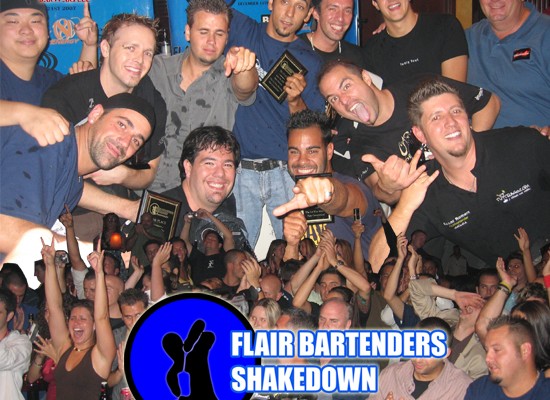 The first ever Flair Bartending competition based entirely around working Flair the Flair Bartenders Shakedown spanned over six months of qualifying shaking down the competition all came to a close on Monday June June 18th 2007 where it came down to one night, one round and only one overall winner.
This event was run by BarWars L.L.C. and was sponsored by Blue Martini WPB, Flairbar.com, Ketle One Vodka, Hennessy, Budweiser, Monin Gourmet Syrups, Finest Call Premium Mixes, Spill-Stop, Flairco, BarProducts, Rock & Record, and the FBA (Flair Bartenders Association). The venue was packed for the finals after six long months of qualifying rounds where the top two competitors each month advanced to the finals. This competition was based all around working Flair. The competitors had to memorize a new drink list each month consisting of twelve different drinks, three free pours and produce a specialty drink… all in five minutes using half full bottles. This lead to some insane working Flair with combinations never seen before and opened up the eyes to many in what is really capable in the world of working Flair today.
Before we started the main event we had a pour off with all of the competitors on stage showing the crowd that not only can these Flair bartenders entertain you in a real life bartender scenario with half full bottles, blind drink lists and awesome specialty drinks but they can pour them accurately as well. After a couple of elimination rounds the most accurate bartender that night was Rodrigo Delpech winning the "Most Accurate Bartender" trophy.
The competitors specialty drink had to consist of at least two of the supplied Monin Flavored Syrups and what any other ingredients they wanted. The Monin Flavored Syrup bottles where set at half full and any other bottles they needed for their specialty drink were allowed to be set at any level they desired. So not only did we see some remarkable working Flair sequences but also got a taste of some exhibition Flair as well.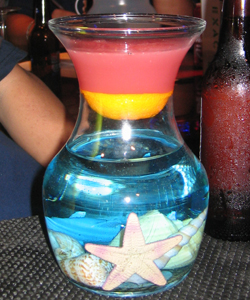 The specialty drinks were judged by a wide variety of judges… from everyday drinkers, occasional drinkers to a top chef at the Florida Culinary Institute. The specialty drink had to appeal to many diverse pallets which made for some interesting recipes. The overall favorite specialty drink came from Rodrigo Delpech with his "Ivanna Dream" which was made in the top of a fish bowl and in the bottom of the fish bowl was an amazing living ocean floor. There were many creative drinks that night but that is the one that walked away with the trophy for "Best Specialty Round".
But before we get into all that lets find out the overall winners. Now with the lights set, music cued and MC Ben Rose pumping up the boisterous crowd, it was time for the main event… The judges all looked on with anticipation. Brian Loukmas, John Buckley, Joey Lenz, Justin Ripp, Cheryl Rudewick, Bryson Brass, Grace Trujillo, Nikki Travers, Allisyn Ferrell and Chef Steve Sidnick had their hands full judging this innovative Flair bartending competition.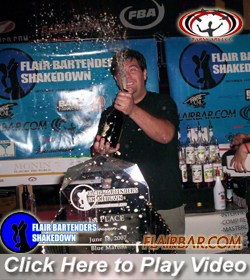 1st Place and the most trophies that night went to younger brother Rodrigo Delpech.
Rodrigo came to win. He practiced every aspect of this competition and put the effort in each category to score high which helped him take home his first place trophy.
Well done and it looks like this one goes to the younger Delpech… this time.
Click on Rodrigo's picture to the left to see a highlight of his round.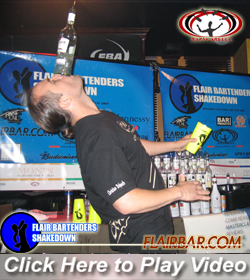 Taking home second place and demonstrating some incredible working Flair skills while representing himself and Olive apparel…Christian Delpech.
Older brother to Rodrigo, Christian came out with style from the beginning to the very end. Christian has a style all to his own with fakes and grabs that throw you for a loop just when you think you know what he is going to do next.
Whenever these two compete you never know who will have the better day. They are both true legends and both have accomplished more in a short amount of time then many even dream. It goes to show you hard work and dedication pay off. Well done!
Click on Christian's picture to the right to see his style shine.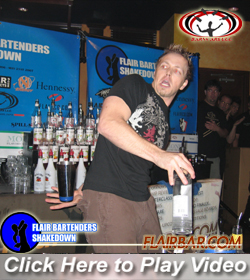 Corey Jasen takes third place honors. If you haven't heard of him before… I would venture to guess you soon will (Or at least until you head over to this month's "Interviews" page to learn more about "The Story of Corey").
Almost missing the Finals completely due to a lay over and missed flight in his connection in Tampa from Las Vegas. With minimal time to prepare, practice and perhaps get nervous… when the time came Corey shined and all eyes were on him.
Invited back as a "Wild Card" it goes to show you anybody can win on any given day. Big congrats go out to you my friend!
Click on Corey's picture to the left to see him do his thing.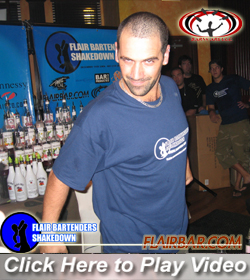 With only less then 1 point separating third and fourth place it was close… Mauro Garrido takes forth place honors after a great round and a close race.
Mauro has a crazy "no holds bar" and fun approach when he Flairs, along with some serious Flair skills make for a great combination.
With some smooth working Flair and the crew from "Barmaniacs" cheering him on… it was almost impossible for Mauro not to have a good time on stage.
Click on Mauro's picture to the right to see a highlight of fun routine.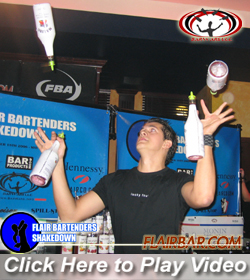 Coming in fifth place this time was… Nicolas Antivero.
Nicolas qualified the first month of qualifying way back in December 2006 and came back for the finals straight from his home town of Maryland.
Nico had a strong round and some cool two tin and Monin bottle sequences coupled with some wild three and four bottle exhibition Flair made for an all around good show.
Click on Nico's picture to the left to see a highlight from his routine.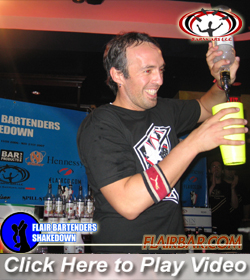 All the way from "Barmaniacs" in Hollywood, Florida… Martin Janica takes sixth place honors.
Martin was an overwhelming crowd favorite. Since 1st place win the first month of qualifyingMartin came out each month to help and coach his fellow competitors along with doing some great tandem Flair demos with Mauro Garrido that had Blue Martini shaking from all of the applause.
With his dad watching in the audience, Martin showed us how they do it "Barmaniacs" style!
Click on Martin's picture to the right to see the confidence shine.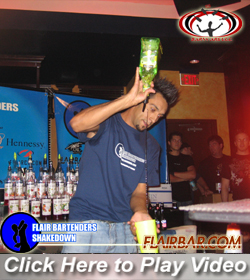 Coming in seventh place and only one of five to accurately pour his required "Free Pour" under pressure was… Luciano Pontiroli.
Luciano who tied for 8th place in the "Bartenders Bash Series" just prior to the "Flair Bartenders Shakedown" finals has been getting some great Flair bartending competition stage time in and gaining the confidence he needed to take his Flair to the next level.
Now an active FBA member he has taken his Flair bartending career seriously and is pursuing his passion!
Click on Luciano's picture to the left to see a highlight from this incredible Flair bartender.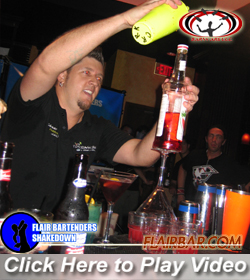 Coming in eighth place and no stranger to BarWars L.L.C. organized Flair bartending competitions… Cesar Romero.
Cesar has grown so much as a competitive Flair bartender over the years and still has a heart of gold.
Now representing "Tutrago.com" and Venezuela bartenders alike, Cesar has a passionate style all to his own and people are remembering his name. Good luck at "Quest" this year!
Click on Cesar's picture to the right to see a highlight from his round.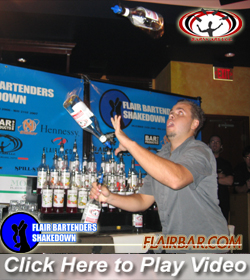 James Burke comes in ninth place this time for the finals.
James has always been one of my favorites to watch throughout the years. Mainly because I helped train him in his early years. Now off to college in Boston and pursuing his dreams he still finds time to practice and compete now and then while keeping good grades as well.
During qualifyingJames was on his game hitting the moves on command. The finals seemed to be a different story this time… perhaps it was the pressure or those pesky final exams! Either way he still put on a good show and made us proud. In a few years he will be a name you wont forget…
Click on James's picture to the left to see this young buck in action.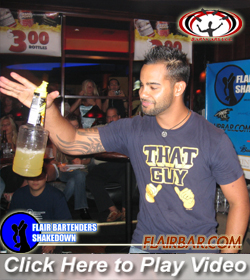 Coming in tenth this year at and a last minute substitute was … Raimel Perez.
Raimel comes to us from Chili's in South Florida. They must pour test at Chili's because Raimel was another one of the five Flair bartenders that nailed his "Free Pour" during his routine.
Getting some quality Flair bartending competition stage time as well due to the "Bartenders Bash Series" Raimel got his feet wet and jumped right in. With some dedicated practice and determination he could soon make a name for himself here in Florida. Good Luck at "Quest" as well!
Click on Raimel's picture to the right to see some of his stalls in action.
Here are the final results…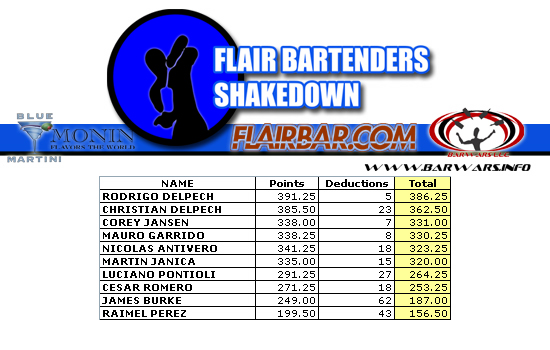 We would like to thank all of the sponsors… BarWars L.L.C., Blue Martini WPB, Flairbar.com, Ketle One Vodka, Hennessy, Budweiser, Monin Gourmet Syrups, Finest Call Premium Mixes, Spill-Stop, Flairco, BarProducts, Rock & Record, and the FBA (Flair Bartenders Association). The Competitors and judges. Videography by Rock & Record. Special thanks to Byron and Joe G. from Blue Martini, Bob Husted and Jennifer Husted for working the merchandise and Monin sampling booth, the barback Josh Gates, photography by Chris Miller, and Kevin Nichols for filming… and the man that kept the color commentary and the event moving Mr. Ben Rose!
Thank you to all who participated and supported this event. Don't forget to pick up the "Flair Bartenders Shakedown" DVD available soon. For a preview of the upcoming DVD click on the picture below.See you all at the next event.