QUEST FOR THE BEST
Updated: November 1, 2004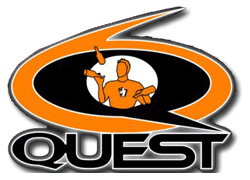 QUEST FOR THE BEST
October 24th -26th 2004
Pleasure Island, Orlando, Florida, USA
By Rob Husted
The Quest is back and better then before! We were all extremely excited to hear that Quest, the Flair bartending competition that started it all, was rising from the ashes to herald a whole new era in our sport.

The Specialty round (A round where anything goes and the emphasis is on showmanship) was born at Quest and it was good to see its return to competition. It seemed like the organizers remembered every little detail that comprised the spirit of Quest years past and brought it back to the Quest of today. From past winners on the judging panel to the original head barback, no detail was overlooked.
Jim Allison (The Flair Bartenders Association president) and Ken Hall (Previous multiple Quest winner and organizer of 'The Legends Of Bartending' world tournament) combined forces and brought different strengths to the table in the first of many new Flair competitions under there helm. This was also the first time we saw three different divisions to compete in. Rookie, Advanced and Pro. This is a great addition to the old contest and brought out a lot of new faces and new blood to the sport. The new guys and girls are what propell this sport to the next level and beyond. My hat is off to all the new Flair bartender extrodiners who competed.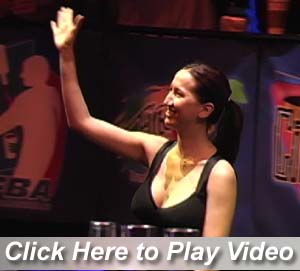 Taking First place in the Rookie division and only her third Flair bartending competition ever was Tia Rodriguez , pictured right.
You might remember Tia from last month's Flairbar.com Interview where we got to know her a little better fresh from her win at Barwars.
Tia jumped ahead of the competition right away when she turned in one of the fastest speed times of the day. This let her relax and have some fun during her Flair round, which she smiled through the whole time.
Expect to see a lot more of Tia in upcoming competitions. Check out this Flair vixen in the video clip right.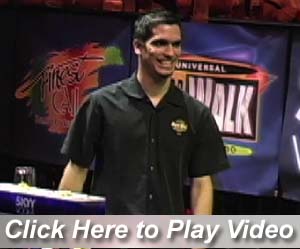 Next we come to the Advanced division. These guys stepped it up a notch. Taking first place by blowing away the crowd and judges was Rodrigo Cao, pictured left.
Rodrigo had a good speed round yet his Flair and specialty rounds were even better. Rodrigo had some intense four bottle moves that had me screaming at the top of my lungs for more.
This champion works at the Seminole Hard Rock Hotel and Casino in Tampa. You can see him and the rest of team Tampa live just about any night.
Then there was one. One division left, one man and one Flair bartending competition that has always seemed to have eluded him. The Quest was his baby, the one he yearned to win. It took the good luck of his brand new baby boy and a very understanding wife to finally put the trophyin his hands and end his quest.
Christian Delpech took top honors by winning the Pro division at Quest 2004. This proud new father set the bar by turning in the fastest speed round followed closely by his younger brother Rodrigo.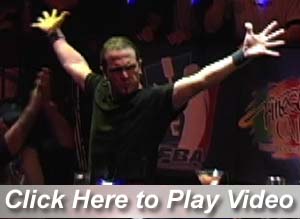 Christian put on a smooth and entertaining Flair round which was topped only by his specialty round. Some of you might remember Christian's Matrix specialty round last year. This year he brought the world of Flair and Mortal Kombat to life. Dressed as Scorpion he entertained us with and acrobatic display of bottle tossing and a great fatality of some low quality mixers at the end of his round.
Christian truly deserved to win this year and we are all proud of him for his accomplishments both personal and professional.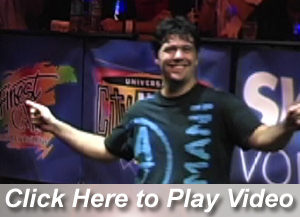 Second place went to Rodrigo Delpech. Rodrigo had the second fastest speed time and came all out to beat his older brother.
Rodrigo pulled off some gravity defying moves that I'm still trying to figure out. Along with his attempt of SEVEN BOTTLES and his Mission Impossible inspired specialty routine, he is giving his brother a run for his money.
The next time these two meet, expect no mercy from Rodrigo!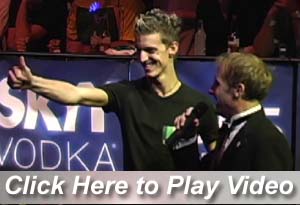 Third place honors went to Dario Doimo from team Italy. Dario had some intense hair and some intense routines to go along with it.
Most of you might remember Dario from the FBA Triple Challenge DVD where he surprised everybody and made the finals. If you haven't seen it yet, run on over to our Shop page and pick one up today.
Dario made his mentor and brother Giovanni Doimo proud, he was in tears when they announced his third place win.
Tony Cogburn and Toby Ellis were there capturing every moment of Flair history which will be on DVD by Christmas. The Barbacks did one hell of a job by keeping the show moving ahead of schedule all night. This was helped by the use of three Flairco portable bars during the Flair round. While one was used for the competitor on stage the other two were being prepped for the next two competitors so they could just wheel out there bar when it was there turn. With Glen 'Pinky' Cohen setting the bottles, Jamie Cosgriffe prepping the bars, Matt Mochida and Casey Schlothauer at the speed bar and 'Big' Mike Graves and Cache 'Copter' Bouren barbacking the stage all bases were covered.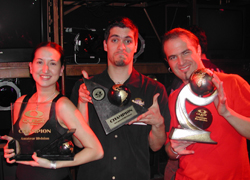 The judging panel that consisted of Brian Loukmas, Chico Garcia, Rick Benton, Luis Herrara, Andrew Stroh, Chris Reynolds, Jason Tremper, Bill Long, Grant Riel, Tug Van den Berg, Eric Holbert, Bryan McCall, Shawn Greco, Mark Shultz and Mike McLean and Jd Spradlin as the voice of Flair.
Big thanks go out to John Niekrash and Skyy Vodka, Finest Call, The FBA, Malibu Rum, Bols Amsterdam, Flairco, Barproducts, Spill-Stop, Pat O'Brians, The Groove and Universal Citywalk.
Extra big thanks goes out to Jim Allison and Ken Hall who together are a force that can't be stopped. Stay tuned for the FBA 2005 Flair Tour.