PLEASED TO 'MITSU' – Team Japan sends us Mitsuhiro Kaneshiro
Updated: November 1, 2004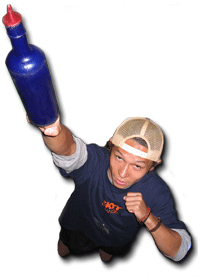 It seems that at every major Flair bartending competition there is always one dark horse. One person that nobody has seen before, that just amazes everybody with there style of Flair.
This time it was Mitsuhiro Kaneshiro, all the way from team Japan! We sat down with 'Mitsu' who barely speaks any english and let his actions speak louder than words.
Where are you from? I'm from Japan.

Age? 23 years old.
How long have you've been bartending? I have been bartending for three years.
And Flair bartending? I have been Flair bartending for three years.
Where do you work? I work in Yokohama for TGI Fridays.
Who got you into Flair bartending? Motohiro Oota and Tomoyuki Houjyou where the first ones to teach me.
How did you start learning to Flair? I started off watching competition videos.
How often do you practice? I practice everyday for three hours.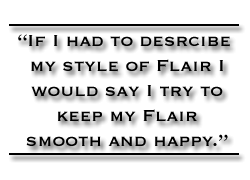 Describe to us your style of Flair?  If I had to describe my style of Flair I would say I try to keep my Flair smooth and happy. 
Who do you look up to in this sport? Some of the competitors I look up to are Mr. Christian Delpech, Mr. Fabio Milani and Mr. Ian Bartos.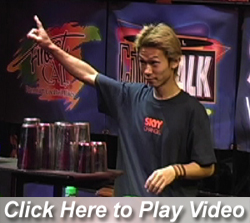 What do you hope to get out of Flair ?I hope to get the highest pleasures and infinite possibilities!
What are your plans for the future? To someday work at a Flair bar in Las Vegas, Nevada, USA.
Pictured right is Mitsu at the recent Quest tournament in Orlando, Florida USA. Click on his picture to see him in action.
What advice would you give to some of the new people who are thinking of competing? Have fun and put on a show with entertainment!
Tell us about your first Flair competition and your experiences there. What were you feeling? Did everything go as planned?  My first Flair bartending competition didn't go exactly the way I planned. It was a very stressful and not a success.
What Flair bartending competition are you planning on competing in next? I want to try my luck at the Legends of Bartending organized by Ken Hall!
What is your favorite drink? My favorite drink would have to be Malibu rum and pineapple. I love the taste of coconut!