ON WITH THE SHOW! – Chris Fetter Interviewed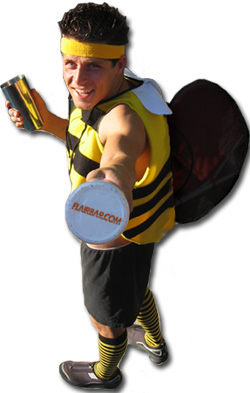 Buzzing through the Flair scene with unforgettable performances is Mr. Chris Fetter. He has been around since the days of the original "Quest". Incorporating personality with Flair skills he has competed in over sized bumble bees outfits and as Superman in speedos. We caught up with Chris and he opened up to us about his take on Flair and what he is doing to help it grow. Enjoy!

Age? 26.
Where are you from? Dana Point, California.
How long have you've been Bartending? Five and a half Years.
And Flair Bartending? Five and a half Years.
Where do you work? Kahunaville inside Treasure Island, Las Vegas and RA Sushi.
What got you into Flair Bartending? Watching a TGI Fridays comp when I was a Busboy at Fridays. That got me hooked.
How did you start out learning to Flair? Asked bartenders at my work to show me a few things then I took some bottles home and taped them up with electrical tape so they wouldn't break. Then I finally found out about the Flairco Flair bottle.
Why do you Flair now? People come to Las Vegas to be entertained, so that is one of the reasons, but I also do it 'cause I like it so much that it's just natural now. I cant just hold a tin or bottle  in my hand without spinning it around. It brings excitement and pleasure to my job.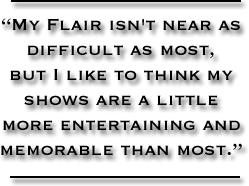 Describe to us your style of Flair? My style of Flair is a little different from most. Before most people are ready to compete they want to make sure they have there moves down, I'm totally different than that. I like to make sure I have a good theme and outfit ready before I compete. My Flair isn't near as difficult as most, but I like to think my shows are a little more entertaining and memorable than most. Correlating my outfit with music is what I like to do, I think it's more fun for someone who really doesn't know much about Flair. Instead, they can just sit back and watch me make an ass out of myself.
Tell us about the Vegas  Flair scene and in your opinion, with all the Flair bars out there do you think its a good thing or a bad thing? With Las Vegas having so many Flair bars, I think it's good and bad. I think it's good because that just means Flair is growing as a whole. Also there are so many good Flair bartenders out there now a days it's nice to have a place for everyone to work and live in the same area so they are more inspired to practice more.
The bad thing about all of these Flair bars is that sometimes people will go to a bar with someone who is new to Flair and they want to show off all their moves to each and every guest which means people are waiting too long for drinks and in a way giving Flair bartending a bad name. The other bad thing about so many Flair bars in Las Vegas is that coming here as a visiting Flair bartender, you have so many places to go to to say hi to everyone. It gets tiring trying to visit everyone on all different shifts. Back in the day all you had to do was go to the Voodoo Lounge and you were set.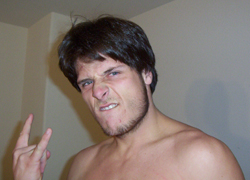 What makes you stand out from other Flair Bartenders? I think my showmanship makes me stand out from a lot of other Flair bartenders. I think I'm more willing to make an ass out of myself then every one else. Hey man whatever it takes to give 100% guest satisfaction!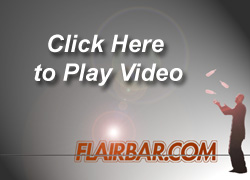 What do you hope to get out of Flair? Well since I have been Flairing so long, I have already gotten a lot from it. I already moved 300 miles from home for it. It's taken me to Europe and I have met some of the coolest people from it.
I have friends all over the world now and a great job that I have fun at day in and day out.
What is your favorite Flair Bartending competition? My favorite comp would have to be Tommy Rockers comp cause it's so kicked back, you just go there to have fun, plus it suits my style so well. There are a lot of good comps out there, but I work so hard at them and one minor screw up can take me out of the running cause everyone is so prepared and they are just too intense. But those comps really showcase bartenders overall ability.
Who do you look up to in this Sport? I look up to Nicolas St jean. Wow, there are a lot of people I look up to in this sport. Mig is just amazing. Tom Dyer, Adriano, Francesco, Rodrigo, Christian. St jean for his originality and creativity.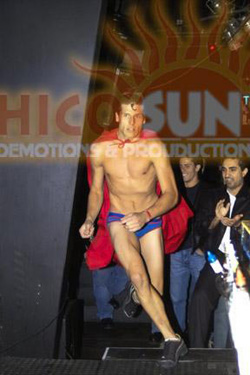 Probably most of all though, Rene from Carnaval Court. He never competes, but I think he is the most entertaining person behind the bar I have ever seen. He entertains without even touching a bottle or tin. I could seriously watch him for days. Plus every time I go to see him, he's always got something new. His Flair to work ethic to personality is amazing.
Tell us about where you work? The Flair bar I work at is Kahunaville. I work aside some of the best Flair bartenders in the world. I look one way and there's Erin Connelly, I look the other way and there is Tony Cogburn and behind me is Mike Taing. There is some serious entertainment right there. Who is not going to have fun when they walk into a bar with those people working? It's a fun place to work cause the management is so laid back. I think we have a good crew so the management trusts us and let us go for it. At night we have a DJ that interacts with the crowd and we put on Flair shows a few times a night. We are like a tropical island party bar. And trust me with the staff we have, it's a party!
You recently were awarded the FBA Naked Schultz Award, Tell us about the competition in Chicago and how you won this prestigious award? Hahaha Chicago, good times. I actually went there 'cause I'd never been to Chicago and I went with Josh Carpenter and Robyn Closson to watch but got talked into competing. So since I had no outfit or theme I just decided to get naked. I used the persons music before me and took  my shirt off, as always. Then put a sponsors banner over me then teased like I was going to take off my pants, well lets just say I didn't tease for long. Off came the pants and there I was trotting around the bar in nothing. (Thanks for the video edit Tony C.).
What are your plans now? Well I was going to school when I lived in Cali but since I moved out to Vegas I have been so content with Flair bartending I haven't gotten back into it yet. I figure I have a few good years of Flair bartending left in me before the young ones come along and take my job away from me. I still want to travel a few more places and what better reason than Flair?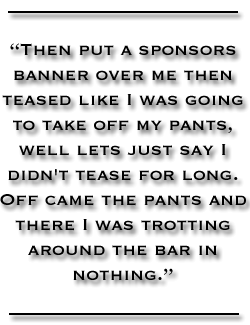 I think it was Legends 6, during the qualifying rounds. You ended your routine with a Superman cape, tiny Superman underwear and a big smile. How did that routine come about and what were you feeling as you were performing? That was a fun routine, plus it's familiar to everyone, cause we all know who Superman is. I decided I wanted to do a Superman theme and I like to get naked so I got rid of the tights and preformed like that. Threw some music together, combed my hair into the Clark Kent look and went for it.
During the routine I was actually flustered cause I had spent so much time practicing for the speed and pourtest round that I just kinda hoped my Flair would be alright, Well I had a couple of screw ups and I'm very critical of myself during a routine. If I make one mess up I think I had a bad round. But when it was all finally over, I had a good time and knew that the audience enjoyed it as well.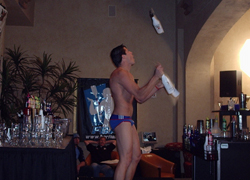 How often do you practice? Depends if I have a comp coming up and which comp it is. When it's a Legends comp if I'm not working or sleeping then I'm practicing. Otherwise I get a lot of my practice done at work. Which is a lot cause I try not to take any days off.
What is your advice to some of the new people wanting to get into Flair? Practice a lot and get together with someone that understands Flair and comps are a great idea. I was lucky enough to train With Mark Schultz and Ed Hibbert for my first few comps which really helped me understand the rules of comps and what the judges are looking for. Practice practice practice.
Tell us about your first Flair Competition and your experiences there, what were you feeling, did everything go as planned?  My first Flair comp was Quest the year that Christian Delpech won the Rookie Division. I went in really nervous 'cause I got to meet all these people I had watched on Flair videos for the first time. Alan Mays, Ken Hall, Bill Long, Ian Duncan. I was in shock I couldn't believe I was at the same place as all these superstars.

Since I had been practicing with Mark and Ed I was more prepared than most people there and I ended up missing the finals by nine points. Thank god I didn't make it 'cause I had no routine for the finals. That comp was more than I expected from it. I did better than i thought I would ever do. Then my finish helped me get into the next Legends. 
Tell us all about your involvement with the MTV show "Made" and what you have been doing with them? TLC followed me around for a month for a show called "Faking it". I was teaching a guy who had never bartended before. I had one month to teach this guy not only how to bartend, but how to Flair bartend.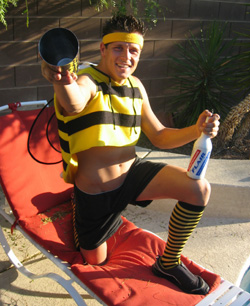 At the end of the month he was to go up against three other Las Vegas Flair Bartenders and try and fool a panel of three judges. First off it was quite an experience. I didn't realize how much you have to breakdown moves for someone who had never seen Flair before.
The guy Rich lived with me for one month and Tony Cogburn and I were both his mentors. The days were long. We had 10-12 hour days of filming. So when you only have a month with someone and you have to spend a lot of your time filming stuff that's not Flairing it makes it that much harder. Plus after driving from place to place filming different shots then going to work it's hard to have the energy to spend 4-5 hours teaching someone Flair who hasn't been practicing on there own time like when I'm at work.
I like to call it the disaster. Let's just say that the guy was ill prepared by the time the comp came around and did alright on certain aspects, but one of the judges asked each bartender a question that a normal bartender might not know. So that was another spot where the guy failed, his lack of knowledge. Overall it was a fun experience. I just wish I had a full month to teach him Flair rather than running around Las Vegas doing little odd jobs.
When can we expect to see the episode air? The show should be out anytime now on The Learning Channel. Should be out this month, but I don't have an exact date.
If you couldn't bartend anymore, what would your line of work be? If I couldn't bartend anymore, well I think I'm going to be a teacher one day.  That's what I'd like to do eventually but like I said before I'm very content with what I'm doing right now. I'm not ready to take the pay cut yet. So while I'm still capable I'm still going to do it.
What is your favorite drink? Bottled Water, Occasionally I'll let myself go with a Diet Coke. Don't drink, Never have.