MASTERING MIXOLOGY! – Cesar Romero Interviewed
Updated: November 1, 2008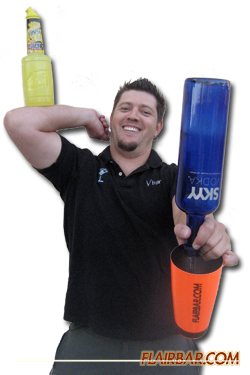 From starting out watching videos and being in amazement from watching his heros in his first live Flair bartending competition to competing along side of them and beating some out in Mixology competitions…
Mr. Cesar Romero
. Breaking into the Miami Mixology scene and quickly building his repuatation along with his diverse drink menu and now in the pages of
Flairbar.com
, we get to know a little more about
Cesar
with
"Mastering Mixology!"
as he shares with us his insights on the world of Flair bartending… So sit back, relax and indulge in a
Skyy
Vodka
,
Midori
,
X-Rated
or
Finest Call
cocktail and enjoy…
Age? 36 and counting down.
Where are you from? Born in Caracas, race in Margarita/ Venezuela.
How Long have you've been Bartending? 15 years.
And Flair Bartending? 5 years.
Where do you work? V bar an off promise catering, bar consulting and bartending training company I run myself.
What got you into Flair Bartending? Like everybody else, watching someone who knew few tricks and had this virus of Flair, and I just got infected too. We work together for couple of months his name "Mike" he told me that he knew some cool stuff from his friend in Vegas (I don't know who he was, never meet, never knew his name) so he spoke also about the FBA and he teaches me couple tricks with fire. After I log in and got my membership over the FBA I saw this video on Food network TV "The WFBC" when Alan Maze got first place, Ed Hibert 2nd and Christian Delpech 3rd place. Some other good names came up to the top 10 but the history itself behind every single bartender their achievements and the performances just got me hypnotized, right after in West Palm Beach another comp the first one I saw in person "BarWars IV",  wow that blow my mind.  So I decided to join this sport and got into my first competition WFBC 2 hopping to be on TV. Thank God it didn't happen… I got disqualified, but here I am enjoying  doing what I do and learning more every time about this Flair Life Bartending experience.

How did you start out learning to Flair? Right after BarWars 4 in Boynton Beach, it was like watching videos of your favorite band and then going to one of their concerts, seen this thing live just get you more interested so I decide to buy my first Flair bottle  and start hitting myself unconsciousness.
Tell us about the Mixology scene in Miami? The Mixology scene in Miami is just starting and will become a very attractive way to show off over the bar industry, few lounges  are already putting on a scene the perspective and they have find out that is a really good thing to do. The mixology is in the up rise at the moment and we'll see more places with great ambience and delicious drinks to cheer with…
In concern about the top bartender Absolut experience I would say that it was a such an amazing time I have there because the amount of bartenders and the diversity of styles makes the whole thing more  difficult. The event was full of energy and great moments specially when me and my mates started to craft our winning cocktail, hard thing not knowing any of them but 30 minutes to create a drink wasn't easy either that night.  Food pairing is such a big deal specially when you don't have a clue what is going to be your dish, from appetizer, main course or desert any of them was a surprise. We got the appetizer (soft shelf crab from main, Crab cakes with avocado sauce and Cajun spices). One of my partners was rushing himself to devotion and ingredients the other one very helpful with the garnishes and concept and me enjoying the whole event I came up with a drink simple but very well balanced just to have our options because the time wasn't enough. For my mates the other drinks couldn't get ready for final testing so we decided to use my drink, helping in the decoration and presentation of the drink my mates and me give away our baby  having the chance with it to have the first place that night … Awesome!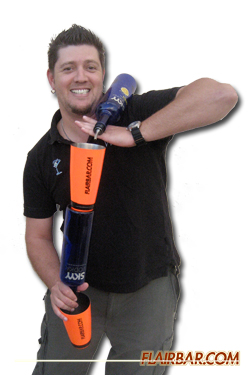 The Judges talking about the ingredients and garnishes make us feel that hard work had its recognition, a beautiful "Julep" (strawberries, basil and mint leaves muddled into a Boston shaker with 2 parts of Absolut vodka, 1 part of St. Germain, a dash of rose syrup, sour mix, my crazy ingredient honey ginger and aloe syrup all this shake and fine strained into a tall skinny Collins Glass garnished with a strawberry, basil leaf, black crushed pepper and ground cinnamon, making the "Swedish mate" the number one in the event … Sweet!
Describe to us your style of Flair? Wow I'm trying to describe it to myself to, but I always want to show a combination of styles or moves creating and using my own to make it fun and different. So I would say is… Fun and different.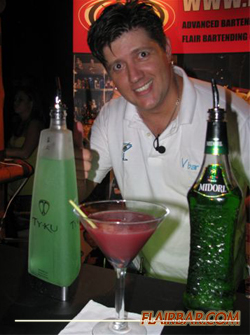 What makes you stand out from other Flair Bartenders? Dedication and love for what they do… keeping in mind that is a great thing to do what you like, love or want and developed as part of your lifestyle not just a moment of fashion.
What do you hope to get out of Flair? Lots of knowledge, good memories, friends, experience, a of couple trophies and with that I'll get some other stuff… like a good job, good money some chicks if I was single and with that I'll get some other stuff like… you know my friends, you know.
What is your favorite Flair Bartending competition and why? Hmm.. I like Quest a lot for the speed round and go to Orlando for 3 days just for that… and being my first comp you know kind of got a little sticky, but the Flair Bartenders Shakedown  gave me the reason to improve my Working Flair so I would say those 2… Quest and Flair Bartenders Shakedown.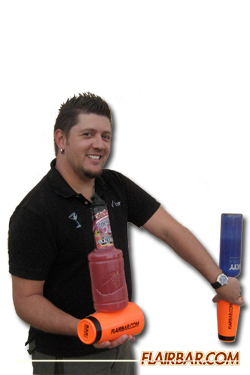 Who do you look up to in this Sport? Few people who really get this seriously to improve every year and keep been good people, the ones who consider the sport as real as it gets like Luciano Pontiroly who is a guy that whatever it takes he achieve his goals or Rodrigo Delpech who is so passionate for his wife as for his job and always makes a representation of it like Salvador Dali, or Mauro Garrido who enjoys his passion for Flair and makes it look as easy as  it is for him going around the world having lots of experiences becoming a piece of himself like Pablo Picasso or Rodrigo Cao who's specialty rounds are part of  an extraordinary fusion into acting and art of scenes dancing and Flair make him a Marcel Marso of this sport, and few others too like Tom Dyer or the French rebellion Nicolas Saint jean or Sebastian Ogic, well, few others …
Also a great mixologist an very good Flair bartender Oscar Perez whos devotion and passion make him more complete is someone who has plenty of knowledge and experience to combine the two things and still being a master is like a perfect martini de best of both worlds, so that makes him the Van Gogh on this. Just regarding Mixology I  would say Emanuelle Giacolleto aka "Manu" who is a great Mixologist with  lots of ideas and amazing balance drinks but Flair has been his passion just for watching make him more type of Davinci kind of person… these are really the bartenders that I look up to and stand for.
Why did you compete at Summer Flair 3? Because is  one of my first comps too and there is a lot of fun just going to West Palm Beach and Club Safari. The accuracy round makes a good part of it then the Flair Trick contest is so freaking amazing, you get that idea of have to kick some butt or yours is  going to be kicked. More of it is the moment you share doing it, and then the Flair… just relax and enjoy every minute because it is to complete so you better have to get ready for it, and when you get into finals they put a huge screen behind you with your profile and the interview, that got me so emotional…
Tell us about your experience at the Midori & Ty Ku mixology competition during Summer Flair 3? Very nice, I like it… Mixology is my passion and the opportunity was there the ingredients very nice, the judges very nice. I like it first of all when I got into the Ty Ku webpage to get a little more info about Ty Ku and I got surprised of the product and the ingredients  and the concept. Already knowing Midori was a little easier but combining them took some research finishing with a beautiful drink to be judged by one of my favorites Mixologist and one of the hottest judges we have were Dean Seernels and Janelle Smithers who every year Summer Flair is on they take care of this responsibility and judging carefully what it takes to recognize something good.
"The Okusan" which means (the one who remains at home, the Samurai's wife) blending 2 parts of Ty Ku, one part of SKYY Cherry Infusion Vodka and 0.5 parts of Midori muddling blue berries, mangosteen fruit, adding a dash of lavender syrup and sour mix shake it and fine strained into a martini glass garnished with violet petals and a fine lemongrass stick to stir the meaning of a fine Japanese well crafted cocktail. The meaning of this cocktail was very well understood by the judges. I'm glad they love it. High five!
What are your overall thoughts on Mixology and the history behind it? The art of combining elements and preserve the integrity of the ingredients, the reason to mix, creating a fusion of elements that combine between them could have more properties, that is the meaning of this, the history I know or the one I conceive is that one which is seen as art and science giving something more in a mixture of elements adding something else to what already has a soul but dressing it with enhancements and more power. It's like a concert of classical music, a solo of piano is great but imaging that piano in a company of violins, cellos, trumpets… I think mixology since the ages has played a powerful part in the discovering of medicine in the creation of perfumes in the game of love in the circle of colors so if you get to know how to mix it, then share it with the world and respect the power of it!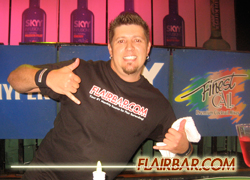 Where do you see the future of mixology going? Far, far away this is just starting. Well I mean just imagine all this advancement in technology and the inclusion of new techniques and products and all this research about new fruits, herbs, plants, you can keep counting all the sources you will have, the organic era bringing back the infusions, it's so extensive that it makes me realize that everyone who gets into Mixology will reach an important level of knowledge and it will help them to make things healthier and better.
How often do you practice? When I had my garage I used to practice 2 hours a day, 5 days a week… but the mortgage thing didn't go so well. So I said bye to my apartment and garage. Now I rent a beautiful apartment that has a park near by  were I really enjoy going there to practice, specially in this season. I would say 2 hours a day 2 or 3 days a week and for competitions. Like 3 hours a day at least 5 days before the comp. Practice is something that I realy have to do at least once a week otherwise what's the meaning of this?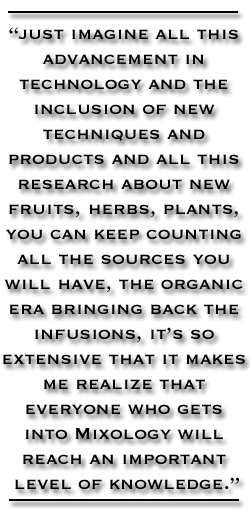 What is your advice to some of the new people wanting to get more involved with mixology? Research and research that's the key once you have some knowledge. Still you can have some failures so the best way to mix is knowing every single thing you are mixing, tasting every time you mix anything, get use to aromas and flavors and colors that way you can save time when you have to choose what to mix and more research once again everything has a reason and mixology its main reason is to have a lot of them.
Some really cool books are cooking books you can take some hints out of them in recipes for deserts and also help you to understand food. Some other books like Mixology from the master Dale Degroff who talks about crafting in a simple way everyone can understand, books about fruits, vegetables or any source  of information regarding any edible thing, different cultures or countries and spend more time in the supermarket reading about products and get to know them that way you can identify any possible match in what  you're trying to mix.
Tell us about were you currently working and the drink menu you are helping prepare? Well I'm doing consulting for a new restaurant call Enso located on Lincoln Road in South Beach, Florida. The Kitchen is command by Chef Jacob and a great staff of other chefs who dedicate and create an innovating menu using all kinds of new techniques and processes to develop an elegant concept in a new culinary proposal. I got involve in the bar area meeting myself with an extensive and selective group of champagne, wines and spirits from all around the world adding to it the freshness of the best ingredients, herbs, fruits and pulps that help me to combine together in the creation of a selective and unique cocktail menu for this unique place.
Involving all this into a classic and versatile concept I dedicated myself into each drink and ingredients to maximize the experience of our customers.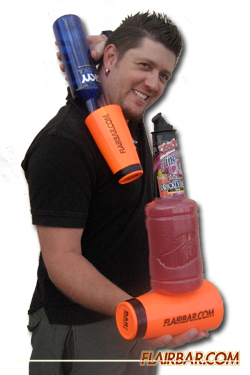 In your opinion, what makes a good mixologist? The knowledge, humility, the ability to express and create, the simplicity of balance, and good sense of humor…
Tell us about your experiences competing in Mixology competitions? The excitement is incredible, the curiosity huge. It's amazing being in a place surrounded by people who have the same passion but different ideas. Suddenly you find yourself running all around trying to get the best ingredients for your drink the final work and the presentation some times is a killer factor. You watch the devotion and the master pieces and you judge yourself to the limit specially when you think your drink is fresh water for the goddess and you want to win so bad. My experiences have gone from the saddest to the happiest  but some times is not what you want. So far I have won 7 of them, 3 in my country of Venezuela and 4 in USA. They are not enough I would have to involve myself more into this world especially now when new visions make this art more interesting.
If you could help influence Flair to change our sport somehow what would it be and why? Developing messages into our routines, giving a meaning of it and using it as propaganda for what we want to say.
How do you help connect with the crowd while you are on stage and how is it different from when you are at work behind the bar? In a competition you connect with the crowd by using Eye contact and a huge smile, your music gives you the option of dancing with them or for them but the x factor is to keep them with you all the time by being nice. At work you have more contact with your people so you also can talk to them, so putting on a show at work may be easier. That's why you better be with your people all the time, at work and inviting them to your competitions.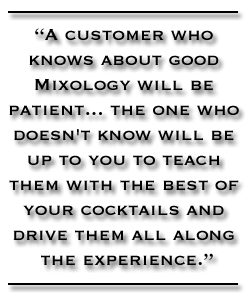 Do you think being a good mixologist behind the bar has to slow down your service as well? Doesn't really have to slow down your service but a really good cocktail might take a couple more seconds than a regular drink. To help prevent this to happen you must be ready to work faster, have all the tools you need to be successful in a high volume place, a station which has it all, more than enough ingredients and preparation to run an efficient shift, have a team who shares the same view and have dinner before you start to work. A customer who knows about good Mixology will be patient… the one who doesn't know will be up to you to teach them with the best of your cocktails and drive them all along the experience.
How would someone learn more about mixology and what is capable in the art of crafting a fine cocktail? To learn more about Mixology takes investigation constantly. It's about to study any single aspect of what you are doing from the ingredients, to the glassware, to colors and aromas, countries, regions and people. It's taking the time to combine all this and make a fusion of elements the artistic way. In representing the point of view of each different Mixologist… if the passion reflects from and out of the glass, then you will know that's a perfect cocktail.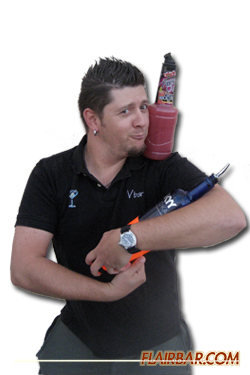 What are your plans now? Keep learning more and try to fulfill my life with experiences and finish my master degree in the food and beverage industry.
What obstacles do you see our sport of Flair bartending encountering in the near future and in your opinion, how can we overcome them? Some establishments and liquor products are afraid to be involved with Flair probably because the cost or the risk that is involved with it. I've seen and heard from managers and liquor vendors that for them is to risky or is not the way they want to show their things. As far as Flair bartenders keep training and improving every time I think everyone would love to get involved with Flair and the power of our sport represents for the industry. Besides I don't consider any other obstacle, maybe some people think about the amount of Flair bartenders could be a problem for being too many but I see it as a challenge.
Are there different avenues for sponsorship that we should pursue? I never had a "sponsor" but I had wanted to be in a nice team that at least gave me the tools I needed and be represented by a name. I think to pursue that meaning the bartender would have to be ready and well prepare to represent any brand, name, team or company. Be sure that his skills are perfect match for what the company wants to achieve and dress up the back of your t-shirt and consider it as yours be like that and act for that because they will give you the option to help you later on, is risky but it works some times.
Do you think corporations and sponsors investing in Flair bartending is an effective way to promote and educate their products and why? Of course, you know how much information about brands and companies a Flair bartender talks about it and gives away? It's built up in many steps, the image of the Flair bartender and the product together then the special events are both involved to show off with amazing style the useful way of the product. Also once the bartender is involved with the brand he just passes on information about how great this company is and other Flair bartenders follow it because they like what they see and the same happen with owners of establishments and this keeps going.
Then competitions is the best way to promote. Advertisement is huge and the people get to know about the brands and see the Flair bartenders using their products makes the people follow the current and when we notice everybody is drinking SKYY Vodka Infusions or Finest Call mixes… but for me everybody should invest in Flair, even Puma or Nike that will be freaking awesome!
What is your favorite drink? Rusty Nail: 3 parts Pinch, 1 part Drambuie… or Pinch on the rocks garnish with a slice of cucumber with coconut water on the side, I call that one tropical C's… cheers!