LVFA Margaritaville World Flair Bartending Championship
Updated: December 1, 2014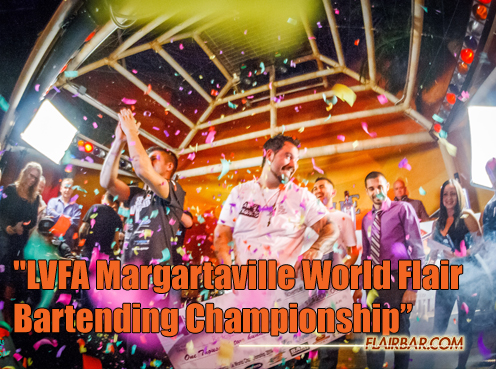 (LAS VEGAS) The world Flair fans were once again treated to a high energy night of bottle tossing entertainment in Margaritaville bar on November 13, 2015.
Now on it's second season, The Margaritaville Championship was organized by L.V.F.A (Las Vegas Flair Academy) with the support of sponsors De Kuyper, Pinnacle Vodka, Red Bull LV, Barproducts.com, Cruzan and Finest Call.
The LVFA team selected industry professional to ensure fairness and accurate scoring. These judges were, Paul Nguyen, Carlos Lomeli and the inventor of Flair bottle himself – Dean Serneels.
For the Qualifying round, both advanced and Pro contenders were required to Flair 1/4 full bottle (Qualifying round was Working Flair only). Advanced competitors were allowed to Flair no more than 3 objects for 3 minutes whilst Pro competitors were allowed to Flair no more than 4 objects for 4 minutes.
Both Categories were required to make a "Dutch Mojito" for the Qualifying round.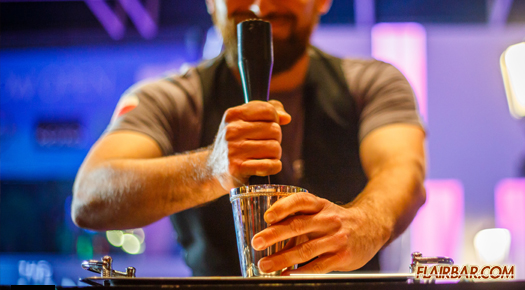 "Dutch Mojito"
-1oz De Kuyper Triple Sec
-1oz Cruzan Rum
-1/2 oz Finest Call Lime juice
-1/2 oz Finest Call Bar syrup
-Soda
-3 sprigs of mint
Glass: Bucket/ Collins
Garnish: Sprig of mint, 2 orange wedges, a handful of red fruit & dust of sugar powder.
Method: stir/ swizzle
For Finals: Additional 2 drinks. Pinnacle vodka – Redbull and a shot of Margaritaville liquor.
Score System for both divisions:
Show: 30 points
Smoothness: 20 points
Music Interaction: 10 points
Difficulty: 10 points
Originality: 10 points
Variety: 10 points
Overall, sponsor and cocktail presentation: 10 points
5 point bonus for a "0″ drop performance
Deductions:
Spill: 1 point
Empty bottle Flair: 2 points
Drop: 3 points
5 point deduction for every drop after 3rd drop.
Breakage: 5 points
Missing ingredient: 2 points
Not attempting Finest Call Stall: 10 points
Too many objects: 50 points
The Margaritaville Championship got off to an energetic start as Alexey Balashov (LVFA trainer), Danilo Oribe and Vladymir Buryanov (both LVFA co- founders) put a great show themed "Breaking Bad".
Then the semi-pro finalists
Click "Play" on the video above to watch Kyle Poli's 1st place semi-pro round.
Click "Play" on the video above to watch Aslan Apazhev's 2nd place semi-pro round.
Click "Play" on the video above to watch Artem Martynenko's 3rd place semi-pro round.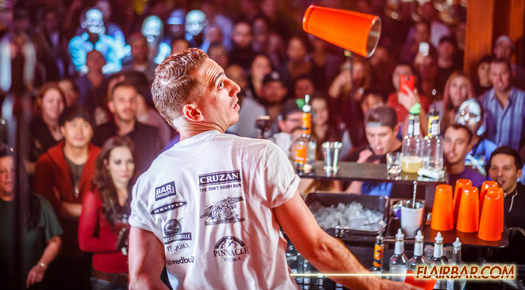 CLICK HERE to watch his full round.
Harry Rivera
Harry started a great show themed as a "Latino Gangster" with special appearances of his Puerto Rican connections Luis Ortiz and Manuel Picon. He then Flaired in the tune of Retro and Blue Wave. Good entertainer!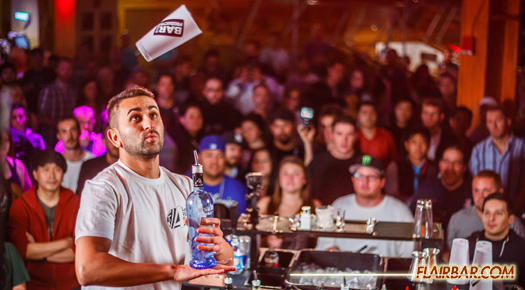 CLICK HERE to watch his full round.
Orlin Todorov
A crowd favorite from Bulgaria. Orlin has one of the cleanest qualifiers round with only one drop. Confident behind the bar and has a good stage presence. He had a smooth and clean Working Flair.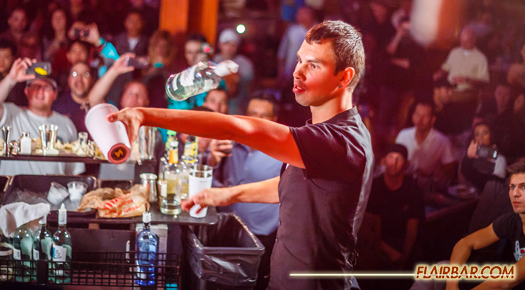 CLICK HERE to watch his full round.
Alexey Balashov
The Flair superstar from Russia -Alexey Balashov. He is the most improved competitor when it comes to showmanship and stage presence. He pulled his 3 and 4 bottle shadow pass and also won the Finest Call Stall by stalling a Finest Call bottle on both his temples.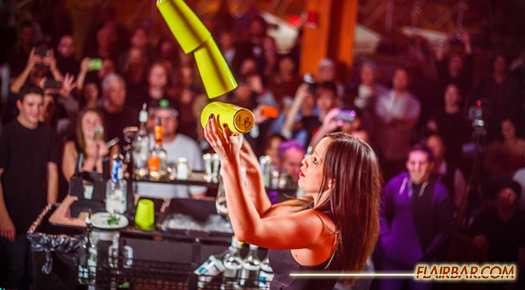 CLICK HERE to watch her full round.
Shay Court
The only female contender that night of the championship. Her flirty and sexy show themed "Single ladies" earned her a spot in the finals. Impressive Exhibition Flair particularly 1 bottle shadow pass with a tap and her 3 bottle juggle.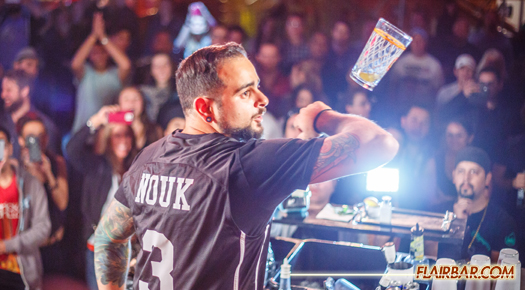 CLICK HERE to watch his full round.
Vahe Manoukien
Flair superstar from Carnival Court Mr. Vahe did an outstanding show themed "Basketball". Very creative Working Flair routines especially when he literally used a basketball in his routines.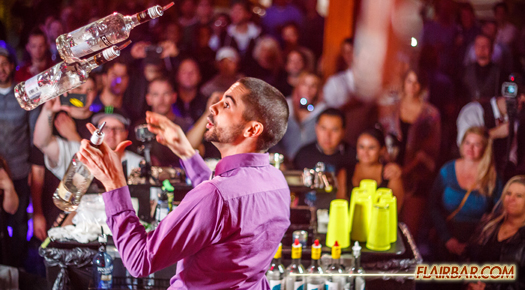 CLICK HERE to watch his full round.
Drago Dichev
Drago from Bulgaria is back! He starred as Jordan Belfort of Wolf of Wall Street. The drug sniffing bartender had one of the liveliest shows that night. Great crowd interaction, music interaction and of course his technical signature 3 bottle Working Flair!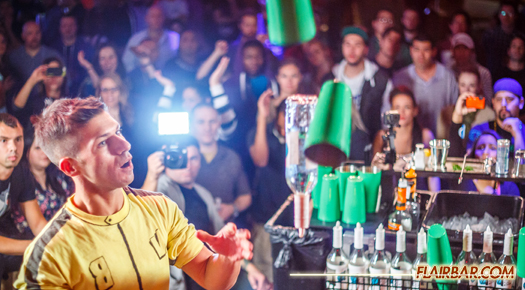 CLICK HERE to watch his full round.
Bruno Vanzan
The Flairing ninja assassin from Italy. Bruno Vanzan's theme was "Kill Bill". Highly technical in his Flair side of the show. His mama called him in the middle of the show but Rodrigo Delpech came to the rescue. Bruno won the Red Bull No Limits Award with his original 5 tins 1 bottle trick.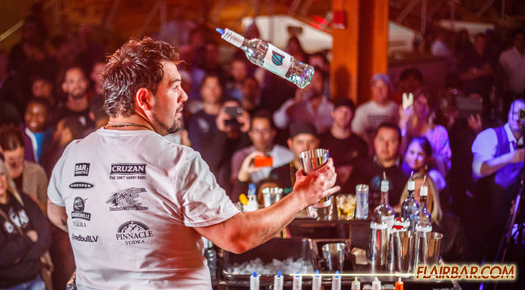 CLICK HERE to watch his full round.
Rodrigo Delpech
The Argentinian Flairing machine successfully defended his crown for the first time. He began his show as he introduced himself as the "Jigsaw Killer" from the movie "Saw". Rodrigo killed it with his 2 bottle 2 tins and 3-4 bottle juggles.
Flair vs Juggling
In addition to the Margaritaville Championship, two talented gentlemen both champions in their respective fields put a historic head to head battle.
On the left corner, Doug Sayers who is a world champion juggler from Cedar Rapids, Iowa. He is the only person who has won all solo number competitions (balls, rings, clubs and bounce juggling) at the International Juggler's Association in the same year and the only person who has won all the advanced short programs (balls, rings and clubs) at the World Juggling Federation in the same year, which he did two years in a row.
On the right corner, Danilo Oribe from Uruguay. Under his record is more than 50 1st place finishes in more than 30 countries (national, international and world championships).
Round 1
Danilo started with his Working Flair sequences such as 1 bottle 1 tin, 2 tins and 1 bottle and finished off with his 3 tins and 1 bottle. He used a real bottle with 1/4 full liquid in it.
Doug's turn. For starter, he showed his 5 ring juggle then turned into 6 rings. He was impressive for he finished both sequences without any error.
Round 2
As both gentlemen warmed up during the first round, the following routines became more technical.
In this round, Danilo Oribe utilized his exhibition 1 bottle 1 tin then followed by his 2 tins 1 bottle.
Meanwhile, Doug Sayers showcased different juggling patterns. He utilized his body parts such as neck and legs. He impressed the audience with his under and between the legs juggling.
Round 3
Danilo came back with a more difficult set of routines with smoothness. He showed his 4 tins 1 bottle. He was very entertaining as he Flaired to the beat of his music with his 2 bottle and 1 tin moves.
Doug juggled a different object this time – 5 balls. He did some crazy patterns with 5 balls. Some of the patterns that I am familiar were Triangle, Toma Hawk and 360′s.
Round 4
In this round, Danilo showed the world that he is one of the best jugglers in the Flair bartending world and the audience witnessed it. Using breakable bottles calibrated with 1/2 oz each, he juggled 3 and 4 bottles. His patterns were original too. Some Flair tricks were incorporated with his routines such as bump to stall and flats. Also worth mentioning is 3 bottle shadow pass juggle.
Doug responded with a different style of juggling. This time, he juggled 5 clubs while riding a uni cycle! It was one of the highlights of the night.
Danilo cemented the head to head battle with his 3 tins and 2 bottles routine and all were landed perfectly. He then finished his drink and handed it to Doug Sayers as a show of appreciation and great sportsmanship. They shook hands and crowd applauded. Well done gentlemen!
Here are the results:
Advanced Division:
1st – Kyle Poli
2nd – Artem Martynenko
3rd – Aslan Apazhev
Professional Division:
1st – Rodrigo Delpech
2nd – Bruno Vanzan
3rd – Vahe Manoukien
Best Finest Call Stall – Alexey Balashov
Red Bull No Limits Award – Bruno Vanzan
On behalf of the Flair community, we would like to thank all the people who supported and took part in this historic event. Big shout out to the following people who took the effort and time for this historic event: Mariano Gil, Mark Cadawas, Armado Baca, Kenjiro Yanagui, Jason Bermudez, Manny Picon, Zach Zahariev, Ryan Clark, Michael Resurreccion, Kovacs Gyorgy, Luis Ortiz, Colby Ashton, Austin Blatz, Jean Manuel Grina, Rafael Kaplanowski, Phil Piasecki, Peter Micelli, Victor Flores and lastly, LVFA team. We look forward in seeing more of these event soon.
May the Flair be with you!
Ram Ong