Living Legends – Legends 9 Reviewed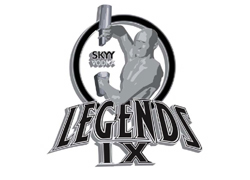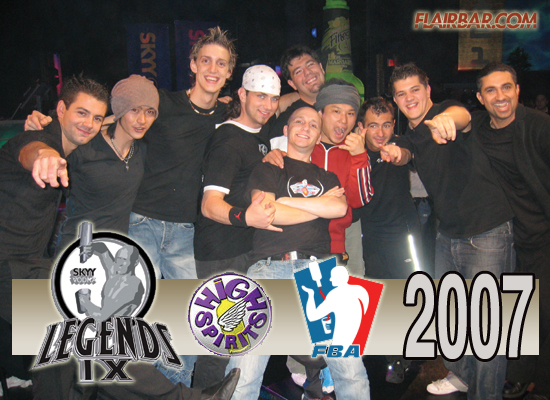 The biggest Flair bartending event in Las Vegas and possibly the world… The Legends of Bartending. This invitational Flair bartending competition covers all corners of the globe as well as most aspects of Flair bartending. From Speed, Accuracy, Working Flair and Exhibition Flair, this competition is designed to find the world's best overall Flair bartender and not necessarily the best bottle and tin flipper.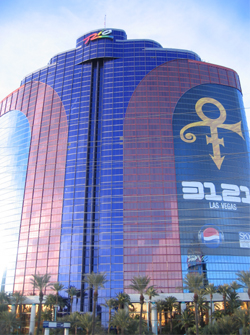 This event is run by High Spirits Enterprises and the FBA (Flair Bartenders Association) and part of the FBA Pro Tour. This year we saw over 60 competitors from many parts of the world with different styles of Flair and showmanship and all brought back to the same venue that started off the first Legends. The Rio All-Suites Hotel and Casino was host venue and back again at "Club Rio" which was now called "3121″ (same club and vibe just a different name) under the same lights where it all started nine years ago. Wow I'm still having flashbacks of Legends 2 with Luis Herrera and his PVC practice bar (before we had the Flairco Portable Bar), Rob Ford and Jason Tremper gambling in the casino and myself losing BIG time on Rick Barcode's full proof roulette plan. Oh well lesson learned the hard way
The prize money went up since then as well as the stakes. $25,000 in prize money was given out as well as some very respectable trophies. It is an honor just to be invited to Legends… but to make the finals is legendary…
So now on to the final outcome…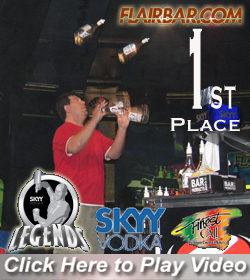 In the end the bartender holding the big check and first place trophy was Rodrigo Delpech.
Rodrigo whole routine seemed to just flow with his music almost beat for beat. It was very entertaining, playful and difficult as hell. He had tow different five bottle sequences in the routine as well as lot of other variety to balance out his whole routine.
Well done and it looks like we may have another dynasty on our hands…
Click on Rodrigo's picture to the left to see a highlight of his round.
Taking home second place and huge bragging rights… Thomas Alley from the "Voodoo Lounge" at the Rio All-Suites Hotel and Casino.
After an unfortunate mishap at Nations last year Tom came back this year to Legends with a vengeance.
Tom has a good American style about him and his one bottle and tin routine flowed smoothly into his one bottle and two tin routine. Having the highest score during his pour test of the finalist and third in the working Flair round help secure his spot in the top of the heap.
Click on Tom's picture to the right to see his American style shine.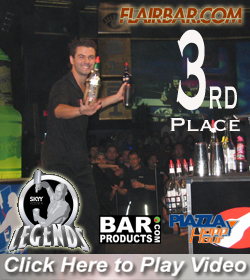 Danilo Oribe rounded out the top three coming in a solid third place.
Some of you might remember Danilo from the December 2004 cover of Flairbar.com which he shared with Oscar Perez.. well now he has the current cover to himself and the skills to back up his reputation.
Danilo impressed the judges and the crowd with some good variety and an incredible Flair round with only having one drop the whole weekend! That coupled with an amazing four bottle sequence landed him the highest score in the Flair round. Not bad for a Flair bartender looking for a job in the states…
Click on Danilo's picture to the right to see this precise Flair machine do his thing.
Moving on to a very emotional victory… Eiji Narita takes forth place honors.
Eiji has a genuine love and passion for the sport and he is just happy to be here as it comes through on stage when he performs.
He hardly stops or slows down in his routine and Flairs just about every object he touches. Keeping his show going and entertaining with very little pauses in between.
Click on Eiji's picture to the right to see a highlight of his non-stop routine.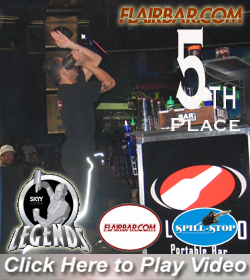 Coming in fifth place again two years in a row was… Vache Manoukian.
Vache or as JD calls him "The King of the Rolls" had some good originality followed by some drops that hurt his overall score.
Never the less Vache had an incredible round and displayed some made skills behind the Flairco Portable bar. Keep your eye on this man as I have a feeling next time he will move up in ranks.
Click on Vache's picture to the left to see a highlight from his smooth rolling routine.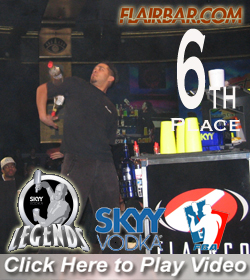 Las Vegas local from Harrah's "Carnaval Court" Justin Keane takes sixth place honors.
Justin has worked his way into the finals of allot of the big comps lately and finished forth in the FBA Pro Tour last year and moved up from seventh to sixth this year at Legends…
This time Justin displayed some strong confidence and stage presence along with some very innovative grabs and bottle manipulations. Well done my friend!
Click on Justin's picture to the right to see the confidence shine.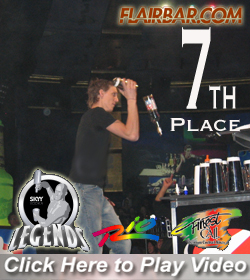 Coming in seventh place with the second highest working Flair score was… Dario Doimo.
Dario has always been a long time crowd favorite to watch because of his unique style and moves.
His two tins and one bottle, two bottle and one tin, and his two bottle and two tins sequences were outstanding and could have ignited the crowd… but an unusual amount of drops kept him from sparking the flame.
Can't wait until next time to see one of Italy's finest compete in better circumstances.
Click on Dario's picture to the left to see a highlight from this incredible Flair bartender.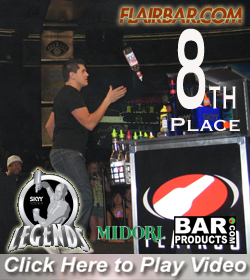 Coming in eighth place and no stranger to the Legends finals… Nicolas Antivero.
Nicolas finished in second at last years Legends and this year put on another great show packed full of variety.
Trying to choreograph your routine to the music is something that is almost becoming a standard now a days in Flair competitions and Nicolas did a good job trying to do so as well. Great job sir and all I ask is that you smile next time
Click on Nicolas's picture to the right to see a highlight from his round.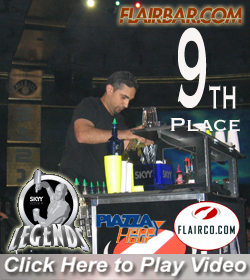 Behnam Gerami comes in ninth place this year.
Behnam has always been one of my favorites to watch throughout the years. He has some amazing original moves but sometimes seems to go beyond his comfort zone at competitions and have more drops then normal. This time he displayed some great original moves with good use of his music.
Behnam had allot of multiple tin and bottle sequences and his two tin and two bottles was fun and fresh. I have to say it… "Are you talking to me…?", "Are you talking to me…?"
Click on Behnam's picture to the left to see some originality from this Flair artist.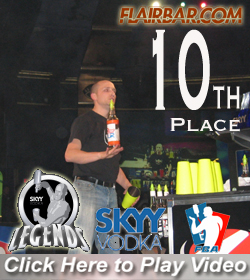 Coming in tenth this year at Legends was… Levi Donaldson.
Levi came to the stage with good music and attitude. A good combination for this event. His two tins and one bottle was electrifying and kept the energy of the room brightly lit.
Some unusual mistakes from Levi in his earlier rounds hurt his overall score but he finished with the forth best Flair score out of the Legends finalists to secure his tenth place victory.
Click on Levi's picture to the right to see the electricity crackle.
Rounding out the the finalists and finishing eleventh at Legends this year was… Koji Ota.
Koji turned in one of the quickest unadjusted times for the speed round early in the day. Then at night it was time to showcase his Flair skills.
He started off his routine with one of my favorite pours from Colin Griffiths "Masterclass" from the November 2006 issue of Flairbar.com.
Then he moved on to some variety with multiple objects and then on to two Galliano bottles. That was cool but what was cooler came next… three Galliano bottles in juggling patterns followed by four Galliano bottles! Amazing….!
Click on Koji's picture to the right to see the Galliano bottles fly.
Here are the final results…
Pro Division
1st Rodrigo Delpech
2nd Thomas Alley
3rd Danilo Oribe
4th Eiji Narita
5th Vache Manoukian
6th Justin Keane
7th Dario Doimo
8th Nicolas Antivero
9th Behnam Gerami
10th Levi Donaldson
11th Koji Ota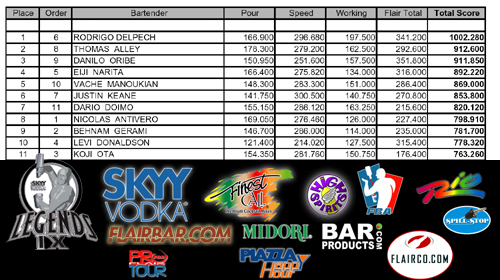 We would like to thank all of the sponsors… Skyy Vodka, Finest Call Premium Mixes, Midori, Flairco, Flairbar.com, BarProducts, Piazza, Spill-Stop, the Rio All-Suites Hotel and Casino, Club 3121 and the FBA. The Competitors and judges. Videography by "Made you Look" and photography by "Red Dawn Media". The event coordinators Jim Allison and Ken Hall… and the men that kept the color commentary and the event moving Mr. JD Spradlin and Christopher "Chico" Garcia!
Thank you to all who participated and supported this event. Don't forget to pick up the "Legends 9 " DVD available soon. See you all at the next event.