KICK UP YOUR 4th OF JULY BBQ WITH A DASH OF FLAIR!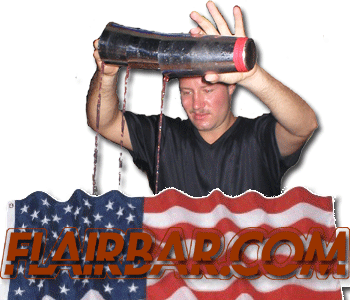 Fire up the grill, pass the barbeque sauce and light some explosives. It's fourth of July Flairbar.com style.
Now that everybody has recuperated from Bartenders Bash, It's time to move on to the next issue.
And what an issue it is! It seems like there are a lot of things in the works for our sport of Flair. While in Tampa filming some interviews for an FBA project we crossed paths with another extreme sport and sat down for some well deserved shots. To find out more check out our 'And Finally' page.
Those of you who weren't at King of the Ring in Las Vegas back in March missed one hell of a Flair competition. It brought out the best of the best from local to overseas talent and even brought a Flair bartender out of retirement. You can check out Rick's review of the DVD on our 'Reviews' page.
For our 'Comp Review' this month Erin Connelly shares her thoughts with us from Austria. Traveling the world doing what you love. How can you beat that?
Many of you know the name Adriano Marcellino. But do you know the real man behind the bottles? What Flair contest keeps slipping through his fingers? Who this legend in the making looks up to? Find out all of this and more on our 'Interviews' page.
When you finish with that see him in action as Adriano teaches us some cool one bottle and tin working Flair in our 'Masterclass' section this month. I already started performing it at work.
In last months edition of Flairbar Nicolas 'Nico' Antivero shared with us his drink of choice. Sex with an Alligator. This caught the attention of one of our loyal readers and now we have the history behind the famous South Florida drink. Read about it on our 'Flavors' page and try one tonight.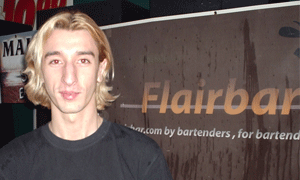 Philip Duff returns as a guest writer for this months article, 'The Home Wet Bar'. Filled with good advice on how to stock yours.
Then on our 'Barware' page we have the scoop on some cool new moves with an object you use hundreds of times a day behind the Bar but often overlook.
All of this plus our regular features, even more 'Links', the letter "K" in our 'Glossary' more 'Upcoming comps' and more Flair than you can shake a Flairco plastic SKYY bottle at.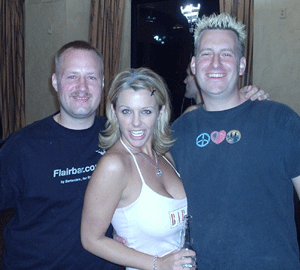 So light some sparklers, throw a steak on the grill and flip the ketchup bottle. Summer Barbeques are here.
To Flair and Friends.
Rob Husted