"It's all Good" – Colby Ashton Interviewed
Updated: February 1, 2014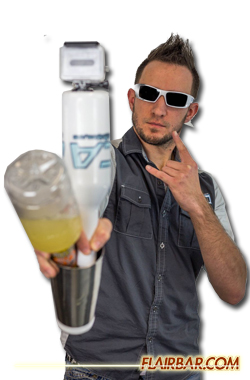 From starting out picking up a Flairco bottle not knowing where it may take him to  competing against the same people he first learned from watching videos of them online… Mr. Colby Ashton Good. He is a fast moving goodhearted bartender and now in the pages of Flairbar.com, we get to know a little more about "Cheese" with "It's all Good" as he shares with us his insights on the world of Flair bartending & Mixology… So sit back, relax and indulge in a Finest Call cocktail made in a Flairbar.com tin sold on BarProducts and enjoy…
Age? 29… till March that is, then I'll be in my 30′s.
Where are you from? New Holland, Pennsylvania… my neighbors were Amish.
How long have you been Bartending? I started bartending full time around mid 2008 at a little restaurant sports bar called The Fieldhouse in Etters, Pennsylvania. Before that I had only bartended for weddings and other private events.
And Flair Bartending? The first time I flipped a bottle would've been around 2006 maybe? Although, a big move for me at that point was actually landing a basic flip to stall haha! I really didn't start taking it serious until roughly 2010.
How did you get the nickname "Cheese"? Before I was born, my mom, Linda, and my brother, Brian, were at a grocery store back home in New Holland.  My brother always liked Colby cheese a lot, and the one day she thought how she really likes the name Colby.  That's how I got my name, and then from there since it's a type of cheese… the nickname "Cheese" tagged right along.
Where do you work? O'Sheas @ The LINQ located on the strip in Las Vegas, Nevada
What got you into Flair Bartending? A friend of mine, Joe Rooney, that tended bar in Harrisburg, Pennsylvania had a Flairco bottle that he'd play around with at work.  Right away I wanted to learn it myself.
How did you start out learning to Flair? The same friend that was working in Harrisburg ended up giving me one of his Flairco bottles after I talked about how I wanted to try it.  From there I just started beating myself up with the bottle (and everything within range inside the house by accident), until eventually I started landing moves.  I watched some videos on YouTube to get ideas for moves and learn more about Flair bartending.  Some of the guys I watched were Rodrigo Delpech, Christian Delpech, Dario Doimo, Tim "Flippy" Morris, and of course… who could forget the old "Hi, I'm Moe Harris here at the Locker Room in Arlington, Virginia" videos.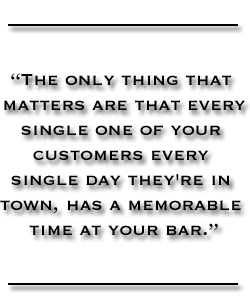 Tell us about the Flair Bartending scene in Las Vegas? What's not to love about a city that's open 24/7? There's constantly new places popping up with Flair bars, and the need for Flair bartenders.  You don't have the big comps here anymore, but the Flair community here itself is very close.  Little comps have been forming, and some guys like James "Franchize" Hadhazy, Vache Manoukian and Tom Alley, that haven't competed in a long time dusted off their old tins and tore up the stage.  More comps will continue to grow, especially with all the younger bartenders coming up that are eager to get on stage.  Working out here, it's brand new customers every day.  Every single shift you work, it doesn't matter if you're having a bad day, or a great day.  The only thing that matters are that every single one of your customers every single day they're in town, has a memorable time at your bar.  Since it's always new people, your crowd is constantly excited for what they're seeing and it makes you feel good that you're helping them have a great time in Vegas.  It's so awesome to walk into almost any bar and see someone throwing bottles around.
What makes you stand out from other Flair Bartenders? I think Ryan "Twatch" Sturing or Rodrigo Delpech could answer this question about me better than myself.  Twatch was a competitor in my very first competition back in 2010, and now out here in Vegas is my roommate.  Rodrigo was one of the judges at my first competition, so they've both seen my progress then and now, and could point out what makes me stand out.  In my opinion, I just have fun on stage to the best of my ability and try to put personality into my rounds.  There have been competitions where I had a bad round or sequence, and just play it off by doing something random to make fun of myself, and in turn, make me laugh so I can get back on track for the rest of the round.  For actual Flair, I'm one of the few Americans throwing 6 and 7 objects in competitions.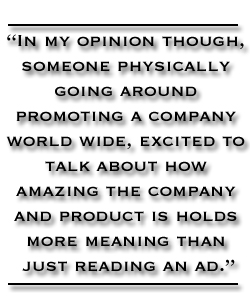 What do you hope to get out of Flair? So far I've been extremely thankful for what I have achieved through Flair.  I was in commercials for ZEV vodka, a promotional segment for Miller Lite, have met incredible people all around North America, and recently traveled around Europe for a few competitions.  Maybe someday I can win a World Championship, but I think it means even more knowing that I've helped other Flair bartenders improve their moves and confidence level.  At some point, I want to run a master class, or put out a DVD that's not just training, but has a whole new card thrown into the deck and stands out from the rest.  I would love to land a sponsorship from Red Bull, GoPro, or Oakley, and promote their products to the best of my ability so I can also compete in as many competitions as possible.  I'd be really excited to represent Red Bull specifically as my sponsor, I love their products, and I've tried to get in contact with them, but it's tough to get through to the right people.  I understand the executives are more satisfied with a simple magazine ad.  In my opinion though, someone physically going around promoting a company world wide, excited to talk about how amazing the company and product is holds more meaning than just reading an ad.  Just for example, Red Bull sends out their Wings Team Members all over.  They set them up with a customized Mini Cooper, plenty clothing, and even more product.  Yes that's promoting the product, but it's not directly helping the sales.  A Flair bartender however, can do even better promotion while on stage at a competition streamed live online all around the world.  You can use them in a commercial, have the bartender land a big move, lights fade out "Welcome to my world, the world of Red Bull".  Then, they have another face behind it.  And for the sales end, who could better push and promote the sales of a product like that better than a bartender?  Here in Las Vegas, on average, 17,700 people are walking on the strip at any given hour on any given day.  Peak hours there is about 40,000 people on the strip at once.  They aren't reading magazines out here, they're going to the bars and casinos.  Guess who can sell them Red Bull?  Sounds like a great potential investment for a company to me, and a win/win for everyone involved.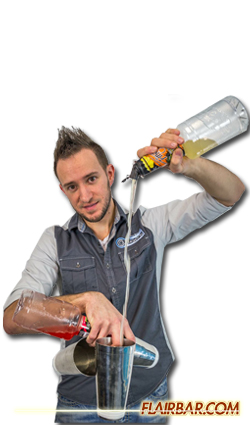 What is your favorite Flair Bartending competition and why? I'd have to say Roadhouse UK vs World, in London, England.  Just to be inside that bar, and step on that stage was a dream come true.  Like the other Roadhouse competitions, there are still 2 spots up for grabs in the World Final, but with this one, it's by invitation only to compete, and it's broken up into teams.  The team captains were David "Ginge" Reynolds for Team UK, and Tomek Malek for World Team.  Throughout the competition, there was random mini events that awarded points to a team.  A few competitors would go, then a quick mini round of Speed Round.  A few more competitors would go, then Bottle Opening… Pour Accuracy… Biggest Move, etc.  It was really exciting to be cheering everyone else on while still competing against them at the same time.  I've honestly never seen a competition where literally every competitor was genuinely cheering on every one else.
Who do you look up to in this Sport? One of my favorite Flair bartenders has always been David "Ginge" Reynolds.  I love his smoothness, and style.  Rodrigo Delpech always has new tricks he'll unveil that never cease to amaze.  Dario Doimo keeps doing the same with some moves one wouldn't think was possible.  Tim "Flippy" Morris is still my favorite bartender to watch work behind a bar.  I've recently become a fan of Slava Belyakov's Flair after seeing him at Solar Flair for the first time.  Ryan "Twatch" Sturing, Levi Donaldson, Vladymyr Buryanov and Danilo Oribe are some of the most humble people you'll ever meet.  I also really look up to my friend Francis "Franny" Gore… he just turned 63, and is a Flair bartender I used to train back in Pennsylvania.  He puts in so much effort and has such a strong passion for the sport of Flair.  Quickly he jumped up and started doing some 4 object moves, which I was very excited to see.  Speaking of move, Franny just moved out here to Las Vegas as well.  Can't wait to see him land a Flair job and fulfill what he wants to do behind the bar!
Tell us about being part of the newer generation of Flair Bartenders and how you differ from the previous generation? In my opinion, if an average Flair bartender today would be able to go back in time and compete for a World Championship, they'd probably win.  Now before anyone freaks out, that's not a insult to the "OG's" of Flair, it's just pointing out that, yes, back then those guys were kick ass.  The moves back then were unheard of and incredible, and Flair bartenders today have been forced to go BIG!  On stages today you'll see a lot of newer guys banging out rounds with 4, 5, 6, 7 objects.  Not just the 1, 2, 3, 4 object rounds of old.  The money payouts aren't as big as they used to be back in the day, so that makes it harder for some people to be able to afford to take off work, travel to a competition, get a hotel, food (and party).  However, some competitions have really been getting great sponsorships coming in, helping to boost prize payouts.  I'm really excited to see what awaiting in 2014, 2015 and on.
What struggles do Flair Bartenders face today that they may not have faced 10 years ago and how are you helping to overcome them? Exposure I would say is one of the biggest.  Today, if you're newer into the scene, it's pretty tough to get your name out there as a "star".  I'm trying to market myself as best I can to get my name out there more.  I'll probably never be as well known as a Flair legend like when someone hears the name Delpech, Olden, Oribe, Doimo, Buryanov, etc… but you never know, "Ashton" has a nice ring to it.
What are your thoughts on Mixologists & Flair Bartenders… Do you see these two disciplines coming and respecting each more or less in the near future? From my experience, I find that Flair bartenders generally don't look down upon mixologists as much as the other way around.  Not saying that it's a lot the other way either.  I think it's great to see guys like Rob Husted putting together competitions that inspire both worlds to come together and teach and encourage each other.  Within a couple years I think we'll be seeing a lot more competitions like this, and in turn, we'll see a lot of bartenders becoming better bartenders overall.
How is competing in cocktail competitions different from competing in Flair competitions? It's like doing my first few competitions all over again… nerve racking as hell!  It's a lot of fun, and it's a whole new ballpark of do's and do not's.
How do you practice and train for Mixology competitions and how does it differ in training for Flair competitions? For Flair competitions, I get a set routine and run through it over and over and over factoring in time for pouring, an accidental drop, etc.  For mixology competitions, I played around with a lot of different infusions and try to learn what goes well with what, testing out how drastic or minor a flavor will affect a liquor/mixer.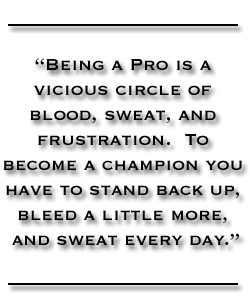 Where do you find inspiration and motivation to practice and compete in Flair bartending competitions? My room is literally just an air mattress, a Flairco bar, and bar floor mats for carpet.  My motivation is that I push myself to be better, and land my moves smoother each day.  My inspiration comes from random things.  I'll see a photograph or a great background and I imagine myself there practicing… "what move would look cool there?"… "hmm, I wonder if it's possible to…".  Then I try it in my Flair room and see what happens.  It can get pretty frustrating having a great idea and being so close, and just not quite hitting the move.  It's hard to keep pushing until you land it, however, when you land it just one time it's all worth it and your back to square one with another move.  "Being a Pro is a vicious circle of blood, sweat, and frustration.  To become a champion you have to stand back up, bleed a little more, and sweat every day." – Colby Ashton
Tell us about your previous bar Legends Inc in Reading, PA and why you moved to Las Vegas, NV to work at O'Sheas? Wow, Legends… I love that bar.  I spent 4 years working behind that bar with some truly incredible people.  Without everyone there pushing me, pushing each other, and working as a team I would never have gotten to where I am now.  Karl Jones, Jeffrey Stumhofer, Brian Sep, Mike Le, Bobby Keith, Matt Spatz and more.  We all have our own unique style, and that's what makes that bar have such an All Star staff.  Legends is basically a big party.  It's a Flair bar that has non stop action.  From the fast pace movement behind the bar, to the crowd dancing their asses off as Derrick Keener "DJ Keno" rocks out on the 1′s and 2′s.  I'm very thankful for everyone there and I love those bastards.  However, I was given a great opportunity out here in Vegas, so I had to take up the offer.  I'll miss everyone back at Legends, the employees, customers and all the nights shooting darts… But it was my time to move on and take a step toward going further with my career.  Because of that bar, and the people there… that's why I've made it to Vegas.
What is the secret to getting a great bartending job in Las Vegas? It's all about knowing people, having a great personality, and perform well in the interview and behind the bar to lock down a good spot.  Never forget your basic bartending skills.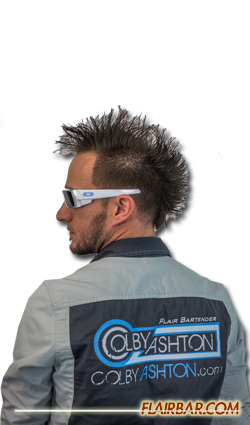 Tell us about your new website "www.colbyashton.com"? Ah, my website! It's where you can find pictures, videos, my commercials, competition results and upcoming schedule.  I'm looking to do much more with it this year.  You'll have to wait and see what's in store
In your opinion, what makes a good bartender? A good bartender is someone that can bartend well, but doesn't give a shit about the customer.  A GREAT bartender, will care more about the customer having a great time and not care about himself as much.  I love going to a bar whether it be Flair, mixology, or standard bartending… and just watch the bartender to see how they interact.  Do they care about people at the bar?  Or are they just waiting to go home?
Do you think our sport of Flair bartending is on the rise or decline and why? I feel that Flair is back on the rise.  It had a brief stint that it was down when the economy took a hit, although, new competitions are forming everywhere as well as new sponsors getting involved.  I'm looking to organize a competition sometime this year that will have donations going to help research of diabetes.
How often do you practice and how do you structure your practice? I practice every day.  Some days it's just 30 minutes, and other days I'll practice for a solid 3 hours.  On my days off work, I've been known to get another 6-8 hours in easy.  Normally I'm pretty good with getting in lots of practice.  With my recent move to Las Vegas, I'm still getting settled in and seeing what works best around my work schedule.  As far as the structure of my practice… if I have a competition coming up, I'll just run through my routine over and over and over.  I'll run the whole way through it as if I were on stage so I can adjust for drops, bobbles, etc.  I'll keep a mental note of where my drops were, then practice just the sequences individually for a little, then do more full round practice runs.
What are the advantages and disadvantages of being a Flair bartender rather then a regular bartender? The main advantage is you're building up a stronger arsenal of weapons to use to entertain your guests.  In my opinion from my travels, I've noticed that almost any Flair bartender has a stronger more fun personality behind the bar than a regular bartender.  And I feel the reason for that is because of the confidence and stage presence that a Flair bartender builds up from competitions.  Disadvantage, I'd say the only one is that if it's not a Flair bar, management assumes you're a horrible bartender that spills everywhere, breaks bottles all the time… and that's not the reality at all.  When that situation comes up, put up an offer to them such as maybe working for them one night, on a busy night, for free, and have them watch you in action.  From there, it's your actions that determine the outcome… so don't suck
What is your advice to some of the new bartenders wanting to learn Flair Bartending? PLEASE, PLEASE, PLEASE DON'T PRACTICE AT WORK.  Unless you already know how to Flair, you're just making yourself look bad, and Flair bartenders in general look like slobs.  Sure after you learn how to Flair you'll drop here and there behind the bar, it happens.  But practicing the same move over and over, dropping over and over… you're just wasting time you could be spending making money for the business, and yourself.  "Practice at home, perform at the bar".  I highly suggest if you're a new Flair bartender, attend and compete in every single competition you can.  Getting the experience on stage will build up your confidence overall, make you a more confident bartender, and will actually make you a better bartender at your work even if you don't Flair at work.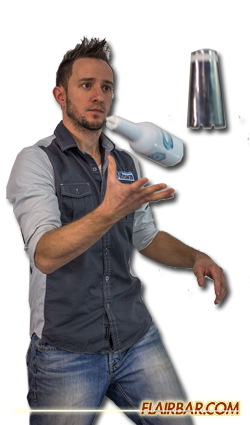 Tell us about the Bartenders Bash Series and why you competed in it last year? I've always wanted to go Bartenders Bash since I first heard about it from my now roommate Ryan "Twatch" Sturing.  He had nothing but positive things to say. "Amazing", "Super awesome", "Huge party", "Rob Husted makes it happen".  I wanted to go in 2012, but it fell on the same dates as other competitions I already had flights booked for.  This past year in 2013, I made sure to keep my dates available… and even changed a flight last minute in order to be there in time for mixology qualifying round.  I competed in it because I was excited to be in a competition that had more "obstacles" to go after.  You not only had to do well in Flair, but also do well with mystery sponsor bottles, unknown number of minutes for rounds, AND still had to mix it up with the best in a mixology round… all while enjoying Key Lime Pie Pina Coladas that Danny Seigel first told me about.
After competing in Part #1 in the Florida Keys, How did you prepare for Part #2 in Fort Lauderdale? I focused more on mixology for Bartenders Bash Part 2.  I went out and bought an ISI whipper, and began playing around with various rapid infusions.  My qualifying drink which I heard a lot of good feedback about actually put me in 2nd place going into the final.  From there it was a round by round battle, including microphone mischief by yours truly, until finally I edged out the talented Danny Seigel, and then finished 2nd place behind the infamous mix master Cesar Romero.
Do you like the structure of combing Flair & Mixology into the overall points series and why? I think it's a great idea.  It forces Flair guys to learn mixology techniques, it forces mixology guys to learn all the random places you'll bruise and cut yourself haha.  The competition itself indirectly makes the competitors better all around bartenders.  At Bartenders Bash, even if you finish last, you've still won to some extent.
What were your thoughts on ending in a tie with Danny Seigel for the overall points champion of the Bartenders Bash Series and your thoughts on the tie breaker and outcome? I thought it was crazy that the numbers worked out as a tie, and I was super pumped to see what the tie breaker was going to be.  As soon as I heard that the tie breaker was doing a promo video for Finest Call, I was a little worried since I know how much Danny loves his GoPro cameras.  Although, I know my friend back home, Tony Mancuso, is also good with cameras.  With Tony and I's creative minds at work, we put together video that thankfully brought home the championship! Watch Colby Ashton's winning Finest Call promo by clicking play on the video below. Note: will not play on mobile devices.
Why should bartenders compete in the Bartenders Bash Series in 2014? Without question, it's one of, if not the most fun competition in USA.  There's a free alcohol promo for a couple hours every day.  The scenery and backgrounds are unimaginable.  And you can try to come take down the defending Bartenders Bash Series Champion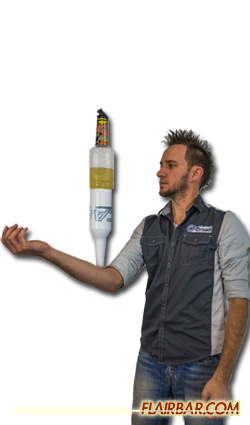 Tell us about your recent preparation for Solar Flair 2013 and what particular meaning it had for you? Solar Flair 2013 was the most difficult time I've ever had on stage.  Not because of the fact that I was surrounded by Flair legends like Tomek, Marek, Tom, Luca, Rodrigo, Adam, Vaclav, Bruno, Denny and Dario.  Not because of how it was for a World Championship.  Not because of other dominating factor you would think of typically.  It was because exactly one month before Solar Flair, the most inspirational person in my life, my mom Linda, passed away after a long battle with diabetes.  Before she passed away when she was still doing better, she told me that after she passes away it's time for me to "Be a little selfish.  Go do what you want to do, and be where you want to be.  You've always worried and took care of other people, and that's how Bruce and I raised you.  But you need to focus on you now instead".  I told her that I was going to dedicate a round to her, it didn't seem like much of a hard thing to do at the time.  But when Solar Flair was coming up, it was even hard to practice for it.  As I stepped on stage for the qualifying round… Head judge, Mike McLean, stood up with a microphone and announced to the crowd – "Ladies and gentlemen, next up is Colby Ashton.  I'd like to announce that exactly one month ago Colby's mother Linda passed away, and Colby would like to dedicate his round to his mother."  You could sense a little bit of sadness in the crowd, and everyone stopped to watch.  The music I chose was none other than that of Barry Manilow.  Not exactly the ideal choice of music for a Flair competition, but Barry Manilow was my mom's favorite musician, and she would play his cd's every day.  Shortly into my round, everyone in the crowd was clapping along with the beat.  It was difficult to not break down on stage.  At one point I remember finishing up a sequence, looking up at the crowd and to my surprise I actually saw tears in the eyes of several people, both competitors, and guests of.  Of course, that made it even harder to keep going.  My mind had so much running through it that my round was dumb drops here and there and by no means was a good round Flair wise.  However, you'd have thought I threw the best round of the night with how everyone came up to me afterwards and told me how proud they were for me to do that, and how mom's proud of me as well.  I think some of the first few that came up to me were my friends Eric Parker, Vahe Manoukian, Rodrigo Delpech, Corey Ludwig, and Luis Ortiz.  Then as I walked around, people I've never met before like Vaclav Abraham, Luca Valentin, and Mig Gradeckas came up as well.  Many other people did as well, but like I said there was so much going on in my mind at the time it's hard to remember some things.  And even though it wasn't a great round, it was a memorable round for others as well.  So many big names from Europe having only met me that one day, all recognized me right away when I went to Roadhouse and Titans over in Europe later that year.  I'd say that it's proof that you can put on a positive memorable experience for others without nailing the sickest Flair round.  And it also goes to show how much the Flair community looks out for each other.  I'd like to thank everyone involved for allowing me to dedicate the round to her, and to all the competitors, judges, etc that supported me in it.  It was something I needed to do.
If your mom was reading this right now… what would you say to her? Well mom, I did what you told me to do… I made a choice and moved to Las Vegas, Nevada.  It's where every bartender wants to work, and there's great potential here.  There's still days and nights I think about you, and they'll always be there.  You've inspired myself, and many others to do great things.  The speech I wrote for you at your funeral probably says it best since that was the climax of emotions…
"Mom was an important person in my life, a role model…  My entire life you were right there beside me, supporting me through all of life's ventures.  When I played soccer as a child, you were at the sidelines cheering me on rain or shine, and I was successful.  When I played baseball as a youth, you were in the stands every game yelling "C'mon Col", and once again I was successful and made the all star team.  When I played ice hockey in high school, with the crowd roaring loud I could still hear your voice rooting me on, until I was successful and made more all star teams.  When I was dating after high school, well… I wasn't successful… but you supported me anyway during every heartache.  When I started competing world wide as a professional flair bartender, you supported every trip I took, and every story I brought back.  Once again, I was successful as you encouraged me until I became the #1 ranked American flair bartender.  And now, here I am by your side one last time… but more successful than ever before.  I'm successful because I've learned so many things about life thanks to you.  You've shown me that you don't need money to be happy, you don't need size to be strong, you don't need two legs to stand tall, and that you don't need to be miserable when things are tough.  You've taught me not to be a winner, but to have passion, determination, and never to fear what challenges lie ahead.  You've taught me to be happy, compassionate, and funny.  Ask anyone that knows me and they'll tell you I have a great fun-loving personality.  Although, my personality is only that way because of you and the examples you made.  You were truly a wonderful person, and a role model for everyone out there.  Even though you're gone, you'll still be with me every day as I continue my journey in life, and attempt to do as well as you have inspiring others and making the best of every situation.  I'll miss you always, and love you forever."
Do you have any ideas for a new style of competition and what are they? I want to do a competition that involves the crowd more.  Something that keeps them locked in.  Whether it be everyone that walks in gets a number handed to them.  Their number corresponds with the same number competitor.  The top finishing numbers all get swag or something.  Or get them up on stage a little, make it more into a show.  It's always sad to see incredible talent on stage, then watch the crowd diminish as the night progresses.  Don't get me wrong, it feels great to be a rock star on stage… but it we can make a competition that's more about the crowd, or gets the crowd involved, THAT will be a successful competition.  Throw in more mini events like bottle opening, big ass move, other random things.  Make it a party for everyone, not just competitors.  I'd like to do this in the near future with proceeds going towards diabetes research.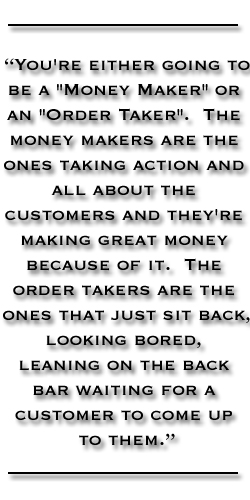 What do you hate about bartending and how do you help to overcome it? I hate when I see bartenders bitching about money, but then I see them not even trying to make money.  You're either going to be a "Money Maker" or an "Order Taker".  The money makers are the ones taking action and all about the customers and they're making great money because of it.  The order takers are the ones that just sit back, looking bored, leaning on the back bar waiting for a customer to come up to them.  If that's you, and you're working the same bar as me… please keep your own tip bucket, and at the end of the night we'll compare.  Then you'll start leaning how to be a bartender and get your sweat on!  It's almost a constructive criticism, but it works to push each other.
What obstacles do you see our sport of Flair Bartending encountering in the near future and in your opinion, how can we overcome them? It's hard to see what obstacles lie ahead, otherwise we'd never have any problems.  I think it's always going to be hard to gain sponsors, so we need to figure out ways to better promote them.  Maybe try to ensure that every single competition is clearly live streamed all over the world with TV's behind the stage showcasing all of the sponsors.  World wide exposure at every competition would be great.  Have the competitors look more professional, so that companies will want to jump on board since it looks more their style.  I love how Flairmania over in Latvia has shirts made for every competitor… sponsors on the back and shoulder.  Competition logo on the one chest pocket area, then the other chest pocket area has the competitor's first name and the flag of their country.  Awesome!  Why couldn't we do the same thing here?  Maybe have the competitor's home state instead since it'd be mostly USA competitors.  There's so much potential, and I have so many ideas that benefit the competition, the hosting venue, and the sponsors.  Just need to get my name and ideas out there better and see what happens. The best way for us to overcome obstacles and achieve great things is by working together.  Don't assume one person has the best way, take feedback from everyone and use bits and pieces from each one's advice to make the ultimate competition happen at every competition.
Why should corporations and sponsors invest in Flair bartenders to help promote and educate their products and why? The promotion factor that a Flair bartender can offer is truly world wide.  All over North America, in front of literally hundreds of thousands of people every single year.  Working on the strip in Las Vegas, like I stated earlier, at any given time there's about 40,000 people on the strip… Visitors here go to the bars, who do they always ask for advice, where to go, what to try, etc?  They always ask the bartender.  Sponsor a Flair bartender, and they'll not only push your product/company with all of their thousands of guests every day, but they'll also promote in on stages in many states, countries, and continents.  Our style and passion will stick in a target clientele's mind better than a magazine ad, and I'd love to make that happen!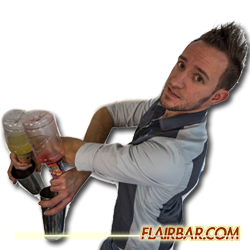 What are your thoughts on Flairbar.com and what would you like to change about it? I love it, I'm really happy to see it's up and running again with updates!  Rob Husted already has some great ideas going, it's tough to think of something that isn't already being done, or in the works.  If I think of any ideas, I will be sure to text Rob… after he's asleep.
What are your thoughts on Finest Call products and Why? I've actually never gotten to work in a bar that carried their products, and before Bartenders Bash, I never tried any other than the typical sweet and sour mix, or grenadine.  But since competing in the Bartenders Bash Series, I have been playing around with them more, and they really are a great product.  Very good flavor and variety.  It was really fun shooting the promo video for them and testing out all the flavors we had with all the alcohol we had.
What is your favorite Finest Call flavor? I'm actually a big fan of the Banana Puree.  I find myself adding it to a lot of my drink concoctions at home and it really sets off the drink nicely.
What is your favorite drink? Normally when I go out I normally have orange vodka & Red Bull.  My secondary choices are Captain and Sprite, or orange vodka and tonic. Nice, simple, and hard to screw up no matter where you go.
Thank you Rob and Flairbar.com for the interview!