HAPPY NEW YEAR! This month we look back at 2007…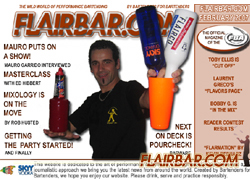 Looking back we saw another huge growth with our industry. Some major changes with some key players and some new faces we are welcoming to our ever growing Flair family.
The future is looking even brighter in the coming year. More sponsors bring more growth and opportunity, more growth means more bartenders across the globe promoting the ones that help support their passion! "When you give reality to our dreams we give strength to your support!" -R.Husted. Yeah, now I'm quoting myself… How funny is that? Seriously though because of this we now see…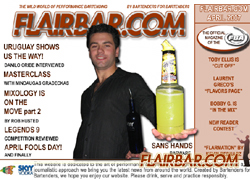 The FBA Pro Tour has become a standard now. SKYY Vodka has continued its presence as the Flair bartenders choice of vodka. Finest Call Premium Cocktail Mixes are the industry standard for bartender friendly great tasting quality mixes. Flairco is still the original and most reliable producers of practice Flair bottles and portable bars to date. Flairbar.com is still your 1 monthly source for Flair bartending. The Flair Bartenders Hall of Fame is a reality on the horizon. The demand for entertainment and Flair bartending is becoming standard for our trade… and all of this is possible because of you. Without people like you with your continued support, passion and desire to want more and to help make the hospitality industry better… where would we be? So on behalf of Flairbar.com… THANK YOU FOR YOU CONTINUED SUPPORT!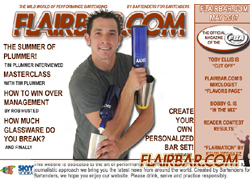 One way we are thanking you is by sharing with you our loyal readers the best of Flairbar.com 2007. On the cover we have a collage of the 2007 FBC cover stars and in this issue we picked the best submissions from 2007 and packed it into one memorable issue!
Speaking of memorable, Check out "The man named Supan!" featuring Matias Supan all on our 'Interviews' page from our June 2007 issue. Get to know more about Matias as he talks with us and gets us up to date from his corner of the world. No white disco suit needed!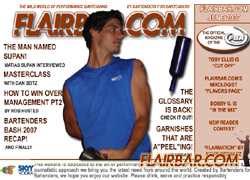 Then we head over to Las Vegas, Nevada where we met up with Mindaugas Gradeckas where he taught us the secret to balancing pyramids. A trick he first brought to the Flair world at Quest 2000 and now he shares his secret with us. All on our 'Masterclass' page from our April 2007 issue. Hey… Hey!
While we were in Las Vegas we covered the Legends of Bartending 9. A huge invitation only event held every year where the best of the best come out to compete. You can check it all out on our 'Comp Reviews' page from our April 2007 issue. One of the biggest competitions of the year from the FBA Pro Tour is guaranteed to impress.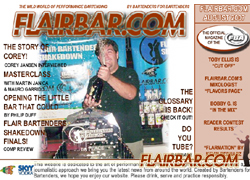 From impressing the crowd and judges to impressing the camera! Next we have Colin Griffiths and his take on the long anticipated Bottleslinger 3 DVD "EUROTRIP" all on our 'Reviews' page from our December 2007 issue. Chuck Mac is back with a camera, passport and plenty of booze… I mean boobs… oh well they both are nice.
From one vacation to another popular Flair bartenders vacation destination… "Bartenders Bash". Find out how this don't miss event went from one event to a "series" of events.You can check it out on our 'And Finally' page from our June 2007 issue. Bring sun tan lotion and lots of advil.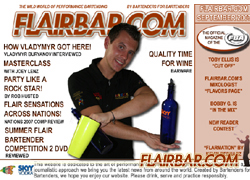 Then we head over to Paris, France with Laurent Greco from Bar Academy Paris and he shares with us some "Vibrant Vodka Cocktails " on our 'Flavors' page from our April 2007 issue. He is always so creative and imaginative.
For all of you other mixologists out there… Don't forget to look back over the last year of our content collector called 'Cocktails'. This is where you can share your own SKYY Vodka and Finest Call cocktail recipes with the rest of the world and get credit for it. Have a great drink you invented? Want to share it with the rest of the world? Think it is worthy? Prove it!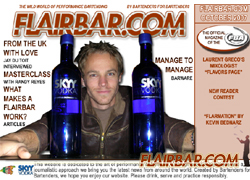 Then from Mixology to management, next we have our Flairbar.com article with "How to win over Management". A must read for all Flair bartenders alike. Check it out on our 'Articles' page from our June & July issue. They can either be with you or against you… here are some tools to help everybody win.
Kevin Bednarz is back again with one of our newest additions, "Flairmation" which we revisit "Last Call Larry" dealing with big shots ordering irresponsibly. All on our "Flairmation" page from our September 2007 issue. Have to remember to use that one liner at the end next time!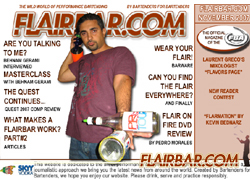 We are pleased to announce that the "Glossary" is back! It took some work but we blew off the dust and changed the batteries and it is up and running at full power. Be sure to keep an eye on it as we will continue to keep adding to this on going database of Flair bartending knowledge.
Also, the Vice President of the USBG (United States Bartenders Guild) Nevada Chapter, Bobby G., is 'In The Mix' again as he shares with us "The coolest job in the world" his last submission to Flairbar.com from our May 2007 issue.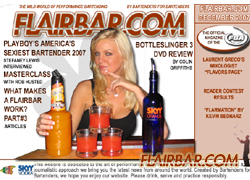 Next we have our 'Reader Contest' results based all on Mixology for all of our loyal Flairbar.com readers. We had recipes from across the globe submitted and now we have the winners. Feel free to make them yourselves and let us know which ones you like the best. Plus our regular features, more 'Barware', more pages, and more Flair than you can shake the year 2007 at.
Rob Husted