HAPPY DAYS ARE HERE AGAIN! 75 years of Happy Times at Happy Hours…
Updated: November 1, 2008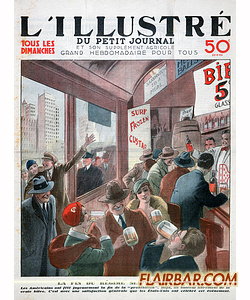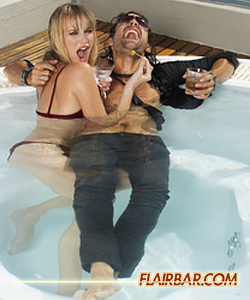 December 5th 2008 marked the 75 year anniversary of the repeal of prohibition here in the United States. For those of you that don't know… Prohibition was an era in American history that banned the manufacture and sale of alcoholic beverages, with a rare few licensed exceptions, was a result of the National Prohibition Act of 1919.
So imagine just about every Bartender across America at the time loosing their job. This was a very bad thing but some good came out of this as well… because of this many Bartenders went overseas to work abroad because Prohibition was only in the United States. So with this America's contribution to the worldwide Mixology scene opened its eyes to one of it finest cocktails, the Martini. This American cocktail was introduced to the rest of the world and forever changed the world of Mixology.
In honor of the repeal of Prohibition December 5th, 1933 we have a treat for you.. this month's issue of Flairbar.com is focusing on Mixology and the art of crafting a fine cocktail.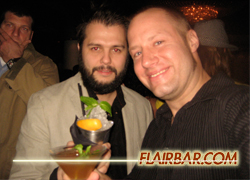 Starting with one of Florida's up and coming Mixologists, good Flair Bartender and all around great guy… Cesar Romero. One of the four on the cover of this months issue of Flairbar.com, Cesar talks with us about his big win of the Midori & TY KU Mixology round at Summer Flair 3 and his thoughts on Mixology and where its going. Check out "Mastering Mixology" featuring Cesar Romero all on our 'Interviews' page. Very nice… Yes I like.
Also sharing this month's cover of Flairbar.com are Chad Tocco, Dario Doimo and Rodrigo Delpech straight from their big wins at Summer Flair 3! With Mixology, Accuracy and Head to Head Flair… this event was packed full of fun and Flair… at least until some of the rules were cleared up. See the full review "End of Summer Flair Face Off!" by Mike McLean. With videos and more on our 'Comp Reviews' page. Anticipation is killing me… Cant wait for the Summer Flair video again this year!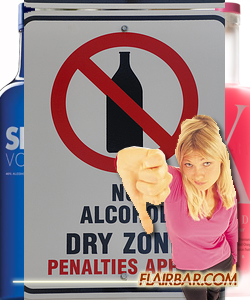 In the mean mean time, if you want more input for you FLair fix then you can start with Santiago Emeric as he teaches us a 2 tin and SKYY Vodka bottle exhibition Flair sequence on our 'Masterclass' page! Straight from barbacking at Quest 2008, we pulled Santiago away just long enough before Ken and Jim had him get back to work. Just kidding… he was on his break.
Speaking of break… What do you do after work or on your days off? Do you get the privilege to go out and enjoy yourselves at other bars or establishments? Do you ever feel like sometimes you just want to be left alone when you go out and not have to entertain the whole time when your clocked out? Read all and more all in "Local Celebrity" by Rob Husted on our 'Articles' page. Where is your balance in the limelight?
Anthony Alba is "In the Mix" again with "What's in a Name?". Find out his take the diversity of cocktail names and calling a spade a spade. Love the pictures, great job brother! You can check it all out on our "In the Mix" page.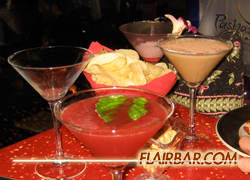 Then we head over to Paris, France with Laurent Greco from Bar Academy Paris as he shares with us his "Champagne Cocktails for the New Year" on our 'Flavors' page. Champagne wishes and caviar dreams… ahhh the endless possibilities of the coming new year. Enough daydreaming… Time to get back to work!
Next we have a new 'Reader Contest' for our loyal Flairbar.com readers with our "Flairbar.com Mixology Contest" featuring SKYY Vodka, Finest Call, Midori, X-Rated Fusion Liqueur and TY KU. See if you have what it takes to win with your creative and original cocktail. Also check out the brand new kick ass prize package for the New Year!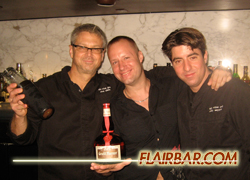 Kevin Bednarz is back again with one of our newest additions, "Flairmation" which we revisit "Last Call Larry" dealing with his Holiday advice. All on our "Flairmation" page. Larry is in full color and bigger then ever… Check it out!
We are pleased to announce that the "Glossary" is back! It took some work but we blew off the dust and changed the batteries and it is up and running at full power. Be sure to keep an eye on it as we will continue to keep adding to this on going database of Flair bartending knowledge.
When your done with that then head on over to on our 'And Finally' page and "Be Fabulous at any Moment!" featuring … Midori and a close friend. How will you turn on the night?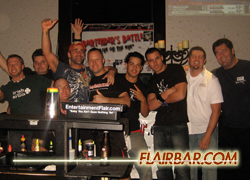 Plus our regular features, more 'Barware', more pages, and more Flair than you can shake the Volstead Act at. Look it up.
So take some time out and enjoy a cocktail with SKYY Vodka, Finest Call, Midori, X-Rated Fusion Liqueur or TY KU as you enjoy this months issue of Flairbar.com and say "Thank You" to the sponsors who keep our sport alive.
Rob Husted