HAPPY BIRTHDAY TO US! They say life starts at fifty…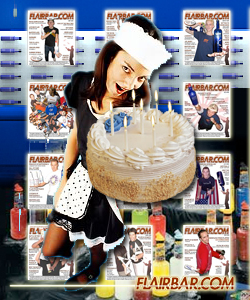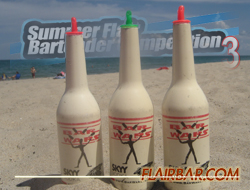 Welcome back to another issue of Flairbar.com and another reason to invest in yourself. I hope you all take something away from our online magazine and past 49 issues… that's right this is our 50th issue of Flairbar.com!
How will we celebrate? Who knows… bake us a cake… send us a card, post your favorite recipe, sign our guest book! Send us your ideas on how you would like to see us celebrate for our 50th issue? You can email us at rob@flairbar.com. Who knows… you might just see it become a reality?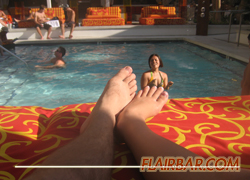 We work hard here at Flairbar.com just like you do when your behind the bar mixing up your favorite SKYY Vodka, Finest Call, Midori or X-Rated Fusion Liqueur cocktails. Flair bartending is hard work… but do you work harder now then you did before you were a professional Flair bartender? Who works harder… a regular bartender… or a Flair Bartender? We asked that very same question and we just scratched the surface with "We Work Hard for our Money" on our 'Articles' page. What do you think?
On the cover of this months issue of Flairbar.com we have Rodrigo Delpech who just recently won the Flair Bartenders Shakedown 2008. The first Working Flair bartending competition in which Rodrigo won again last year. See the full review "Shaking down the Competition Again!" plus videos and more on our 'Comp Reviews' page. What can you do with a half full bottle of liquor?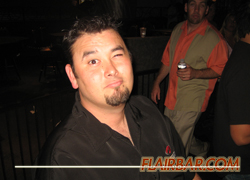 Then check out the voice behind the microphone of the Flair Bartenders Shakedown… Ben Rose. Check out "The Third Voice of Flair?" (really… that's the best you could come up with) featuring Ben Rose all on our 'Interviews' page. I swear JD taught him everything he knows…
If its knowledge you seek, then check out Chad Tocco on our 'Masterclass' page where he teaches us his winning Finest Call stall sequence from the Flair Bartenders Shakedown 2008. Finest Call… it's in there! Don't forget to check out our 'Reader Contest' for our loyal Flairbar.com readers where your "Finest Call Caption Contest" could help you win fame and fortune… not really but the prize packages are pretty cool!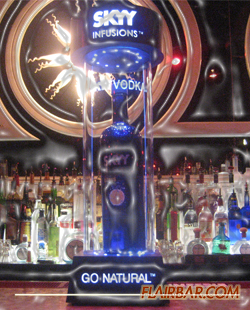 Speaking of cool, Is your desktop a little dull? Can it use some flavor… then head on over to on our 'And Finally' page and "Infuse Flavor into your Desktop!" Down load some cool SKYY Infusions wallpaper or a SKYY Vodka screensaver. Now you can be hip just like all the cool kids at school.
As a present from us to you… we are bringing back one of our past columns… "In the Mix"! This time Anthony Alba is "In the Mix" with "A tale from Tales of the Cocktail in New Orleans" an event not to be missed in the future. Wow first you fill the shoes of Bobby G at the Rio and now again filling his shoes here at Flairbar.com… It just seems fitting. Welcome to the team my friend and we all look forward to what the future holds for your column!
Then we head over to Paris, France with Laurent Greco from Bar Academy Paris as he shares with us his "Sumptuous Indulgences" on our 'Flavors' page. Always some good Mixology showcased!
Kevin Bednarz is back again with one of our newest additions, "Flairmation" which we revisit "Last Call Larry" dealing with proper bar conversation. All on our "Flairmation" page. Larry… Larry… Larry!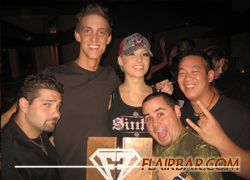 We are pleased to announce that the "Glossary" is back! It took some work but we blew off the dust and changed the batteries and it is up and running at full power. Be sure to keep an eye on it as we will continue to keep adding to this on going database of Flair bartending knowledge.
Again we have a new 'Reader Contest' for our loyal Flairbar.com readers. Plus our regular features, more 'Barware', more pages, and more Flair than you can shake a birthday cake with 50 Flairco's lit on top at.
So take some time out and enjoy a cocktail with SKYY Vodka, Finest Call, Midori or X-Rated Fusion Liqueur as you enjoy this months issue of Flairbar.com and say "Thank You" to this sponsors who keep our sport alive.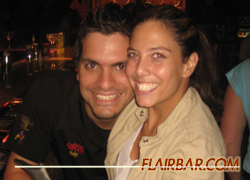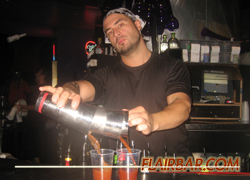 Big thanks to Rick Barcode, Erin Connelly, Jason Simpson, Philip Duff, Tobin Ellis, Bobby G, Francesco Lafranconi, Kevin Bednarz, Laurent Greco, Anthony Alba, Jim Allison and you our loyal readers for helping us reach 50… THANK YOU!
To Flair & Friends.

Rob Husted