GIVING THANKS! What are you thankful for?
Updated: November 1, 2006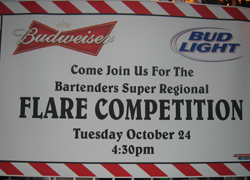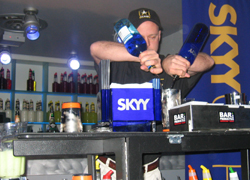 This month we celebrate Thanksgiving and giving thanks for what we have. We celebrate by coming together and celebrating with a magnificent feast of food and drink among family and friends.
Well in the last month some of us have come together for different reasons…
Some of us came down to sunny Orlando, Florida where we celebrated Flair Bartending at "Quest". This was another great year with a stellar turn out. Competitors came from across the globe to compete in this competition. You can read the full review complete with video highlights on our 'Comp Reviews' page. Congrats to everybody who competed.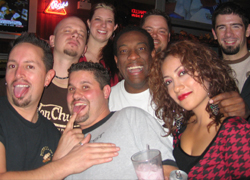 While we were at "Quest" we caught up with Colin Griffiths and he taught us a two tin and one bottle working Flair sequence that is just amazing! You can start to make more money behind your bar as soon you watch and learn all on our 'Masterclass' page. I still love that pour! Make sure you practice at home first…
Some of us came together to celebrate life and the fight for it… Not to long ago a group of Flair bartenders and Flair companies all came together to help support a Flair bartender and his little boy that desperately needed brian surgery and didn't have the money to do it. So we as a family all did what we could to raise the much needed money. You can read all about "Dakota's Challenge" on 'Cut Off' by Toby Ellis. A fun event for a great cause.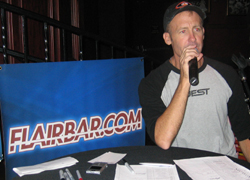 Did you want to learn more about this father and his son? Well here is a hint… he is on this month's Flairbar.com cover. Rob Turek talks to us this month about Flair bartending in the midwest, being a dad and his son Cody… all on our 'Interviews' page. I am proud to know this man…
Then we head across the ocean where we caught up with Behnam Gerami and the Flairmotion Head to Head competition. It seems we are seeing more and more one on one battles between bartenders… I love where it is going! Check it out on our 'Articles' page. Victory dance not included…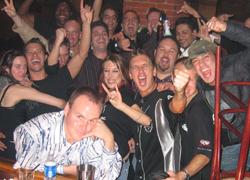 All of that competing have you a little thirsty? Well then check out our 'Flavors' page with three drinks all using Finest Call products! Yum, Yum and Yum!
After all that drinking you might need a good laugh. Well then check out our 'And Finally' page where we show you a demonstration put on minutes before the Finals at this years "Quest". You decide… "Jackass of the Month" or not?
Kevin Bednarz is back again with our newest addition "Flairmation" which "Last Call Larry" is preparing for Thanksgiving with the family. All on our "Flairmation" page. This one has happened to me at least once before…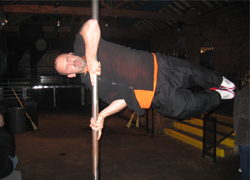 For all of you mixologists out there… Don't forget to check out our new content collector called 'Cocktails'. This is where you can share your own Skyy vodka and Finest Call cocktail recipes with the rest of the world and get credit for it. Have a great drink you invented? Want to share it with the rest of the world? Think it is worthy? Prove it!
Then we have a new 'Reader Contest' where you get to show off your Flair crib and have a chance to win a lot of cool prizes! Who has the best Flair crib? Is it you? Show us! What are you waiting for, if you don't enter you can't win!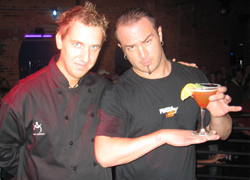 All of this plus our regular features, 'In The Mix' with Bobby G, more 'Barware', more pages, and more Flair than you can shake two bananas at.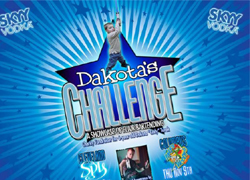 To Flair & Friends.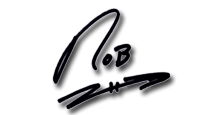 Rob Husted