GETTING LOSE AT THE MOOSE! – Moose Mayhem Competition Review
Updated: February 1, 2006

The Moose Mayhem competition was the brainchild of old school Flair legend Kip Powers from Atlanta.   Some of you might remember Kip as the guy who competed at Quest with the picture of his daughter Kori on the bar.   Others might remember him as the Quest finalist who dropped his specialty drink two years in a row trying a flat toss behind the back in the dying seconds of his routine.   Either way, Kip has been flipping bottles for a very, very, very long time and decided that he was finally in a position to host his own competition.
            A lot of thought and attention to detail went into the planning for this competition. One of the first things
Kip
did was call myself and
Dean
at the
Flairco
offices to see if we wanted to be involved.   Obviously we jumped at the opportunity to help an old friend.  
Kip
spent a lot of time preparing for the competition as he wanted everything to be perfect.   Despite his predictions, he came up with less than 1000 questions leading up to the big day.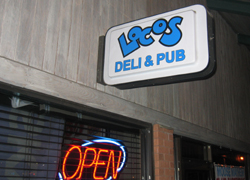 The competition was held at
Loco's Deli and Pub
in Lawrenceville, Georgia, just North of Atlanta.  
Kip
manages this location and had all sorts of challenges in trying to bring in the lights, sound system and video cameras needed.  
Kip
arranged to have all of the traveling competitors and staff picked up from the airport and driven around as needed.   He even managed to rent out the empty unit beside his location for what was possibly the largest practice area I have ever seen at a competition.   In addition to the practice bar and plenty of spare bottles in the practice area, he had stocked it with beer and snacks there for the competitors too.
Dean and I flew into Atlanta on Sunday afternoon and were met by Kip and his wife Carissa at the airport.   After a quick stop at Loco's and our hotel, we went downtown to the infamous Tavern at Phipps, home of Patrick Kelly and Dave Monterde.   This is an upscale party bar where the bartenders are king.   They are allowed to do pretty much whatever they want, and trust me, they do.   Shortly after we arrived, Dean and I were left with our jaws hanging open as Dave proceeded to clear off his bar of all glassware by simply smashing it on the floor.   Patrick informed us that this was commonplace and they had a budget of $35,000.00 per year with Libbey's Glassware.   The atmosphere was really cool, the food was amazing (good call on the tenderloins Patrick!) and the bartenders were over the top.   The highlight of the night was either Dave throwing a full blue cocktail into Billy's face, or Patrick and Dave pulling off a 23 glass waterfall pour on top of the bar, only to drop all of the glasses behind them with a resounding smash!   Now if the bars I worked at let me break stuff like that, I would still be bartending full time.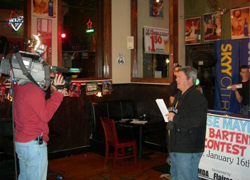 The morning of the competition started off very early as
Kip
had arranged for some TV coverage on the
Fox Good Day Atlanta morning show
.   So myself,
Kip
,
Carissa
,
Dean
,
Joey Torres
,
Patrick Kelly
and
Mike "Cookie" Cook
hauled ourselves into
Loco's
for 7am.   It is obviously understood that the only good reason for a bartender to be awake at 7am is if they haven't gone to bed yet.   This was not the case on this morning, but everyone still came out to support the competition and was surprisingly entertaining in doing so.   With multiple segments throughout the morning, a mock competition was held while we educated the audience in what they could expect later that evening.   The eventual winner was
Joey Torres
from
TGIF
in Las Vegas, who technically won a plaque and a cheque for $7.00, but we took them both back when a recount was demanded. It was early, what can I say?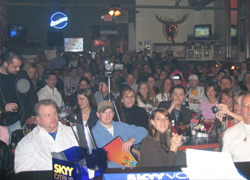 After a nice long nap, we ordered some delivery from
Loco's
and returned with the driver to the store to help set everything up for that night.   The dining room was filled to capacity with tables, chairs and of course the competition bar squished in up front.   The bar was filled that night to capacity with regulars, industry friends and the odd crazy drunk.   The proceeds from the door cover charge, auction of the best seats in the house and each competitor's specialty drink went to support the local Muscular Dystrophy Association. By the end of the night, we had raised over $2200.00 for this worthy cause.
The first competitor was Dave Monterde, one of the bartenders that had served us the night before at the Tavern.   Despite every assurance from Dave that he was going to be at Loco's for the morning show, he didn't make it out.   So we decided in all fairness to make him go first for the competition.   That worked well in theory, but when Dave's music wouldn't play in the sound system, it meant a rough start to the night.   However, to his huge credit, Dave still was able to pull off a very entertaining "acapella" show and ended up taking home $50.00 from Skyy Vodka for finishing in fifth place.
Next up was another local bartender by the name of Scott "Scottie B" Beauchamp.   Scottie B. took the "angry white man" theme to a whole new level that either entertained or scared the large crowd in attendance.   With his smooth bottle in tin moves and over the top personality, Scottie B. nailed down a Flairco prize package with ninth place for this event.
After that was yet another local bartender, Mike "Cookie" Cook.   After his twelve minutes of fame earlier that morning on Good Day Atlanta, Cookie was on fire with a well executed routine that had the partisan crowd on their feet.   When the results came in, Cookie was less than four points behind Dave and received a Barproducts Gift Certificate for finishing in sixth place.
The first traveling competitor was Martin Janica from Tampa, Florida.   Unfortunately Martin is headed home to Argentina and this event was to be one of his last events in the US for this year.   Despite a spectacular routine with a multitude of styles and objects, Martin forgot to add his favorite Skyy product to his specialty drink.   The resulting penalty knocked him down to seventh place, but still earned him a Barproducts Gift Certificate.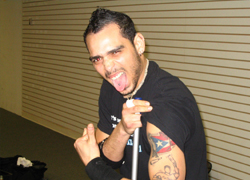 Up next was
Joey Torres
from Las Vegas, Nevada.   With a late flight into Atlanta the night before, an early morning at
Loco's
for the morning show filming and an afternoon of throwing bottles around the practice area,
Joey
was almost spent when it came time to perform.  
Joey
had the crowd behind him for his whole routine with his unique signature moves and outgoing personality.   But he couldn't repeat his outstanding performance from the morning show and wound up in eighth place with a Barproducts Gift Certificate.  
Joey
also won the Sportsmanship Award with a plaque and $100.00, as presented by
Kip
, for traveling the furthest and doing everything that he could to support the event and the other competitors.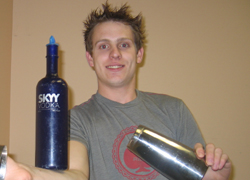 Coming in all the way from the frozen lands of Minneapolis, Minnesota,
Paul Trzcianko
tried to put together what was left of his routine after the luggage handlers were done with it.   While he hit some wickedly creative new moves,
Paul
was eventually hampered by higher than normal deductions and wound up in fourth place with $100.00 from
Skyy
Vodka for his efforts.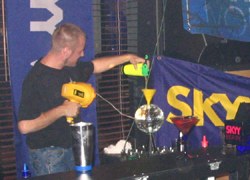 With his mom and relative in attendance, the next competitor was a huge hit for his blend of old school classics presented with a twist.  
Rob "Disco Storm" Husted
always brings the crowd to their feet and was even able to include several "shout outs" to other competitors and judges.  
Rob's
specialty drink, a series of shots served through a disco ball (complete with high powered flashlight for the full disco effect), was the high point in our auction, raising $551.00 for the Muscular Dystrophy Association.  
Rob
finished $250.00 richer courtesy of
Skyy
Vodka in a well deserved third place.
Part of the traveling band of Argentineans from Tampa, Florida,
Nico Antivero
took the stage next with a brilliant display of styles, moves and basketball skills.  
Nico
is definitely a top level competitor and certainly showcased his talents on this night.   However, as good as he was, he was still beaten by his good friend and traveling companion, earning a second place finish and $500.00 from
Skyy
Vodka.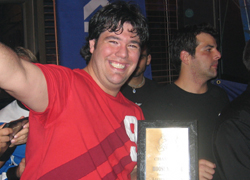 Last but certainly not least was
Rodrigo Delpech
, the last of the Argentineans from Tampa, Florida.  
Rodrigo
is arguably the best bottle flipper on the planet right now and left the crowd, judges and other competitors blown away with his extreme moves.   Making it look almost too easy,
Rodrigo
flipped his way to a first place finish and $1000.00 from
Skyy
Vodka.
After finishing the competition and breaking the daily sales record at Loco's, the competitors traveled to downtown Atlanta for more festivities, tomfoolery and general debauchery.   The following night, everyone stopped into Aiko to watch competition judge Tony Cogburn from Las Vegas, Nevada guest bartend for the night.   Much fun was had and for the third night in a row, the end result was many, many drunk dials.
            Special thanks need to be sent out to the competition sponsors,
Skyy
Vodka and Coors Light.   This support is of special note as it came from the local sales reps, not the national level.   By all accounts the sponsors were blown away by this event and have promised more support in the future for
Kip
and
Loco's
.   Also a round of thanks to the other competition staff,
Dean Serneels
as the MC,
Jager
the barback and of course judges
Tony Cogburn
and irreplaceable
Patrick Kelly
of Atlanta.  
Patrick
was instrumental in carting several competitors around the city, to and from the parties and then back to the airport.
My final word of thanks goes out to Kip and Carissa for putting forth the effort needed to run this event.   They spent countless hours trying to ensure that everything was done right and even allowed a pair of crazy Canadians to invade their home.   With the first one in the books, we are looking forward to many more to come.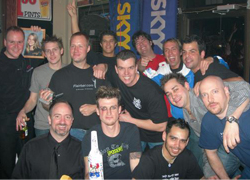 Final Results
1st Rodrigo Delpech
2nd Nicolas Antivero
3rd Rob Husted
4th Paul Trzcianko
5th Dave Monterde
6th Mike Cook
7th Martin Janica
8th Joey Torres
9th Scott Beauchamp